VICTORIA'S alpine* region has been sprinkled with snow as a cold snap swept* the state on Sunday and Monday.
Sunday was the coldest February day since 2005, reaching a high of only 17C, nine degrees lower than the average temperature for this time of year.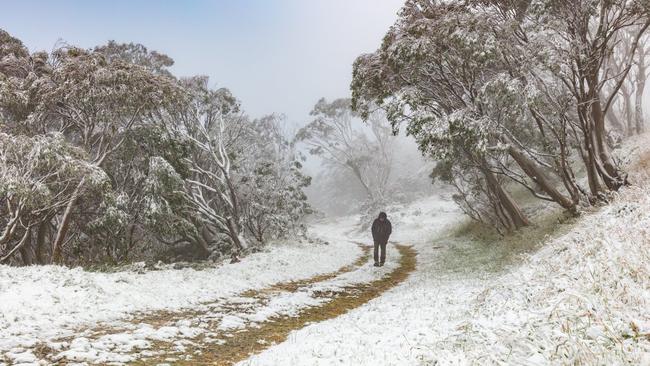 Despite* it being summer, Mount Hotham, Falls Creek and Mount Buller all saw snowfall overnight with temperatures dropping as low as -2.2C.
Bureau of Meteorology senior forecaster Dean Stewart said summer snow occurs about once every five years.
"It's unusual for it to snow at this time of the year, but not unprecedented*," he said.
"When we get cold bursts of air coming from the Southern Ocean they can be cold enough to produce snow."
The cold weather continued Monday with cold wind, showers and a top of 20C.
However, Victorians will have a chance to enjoy the summer sun before welcoming autumn with temperatures expected to spike* above 30C on Wednesday.
The cold weather in the southern states is in contrast to extreme heat in NSW and Queensland last week, when heatwave records were broken. Some parts of Sydney reached 47C before a cool change early on Saturday.
GLOSSARY
alpine: mountain
swept: moved across
despite: even though
unprecedented: never happened before
spike: a fast and high increase
LISTEN TO TODAY'S STORY
CLASSROOM ACTIVITIES
Activity 1: Summer Snow
Explain in two sentences how and why Summer snow occurs.
Extension: Research what temperature it needs to be to snow? Why do these areas of Victoria get the most snow?
Time: allow 15 minutes to complete this task.
Curriculum links: English, Science
Activity 2: Graphing
Compile a bar graph of daytime and night-time temperatures from Sunday through to this coming Friday in Victoria.
Your bar graph should include:
— Title of graph
— Labelled axis
— 2 colours representing day & night
— 6 days of information
— Legend or key
You may need to look at the weather page in the Herald Sun or go to http://www.bom.gov.au/vic/forecasts/melbourne.shtml
to get more information for your graph.
Extension: extend your graph to include other columns of the weather in different states.
Time: allow 35 minutes to complete this task.
Curriculum links: English, Mathematics, Science.
VCOP Activity
(Vocabulary, Connectives, Openers and Punctuation)
Activity: Snow Day
Write a short narrative about the day your school had to closed due to a freak snow day in summer. Think about what you would do if you had the day off to play in the snow. Don't forget to show off your VCOP!
Extension: Include a glossary for any high-level language you have used in your writing. If you haven't used any, this might be a good opportunity to edit and uplevel your work.
Time: allow at least 30 minutes to complete the task
Curriculum Links: English, Big Write, VCOP
Activity provided by Andrell Education www.andrelleducation.com.au
EXTRA RESOURCES

WHEN WILL AUSTRALIA'S HEATWAVE END?
WILD WEATHER'S DESTRUCTIVE PAST
IN A SENTENCE, SHARE YOUR THOUGHTS ON TODAY'S STORY
Kids News loves reading your best grammar, punctuation and vocabulary.
We choose great comments to publish here.