A TV weather presenter has combined her passions to launch a children's book and weather kit, with a working windmill.
Nine News Melbourne weather presenter Livinia Nixon came up with the idea for the kits with her publisher as a way to get young people thinking about science.
"I thought that was a fantastic idea and a fun way to introduce kids to weather and science," Nixon said.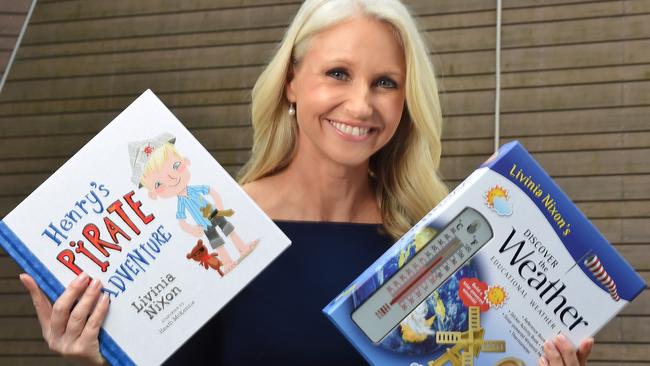 "I spent the next 12 months writing it and putting the sticker activities, wall chart, science experiments and solar powered windmill that kids can assemble together."
Nixon spent a year perfecting her book Henry's Pirate Adventure and enlisted* the help of her own kids to get the project completed.
"I am passionate about reading. I love escaping into stories and learning about history," she said.
"I am in book club, which is so much fun, and reading is a joy I want to give to my children."
"We are constantly reading books and making up stories."
Henry's Pirate Adventure was inspired by a tale she concocted* with her son Henry.
"I said to Henry, 'Gosh this story has everything that is in my life in that one adventure. It has weather, it has travel, it has adventure and all the things I love," she said.
"So I wrote it up and now it is out … and it is a wonderful feeling."
Henry and Nixon's other son, Ted, feature in the book's illustrations by Heath McKenzie.
GLOSSARY
enlisted: enrolled
concocted: made or created
LISTEN TO TODAY'S STORY
CLASSROOM ACTIVITIES
Activity 1. Read and respond
Read or listen to the article carefully and answer the following questions with as much information as possible.
• What did Livinia create?
• What are some of the activities of Livinia's book?
• What are some of the themes this book includes?
• Why does Livinia love reading?
• Who did Livinia name the pirate in her book after?
• Why do you think it took 12 months to complete the book?
Extension: Book launch
Imagine you are Livinia Nixon and are going to introduce your book at a book launch.
Write a short speech (one or two paragraphs) about how you got the idea for this book, what it is about and what is different/special about your book.
Time: allow 30 minutes for this activity
Curriculum links: English
Activity 2. Combine your passions
Livinia wrote a book about something she was passionate about.
Think of an idea for a picture story book about something you are passionate about.
It could be your favourite sport, a craft or activity you enjoy doing, or topic you are interested in.
Write a submission* to a publisher (this could be your teacher or a partner) about your idea.
After they have read your submission, listen to their feedback on your idea.
*A submission is when you present an idea or proposal for another person's judgment.
Extension: Publish your work
Write a draft for your picture story book based on the submission you presented and the feedback you were given.
Rework your draft until you are happy with it and then create a final published copy of your story.
Time: this activity may take several sessions to complete
Curriculum links: English
VCOP ACTIVITY
(Vocabulary, Connectives, Openers, Punctuation)
Create a children's book
Design the front cover of a children's book for younger students at your school.
Try and make it simple and come up with a catchy title.
Write a blurb for the back cover.
Tip: Have a look at some of the books in your classroom for some ideas.
Extension:
Write your children's book.
Time: allow 30 minutes to complete this activity
Curriculum links: English, Big Write, VCOP
EXTRA RESOURCES
MODERN-DAY MESSAGE IN A BOTTLE
KIDS TEACHING KIDS AT CONFERENCE