UPDATED STORY: (Monday, March 25)
West Australians are being urged to stay indoors today until the weakening but still extremely dangerous tropical cyclone Veronica passes.
The Category 3 storm brought very destructive gusts at more than 200km/h as it tracked along the coast between Karratha and Port Hedland on Sunday evening.
Premier Mark McGowan urged people to stay indoors, even those who had weathered cyclones before because the vicious storm was moving slowly.
"People in that part of the world are used to cyclones but this one is different," Mr McGowan said yesterday.
He also warned against "stupid behaviour" after reports people were taking selfies in the storm.
"Don't risk your own life, don't risk the lives of your children, don't risk the life of others," he said.
The Bureau of Meteorology said the storm will continue to weaken today when it will begin to move west.
Widespread rainfall means major flooding over the Pilbara coast is likely through the day. Rivers are rising and roads and communities could be cut off.
Meanwhile, Northern Territory residents are slowly returning to their homes after Cyclone Trevor made landfall at the weekend.
The cyclone has since weakened to a tropical low storm and is making its way back to Queensland where forecasters say it will dump heavy rain for several days.
A military plane carrying people evacuated from the NT towns of Angurugu and Umbakumba took off yesterday morning, and more trips are planned to return residents in coming days.
Teams of damage assessors have swept through and cleared homes in Angurugu, Umbakumba and Ngukurr, but people from Borroloola, Robinson River and Bickerton Island won't be going home just yet and will remain in evacuation centres.
More than 2000 people were forced to flee their homes in the largest evacuation effort since Cyclone Tracey hit Darwin in 1974.
LISTEN TO THIS UPDATED STORY
EARLIER STORY (Friday, March 22)
Thousands of people are being told to evacuate* their homes across large areas of the Northern Territory ahead of Cyclone Trevor hitting the region this weekend.
The Territory Government has declared a state of emergency* in its Gulf region as the weather system nears the coast.
It is expected to make landfall* as a dangerous category 4 storm sometime on Saturday.
Category 4 systems are classed as "severe' by the Bureau of Meteorology and can see winds of up to 279km/h. Large-scale power failures and flying debris* are likely.
NT Police have said many shelters such as caravans, barns and sheds in remote areas will not be strong enough to withstand a category 4 storm.
Cyclone Trevor has already uprooted trees, closed schools and roads and caused power outages with severe gusts and heavy rain since it hit Queensland's north.
Now just west of Cape York, Trevor is only at category 1. But the wide expanse of warm waters in the Gulf of Carpentaria will power it back up.
The NT Government has evacuated more than 1000 residents from Groote Eylandt and Numbulwar with another 1000 people being moved out of Borroloola, the McArthur River zinc mine, Robinson River and other communities all along the Gulf of Carpentaria coast to Queensland.
Australian Defence Force Hercules' aircraft are being used to transport people, who have begun arriving in Darwin and Katherine where indoor sleeping facilities are being set up at local showgrounds.
That includes creating barriers to ensure indigenous cultural protocols are followed and people are spoken to in local languages.
"We've used buses, vehicles, ferries, planes, helicopters and anything else in between we can get out hands on," police regional controller Travis Wurst said.
The eye of the storm* is expected to be about 30km wide, which is the same size as the entire Cyclone Marcus system that hit Darwin a year ago.
But the NT is not alone.
Cyclone Veronica, which is due to approach Western Australia's Pilbara coast this weekend, has intensified from a Category 1 to 4.
It is expected to intensify more and could reach a Category 5 by Friday.
The Bureau of Meteorology warned the cyclone would have a severe impact.
Residents along the Pilbara coast are being warned they could face winds gusts in excess of 165km/h as Cyclone Veronica reaches the coast.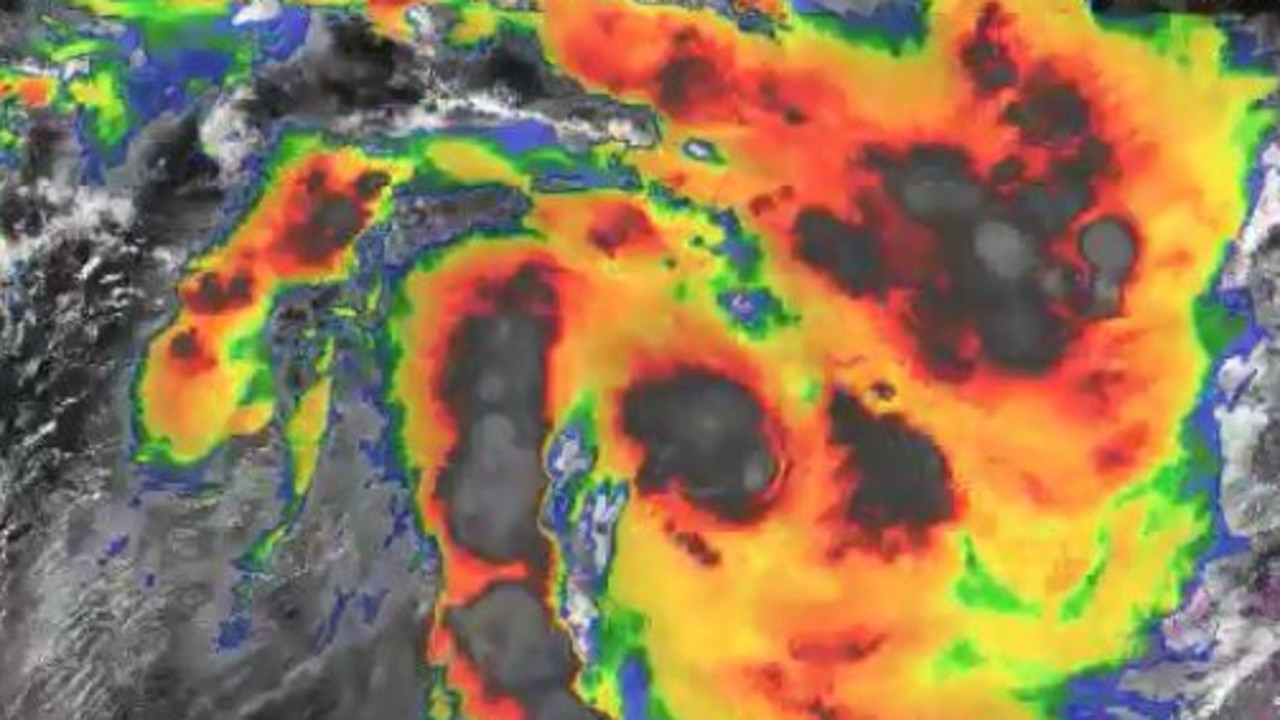 Police, emergency services personnel and local authorities have warned locals not to venture outside if you find yourself in the eye of the cyclone, saying "destructive winds from a different direction could resume* at any time".
Weather bureau meteorologist* Lauren Pattie said Cyclone Trevor was expected to move towards the Northern Territory on Saturday and Sunday.
But it could stall and move back towards Queensland next week.
"It's a little too early to say how strong that system will be when it comes, but we are likely to see an increase in shower and storm activity for the southern part of Queensland," Ms Pattie said.
She said any rains could be welcome news to farmers struggling with drought*.
"At this stage we aren't expecting any particularly significant* rainfall totals, but that area is quite dry at the moment, I'm sure any rainfall will be welcome," Ms Pattie said.
Many roads and schools are closed across the Cape and residents are reminded not to risk driving on flooded roads, and to be careful of wildlife.
HOW ARE TROPICAL STORMS AND CYCLONES NAMED?
Large storms are given names to help with clear communication when instructing residents or reporting on the event, but across the world countries have different ways of naming storms
In Australia, the Bureau of Meteorology (BoM) has a list of 104 names that are used for tropical cyclones in the region.
Once a name for a new tropical cyclone is chosen from the list the World Meteorological Organisation Regional Tropical Cyclone Committee for the SE Pacific has to approve the name.
Sometimes names are changed or not accepted.
The committee does this if they think the name is hard to pronounce, has a more common spelling or is too similar to another storm's name in recent times.
When a cyclone is significant and has lasting impacts on the country, like Cyclone Tracy which destroyed much of Darwin in 1974, the name is "retired" and replaced.
GLOSSARY
evacuate: remove someone from a place of danger to a safer place
state of emergency: situation of national or state danger or disaster
landfall: the reaching of land by a storm, boat or aircraft
debris: scattered piece of rubbish or remains
eye of the storm: centre
resume: continue
meteorologist: expert weather forecaster
drought: long period of abnormally low rainfall leading to a lack of water
significant: important or remarkable
EXTRA READING
Residents battle Cyclone Marcus
America battles record big freeze

QUICK QUIZ
Name the two cyclones approaching landfall.
What category level are the each expected to reach?
How wide is the eye of the NT cyclone expected to be?
Which Arnhem Land towns are being evacuated?
What is Lauren Pattie's job?
LISTEN TO THE EARLIER CYCLONE STORY

CLASSROOM ACTIVITIES
1. Map the emergency
On a map of Australia locate and shade the areas of Northern Territory, Western Australia and Queensland expected to be impacted by these weather events. For each area write what type of weather they may experience over the next few days.
Time: allow 15 minutes to complete this activity
Curriculum Links: English, HASS – Geography, Science
2. Extension
The article includes some advice about what to do (or not do) during these weather events. Can you think of other sensible precautions people in these areas should take before the cyclone arrives, during the storm and after it? What can they do to reduce the damage to their home and property?
Create a flyer that highlights safety precautions people in these areas should take BEFORE, DURING and AFTER the cyclone.
Time: allow 20 minutes to complete this activity
Curriculum Links: English, Critical and Creative Thinking
VCOP ACTIVITY
With a partner see if you can identify all the doing words/verbs in this text. Highlight them in yellow and then make a list of them all down your page. Now see if you and your partner can come up with a synonym for the chosen verb. Make sure it still makes sense in the context it was taken from.
Try to replace some of the original verbs with your synonyms and discuss if any are better and why.
Curriculum Links: English, Big Write and VCOP
HAVE YOUR SAY: Name something important that you would take with you if you had to evacuate your home in a cyclone?
No one-word answers. Use full sentences to explain your thinking. Comments will not show until approved by editors.