A rainbow in Taiwan has lasted for almost nine hours giving onlookers plenty of time to admire the record-breaking natural phenomenon.
A group of students at the Chinese Culture University in Taipei's mountains counted as the rainbow persisted* for eight hours and 58 minutes.
The previous record was set by an English rainbow on March 14, 1994. According to the Guinness World Records, it lasted six hours.
"It was amazing … It felt like a gift from the sky … It's so rare!" said Department of Atmospheric Sciences Professor Chou Kun-hsuan about the Taiwanese rainbow, according to BBC News.
"After four hours, we mobilised* all our students and began to notify* everyone in the school to take pictures and send us pictures."
The university asked students and staff to send any photos or video of the rainbow so the length of the rainbow could be proven to judges at the Guinness World Records.
"We need 'per second' photos to support this record, no matter how many of them are available," the statement read.
Close to 10,000 pictures were taken by the Department of Atmospheric Sciences and hundreds of students and residents will add their evidence to make the case.
"I'm confident we can prove to Guinness second by second that this rainbow lasted for nine hours," Professor Kun-hsuan said.
Rainbows are formed by a specific combination of light and water in the sky. The arc-shaped features are often seen when it has been raining and then the sun comes out directly after.
But they don't usually last longer than an hour.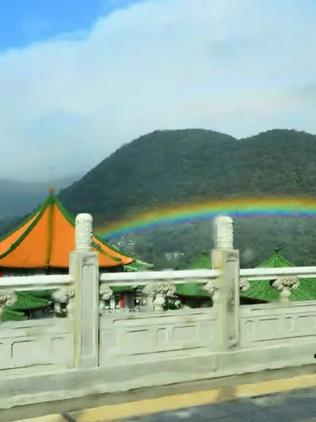 However, in this area where the seasonal monsoon trapped air, clouds and sunlight, the perfect conditions for a rainbow were maintained.
The atmospheric sciences professor said these conditions were typical for Taipei's Yangmingshan mountain range area.
"I plan to contact the Taipei City tourism department to promote this, 'You can see a nine-hour rainbow in Taipei in the winter, it's amazing! Come to Taipei!'" Professor Kun-hsuan said.
GLOSSARY
persisted: lasted
mobilised: organised
notify: told
LISTEN TO TODAY'S STORY
CLASSROOM ACTIVITIES
Activity 1. TV news
For this activity work in a small group.
Pretend you are a television news station reporting on this world record event.
Use information in the article to cover the who, what, when, where, why and how.
Include an interview of someone from Taipei in your news report.
Also include information about how rainbows are formed and why the conditions were perfect in this area.
Practice performing your news report.
When you are happy with it, present it to your class.
Extension: Snap shot
The article says that to qualify for a Guinness world record stating that this rainbow was visible for eight hours and 58 minutes they need to provide photo evidence at every second of this time.
How many photos will be needed to create this evidence?
The Department of Atmospheric Sciences have taken some pictures themselves.
How many photos have they taken?
How many more do they hope to get from other students and residents?
How many photos for evidence would have been required for the previous Guinness World record of the longest lasting rainbow?
Time: allow 60 minutes to complete this activity
Curriculum links: English, Mathematics, The Arts — Drama

Activity 2. Making rainbows
Have a go at creating your own rainbow in the classroom.
You will need a glass of water, a piece of white paper and some sunlight.
Work in an area of the classroom that has sunlight coming through the window. Hold the glass of water above the white paper so that the sunlight hits the glass.
Watch what happens on the paper. Try moving the angle of the glass around or the height of the glass above the paper.
What effect did this have on the results?
Write this up as a science experiment.
Include the following in your report: Title, aim, hypothesis (what you think will happen), equipment, method, diagram, results and conclusion.
You may need to research why rainbows occur and relate this to the experiment you conducted.
Extension: Come and see rainbows in Taiwan!
Taipei has excellent conditions for rainbows.
Read the article carefully to find out what part of Taiwan and what time of the year is best to see rainbows.
Create a tourism brochure encouraging people to visit Taiwan to see these rainbows.
Include in your brochure some other things that they can see while they are there.
Time: allow 60 minutes to complete this activity
Curriculum links: English, Science, Humanities — Geography, The Arts — Media Arts
VCOP ACTIVITY
(Vocabulary, Connectives, Openers and Punctuation)
Find some images of rainbows on the internet or in this story.
What words spring to mind when you see these images?
Write a haiku poem using some of these words.
Make sure you follow the haiku outline.
First line — five syllables
Second line — seven syllables
Third line — five syllables
Extension:
Write some alternative headlines for this article about the rainbow in Taiwan.
Use block letters to publish you favourite one.
Time: allow 30 minutes to complete this activity
Curriculum Links: English, Big Write, VCOP
EXTRA RESOURCES
20 YEARS OF WEATHER IN TWO MINUTES
IS THE WORLD RUNNING OUT OF WATER?
SCIENTISTS WANT GLOBAL GLITTER BAN
UFO MYSTERY LURES US FILMMAKER
WHAT'S HIDDEN UNDER EARTH'S CRUST?
IN A SENTENCE, SHARE YOUR THOUGHTS ON TODAY'S STORY
Kids News loves reading your best grammar, vocabulary and spelling.
We publish the best comments.