Sydney has been plunged into chaos* after the biggest rain event in 30 years sparked floods, home evacuations*, traffic delays and landslides.
And while the downpours* helped put out dozens of bushfires along Australia's east coast, they also led to 4000 calls for help in NSW, 150 rescues and life-threatening flash-flooding.
Energy companies this morning were rushing to turn the lights back on for more than 100,000 customers left without power after multiple trees fell on power poles, cars and homes.
Sydney trains issued a warning for travellers to stay home if possible and avoid all unnecessary travel across the entire network because "trees in overhead wiring and on tracks, external power issues, signal equipment repairs and flooding" had caused long delays.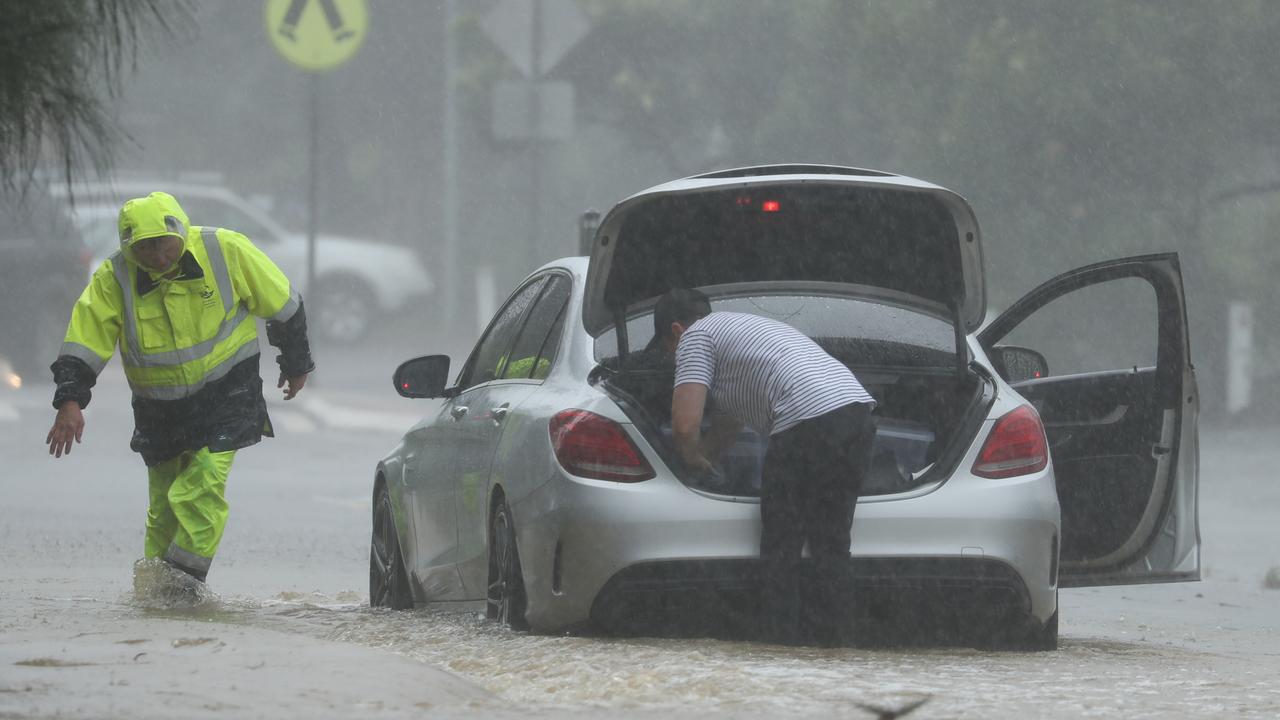 Sydney copped most of the rain with 160mm of rain falling at Hornsby between 9am and 5pm on Sunday while 129mm was recorded at Parramatta.
It comes on the back of massive dumps of rain in the northern parts of the state, including Kingscliff on the state's north coast where a huge 282mm of rain in the 24 hours before 9am on Sunday morning.
But the worst could be yet to come, with waves up to 8m high coupled with a king tide* prompted Bureau of Meteorology state manager Jane Golding to warn of coastal erosion* similar to that seen at Collaroy Beach in 2016.
"(Monday) and Tuesday will be the main danger period, because it is really the height of the waves, the power of the waves coming in from the east which erodes the land," she said.
More than 50 schools are closed across the state.
The Bureau of Meteorology said the deluge* could cause "life-threatening flash flooding" in the Hunter region, the Central Coast, greater Sydney, Illawarra and the Blue Mountains on Monday.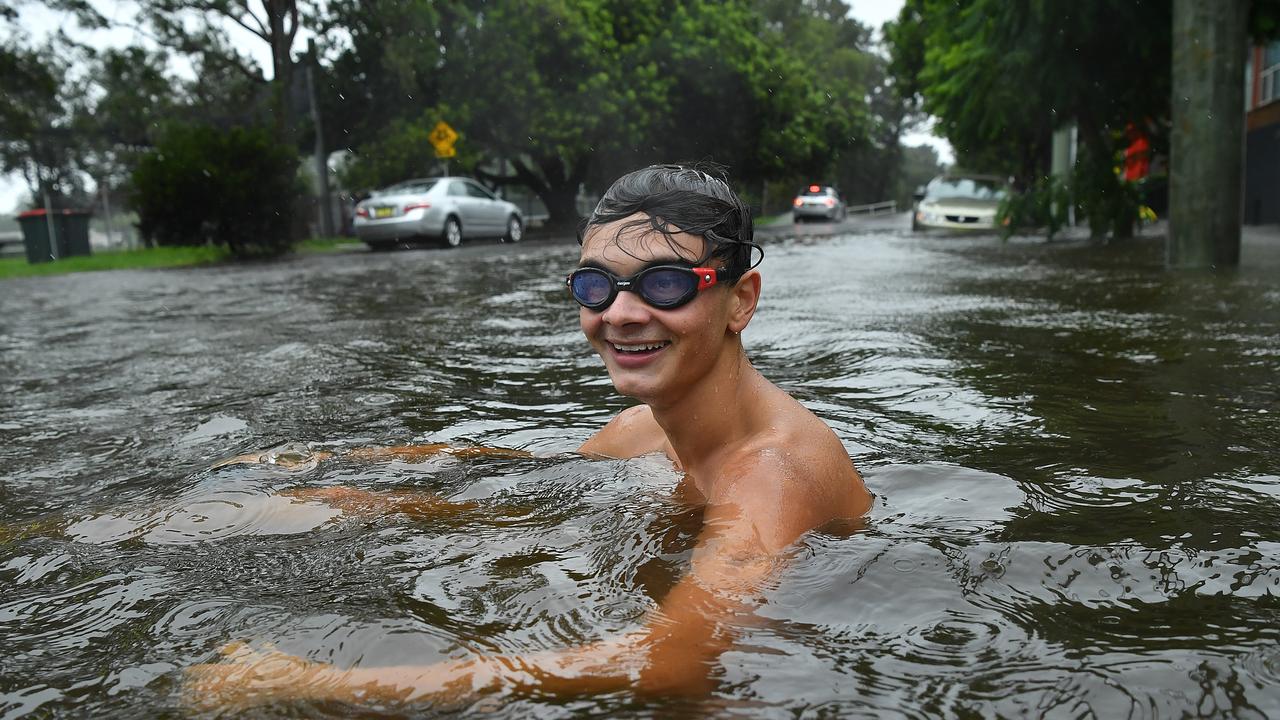 NSW Police Assistant Commissioner Karen Webb urged people to stay away from waterways because of rough seas, saying four men had to be saved after their boat capsized* on the Central Coast.
"Fortunately those people were rescued by good Samaritans* nearby, but that was very reckless* and unnecessary, and put lives at risk unnecessarily."
The town of Narrabri, 521km northwest of Sydney, went from "drought to flooding in a day", the local SES said. Heavy rains made lakes of paddocks and flooded the train station.
Meanwhile, locals on the NSW south coast were jubilant after hearing the news that the massive Currowan fire was finally out after burning for more than 70 days.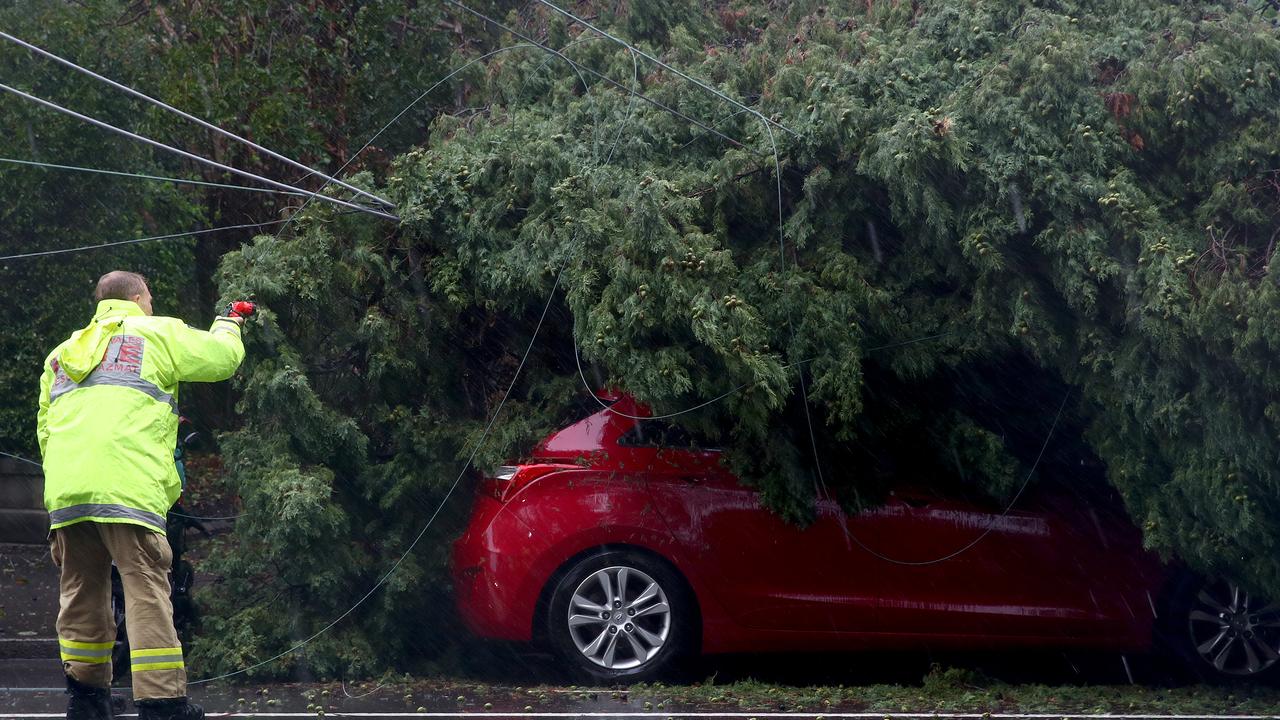 In Queensland's southeast, dams are now overflowing after torrential* rain pelted large parts of the state.
Video posted to social media showed raging floodwaters tearing through a backyard fence south of Brisbane, while dramatic footage of the Condamine River showed much-needed rain flowing through the previously dry riverbed.
"That part of the river has been dry for well over 12 months, actually some spots 18 months according to locals out there," said Toowoomba local Grant Rolph.
"There was definitely a rush of adrenaline when it came through – I had been waiting probably an hour and a half and about 6km away from me the river was flowing really strong heading in my direction so I knew it was coming down."
Meanwhile, former tropical cyclone Damien has weakened after lashing the West Australian coast with destructive winds of more than 200km/h at the weekend.
Evacuation orders and flood warnings issued to parts of NSW
GLOSSARY
chaos: confusion and panic
evacuations: forcing people to flee their homes
downpours: rainfall
king tide: a very high tide
erosion: wearing away of land
deluge: dump of rain
capsized: overturned
good Samaritans: strangers who help in times of trouble
reckless: dangerous
torrential: very heavy
EXTRA READING
Out-of-control bushfire burns one-fifth of ACT
QUICK QUIZ
How many calls for help have there been in NSW?
Why are travellers being told to stay home?
How many schools are closed?
Which fire is finally out after 70 days?
What is the name of the cyclone that hit WA?
LISTEN TO THIS STORY

CLASSROOM ACTIVITIES
1. Alert
Identify those parts of the information that are most important for people in the affected areas to be aware of in the next few days. Write and then record a radio alert that will help people to protect themselves and their property. The alert needs to be short and to the point.
Time: allow 20 minutes to complete this activity
Curriculum Links: English
2. Extension
The town of Narrabri went from "drought to flooding in a day". Write a poem that captures this change in the landscape using descriptive language to help paint the picture.
Time: allow 20 minutes to complete this activity
Curriculum Links: English
VCOP ACTIVITY
With a partner see if you can identify all the doing words/verbs in this text. Highlight them in yellow and then make a list of them all down your page. Now see if you and your partner can come up with a synonym for the chosen verb. Make sure it still makes sense in the context it was taken from.
Try to replace some of the original verbs with your synonyms and discuss if any are better and why.
Curriculum Links: English, Big Write and VCOP
HAVE YOUR SAY: How would you describe Australia's changing weather in 2020 to an overseas visitor?
No one-word answers. Use full sentences to explain your thinking. No comments will show until approved by editors.