Millions of Americans are living their own version of the movie Frozen this week as a record-breaking cold snap hits the US.
Weather records look set to be broken as the coldest air experienced in many years moves from the Arctic to the US.
The frigid* air has closed schools and businesses, people who are homeless are being moved off the streets, flights have been cancelled, small lakes have frozen and even the famous waterfalls at Niagara Falls on the border with Canada are full of ice.
Residents are being warned they could suffer frostbite* within five minutes if exposed to the cold.
In the US state of Iowa, the coldest temperatures in more than 20 years are expected to create wind chills* of between minus 37C and minus 48C. In Chicago, Illinois, US, the daytime "high" wasn't expected to reach minus 10C on Wednesday.

VIDEO: Even the moving water is partially frozen at Niagara Falls
"With these conditions, we consider it life-threatening," said Jeff Schild, a meteorologist* with the National Weather Service in Bismarck, North Dakota, US, where temperatures are expected to plummet by Wednesday to minus 34C, with a wind chill of minus 51C.
The brutal blast results from a temporary shift of an extremely cold air mass, called the polar* vortex*, that normally sits over the North Pole and Arctic.
Recent research has found that melting sea ice north of Russia sends more heat into the atmosphere, which destabilises the Arctic polar vortex. Earth's other polar vortex sits over Antarctica and the South Pole.
"That allows that polar air to plunge southward," said Jennifer Francis, a senior scientist with the Woods Hole Research Center in Woods Hole, Massachusetts, US. "We think it's connected back to the sea ice loss."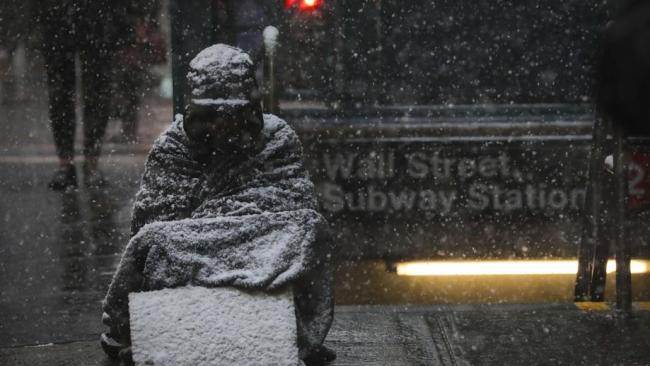 Such extreme cold causes disruptions to everyday life and can be dangerous. Many flights in northern US states have been cancelled in recent days. Flying becomes dangerous if pilots can't see well or if the plane's engines are iced up.
Weather officials in northern US states have warned people to limit their time outdoors. Those who need to drive in the coldest states such as North Dakota, US, have been warned to carry a winter survival kit, including blankets and flares, wear appropriate clothing and inform people of their travel plans. People also were advised to bring their pets inside.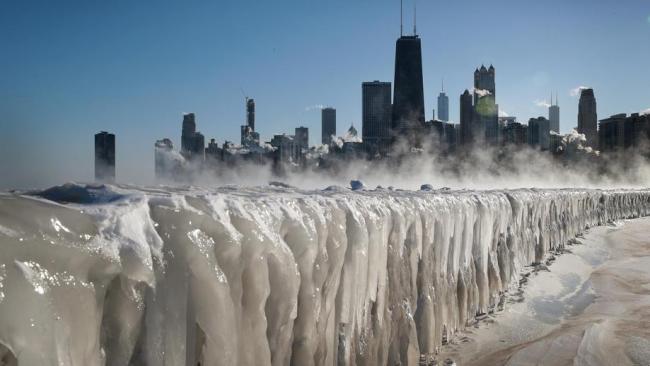 The cold is stretching farther south than usual. In the country-music city of Nashville, Tennessee, US, an emergency shelter was opened Monday night in anticipation of freezing temperatures and snow. Most of Tennessee usually has a humid, subtropical climate like southeast Queensland.
For Australia, the freezing weather is hard to imagine as we swelter through heatwave after heatwave this summer and high temperatures break records at the other end of the thermometer*.
Last week, Adelaide hit 46.6C, its hottest day ever recorded. Noona, in western NSW, broke the all-time minimum temperature record for Australia, with an overnight low of 35.9C. Australian weather officials are issuing almost daily extreme heat warnings around the country, urging people to stay out of the heat and drink plenty of water.
GLOSSARY
frigid: very cold
frostbite: injury resulting from exposure to extreme cold
wind chills: the cooling effects of wind blowing on a surface
meteorologist: weather scientist
polar: relating to the poles
vortex: a whirling mass of swirling air
thermometer: equipment to measure and show temperature
EXTRA READING
Our cities could be too hot to live in
Rain, hail or shine, this is a job for you
Sir David Attenborough's climate change warning
Wanted: fridge fixer for the coldest place on Earth
QUICK QUIZ
Name three problems caused by the extreme cold.
What was the forecast daytime high in Chicago for Wednesday?
What is the cold air mass called?
Where do the Earth's two cold air masses usually sit?
What temperature is the hottest day ever recorded in Adelaide?

LISTEN TO THIS STORY
CLASSROOM ACTIVITIES
1. Create a Kit
In the story you have read that in the US, people are being asked to carry a cold weather survival kit. Create a checklist for all of the things that you think you should have in a cold weather survival kit. Then, create a checklist for a hot weather survival kit. For both checklists, explain why you have chosen each item in the kit.
Time: allow 25 minutes to complete this activity
Curriculum Links: Critical and Creative Thinking, Geography, English
2. Extension
Create a diagram that will help a younger student understand what has caused the extremely cold weather in the US. Don't forget to use labels to make your diagram clear.
Time: allow 30 minutes to complete this activity
Curriculum Links: Science, Geography
VCOP ACTIVITY
After reading the article, with a partner, highlight as many pieces of punctuation as you can find in green. Discuss how these are being used, where and how often. What level of the punctuation pyramid is the journalist using in this article?
HAVE YOUR SAY: Describe extreme heat or cold you have experienced. How did you stay comfortable? How did you stay safe and well?
No one-word answers. Use full sentences to explain your thinking.