US space agency NASA has captured 20 years of changing seasons in a striking new video map of our home planet.
The video, released this week, shows how Earth changes over the seasons and years, as seen from space.
The polar ice caps and snow cover are shown ebbing and flowing* with the seasons. The varying ocean shades of blue, green, red and purple show the abundance* — or sometimes lack — of life in the sea.
"It's like watching the Earth breathe. It's really remarkable*," said NASA oceanographer*, Jeremy Werdell, who took part in the project.
Two decades — from September 1997 to this past September — are squashed into two minutes of viewing.
Mr Werdell said he found the imagery mesmerising*.
"It's like all of my senses are being transported into space, and then you can compress* time and rewind it, and just continually watch this kind of visualisation," he said.
Mr Werdell said the video showed spring coming earlier and autumn lasting longer in the Northern Hemisphere. Also noticeable to him was the Arctic ice caps receding* over time — and, though less obvious, the Antarctic, too.
On the sea side, Mr Werdell was struck by "this hugely productive bloom of biology" that exploded in the Pacific along the equator from 1997 to 1998 — when a water-warming weather system called an El Nino merged into cooling weather system called a La Nina. This algae bloom was evident by a line of bright green.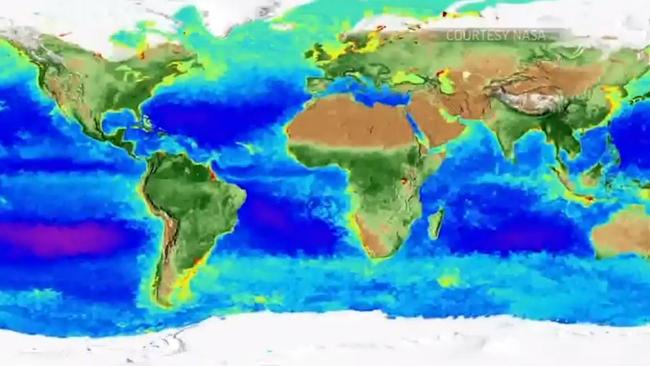 The information and patterns observed can be used by a variety of people to help them better understand how the climate has changed and how the world varies over a year.
Programmer Alex Kekesi, of NASA's Goddard Space Flight Centre in Maryland, said it took three months to complete the visualisation, using satellite imagery from space.
GLOSSARY
ebbing and flowing: going in and out
remarkable: amazing
oceanographer: scientists who studies oceans
mesmerising: hard to look away from
compress: squash
receding: declining
LISTEN TO TODAY'S STORY
CLASSROOM ACTIVITIES
Activity 1.
Why do you think it is important that scientists have watched the planet change over the seasons for the past 20 years?
In a few sentences, explain your answer.
Extension What do you know about climate change?
Find out what it is and what it means for everyone.
Write a letter to the editor of Kids News. Your letter should be about why it is important for scientists to study the changes in the climate.
Time: allow 60 minutes to complete this activity
Curriculum links: Science, Critical and Creative Thinking, Geography, English
2. Watch the video and write down at least five changes you observe happening.
Extension: Find out more about what algae is, the main types of algae, how it grows, why it is important and also how it can cause problems. Use this information to create a poster all about algae.
Time: allow 75 minutes to complete this activity
Curriculum links: Science
VCOP ACTIVITY
Choose 10-15 interesting and spacey words from the article. They could be nouns, adjectives or verbs.
With a partner, create a short story weaving these words into your writing.
Extension: Up-level your story by adding power openers (words that end in -ly or -ing).
Time: allow 15 minutes to complete this activity
Curriculum links: English, Big Write, VCOP
EXTRA RESOURCES
SCIENTISTS TUNING INTO HUMAN LIFE
NASA ADMITS PLANET NINE IS REAL
WHAT'S HIDDEN UNDER EARTH'S CRUST?
IN A SENTENCE, SHARE YOUR THOUGHTS ON TODAY'S STORY
Kids News loves reading your best grammar, vocabulary and spelling.
We publish the best comments.