Cooking a hot meal outdoors in Antarctica isn't easy, with the temperature plunging* as low as -80C.
But after a long, cold, dark winter, scientist Dr Cyprien Verseux really wanted to celebrate spring.
The astrobiologist has been working in the remotest* scientific research base in the world.
Astrobiologists study whether life could exist beyond Earth and how we could find it if it does. The freezing, harsh environment of Antarctica is a good place to be to study astrobiology.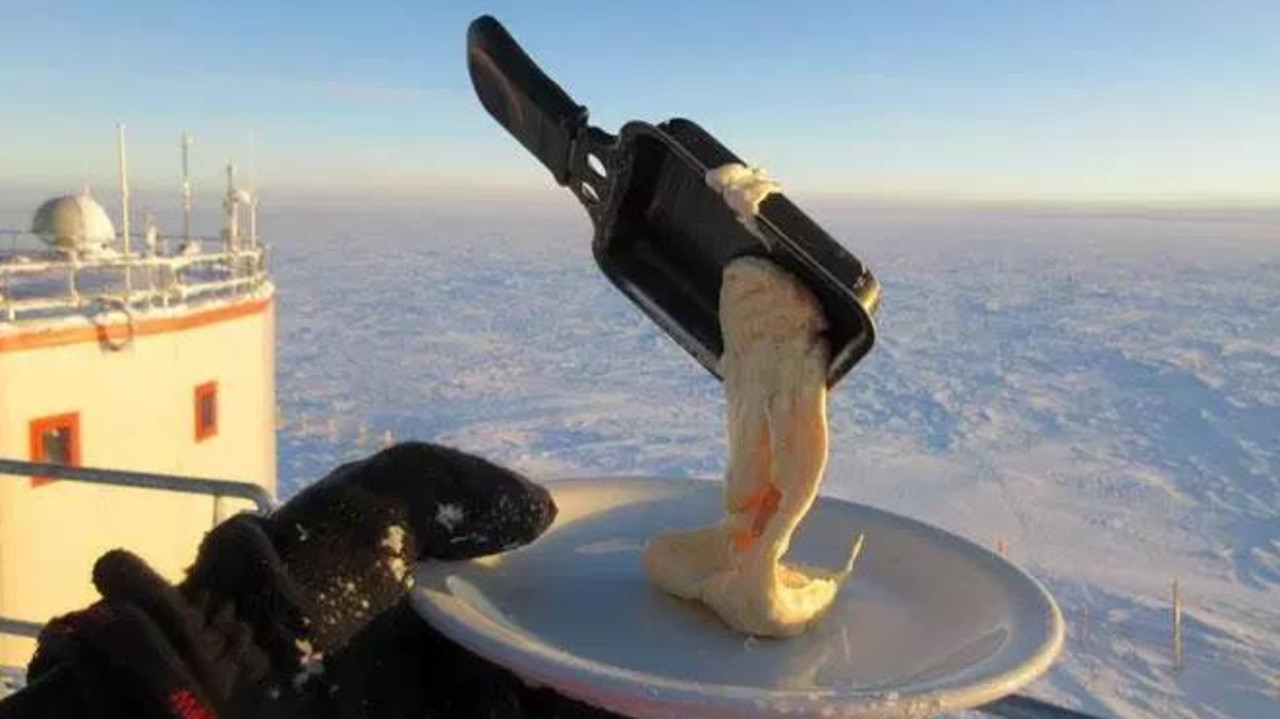 In fact, Concordia research station is farther away from human life than the International Space Station.
Dr Verseux decided to see whether the relatively* warm spring temperatures of -60C would allow some outside cooking, but he reported from Antarctica that the experiment wasn't a great success.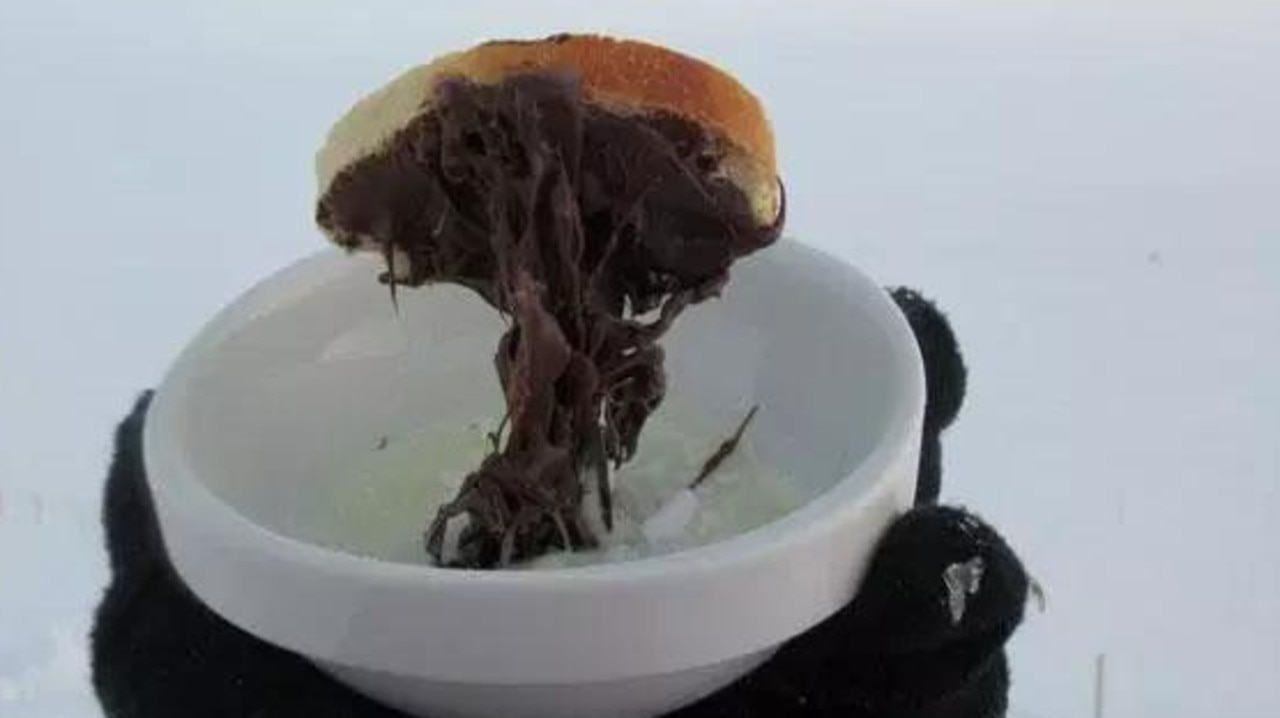 "Having lunch on the roof was not a good idea," the French scientist said.
His meal of spaghetti was frozen before he could get the fork into his mouth.
When he tried to fry eggs, the yolks froze mid-air before they hit the pan.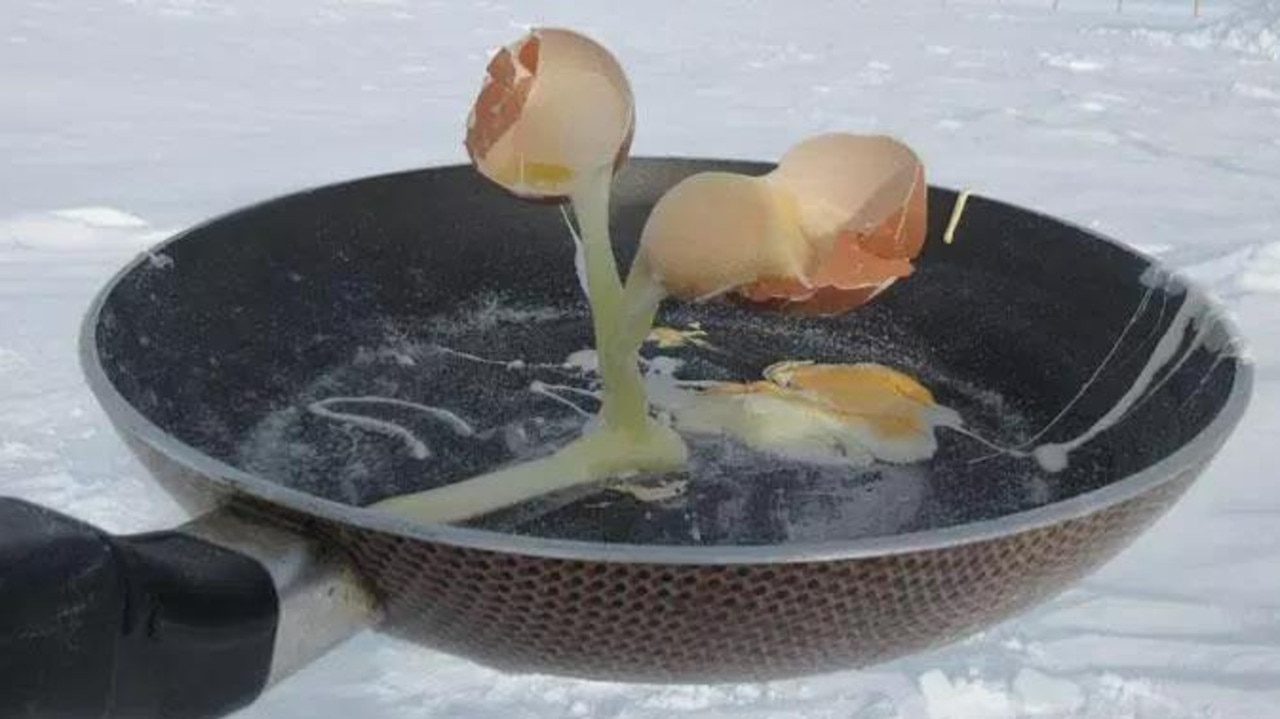 "Temperatures are rising, -60C already feels warmish* after the winter months, and we decided to take photos showing the cold in a fun way before we get summer temperatures."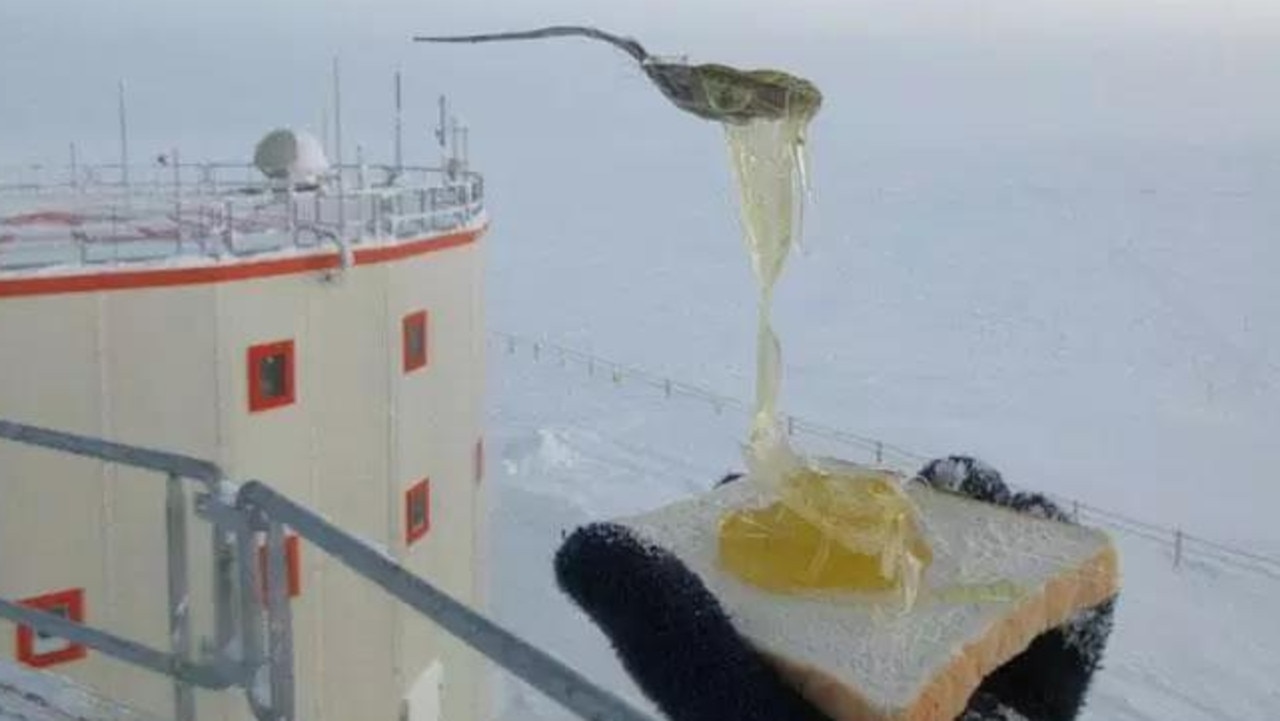 The highest recorded temperature at the South Pole is -12.3C, which was on Christmas Day 2011.
"The temperatures are so low here that just giving numbers is not very evocative*."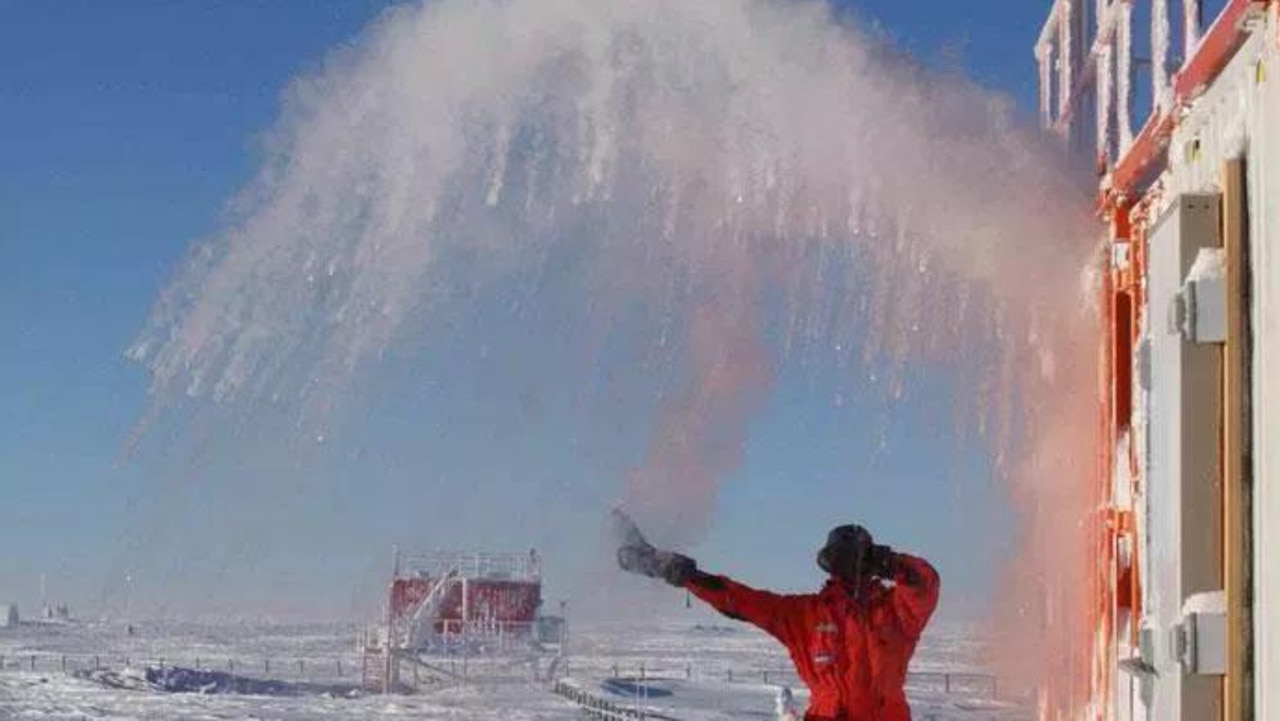 Dr Verseux appeared in news stories in 2016 when he was one of six scientists who spent a whole year isolated in a dome in Hawaii as part of a NASA experiment to see if it was possible to live on Mars.
This story originally appeared in The Sun and was reproduced with permission.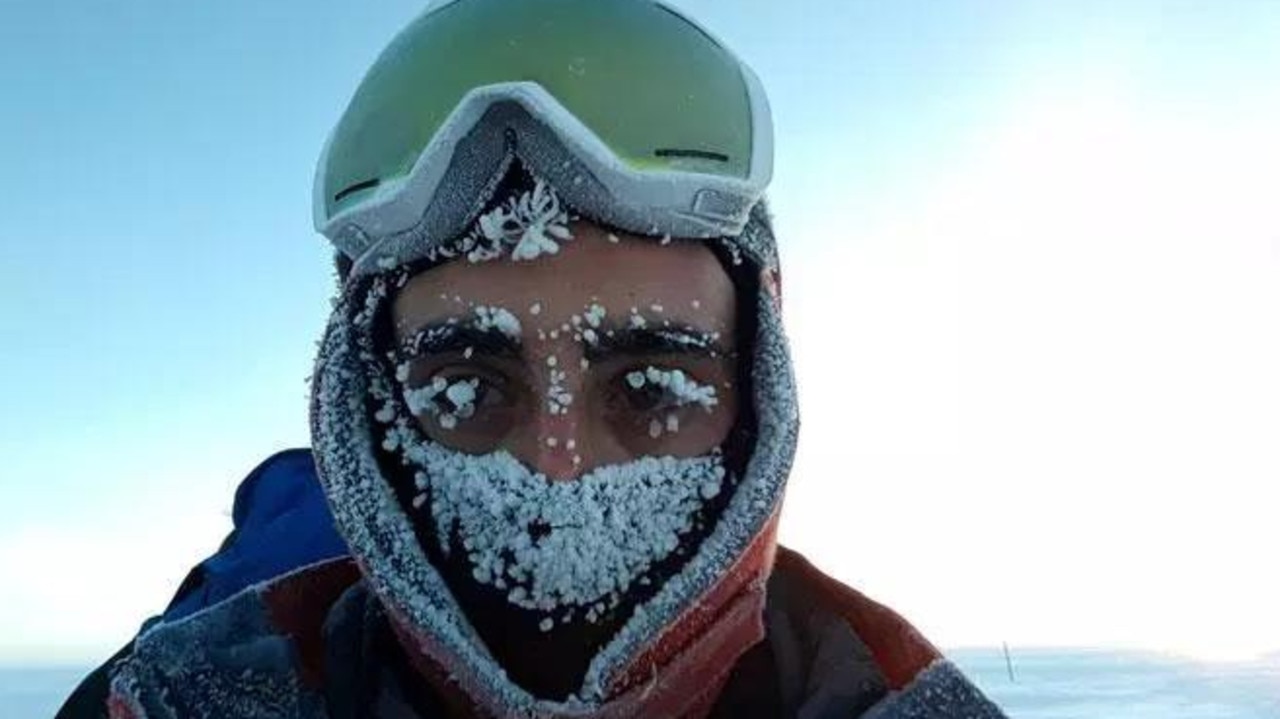 This short video shows some of what researchers at Antarctica and nearby islands see
EXTRA READING
Antarctic ice melting faster than expected
Shortest day of the year is here
Aussie students on Mars robot mission
GLOSSARY
plunging: going down really quickly
remotest: the longest distance from cities and towns
relatively: when compared to
warmish: a little bit warm
evocative: brings strong feelings or pictures to your mind
LISTEN TO TODAY'S STORY
QUICK QUIZ
1. What is an astrobiologist?
2. Why would you go to Antarctica to study astrobiology?
3. What happened to the spaghetti?
4. What temperature feels warmish to him?
5. What is the highest recorded temperature at the South Pole?

CLASSROOM ACTIVITIES
This story is about what happens to food on one of the coldest places on earth. The hottest temperature ever recorded was at Death Valley in the USA. In 1913, it reached over 56.7C.
What do you think would happen to each of the foods in the story in the hottest temperature? For each food, write a description of what it would look like and why. Create a drawing or picture of the food as well.
Time: Allow 30 minutes
Curriculum Links: English, Science, Critical and Creative Thinking
Extension: Imagine that you are Dr Verseux. Write a diary for a day in your life at Concordia station.
Time: Allow 25 minutes
Curriculum Links: English
VCOP ACTIVITY
With a partner see if you can you identify all the doing words/verbs in this text. Highlight them in yellow and then make a list of them all down your page. Now see if you and your partner can come up with a synonym for the chosen verb. Make sure it still makes sense in the context it was taken from.
Try to replace some of the original verbs with your synonyms and discuss if any are better and why.
HAVE YOUR SAY: What would you study if you could be a scientist? What do you want to know the answer to? Why?
Use full sentences to explain your thinking. No one-word answers.