Extreme weather events hit different parts of Australia at the weekend with Darwin being battered* by a tropical cyclone and NSW and Victoria battling dangerous bushfires.
Darwin residents have begun a huge clean-up after Tropical Cyclone Marcus passed through the city on Saturday.
Trees were ripped from the ground, power lines were damaged and boats torn from their moorings* as the Category 2* storm hit about midday.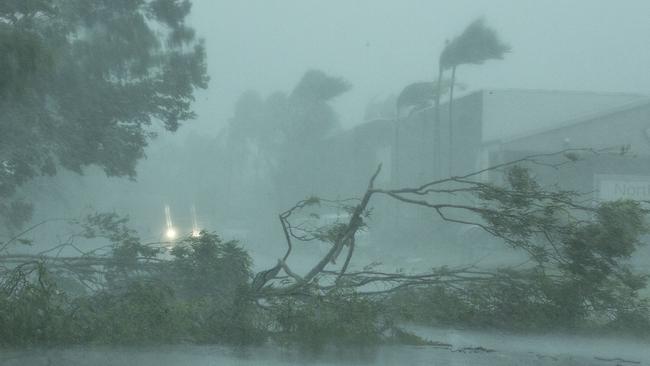 Homeowners were warned to stay indoors as the huge winds saw fully grown trees rolling down streets and roofs flying off buildings.
Weather forecasters had predicted* wind gusts of up to 130km an hour ahead of the storm.
Chief Minister Michael Gunner has told schools and businesses in the Greater Darwin area to remain closed today (Monday), as power and water companies work to get electricity and water supplies back to homes and businesses.
Yesterday about 23,000 homes were still without power.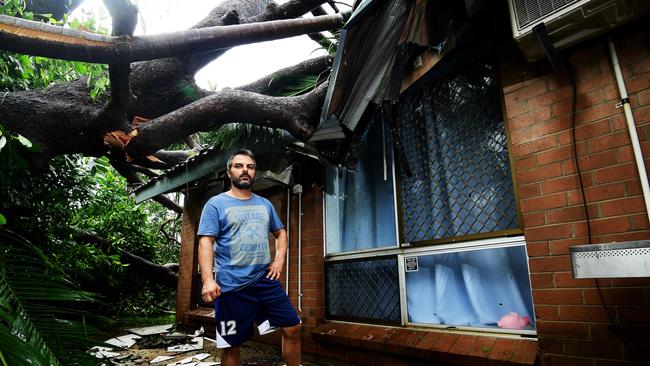 Thanasi and Lisa Zaimakis were supposed to be celebrating their two-year-old daughter's birthday yesterday but instead they will be cleaning up after a massive tree smashed through their Karama home.
Bits of roofing fell from the ceiling, while the family's belongings lay water-logged on the floor. Peppa Pig, a bunny rabbit and a little ride-on car for their daughter lay in the rubble.
Ms Zaimakis was thankful her daughter had not been hurt as they were not yet living at the house.
"At least my daughter wasn't sleeping there, that's where her bed would have been.," she said.
Darwin and Palmerston residents have been told to boil all tap water intended for drinking, cooking or teeth cleaning for at least the next two days to prevent themselves from becoming sick.
BUSHFIRES DESTROY HOUSES
Up to 70 homes are believed to have been lost in a bushfire near Tathra, on the NSW south coast, and another 10 properties damaged by bushfire in Victoria.
Tathra mayor Kristy McBain said the concern was now about people stuck in Tathra as the roads in and out of the town were closed.
"It was a shock at how quickly the conditions changed and how quickly the emergency unfolded," she said.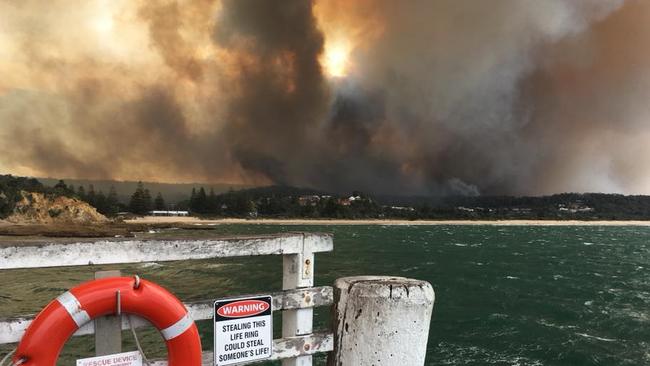 Yesterday hundreds of local residents were sheltering in a makeshift evacuation centre at the Bega Showground "all in tears with nowhere to go" following the sudden fire, which was believed to have destroyed Tathra Primary School.
Caretaker Peter Coulton said that the evacuation centre was "completely packed".
"They're all in tears, they have lost everything, they have nowhere to go," he said.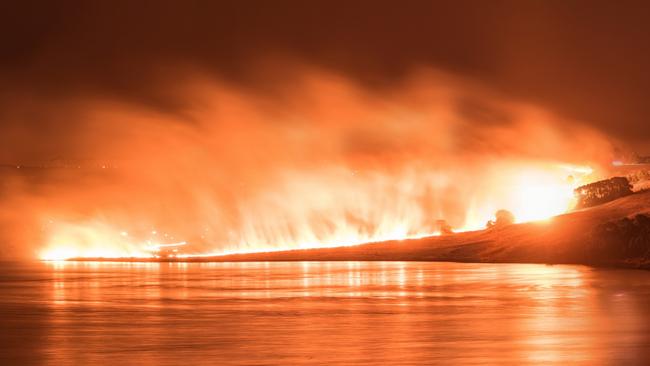 Fires are still impacting the Victorian communities of Terang, Cobden, Timboon and Simpson.
A grassfire at Garvoc-Laang Rd in Garvoc also remains out of control, but firefighters have been able to stop the spread of the fire.
Victorian Deputy Premier James Merlino said it was the biggest fire event of the season.
"This has been a difficult weekend," Mr Merlino said.
The fires in Victoria are believed to have been caused by lightning strikes.
Terang man Terry Carpenter returned to his home on Sunday to find it destroyed. He had to run for his life when flames took hold of his house.
"Trees, fencing, sheds and all of the house went up instantly," he told the Herald Sun.
"You could see balls of fire flying across the paddocks."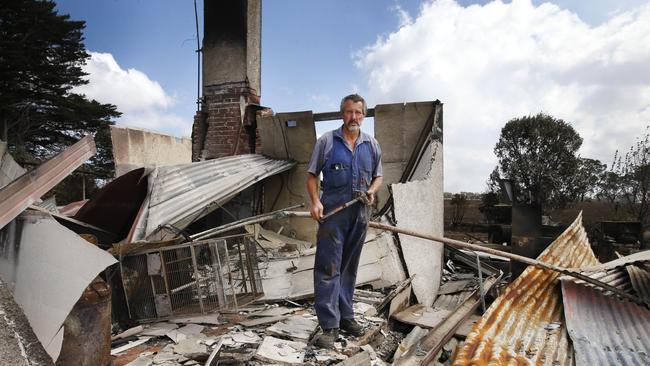 No deaths or serious injuries have been reported, but lots of beef and dairy cattle have been lost. More than 20,000 homes and businesses were without power last night.
Twenty-nine firefighting aircraft have been used to tackle the fires with 280 firefighters working on the ground.
The official bushfire danger period for NSW and Victoria doesn't end until March 31.
GLOSSARY
battered: hit hard
moorings: a place where a boat or a ship is tied up
Category 2: when a cyclone has strong, destructive winds
predicted: guess that something will happen
occupied: when a building is being used by someone
LISTEN TO TODAY'S STORY
QUICK QUIZ
1. What is the name of the Darwin cyclone?
2. What category number was it?
3. Why do Darwin residents have to boil water for the next few days?
4. What caused the Victorian fires?
5. Where is the evacuation centre located in Bega?
CLASSROOM ACTIVITIES
1. Keeping up with the news
Based on the information in the article, write three short (10-20 second) radio news bulletins for before, during and after Tropical Cyclone Marcus or the bushfires hit. Your news bulletins should be precise and factual with the aim of keeping residents calm, safe and informed.
Extension: When weather events such as cyclones or bushfires hit it is important to be prepared with the things that you might need in case services are cut off or you are unable to leave your home for an extended amount of time. Make a list of 10 items you would choose to have on hand in the case of a severe weather event.
Time: Allow 20 minutes
Curriculum links: English, Critical and Creative Thinking
2. Mending the damage
The article mentions many disruptions and a range of damage caused by Tropical Cyclone Marcus and the bushfires. Create a table with two columns — in the first column make a list of all of the disruptions and damage caused and then in the second column write down a solution for each of the problems.
Extension: Come up with some ways that Darwin residents could/can help one another before and after the tropical cyclone and how people in NSW and Victoria could assist their neighbours.
Time: Allow 15 minutes
Curriculum links: English, Civics and Citizenship
VCOP ACTIVITY
After reading the article, with a partner, highlight all the openers you can find in blue. Discuss if they are powerful and varied openers or not. Why do you think the journalists has used a mix of simple and power openers? Would you change any, and why?
IN ONE SENTENCE, TELL US WHAT YOU THINK ABOUT TODAY'S STORY
Please do not use one-word answers as we will not publish them. Explain what you enjoyed or found interesting in today's article. Use lots of adjectives.