When Yuma Soerianto became bored with his schoolwork at the age of six, he decided to teach himself to code with an online university course.
Since then, the 10-year-old developer from Melbourne has created six apps on the App Store and his own YouTube channel Anyone Can Code, aimed at educating kids about coding.
This week he's speaking about being a young leader in technology at the World Youth Forum in Egypt.
"I'm going to talk there to thousands and lots of people about how I got into coding and my leadership," he said.
"After that I'm going to Shanghai for a Chinese TV show called Junior Edison.
"I've been invited there to showcase my apps and my games and I hope to inspire millions of kids."
Yuma isn't a stranger to the spotlight*.
He was the youngest person flown to California to attend Apple Worldwide Developers Conference (WWDC).
It was there he impressed Apple CEO Tim Cook.
"I showed him my apps and he couldn't wait to see what I would make next," Yuma said.
"He was so inspiring, so kind."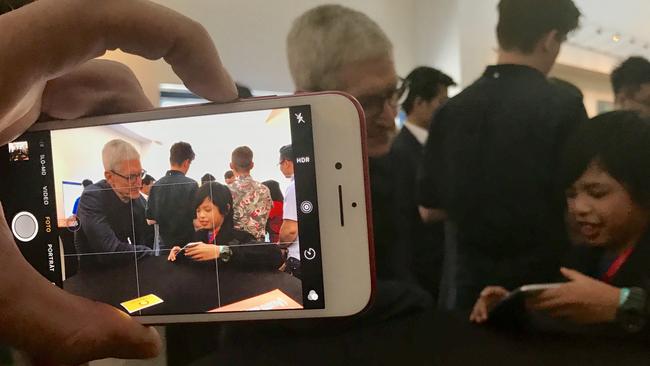 He also met former US First Lady Michelle Obama.
"She actually bowed down to me and we hugged each other," Yuma said.
At the conference Apple announced the ARKit, a toolkit designed to help developers use augmented reality features in their apps.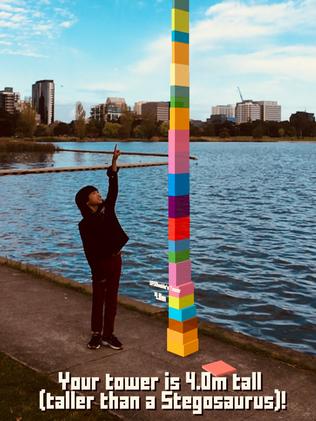 Yuma decided to give one of his most popular apps. Let's Stack!, an Augmented Reality makeover and launched Let's Stack! AR a few months ago.
"You help this little duck stack the highest tower of blocks without misplacing* them," he said.
"At the end you can see how tall it is and compare that to real world objects."
Objects users are able to compare their towers to include a bicycle, a Stegosaurus and Melbourne's Eureka Tower.
GLOSSARY
spotlight: attention
misplacing: putting something in the wrong place
LISTEN TO TODAY'S STORY
CLASSROOM ACTIVITIES
Activity 1. Yuma's experiences
Create a flow chart of events and experiences that have occurred in Yuma Soerianto's life.
Begin the chart with what he did at six and continue through to the events that are about to occur.
Extension: What's next?
Make a prediction of what might be in Yuma Soerianto's future.
What job might he have when he is older?
Why do you think this is likely?
What evidence from the text makes you think this?
Curriculum links: English, Digital technologies
Time: allow 30 minutes to complete this activity
Activity 2. Leadership in technology
Yuma has been asked to speak about being a young leader in technology.
What is leadership?
In what ways has Yuma shown leadership in technology?
Write a paragraph about how he has shown leadership and how this might help young people in the future.
Extension: How could you show leadership?
How could you share your special talent skill and show leadership to inspire others to learn from you?
Write a plan of how you could do this.
What would you need to get started?
If you don't already have a skill you feel confident in sharing, what could you work towards in the future?
What steps would you have to take to become a leader in this area?
Time: allow 60 minutes to complete this activity
Curriculum links: English, Digital Technologies
VCOP ACTIVITY
(Vocabulary, Connectives, Openers, Punctuation)
Coding Words
Abstraction, algorithm, binary, code, conditionals and data are all words related to coding.
But what do they mean?
Research to find out.
Extension:
Using your own words, explain to someone in your grade what these words mean.
Time: allow 30 minutes to complete this activity
Curriculum links: Digital Technologies, English, Big Write, VCOP
EXTRA RESOURCES
NEW IPHONE TURN YOUR FACE INTO AN EMOJI
ROBOT AWARDED SAUDI ARABIAN CITIZENSHIP
IN A SENTENCE, SHARE YOUR THOUGHTS ON TODAY'S STORY
Kids News loves reading your best grammar, vocabulary and spelling.
We publish the best comments.