Two Australian kids are set to trial 3D-printed prosthetic* limbs made from plastic shampoo and conditioner bottles.
Haley Wright, 12, and Connor Wyvill, 11, who were both born without a left hand, will soon test the prosthetic devices in their everyday life — going to school, playing sport and doing all those little things that are easier with two hands.
If Haley's and Connor's research shows the hands are a success, it is hoped the 3D-printed limbs will become more widely available.
Retired hairdresser Bernie Craven thought up the idea of making 3D-printed prosthetic limbs from recycled shampoo and conditioner bottles.
He started worrying about the environment "25 years ago" and in recent years set up a company that works with hair salons to help them sort and recycle all the waste the salons produce.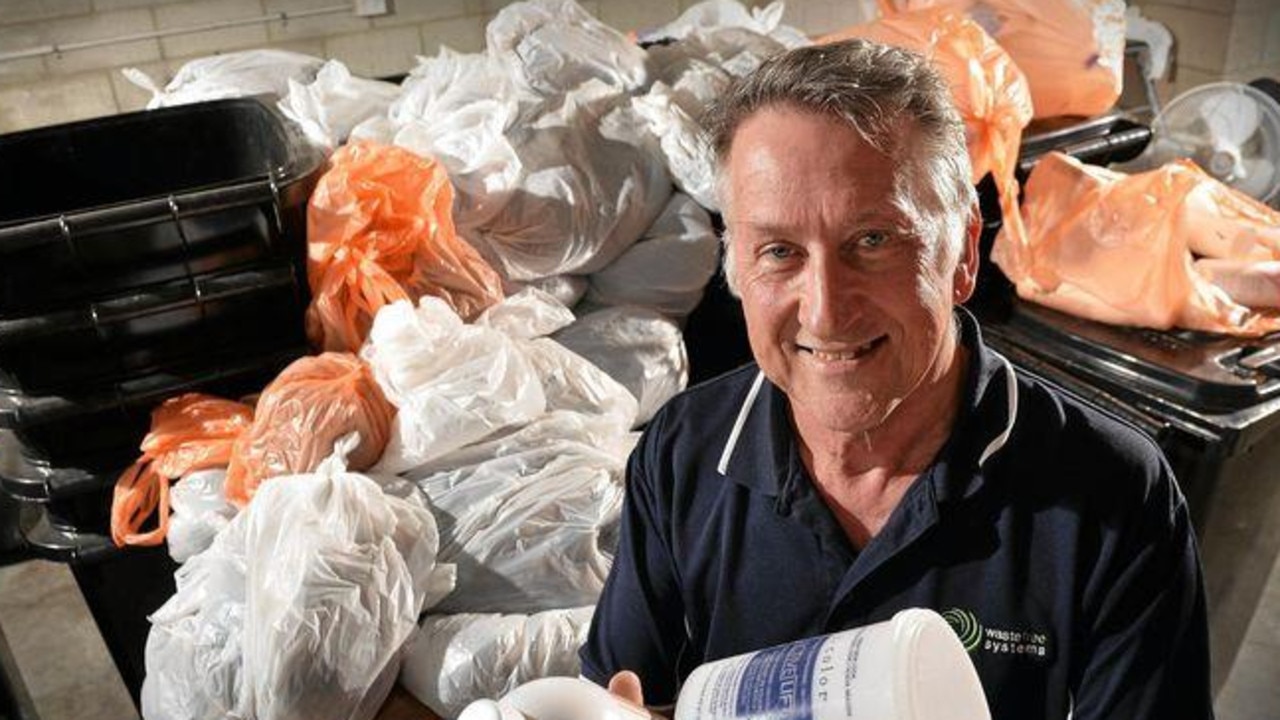 He found ways to use almost all the waste, but plastic was the most difficult to repurpose*.
"I've had real difficulties trying to figure out effective ways to repurpose plastic," he said.
"Cardboard is readily reusable, hair we are doing things like oil bales and compost and the metal foils we are able to sell to recyclers who turn it into a range of different things," he said.
"But plastic is the one thing I collect that I have a big issue in figuring out what to do with it."
And so, with the help of money raised by a crowd-funding* campaign, he set up a processing facility to repurpose plastic into a filament*, used to 3D print the prosthetics, which will be provided to people for free.
Collecting enough plastic waste and setting up a 3D printer to print the prosthetics was relatively easy.
"The biggest hurdle and cost is getting the processing equipment that converts plastic into the filament," he said.
"3D printing is a growing industry but not a lot has been invested into reprocessing waste plastic into the filament and I just think that's a wasted opportunity."
To produce the prosthetics he partnered with e-NABLE, a global network of people who are using 3D printers to create the prosthetic devices for people in need.
"You have to get accredited* through them and they provide you with the details of who in your area requires the prosthetics," he said.
Mr Craven's business, which is called Waste Free Systems, is based in the Sunshine Coast region of Queensland.
"We provide bin systems and separate waste in businesses, and then we provide the pick-up services, sort through what can be recycled and what can't, and re-purpose waste into resources and products while reducing landfill," Mr Craven said.
He is hoping to work with more businesses to manage their waste.
"Waste re-purposing is not a scary concept, it benefits the environment and can also help businesses save money through the circular economy*."
He would also like to hear from people who may benefit from a 3D-printed prosthetic limb.
You can find out more at wastefreesystems.com.au
GLOSSARY
prosthetic: artificial body part
repurpose: use again in a different way
crowd-funding: raising money to do something from public donations
filament: a fine fibre like a thread
accredited: registered or qualified
circular economy: the movement of money, resources and benefits around a community in a loop
EXTRA READING
Hannah builds bionic hand on holidays
Close the recycling loop: buy it back
Your big ideas on recycling could save the world
Ten million containers in two weeks
QUICK QUIZ
What is the plastic for the hands first used for?
Which were the relatively easy bits of the process?
What was the hardest part of the process?
What is the name of the global network mentioned that creates prosthetic limbs?
What services does Mr Craven's business provide for hair salons?
LISTEN TO THIS STORY
CLASSROOM ACTIVITIES
1. Plastic Fantastic
Brainstorm, design and sketch an item that could be made using the same plastic materials as the prosthetic hand and made by a 3D printer. Try and make your invention useful to someone else or to meet a certain need in the community.
Time: allow 25 minutes to complete this activity
Curriculum Links: English, Design and Technologies, Critical and Creative Thinking
2. Extension
Work with a friend and brainstorm some ideas to reduce waste at your school and home. How could you recycle this waste to use in other ways?
Time: allow 15 minutes to complete this activity
Curriculum Links: Science, Critical and Creative Thinking, Personal and Social
VCOP ACTIVITY
The glossary of terms helps you to understand and learn the ambitious vocabulary being used in the article. Can you use the words outlined in the glossary to create new sentences? Challenge yourself to include other VCOP (vocabulary, connectives, openers and punctuation) elements in your sentence/s. Have another look through the article, can you find any other Wow Words not outlined in the glossary?
HAVE YOUR SAY: What other useful things could be 3D printed from recycled plastic?
No one-word answers. Use full sentences to explain your thinking. No comments will be published until approved by editors.