Compulsively* reaching for a phone or other tech device to relax or pass the time can lead to a drop in good feelings and a rise in bad feelings, a new Australian study has found.
World-first research into the impact of problem electronic device use has also found habitual* users being less involved in other parts of their life, including family, friends and work.
Results of the study, by Deakin University in Victoria, have prompted researchers to call for those experiencing a loss of control over use of their phone, tablet or similar device to switch off non-essential notifications, have real-life daily contact with people and to set device-free periods and time limits.
The study looked at the psychological* impacts of smartphone use on more than 500 Victorian university students. The researchers use the general term smartphone but consider tablets such as iPads and other screens to have the same impacts as smartphones.
Lead researcher Dr Sharon Horwood said there were strong links between low levels of wellbeing* and relying on the devices to relax and pass time.
"We certainly found that those people who use their smartphone too much or in a problematic* way have a lot more negative emotions than positive," Dr Horwood said.
"But their general satisfaction with life, their broad view of their life, is not related to problems with the smartphone.
"It is a more immediate, almost a momentary* kind of feeling, like 'I have just wasted a lot of time' or 'this is not good for me, I wish I couldn't do this'.
"I think it has a lot to do with feeling that you haven't spent your time very well, you maybe let other things slide."
The study, published in the journal Computers in Human Behaviour, shows high smartphone use is linked to feelings of a lack of control, reduced sense of purpose in life, and a reduced ability to resist social pressure.
The Deakin researchers also found a constant stream of news and entertainment, which is not always positive, may lead to "techno-exhaustion".
However the findings were not all bad. Making calls and sending text messages had a positive impact on users' wellbeing, as opposed to the negativity that came with passively* looking at what others are doing on social media.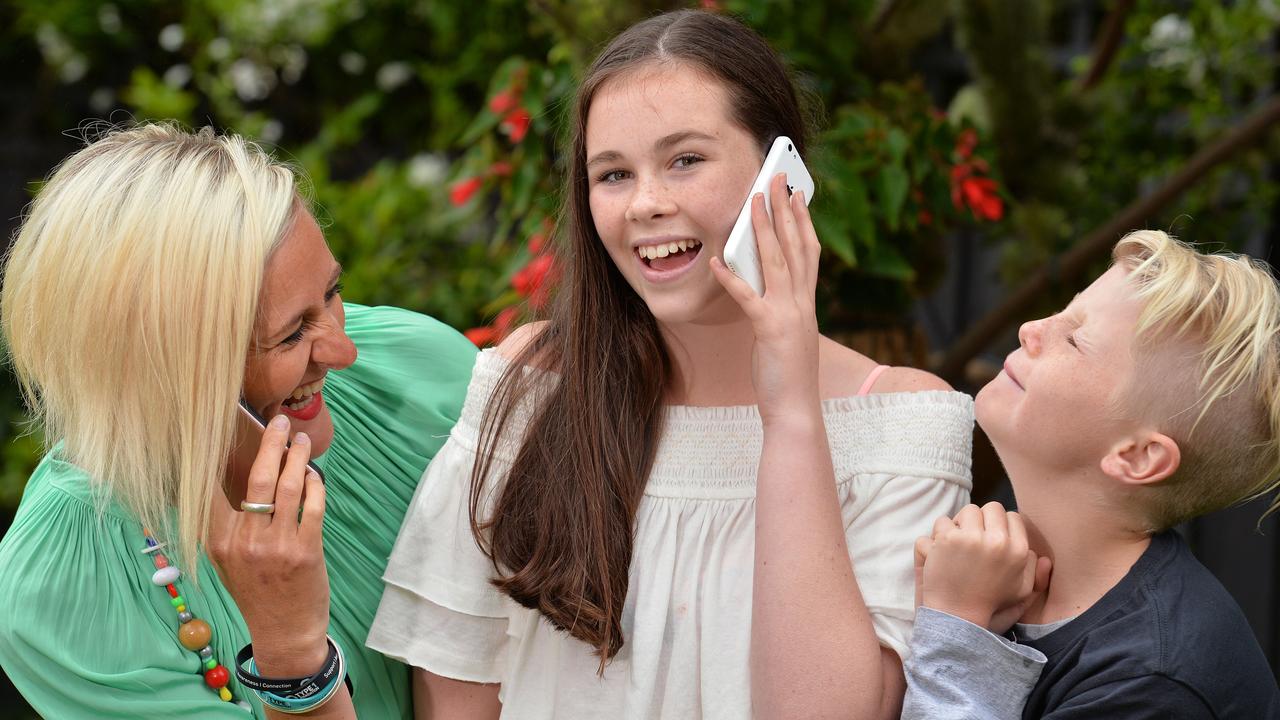 Though more research needs to be done to know if problem phone use could be considered an addiction similar to gambling, Dr Horwood said it was clear it could have a huge impact on users' lives.
"Generally, people who use phones in a problematic way tend to feel like they have less control over their life and less quality of life. They are feeling like they are not engaged in their life, not excited or energised with their life, feeling like their life has become a bit stagnant*," she said.
"That might be a result of spending more and more time online and not managing day-to-day things."
More information about Dr Horwood's research is at www.blackscreens.com.au.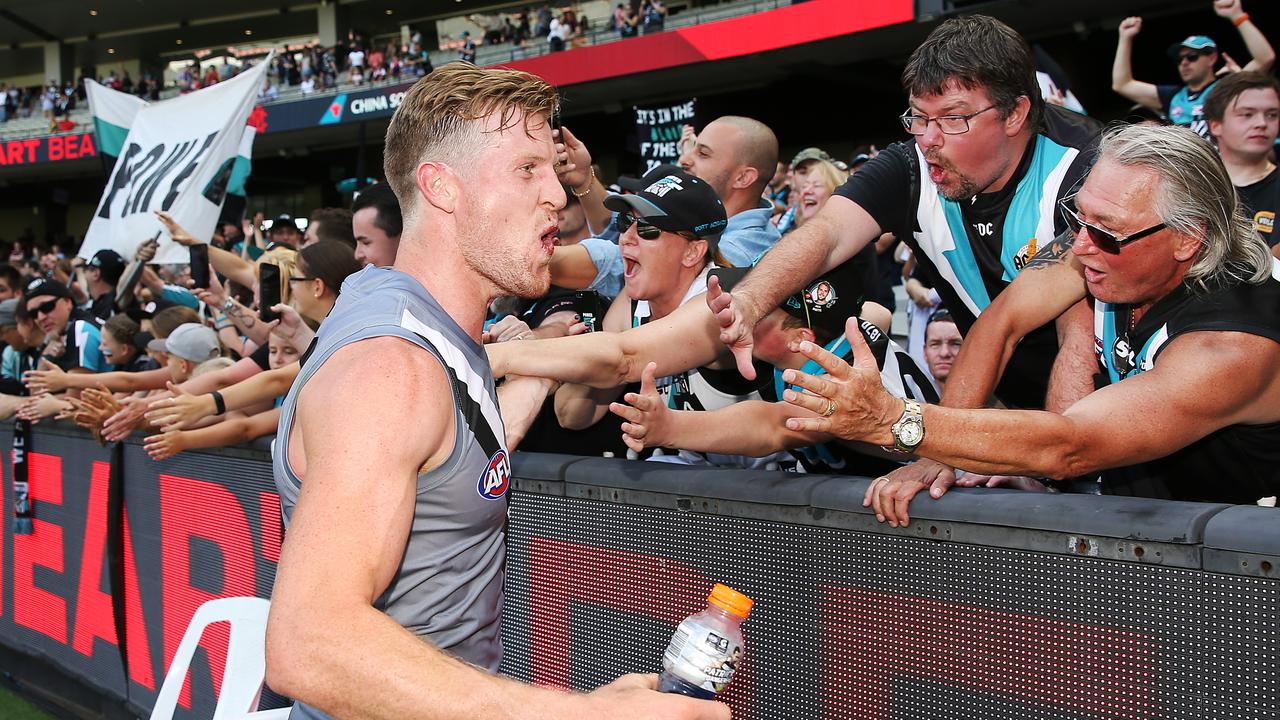 AFL PLAYERS BAN PHONES
Port Adelaide Football Club players have banned phones after games.
Co-captain Tom Jonas said the players had decided to put their phones away and focus on each other.
The group discussed the idea during the pre-season training camp and have since made a rule restricting access to their phones until an hour after every game.
Previously phones would be placed at their locker before the game in line with AFL rules.
They hope the ban will help combat social media abuse and build better connections between teammates.
"It doesn't bar you from reading the good or bad stuff but you might be in a better emotional state when you do," Jonas told The Lowdown podcast.
"And it also means you spend an hour connecting with the boys after what is the best time of the week if you get a good win.
GLOSSARY
compulsively: acting on an irresistible urge
habitual: an action that is a habit
psychological: to do with thinking, feeling and your brain, rather than physical
wellbeing: feeling happy, healthy and comfortable
problematic: describing something that is a problem
momentary: for just a moment
passively: not actively; just letting it happen
stagnant: stale, not moving
EXTRA READING
France's school mobile phone ban begins
Australia's first review into mobile phones at school
We're hanging up the home phone
Call to block phones in cars to cut road toll
QUICK QUIZ
Whose phone use did the study look at?
Explain three tips for healthier phone use.
Did the study find talking and texting better or worse than looking at social media?
How are the Port Adelaide players using phones differently this year?
What two reasons did they mention for the new rule?
LISTEN TO THIS STORY
CLASSROOM ACTIVITIES
1. Good vs bad feelings
Divide a page into two columns, with Good Feelings at the top of one column and Bad Feelings at the top of the other.
Outline all the emotions/feelings listed in the story relating to smartphone use under the category of 'good' or 'bad' feelings. If you think of any more that aren't listed in the story, add them to your table. Weigh up whether spending too much time on a smartphone is good or bad for you.
Time: allow 15 minutes to complete this activity
Curriculum Links: English, Personal and Social
2. Extension
Write a list of rules for your parents/guardians to manage their smartphone use at home.
Time: allow 15 minutes to complete this activity
Curriculum Links: English, Personal and Social, Critical and Creative Thinking
VCOP ACTIVITY
Life of a toy
Write a journal entry from the perspective of one of your favourite toys that you used to play with, but don't really have time for anymore. Think like the movie Toy Story. You are the toy that loved so much and played with so much, and then … slowly you are left more and more.
Think about how the toy feels.
HAVE YOUR SAY: What could you or a family member do to make phone or iPad use healthier?
No one-word answers. Use full sentences to explain your thinking. No comments will be shown until approved by editors.