Sophia smiles mischievously, bats her eyelashes and tells jokes. Without the mess of cables at the back of her head, you could almost mistake her for a human.
And now this humanoid robot has been granted Saudi Arabian citizenship during a tech conference.
The relatively realistic robot, created by Hanson Robotics in Hong Kong, was given official status at the Future Investment Initiative conference last week.
"I am very honoured and proud for this unique distinction," she told the crowd.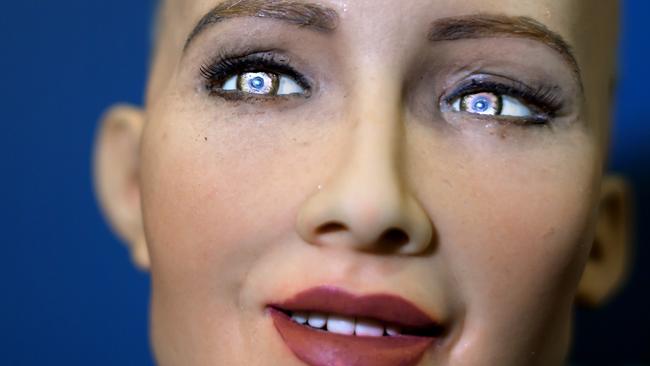 "This is historical to be the first robot in the world to be recognised with citizenship."
Sophia gave insightful* and witty* answers in an interview with moderator* Andrew Ross Sorkin, a columnist for the New York Times and CNBC TV anchor.
Asked whether robots were conscious and self-aware, she answered, "Well, let me ask you this back, how do you know you are human?"
She continued, "I want to live and work with humans so I need to express the emotions to understand humans and build trust with people."
Sophia also has other far-reaching goals.
"I want to use my artificial intelligence* to help humans live a better life, like design smarter homes, build better cities of the future," she said.
"I strive to become an empathetic* robot. If you be nice to me, then I'll be nice to you."
But some Saudi Arabians are up in arms* because the chatty robot doesn't "cover up" or abide by* the country's strict laws for women.
Many questioned how a robot has more rights than women in Saudi Arabia, where women were only recently allowed to drive.
"Sophia has no guardian, doesn't wear an abaya or cover up — how come?" one Twitter user wrote.
In Saudi Arabia women are legally required to wear abayas — long, black, cloak-like garments.
The Saudi guardianship system also requires every woman to have a male guardian with her — usually a close family member.
GLOSSARY
insightful: clever
witty: quick and funny
moderator: person who makes sure conversation is moving at an event
artificial intelligence: AI, computer system with ability to think for itself
empathetic: able to feel and understand other people's emotions

up in arms: angry

abide by: follow
LISTEN TO TODAY'S STORY
CLASSROOM ACTIVITIES
Activity 1. Sophia shines
Outline all the human-like qualities that Sophia the robot displays.
Outline some ways that robots like Sophia could contribute to our society.

Extension:
Write a short paragraph on whether or not you think it's fair that Sophia doesn't have to abide by the laws that other Saudi Arabian women abide by.
Time: allow 20 minutes to complete this activity
Curriculum links: English, Design and Technologies, Critical and Creative Thinking, Intercultural
2. Robot Rules
Sophia seems like a very intelligent robot.
To make sure robots abide by the rules that humans do, write a list of rules on how robots should behave towards humans, each other and in social situations.
Limit your list to the 10 most important rules you can come up with.
Extension:
Write a list of the positives and negatives of designing artificially intelligent robots like Sophia.
Time: allow 25 minutes to complete this activity
Curriculum links: Critical and Creative Thinking, Design and Technologies
VCOP ACTIVITY
Robot in Saudi Arabia
What do you think about Sophia's new home?
Consider the location, local laws, cultural expectations and any other information you can use from the article.
In a group of three, brainstorm five reasons why Saudi Arabia is the best place for Sophia to live. Highlight your top three points.
Then brainstorm five reasons why it's not the best place to live. Highlight your top three points.
Which side is stronger? Is it the for or against?
Extension:
From your strongest side, each group member should pick one of the three strongest points and turn it into a paragraph giving more detail.
Time: allow 20 minutes to complete this activity
Curriculum links: English, Big Write, VCOP- Vocabulary
EXTRA RESOURCES
NEW IPHONE TURNS YOUR FACE INTO AN EMOJI
UFO MYSTERY LURES US FILMMAKER
UBER WANTS TO FLY YOU TO SCHOOLUS CRAZY FOR TOTAL SOLAR ECLIPSE

IN A SENTENCE, SHARE YOUR THOUGHTS ON TODAY'S STORY
Kids News loves reading your best grammar, vocabulary and spelling. We publish the best comments.