THEY'RE not taking over the world just yet — but robots will soon take over Victorian classrooms.
The boss of a Melbourne-based technology start-up says assistant robots could be rolled out in almost every school within three years.
It follows a dramatic spike in technology and demand from business and education sectors that have become more willing to explore the technology.
"We used to get two or three inquiries a week,'' Exaptec chief Nicci Rossouw said.
"Now we are getting that response every day.''
The firm was founded after the team discovered the burgeoning* market for telepresence, social and service robots.
"People find it daunting* because they look at these devices and think they are going to be replaced,'' Ms Rossouw said. "But robots are here to help you, not replace you. It is to make the world easier.''
Telepresence robots — devices that allow people to virtually attend meetings and follow subjects around the room — are among the most popular products available.
But interest is building in service robots — devices already being used in hotels across Asia to bring guests refreshments.
Ms Rossouw said robots worked just as well in schools. In one case, a child battling leukaemia* in Victoria has been able to dial into his classroom, even interacting with classmates, using a robot controlled by an iPad.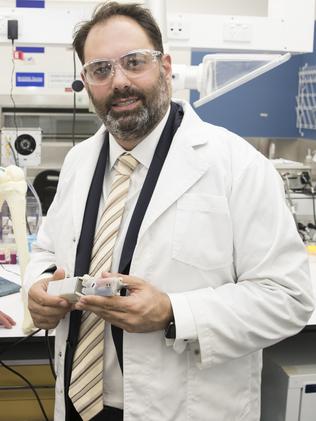 Exaptec robots will be among exhibitors at the Technology and Gadget Expo in Melbourne from August 19.
Small Business, Innovation and Trade Minister Philip Dalidakis said the expo confirmed Melbourne was the tech and innovation capital of Australia.
"The Tech and Gadget Expo is a great opportunity for companies such as Exaptec to wow visitors with some of the latest technology on the planet and give us a glimpse into the future."
GLOSSARY
burgeoning: beginning to grow
d aunting: overwhelming
leukaemia: type of blood cancer
LISTEN TO TODAY'S STORY
C LASSROOM ACTIVITIES
Activity 1. iRobot
List the advantages and disadvantages of having robots in schools.
Use the information in the article to help you with your responses.
Extension:
Brainstorm some ways you think robots could be used in schools.
Time: Allow 20 minutes to complete this activity
Curriculum links: English, Digital Technologies
Activity 2. Design your School Robot
Design a prototype for a robot to operate in your school.
Your design brief should include the following information:
• Labelled diagram of the robot and its features
• Name
• Position
• Job description
• Who it would help
• How it would benefit your school
Extension:
Design an advertising brochure to sell your prototype to other schools.
Time: Allow 60 minutes to complete this activity
Curriculum links: Design and Technologies, Critical and Creative Thinking
EXTRA RESOURCES
HOW MUCH SCREEN TIME IS TOO MUCH?
CYBER ATTACKS TRIGGER WARNINGS