Smartphones could be banned from schools as NSW orders an Australian-first review of their use amid concerns about cyber-bullying and safety.
The NSW review, which will be run by leading child psychologist­* Michael Carr-Gregg, will look at the "risk versus reward" of mobile phone use once inside the school gate.
NSW Education Minister Rob Stokes said no review of this size had ever been done by an Australian government.
"While smartphones connect us to the world in ways never imagined just a decade ago, they raise issues that previous­ generations have not had to deal with," Mr Stokes said.
The review will consider limits on social media use based on age, student online safety, the level of cyber-bullying across our schools and restricting* phone use at primary schools.
However, education authorities are also conscious of the need to balance any limits with the need for students to be contactable* by their parents as they travel to and from school.
"Principals are adopting a range of approaches to manage their use, and we want to ensure we provide the best possible advice to help them support their students and parents," he said.
Mr Stokes said concerns around phone use were broad, extending from cyber-bullying to screentime and distraction from learning, and it was crucial to look at boundaries around their use.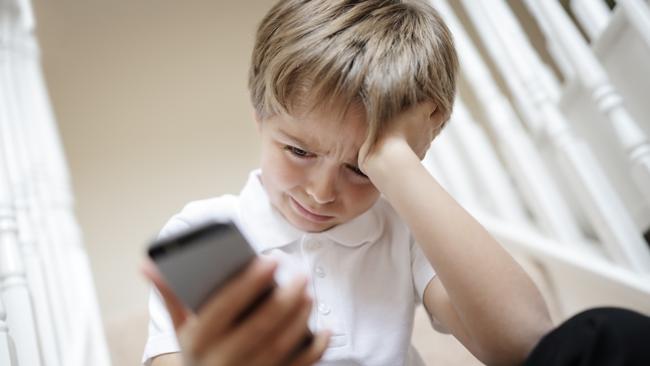 When Perth's new Baldivis Secondary School opens next year it will already have a mobile phone ban in place.
With support from parents and community members, the school's steering committee banned mobiles and personal electronic devices during school hours saying they "distract students, interrupt lessons and contribute* to bullying in schools".
In May this year, a Gold Coast high school banned mobile phones to stop bullying and encourage students to talk to each other.
Pimpama State Secondary College said it would remove phones and consider putting students on detention* if they were caught playing on their phones in class and on lunchbreaks.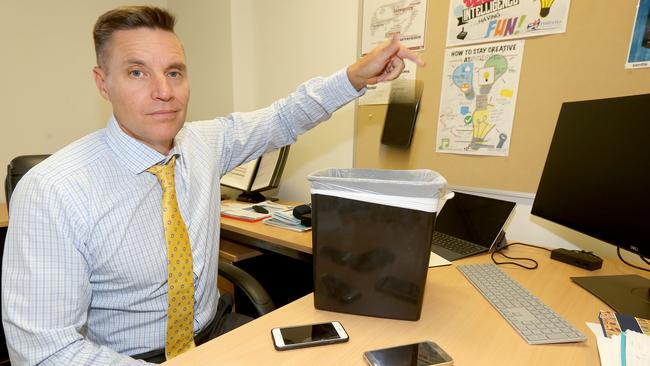 School phone bans are also a hot topic overseas.
France and Rwanda have imposed* bans in the past month while English politicians* raised concerns about devices in the schoolyard but stopped short of banning them.
French school students up to the age of 15 will not be allowed to use phones anywhere on school grounds from September, after the lower house of parliament passed what it called a "detox" law for a younger generation increasingly addicted to screens.
Rwandan teachers and parents welcomed its ban for primary and secondary schools.
Martin Masabo, the head teacher of Lycée de Kigali school, said it "is a very good decision because it causes distraction not only for students but also for adults".
"Doctors and nurses are not allowed to use mobile telephones during working hours, why should kids in schools?" he said.
England's culture secretary Matt Hancock called on more schools to ban mobile phones but dismissed the need to make it law.
"I admire head teachers who do not allow mobiles to be used during the school day. I encourage more schools to follow their lead. The evidence is that banning phones in schools works," Mr Hancock said.
"Studies have shown mobile phones can have a real impact on working memory and fluid intelligence, even if the phone is on a table or in a bag."
GLOSSARY
amid: in the middle of
cyber-bullying: use of electronic communication to bully a person, typically by sending messages of an intimidating or threatening nature
psychologist­: an expert who studies the mind and behaviour
restricting: limiting
contactable: able to be contacted
contribute: add to
detention: punishment by being kept in school after hours
imposed: forced upon
politicians: lawmakers who govern a country
LISTEN TO TODAY'S STORY
QUICK QUIZ
1. Who will conduct the Australia-first review and which state has ordered it?
2. Name three concerns authorities have around phone use in schools.
3. Where is the Australian school that will open next year with a ban already in place?
4. Which two overseas countries have recently banned student phone use?
5. What is Matt Hancock's position in the British parliament?
CLASSROOM ACTIVITIES
1. Positives and negatives
The article lists some reasons FOR and AGAINST phones being banned at school. Read the article carefully and list the reasons that are given in a FOR and AGAINST chart.
Add any other reasons you can think of for each side of the argument.
Time: Allow 20 minutes
Curriculum links: English, Ethical Capability
Extension: How do you feel about the idea of banning smart phone use in schools?
Your school may be considering this ban. Write a short speech (1-2 minutes) that you could present to the school council (school board or other governing body at your school) explaining your point of view on this topic. Ensure that you give reasons why you either support or are against this ban. The people this speech will be presented to are the ones making the decision, so you need to be as respectful and convincing as possible if you wish for them to consider your point of view.
Time: Allow 30 minutes
Curriculum links: English, Ethical Capability
VCOP ACTIVITY

The glossary of terms helps you to understand and learn the ambitious vocabulary being used in the article. Can you use the words outlined in the glossary to create new sentences? Challenge yourself to include other VCOP (vocabulary, connectives, openers and punctuation) elements in your sentence/s. Have another look through the article, can you find any other Wow Words not outlined in the glossary?
QUESTION: How would you feel if smartphone use was banned at your school?
No one-word answers. Explain your answer and use lots of adjectives.