The idea to build an elevated tube to hurtle passengers around the country at more than 1000km/h is gaining momentum.
It's called the Hyperloop — a futuristic transport system that some claim could connect Australia's biggest cities and leave high-speed rail in its metaphorical* dust.
On Monday, backers of the futuristic transport tube — the brainchild* of technology billionaire Elon Musk — were spruiking* their ambitious* plan in Queensland ahead of the Ultraspeed conference in Brisbane later this week.
Ultraspeed director Steve Artis said Hyperloop wasn't just about connecting major cities, it could also be used as a daily commuter option, with a trip from Brisbane to the Gold Coast taking just 10 minutes.
"It can be designed as a commuter solution as well as a long-distance route,'' Mr Artis said.
The promise of Hyperloop lies in passenger and freight carrying tubular capsules that travel along a magnetic track contained within sealed tubes.
The lack of friction helps the Hyperloop system achieve its speed.
Mr Artis will present the company's plans for a route originating in Brisbane to the Infrastructure Association of Queensland on Thursday.
Heading inland from Brisbane it would streak past Toowoomba and New England towards Sydney with a branch to the Gold Coast.
At 1000km/h a journey from Brisbane to Sydney could be possible in just under an hour.
Researchers at Melbourne's RMIT have also been looking into the Hyperloop idea to connect east coast cities.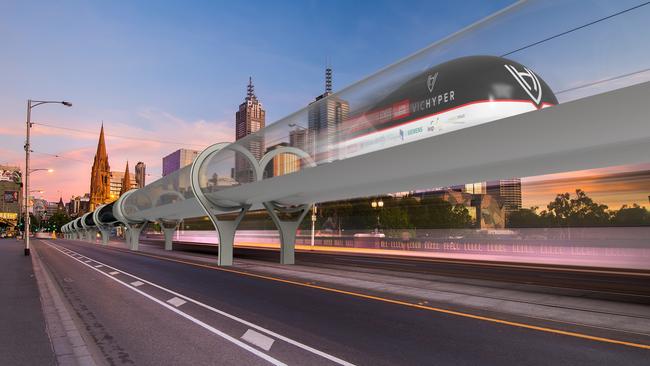 The tube could transport people from Melbourne to Sydney in 53 minutes, stopping at towns such as Shepparton, Wodonga and Goulburn along the way.
VicHyper chief executive Zac McLelland said the technology already existed. It was now just a matter of putting it into practice.
"If we really wanted to do it, we could do it now, and be built within three to five years,'' Mr McLelland said.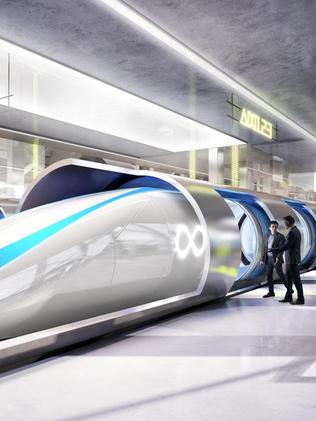 But this isn't a new concept. Politicians and future thinkers have been discussing linking Australia's major east coast cities by rail for a very long time.
The idea appears in political campaigns and news stories regularly.
Earlier in the year Infrastructure Australia said if the decision was made the high-speed rail corridor between Sydney and Canberra could be finished by 2032, and the whole link from Brisbane to Sydney to Melbourne could be completed by 2056.
But there's a risk if the government does not commit to the rail project now, with housing development creeping towards the high speed rail corridor along the east coast.
Infrastructure Australia warns this pathway should be the most urgent priority.
"The critical corridor faces immediate pressure due to its proximity* to major population centres and should be a key focus for NSW, Victorian and federal governments," Infrastructure Australia chairman Mark Birrell said.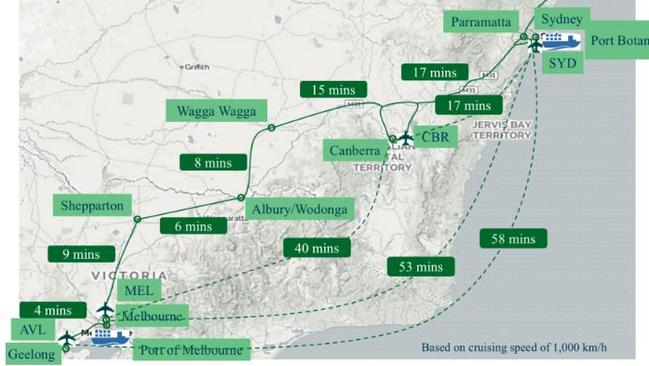 GLOSSARY
metaphorical: figurative

brainchild: idea

spruiking: promoting
ambitious: bold
proximity: closeness
LISTEN TO TODAY'S STORY
CLASSROOM ACTIVITIES
Activity 1. What is the Hyperloop?
Using your own words, explain what the Hyperloop system is, how it works, how long it takes and where it could be built to connect Australian cities.
What do these companies want the government to do about these new transport options?
Extension:
Think of some other cities and towns in your state where you would like to see a Hyperloop transport system.
Mark them on a map.
Time: allow 20 minutes to complete this activity
Curriculum links: English, Design and Technologies, Geography
Activity 2. Map it out
The article gives lots of information about different towns and cities that Hyperloop could connect.
Mark these on a blank map of Australia in one colour.
Make sure you correctly name and plot these locations on your map by looking at a detailed map of Australia.
In another colour, write the names of some major towns and cities in other parts of Australia and draw where other Hyperloop systems could be developed.
Extension:
Look up the Ultraspeed conference scheduled in Brisbane this week to see what other technology is being presented and discussed.
Time: allow 45 minutes to complete this activity
Curriculum links: Geography, Critical and Creative Thinking
VCOP ACTIVITY
(Vocabulary, Connectives, Openers and Punctuation)

Imagine you are travelling in one of the tubular capsules on the Hyperloop.
Write a descriptive paragraph about how your senses would feel.
Use all the elements of VCOP in your writing.
Extension:
"Long-distance" is written with a hyphen.
Write a list of other words that are written in this way.
Time: allow 30 minutes to complete this activity
Curriculum links: English, Big Write, VCOP
EXTRA RESOURCES
HOLDEN CLOSURE THE END OF AN ERA
HOW TECHNOLOGY CHANGED OUR LIVES
IN A SENTENCE, SHARE YOUR THOUGHTS ON TODAY'S STORY
Kids News loves reading your best grammar, vocabulary and spelling.
We publish the best comments.