Kids are often asked, 'what do you want to be when you grow up?'.
But how can today's children answer that question when many of their future jobs don't exist yet?
It is an interesting problem, but students can prepare for it by learning certain skills that can be adapted to any job.
These skills won't be typing or accounting. They will include the ability to collaborate*, problem solve, project management, analysis, pitching, storytelling and critical thinking.
So instead of becoming a doctor, you might become part of a creative team that builds and codes a robot to perform delicate surgery instead.
Cool, huh?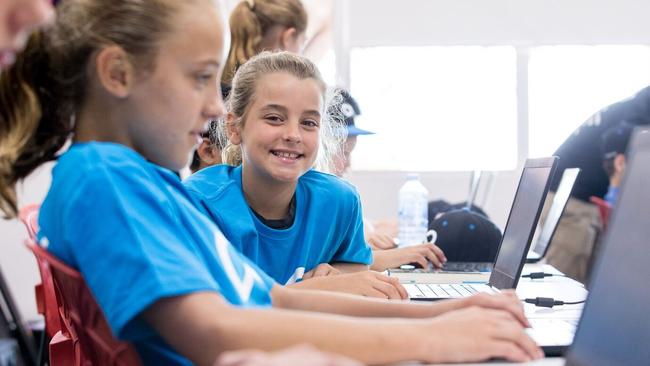 Ben Levi, co-founder of Code Camp, believes his team is helping teach students the skills of the future.
"At Code Camp, we believe that learning to code is more than 'becoming a developer.'
Learning to code allows students to be creative with technology, develop logical thinking and problem solving skills, learn about computational thinking, and build confidence, and have fun, while being outcomes focused — building an app that can be downloaded immediately and shared with family and friends," he said.
"The kids learn the problem solving, creative technological approaches, and clusters* of skills in entrepreneurship, design thinking, creative coding — the skills researchers globally, and we internally, believe are the key skills for the future workforce."
The Foundation For Young Australians' Work Smart Skills report agreed stating: "By 2030, automation, globalisation and flexibility will change what we do in every job. We urgently need to prepare young people with the work smart skills they will need most."
Australian schools are working towards making this happen, but more needs to be done quickly as statistics show our pupils are falling behind in mathematics and sciences and computer technology.
"Uptake of the national IT curriculum in schools has been patchy*," said Andrew Johnson, CEO of the Australian Computer Society.
"Kids need to be learning it from primary school, but the Australian system is lagging behind the rest of the developed world," he said.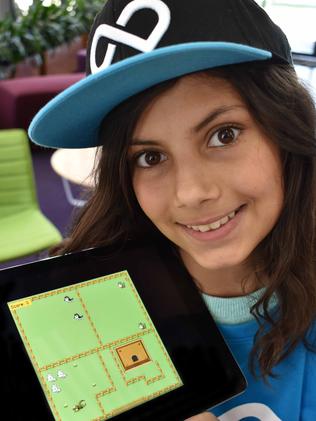 Which is where HP and Code Camp have stepped up to help.
"At Code Camp, we have been collaborating with HP to help Australian primary schools and their teachers; via professional development sessions, in classroom co-facilitation, or incursions. We are passionate about upskilling teachers so they have the confidence and desire to facilitate their own classrooms and generate results and outcomes required to build an empowered and equipped generation,' Mr Levi said.
"It will be crucial for young people, our kids, to learn a plethora of complimentary skill sets, including; collaboration, problem solving, project management, analysis, pitching, storytelling and critical thinking skills," he said.
HP took on the partnership with Code Camp to "enable children to engineer experiences that amaze in a uniquely Australian way" and hope it leads to new-found careers.
"We will leverage this powerful platform to explain technology and its benefits in a new way and overcome the mystery of how technology can contribute to Australian society now and in the future," a HP spokesman said.
For more details on Code Camp, visit the website: codecamp.com.au
GLOSSARY
collaborate: work in a team
clusters: groups
patchy: inconsistent

LISTEN TO TODAY'S STORY
CLASSROOM ACTIVITY
1. If you could build an app, what would it be?
Choose something that you need help with or would make something better or easier at school.
Describe the app.
Include why you think it would be popular.
Describe the features of your app.
Design your app and do some drawings of it.

2. Extension: Imagine that it is the year 2035. You have a job that does not yet exist in 2017.
Plan and write a story about a day at your job in 2035.
Your story must include details about your job, what you do and what skills you have to do your job.
Time: allow 75 minutes to complete this activity
Curriculum links: English, Information Technology
VCOP ACTIVITY
With a partner see if you can you identify all the doing words/verbs in this text. Highlight them in yellow and then make a list of them all down your page. Now see if you and your partner can come up with a synonym for the chosen verb. Make sure it still makes sense in the context it was taken from.
Try to replace some of the original verbs with your synonyms and discuss if any are better and why.
Curriculum Links: English, Big Write and VCOP
EXTRA READING