Travelling to the Northern Territory used to be the only way to experience Australia's sacred Uluru but now all you need in an internet connection.
Tech giant Google has launched virtual tours of the huge rock and its surrounding national park, complete with paintings the public is not allowed to photograph.
The virtual reality tour of the UNESCO World Heritage site has been made available to billions of people despite warnings Aboriginal culture can be "degraded*" if images of sacred sites are shared.
NT locals say touring the site from behind a computer screen could not "replicate the awe* you feel" on the ground.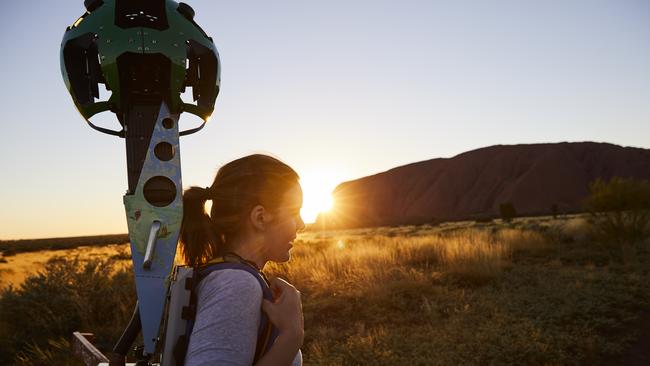 Google Australia managing director Jason Pellegrino said the company worked with Parks Australia and the traditional owners of the land, the Anangu people, for two years on the project.
The virtual tours include close-up views of Uluru, as well as its waterhole, trail, and ancient paintings in the Kulpi Mutitjulu cave, which tourists are discouraged* from photographing.
Google also created 360-degree Story Spheres with interactive videos featuring indigenous stories and songs.
Mr Pellegrino said he hoped the collaboration* would lead Australia's Aboriginal people to "share more sacred sites" with Google in future.
"The content, the cultural heritage, the stories and the song will be exposed to anyone any time from anywhere, which is fantastic," he said.
Google has previously recorded heritage sites in 83 countries, including Machu Picchu in Peru, Stonehenge in England, the Pink Mosque in Iran, and parts of Queensland's Great Barrier Reef.
Google filmed the area with backpack-mounted cameras under a series of strict rules around capturing video and photographs of Uluru and the Kata Tjuta National Park that limit recordings of the northeast face of the rock, several unidentified sacred areas, and rock art.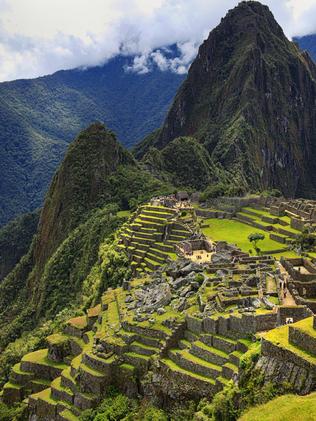 Parks Australia guidelines state that "Anangu believe their culture is degraded if images of sacred sites are captured or displayed".
Traditional owner Sammy Wilson, who narrated* some parts of the virtual tour, said he hoped internet users would "learn something" from a virtual tour.
"We want people to look so they might come visit the place," he said. "We want to teach them to learn and understand our culture."
Alice Springs Mayor Damien Ryan said he hoped tourists would still come and visit.
"I don't think this will satisfy the real adventure-seeker," Mr Ryan said.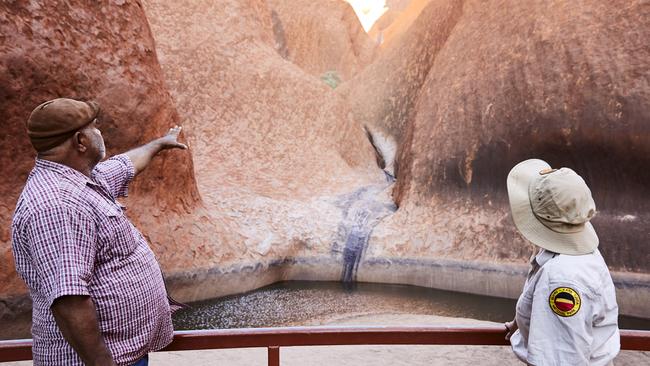 "Whatever you think of seeing the video or the photos, it can't describe the awe you feel."
University of Queensland School of Business vice-chancellor research fellow Sara Dolnicar said a virtual tour of Uluru could replace a real-world visit in some cases — if you "could not afford to travel," for example — but could not compete with "the true live tourism experience".
EXTRA READING
GLOSSARY
degraded: devalued and treated poorly
awe: amazement
discouraged: encouraged not to do something
collaboration: made by working together
narrated: spoke over
LISTEN TO TODAY'S STORY
CLASSROOM ACTIVITIES
1. Answer the following questions after reading the story.
Where is Uluru located?
List the things that the virtual tour of Uluru will show.
What is the problem with the virtual tour, according to some people?
Extension: Do you know what a sacred site is?
Find out about sacred sites in Aboriginal culture.
Use what you have learned to create an information guide for students about sacred sites.
Your guide must include why sacred sites are important, Aboriginal spiritual beliefs and The Dreaming, why sites should be protected and what are some rules about sites.
You can also include examples of sacred sites.
Time: allow 75 minutes to complete this activity
Curriculum links: English, Intercultural Capability
2. Advantages and disadvantages
List the advantages and disadvantages of the virtual tour of Uluru that you have read in the story.
Then add other benefits and disadvantages that you can think of.
Share your list with a partner and add more points to your lists.
Extension: Think about what you have written.
Do you think that Google should have created the virtual tour of Uluru?
Write a paragraph explaining your answer. Use points in your list to support your argument.
Time: allow 40 minutes to complete this activity
Curriculum links: Critical and Creative Thinking, Ethical Capability
VCOP ACTIVITY
Activity: Leap Frogging!
Leapfrogging is when we make the end of one word the beginning of the next and through this process build up new words.
For example:
Virtual reality
reality fake
fake news
news desk
desk mahogany
Can you see how we are creating new words and ideas through this process that is quite different from the first two words we started with?
Have a go yourself and see what kind of words you can create?
If you are stuck, try begin with these:
Virtual reality
Interactive video
Northern Territory
Extension: Use the new words or ideas and formulate a paragraph about anything you like!
Time: allow approximately 15 minutes
Curriculum links: English, Big Write, VCOP
IN A SENTENCE, SHARE YOUR THOUGHTS ON TODAY'S STORY
Kids News loves reading your best grammar, vocabulary and spelling.
We publish the best comments.