Experts say pens and pencils rather than keyboards rule at school
Handwriting is more important than typing on a keyboard for kids' literacy development in the first years of school, according to a handwriting expert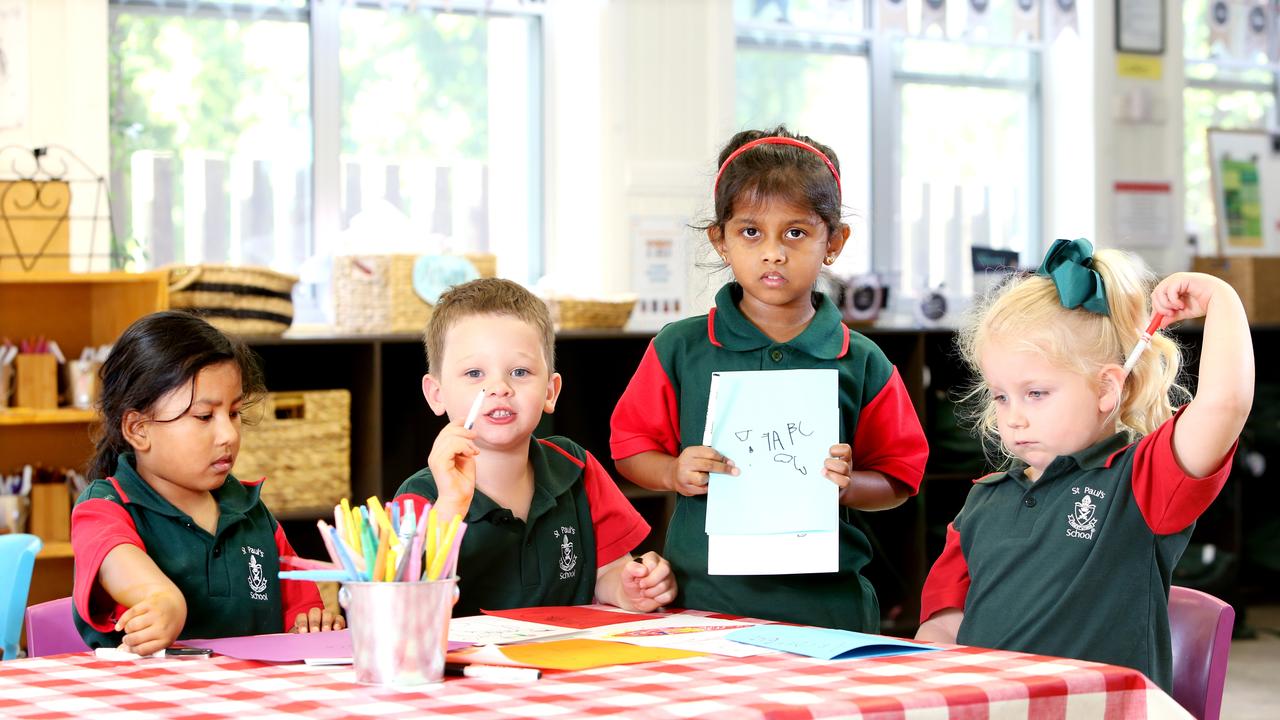 Ariah, Thomas, Zaira and Isobel, all four years old, working on boosting memory, hand eye co-ordination and fine motor schools with some drawing and writing. Picture: Steve Pohlner
Handwriting is more important than typing on a keyboard for kids' literacy development in the first years of school, according to a handwriting expert.
Murdoch University's Dr Anabela Malpique urged parents to help their children move away from using phones and other devices to pencils and paper to boost memory, hand-eye co-ordination and fine motor skills*.
"Research is telling us in the primary years that kids need to have more time allocated* to developing handwriting skills than typing," she said.
"Especially in the first three years of schooling to develop their hand and eye co-ordination.
"Kids actually write better texts when they write by hand than by typing.
"Parents need to support that with the guidance of the teacher … this is an international problem, not just in Australia."
NSW Primary Principals' Association president Robyn Evans urged parents to bolster* their child's fine motor skills before they enter school through painting, picking up items with tongs and cutting with scissors.
"Hand-eye co-ordination, fine and gross motor skills are focused on through developmental play in the early years of school," she said.
Australian schools now have the option to type the writing response in the NAPLAN test while most Year 12 students must still write with a pen and paper in their final exams.
Handwriting coach Ella Losi said she helped school-aged children improve their writing but a significant portion of her clients were university students whose writing in exams had been deemed* unreadable.
"Speed is important and so is legibility* and they seem unable to do that … they have been penalised because it is illegible*," she said.
"I don't think a lot of time is spent on handwriting and as a consequence of that they mix printing and cursive. And with cursive they really struggle because it is illegible."
A NSW Education Standards Authority spokeswoman said students learnt handwriting from kindergarten to Year 2.
"By Year 4 they are required to write fluently* and consistently in cursive writing when composing sentences and texts," she said.
A NSW Department of Education spokeswoman said digital technologies, including keyboards, were used from Kindergarten to Year 10.
"Teachers make decisions about how digital technologies are introduced and used in classrooms," she said.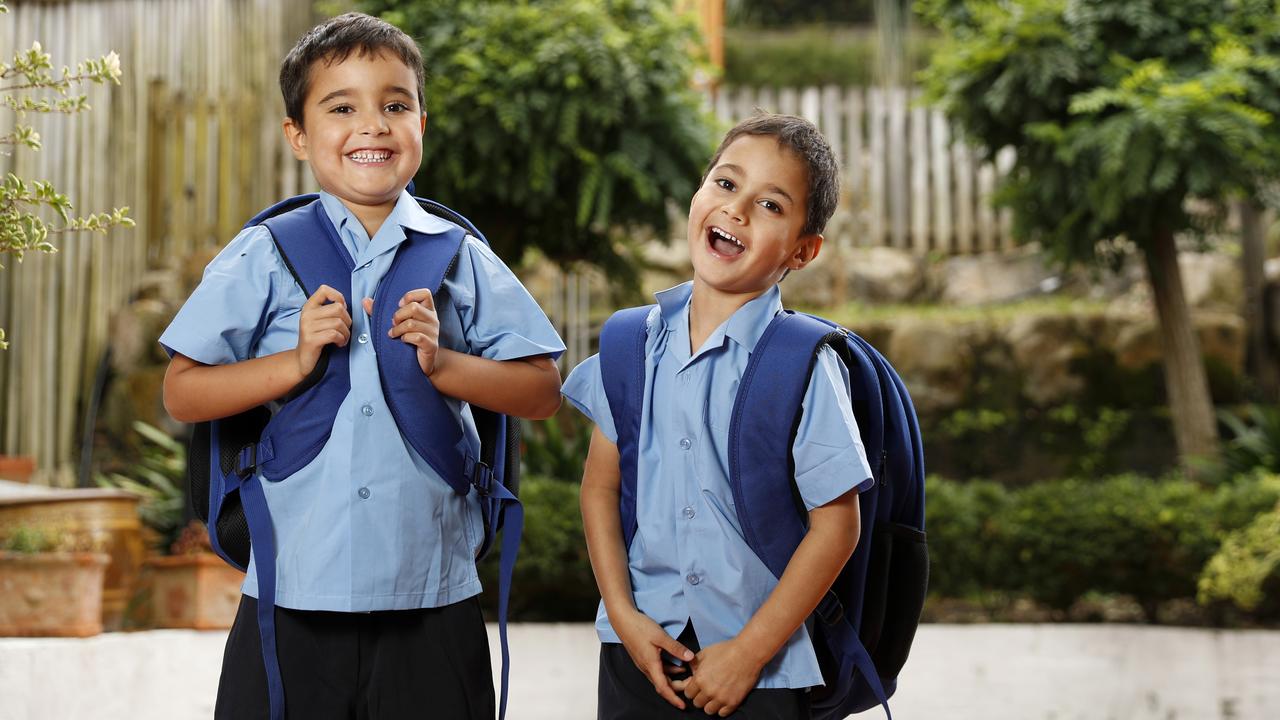 Twin brothers Lorcan and Ruaidhri Nolan, 5, started kindergarten at St Cecilia's Catholic Primary School in Balgowlah, NSW on Monday. Picture: Jonathan Ng
Mum Jvala Nolan, whose five-year-old twins Lorcan and Ruaidhri start kindergarten this week at St Cecelia's Catholic Primary School in Balgowlah, NSW said she does not allow them to use tablets so they develop their fine motor skills.
"We have an easel, felt tipped pens and they don't really have tablets," she said.
"They can write their name, they can write a few words already."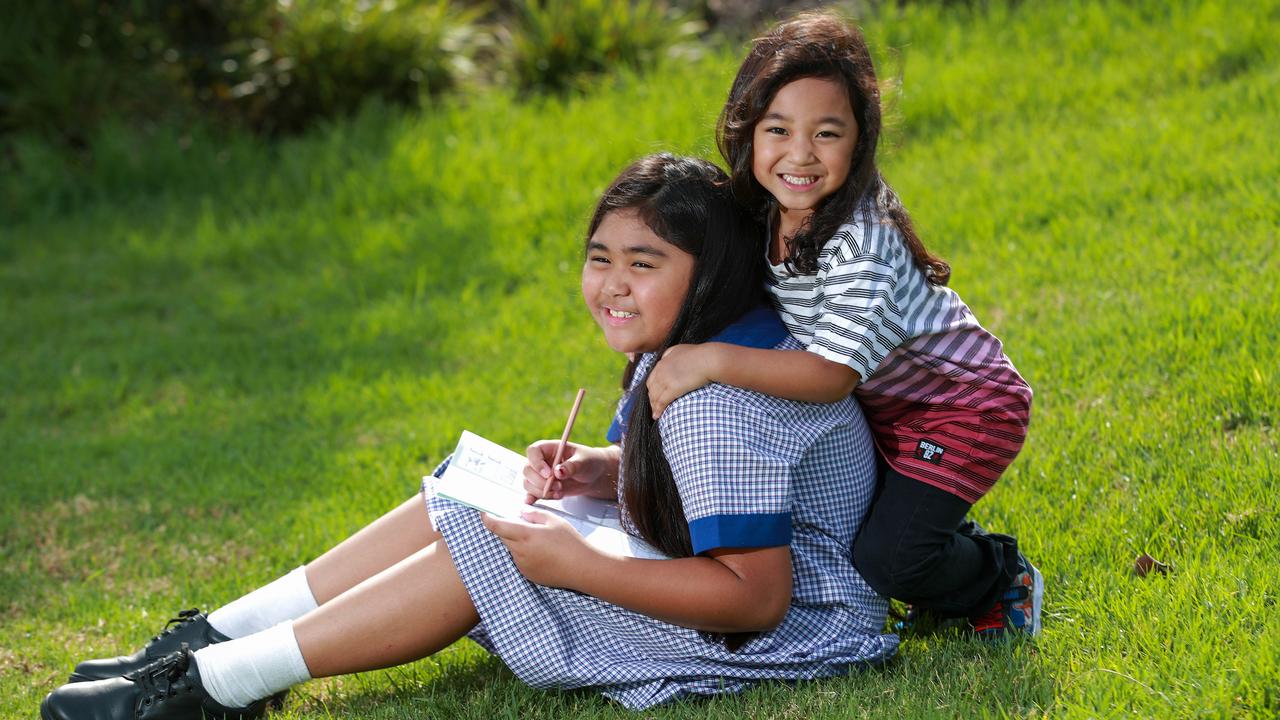 Siaila, 7, and Soatame Vea, 4, in Kellyville, NSW. Picture: Justin Lloyd
Kellyville mum of three Heinna Vea makes sure her two eldest children Siaila, 7, and Soatame, 4, practise their handwriting regularly.
Ms Vea said the skill was "very important" and she "prioritised*" it for her children.
"My daughter will usually do a page or two of handwriting at home if it needs work, and we do lots of handwriting practice with my son so he's ready for school next year," Ms Vea said.
"When I grew up, my handwriting had to be perfect, so it's something I'm trying to instil* in them. I know there's a lot of typing in school now, but handwriting has more structure and it teaches them co-ordination."
GLOSSARY
fine motor skills: co-ordination of small muscles (such as in the hands) with the eyes
allocated: to set aside for a particular purpose
bolster: boost
deemed: judged to be
legibility: how easy it is to understand writing
illegible: writing unable to be understood
fluently: easily and to a high standard
prioritised: treated as being important
instil: establish in a person's mind (the importance of something)
EXTRA READING
Message in a bottle found after 50 years
Why drawing is a monster cure for boredom
Weird ways tech could be changing our skeletons
Young people need to turn down the music
QUICK QUIZ
What is the main point of this story?
What are the journalist's names who wrote this story?
What is Dr Anabela Malpique an expert in?
Name some tasks for little kids that help fine motor skills.
How old are Heinna Vea's children?
LISTEN TO THIS STORY
CLASSROOM ACTIVITIES
1. Paper Doll Kirigami
Even older children need to work on their fine motor skills that may also help with handwriting. Follow the procedure below to make circular paper dolls, which is good practice for using your fine motor skills.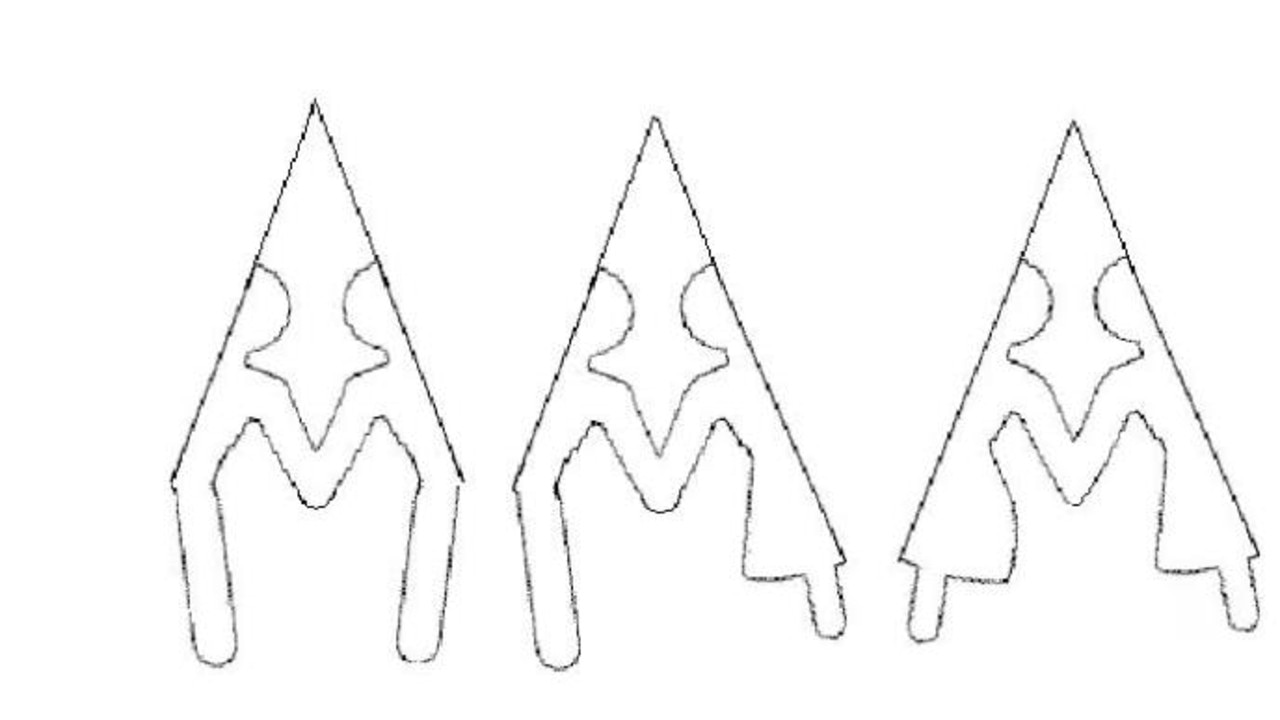 Use this as a template for the activity below.
Instructions:
Cut out a large circle from a sheet of paper.
Fold the circle in half three times (in half, into quarters, and then into eighths). You will get a pie-piece shape.
Draw out two half-figures as shown (use the template above to help). It is easier to have the heads pointing in towards the centre of the circle and the feet pointing out towards the perimeter.
Cut around the edges of the figure (but not on the folds; leave these bits uncut) and unfold. You will find 8 figures holding hands to form a complete circle.
Time: allow 25 minutes to complete this activity
Curriculum Links: Visual Arts
2. Extension
Write a letter to an older relative or friend using your very best cursive handwriting. Tell them about the Kids News article you've just read and how you think your handwriting compares. Ask them how handwriting was taught when they were young and if they could write back so you can compare their handwriting with your own.
Time: allow 20 minutes to complete this activity
Curriculum Links: English
VCOP ACTIVITY
Aside from this, there is also this!
Brackets are a great literacy tool for adding aside comments, or comments that could be covered over and the sentence still makes sense. What's inside the brackets is extra information.
They can be used for a variety of effects: to add more detail, to add humour, to connect with the reader etc.
My little brother, (the funniest kid I know) got himself into big trouble today.
Select 3 sentences from the article to add an aside comment to using brackets. Think about not only what you want to add to the sentence, but also what effect you are trying to create.
HAVE YOUR SAY: Do you think handwriting or typing is better for you?
No one-word answers. Use full sentences to explain your thinking. No comments will be published until approved by editors.