A robot made by Australian students could one day cruise around on Mars.
The roving robot, which is nicknamed "Rovey", can withstand* the extreme heat of Mars and will battle other robots in the desert of Utah, in the United States, next month as part of the international University Rover Challenge competition.
The competition encourages students to design and build a Mars rover that will one day work as an assistant to human explorers.
The Nova Rover Team from Monash University is the first Australian group to be selected to compete in the competition.
The Monash team will be one of 36 international teams competing for cash prizes and a trip to present their invention at the annual International Mars Society Convention in August. The convention is a world meeting of scientists, engineers, journalists and other Mars experts to talk about the latest discoveries and research.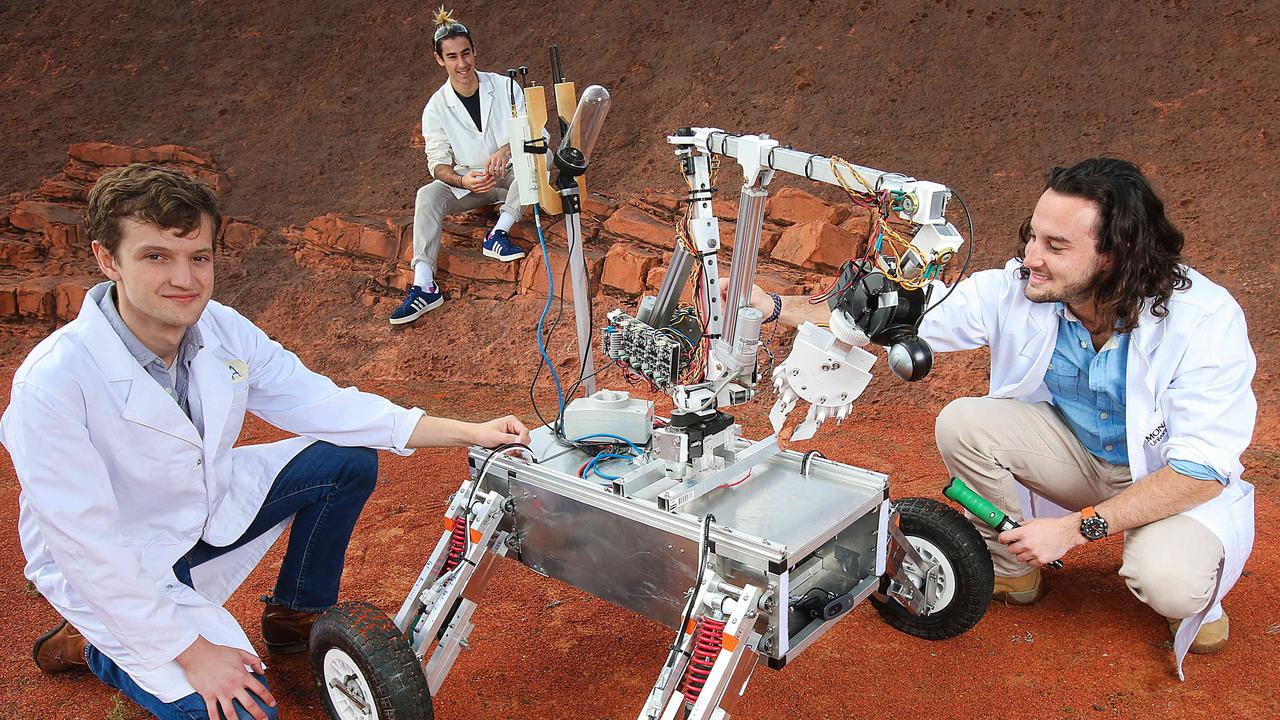 The students will be judged on how well they can design and make a robot that can move around and help humans in their work in a harsh* environment, such as the planet Mars.
"The rover has to have the capability* to function* as a fieldwork* assistant that can bring materials* and information back to a base station," explained team leader Ben Steer, who is studying a type of engineering called mechatronics, plus science and maths.
"It needs to traverse* extreme terrain*, navigate* autonomously* and conduct fieldwork tasks, including collection and analysis* of geological* samples. We'll be assessed on how well the rover can do this, as well as the science behind our methods*."
Another team member, Daniel Ricardo, studies geoscience, sometimes called earth science, as well as biochemistry, which is a type of science about living things.
"We're absolutely blown away by the opportunity to represent Australia," said Daniel.
The design process includes lots of testing and adjusting to keep improving the robot.
"We conducted a field test* during mid-semester break where we conducted a full systems test and trial run to iron out any kinks* and identify* areas to work on in the lead up to the competition.," Daniel said.
Other team members study science, law, business, engineering and medicine. Each brought skills and knowledge from their different areas of study to think about how best to design and make the robot.
The team's teacher is Chao Chen.
"They always come up with the best and simplest solutions," Mr Chen said.
"They are talented and highly self motivated*.
"Their passion gives the team a great chance of success. We hope that more students will be attracted to study engineering if they're aware of the type of impact they can make. We also hope that an Australian Rover Challenge will be established* in a near future."
GLOSSARY
withstand: manage
harsh: extreme; tough
capability: ability
function: work properly
fieldwork: working out in the environment it's made for, rather than in a classroom or test laboratory
materials: things; on Mars, it may be rock or dust
traverse: move across
terrain: the ground or landscape
navigate: find its way around
autonomously: without help
analysis: study
geological: material from the ground, such as rock
methods: way of doing things
field test: test outside in a place as much like Mars as possible
kinks: little problems
identify: see; discover
self-motivated: can push themselves
established: set up
LISTEN TO TODAY'S STORY
CLASSROOM ACTIVITIES
1. Rovey's jobs
Write down all of the things that Rovey needs to be able to do.
Time: Allow 10 minutes
Curriculum Links: English.
Extension: Think about the International Rover Competition.
What do you think the teams and their robots will have to do to show they are the best? Create a list of challenges and rules for the competition.
You can present this as a poster and a timetable of events.
Don't forget to add what the winner will need to do in each challenge and how the overall best robot will be decided.
Time: Allow 30 minutes
Curriculum Links: Design and Technologies
2. Other jobs for Rovey
The team's design is for a robot to be used on Mars, but can you think of other places or situations where Rovey could also be helpful?
List as many as you can think of.
For each item in your list, write a sentence explaining why and how Rovey could be used.
Time: Allow 15 minutes
Curriculum Links: Critical and Creative Thinking, Science, Design and Technologies.
Extension: Design your own robot that can move and work in harsh places like Mars.
Don't forget to include features that will help the robot survive in the environment and do jobs that are needed to help researchers learn about this planet.
Time: Allow 40 minutes
Curriculum Links: Design and Technologies
VCOP ACTIVITY
The glossary of terms helps you understand and learn the ambitious vocabulary being used in the article.
Can you use the words outlined in the glossary to create new sentences?
Challenge yourself to include other VCOP (vocabulary, connectives, openers and punctuation) elements in your sentence/s.
Have another look through the article. Can you find any other Wow Words not outlined in the glossary?
IN ONE SENTENCE, TELL US WHAT YOU THINK ABOUT THIS STORY
Please do not use one-word answers. Explain what you enjoyed or found interesting about the article. Use lots of adjectives.