One of the world's biggest smartphone makers has revealed new technology to stop children becoming obsessed* with their phones.
Apple's new smartphone tool, revealed at its annual Worldwide Developers' Conference this week, came after the tech giant was criticised for not doing enough to stop kids and adults becoming addicted* to their iPhones.
The new app, called Screen Time, records how long people spend looking at their phones and issues weekly reports comparing their usage* to that of previous weeks.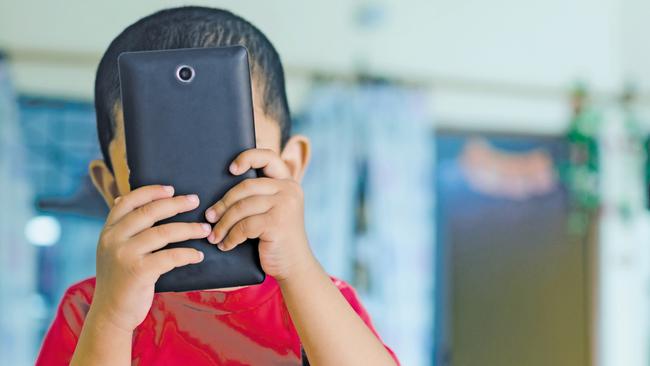 Parents will also be able to remotely* track and limit their children's use of those devices.
"You get a summary of the time you're spending in apps … how often per hour you're picking up your phone, and what's drawing you in, and what apps are sending you the most notifications," Apple software engineering senior vice-president Craig Federighi said.
"Equipped with this, you can make decisions about how much time you want to spend with your device each day."
Parents can also opt to receive reports from their children's iPhones, and can set daily time limits on individual apps, such as YouTube, or categories, like social media.
When the daily allowance* runs out, the phone displays a message that "it's time to move on".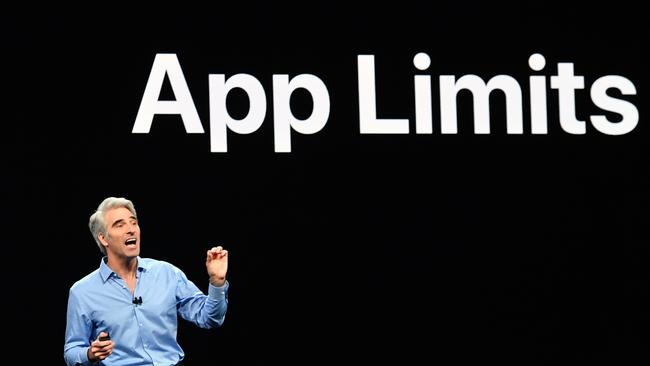 Western Sydney University technology and learning researcher Dr Joanne Orlando said the company's new Screen Time tool was badly needed, and "Apple and all the other big tech companies definitely have a social responsibility" to help parents decide on the right smartphone use.
But she warned neither reports nor app restrictions provided a complete answer.
"This is just something that will help you, but it needs to be done as part of a conversation," she said.
She said the Screen Time reports could also help smartphone-obsessed parents track whether they're looking up from their screens often enough.
Apple's move will follow new efforts by Google to introduce a "digital wellness" dashboard, where users can see how much time they're spending on their phone, how many times they unlock it each day, and how many notifications they receive.
* Jennifer Dudley-Nicholson travelled to San Jose as a guest of Apple.
GLOSSARY
obsessed: constant use or desire to do something that becomes a problem
addicted: unable to stop a particular thing or activity
usage: using something
remotely: from a distance
allowance: a set limit
LISTEN TO TODAY'S STORY
QUICK QUIZ
1. Can you explain what the new Screen Time does?
2. Name the type of limits the Screen Time app can set.
3. What caused Apple to introduce Screen Time?
4. Which other company has starting using a digital wellness dashboard?
5. How would you feel if your parents used this tool to cut down your screentime?
CLASSROOM ACTIVITIES
1. Screen Time app
The article highlights some benefits of this new Screen Time app for adults and children.
You may also have some concerns about this app?
List the benefits and concerns of this new app for the following groups of people.
— Primary School Children
— Secondary Students
— Adults/Parents
— Apple
— Other App developers
Time: Allow 20 minutes
Curriculum links: English, Technologies – Digital Technologies, Health and Physical Education

Extension: This activity could be completed individually, with a partner or as a small group.
Create an advertisement for the Screen Time app. Aim your ad at either children, teenagers or adults. Your ad could be for print media (newspaper/poster etc), radio or television. Make sure you highlight the benefits appropriate to the age group you are targeting. You may be able to address some of the concerns for this group as well.
If you have chosen radio or television, develop your script and rehearse your performance. Ensure you use appropriate body language and voice control (expression and projection) to help convey your message to your audience.
For print media advertisements, make sure they are eye catching and contain the necessary information in a concise manner.
Perform or present your advertisement to your class.
Time: Allow 40-60 minutes
Curriculum links: English, Technologies – Digital Technologies, Health and Physical Education, The Arts – Visual Arts, Drama, Media Arts
VCOP ACTIVITY
With a partner see if you can you identify all the doing words/verbs in this text? Highlight them in yellow and then make a list of them all down your page. Now see if you and your partner can come up with a synonym for the chosen verb- make sure it still makes the context it was taken from.
Try and see if you can replace some of the original verbs with your synonyms and discuss if any are better and why.
Curriculum Links: English, Big Write and VCOP
QUESTION: Is limiting screentime for children a good idea? Why or why not?
Please do not use one-word answers. Explain what you enjoyed or found interesting about the article. Use lots of adjectives.