Wheelchair racer Kurt Fearnley among magnificent seven inducted into the Sport Australia Hall of Fame
Wheelchair marathon racer Kurt Fearnley is pinching himself after being named among seven athletes inducted into the Sport Australia Hall of Fame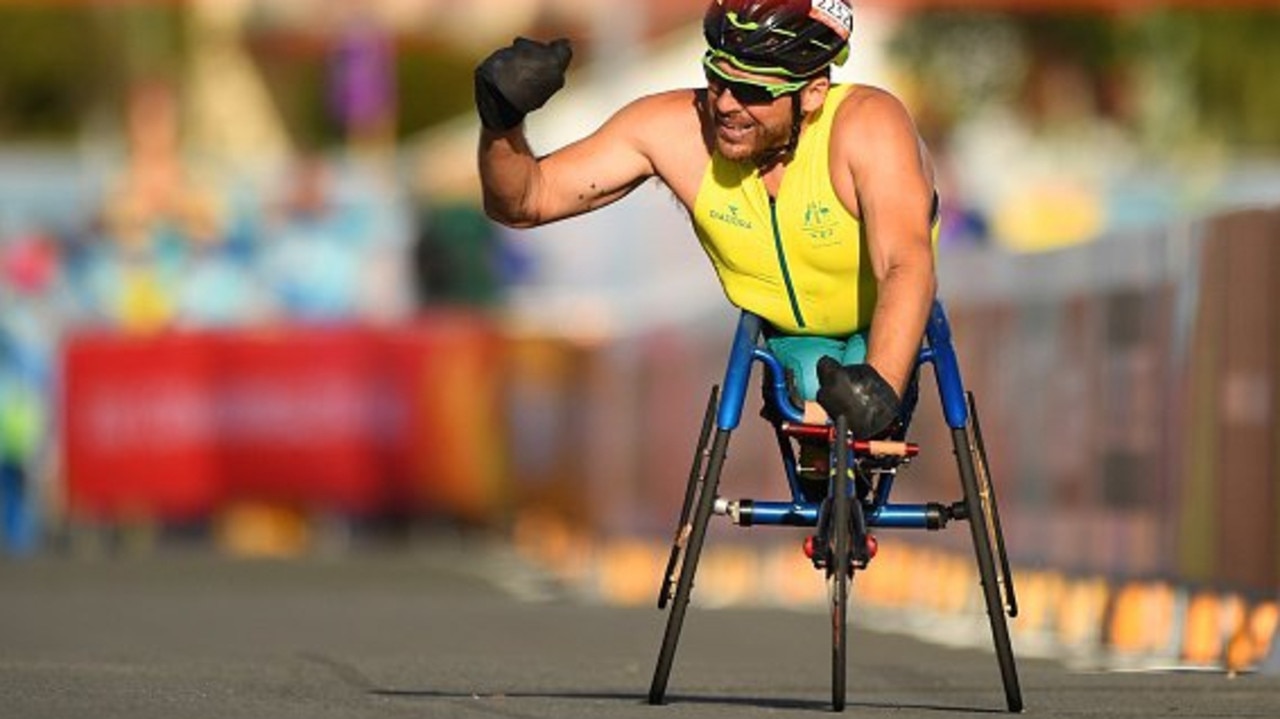 Kurt Fearnley won three Paralympic gold medals, four world titles and two Commonwealth Games gold medals during his sporting career.
With three Paralympic* gold medals, four world titles and two Commonwealth Games gold medals, Kurt Fearnley seems to be the only one questioning his inclusion* in the Sport Australia Hall of Fame*.
The wheelchair racer, who has had an impressive career across more than two decades, is one of seven new inductees* into the prestigious* group with rower Kim Brennan, footballer Tim Cahill, aerial skiing champion Lydia Lassila, NRL legend Johnathan Thurston, Hockeyroo Nova Peris and rowing coach Tim McLaren, also earning a spot in the Hall of Fame.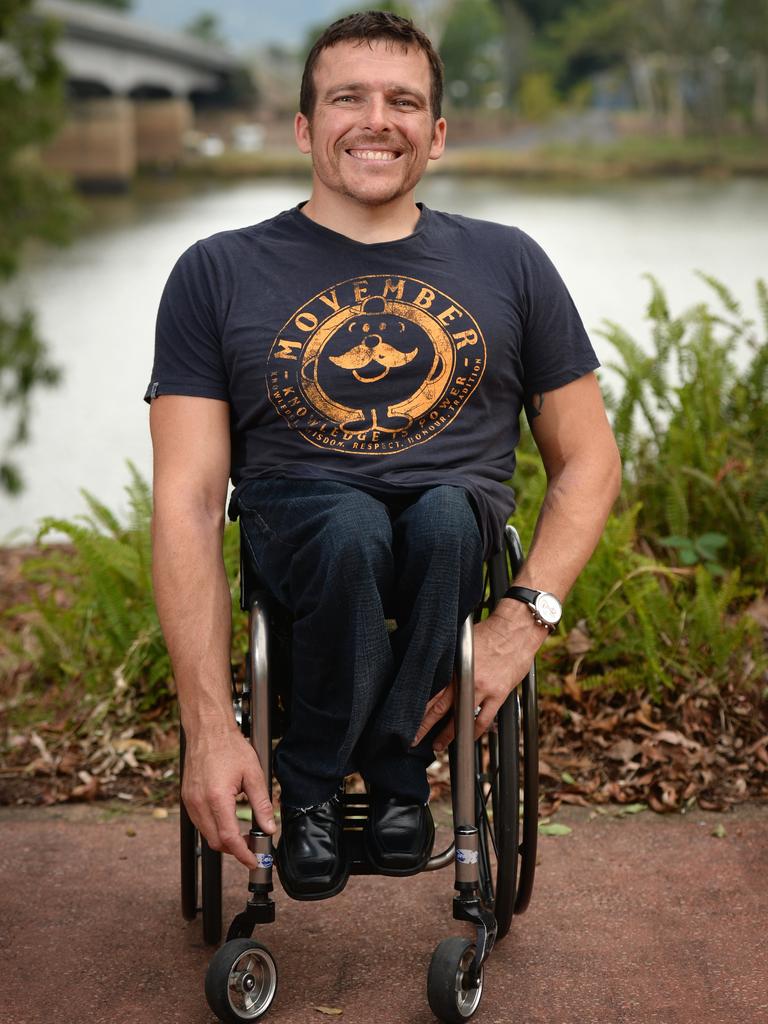 Kurt Fearnley. Picture: Allan Reinikka
But Fearnley wasn't convinced he belonged.
"The one room that I've ever been overwhelmed in, that I've ever felt completely out of my depth in, is any function that I have been to with the Sport Australia Hall of Fame," Fearnley said.
"You look around and you see the legends of Australian sport.
"You know, collectively, that room is both incredible to be a part of and one of the most intimidating* spaces I've ever been in. It's one of those 'is this real?' kind of moments.
"I don't think it's in me to ever feel that (like one of the greats)."
Fearnley, well known for his success in wheelchair marathons, conquered* events in New York, Chicago, Tokyo and London. Beyond his athletic feats, his never-ending commitment to championing disability rights saw him become the first athlete with a disability to win The Don Award (given to honour those whose achievements inspire our nation) in the Sport Australia Hall of Fame in 2018.
All seven inductees for 2023 will be honoured at a Sport Australia Hall of Fame event to be held at the Museum of Contemporary Art in Sydney on October 16. Here is some background on the other inductees.
Tim Cahill celebrates a goal during a FIFA World Cup Qualifier matc. Picture: Michael Dodge/Getty Images
Tim Cahill: The only Socceroo* to have played at four FIFA* World Cups. Across his career he donned* the gold and green 108 times, scoring 50 goals – celebrated with his trademark* shadow boxing routine with the corner flag.
Cahill was the first Aussie to score a goal at a World Cup and at an Asian Cup.
He also played across four continents – playing more than 200 games for Millwall and Everton in the UK.
"When they called me to tell me the news it was a mixture of shock and then gratitude*," Cahill said. "It's a very special feeling to see the list of athletes who have been inducted before me, with everything that they have achieved, and know that I will be joining that group."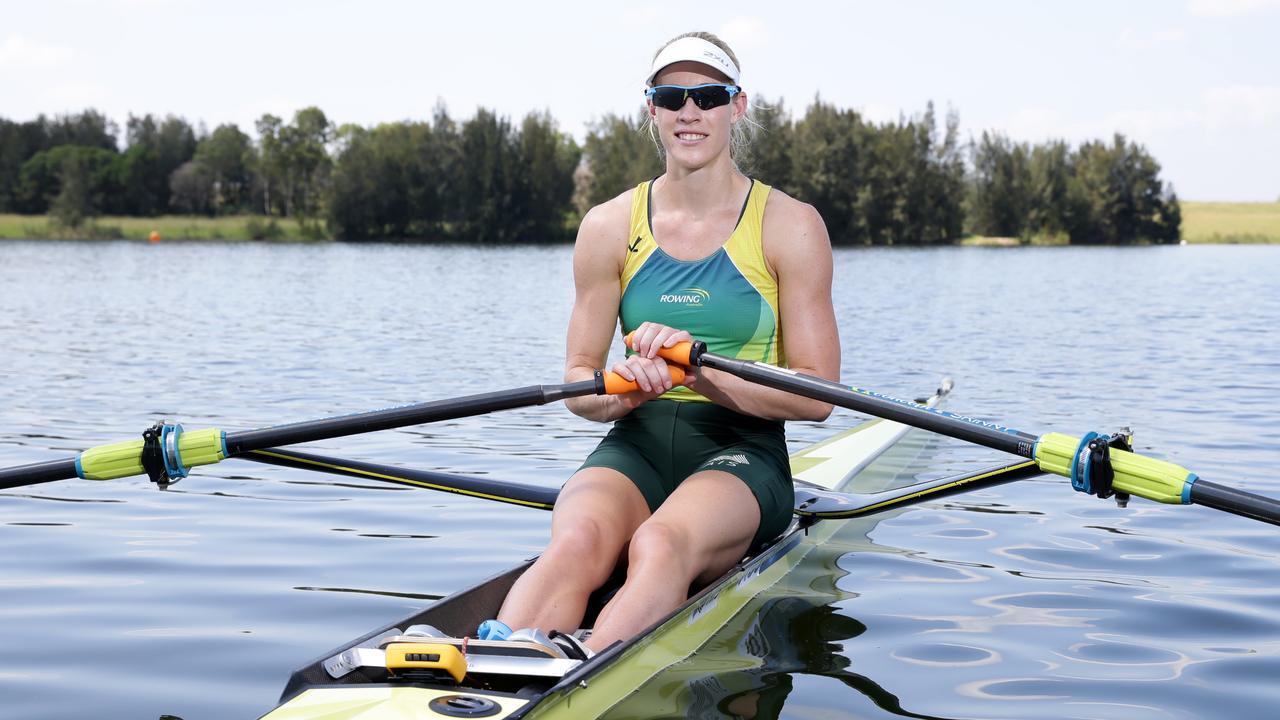 Olympic rower Kim Brennan.
Kim Brennan: As an Olympic gold medallist and two-time world champion, Brennan is one of the most successful rowers Australia has ever produced.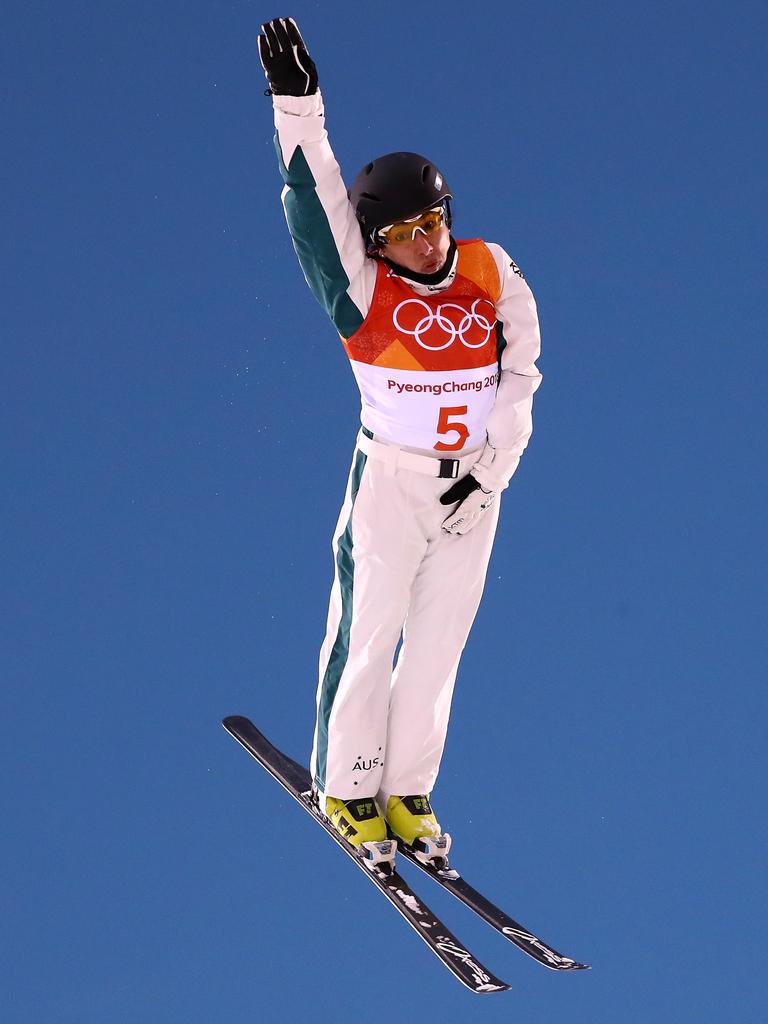 Lydia Lassila in action. Picture: Getty Images
Lydia Lassila: One of Australia's most decorated Winter Olympic athletes. Her career in aerial skiing finished with a gold and bronze medal and she became the first Australian female to compete in five Winter Games.
Johnathan Thurston playing for the Townsville Cowboys. Picture: AAP
Johnathan Thurston: His 16-year rugby league career as a half-back or five-eighth from 2002 to 2018 saw him win four Dally M Medals for best player of the year. He played an important role in North Queensland's first premiership victory in 2015, was a dominant figure in Queensland's State of Origin success over the years, and won the global Golden Boot Award three times.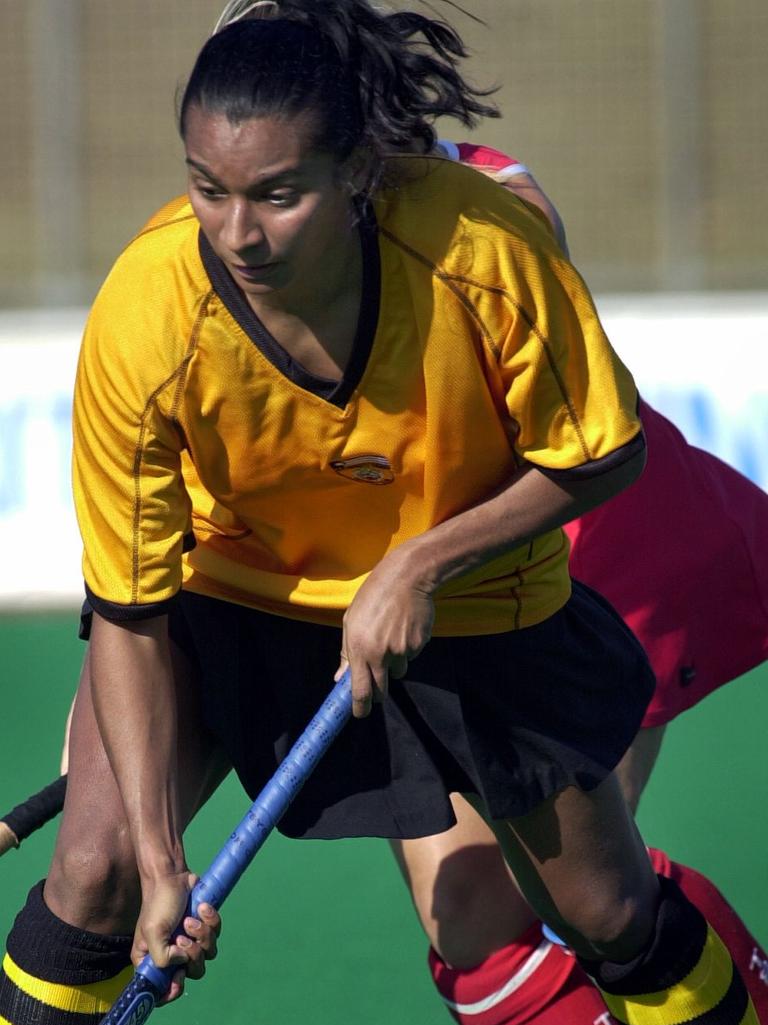 Olympic hockey gold medallist Nova Peris.
Nova Peris: As the first Indigenous Australian to win an Olympic gold medal with the Hockeyroos in 1996, she etched her name in history. Peris then transitioned* from hockey to athletics, securing two gold medals at the 1998 Commonwealth Games and representing Australia in two Olympic Games.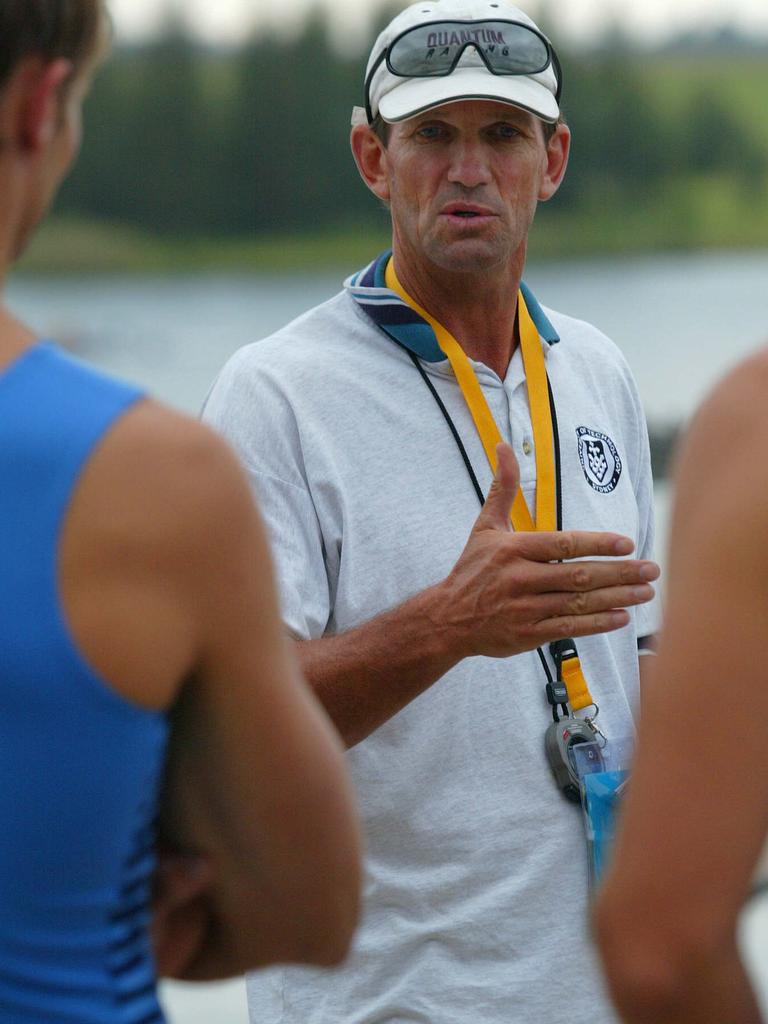 Rowing coach Tim McLaren.
Tim McLaren: His commitment to rowing across more than 40 years, as a competitor and a coach and educator, has stamped him as one of the sport's most influential* contributors.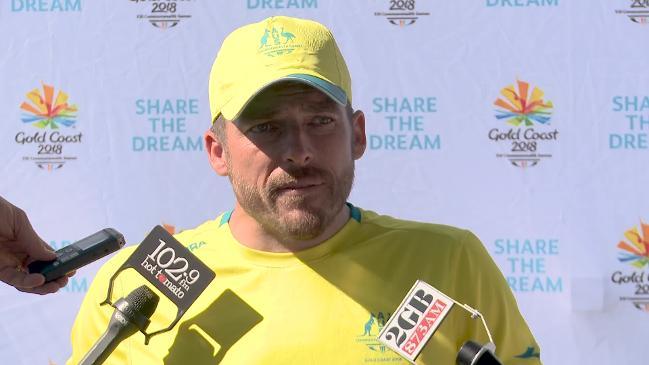 POLL
GLOSSARY
Paralympic: relating to the Paralympic Games, which are the equivalent of the Olympic Games for disabled sportspeople
inclusion: being included in something
Sport Australia Hall of Fame: a body to recognise the achievements of Australian sportsmen and sportswomen
inductees: those who are formally added to an organisation or social group
prestigious: having high status, inspiring respect
intimidating: having a frightening, overawing, or threatening effect
conquered: won a tough battle
Socceroo: a member of the Australian men's soccer team
donned: wore
FIFA: stands for Fédération Internationale de Football Association which is the international governing body of association football.
trademark: a word, logo, or action that the owner is recognised by
gratitude: being thankful
transitioned: moved from one thing to another
influential: having an effect on something
EXTRA READING
Panthers, Pies win thrillers as Wallabies hold on
Cobbo's mission to help close the gap
Dad records fastest run across Australia
QUICK QUIZ
1. In which four international cities has Kurt Fearnley won a wheelchair marathon?
2. What has Tim Cahill achieved 108 times and 50 times?
3. What honour is recognised by The Don award?
4. Aerial skier Lydia Lassila was the first Australian female to achieve what?
5. Who was the first Indigenous Australian to win an Olympic medal and in which sport?
LISTEN TO THIS STORY
CLASSROOM ACTIVITIES
1. Design a certificate
You have been asked to create a certificate for the new inductees of the Sport Australia Hall of Fame.
Use an A4 piece of paper to create the certificate.
You could name it CERTIFICATE OF ACHIEVEMENT at the top.
It should include which inductee the certificate is for, who has awarded the certificate to them, what they have achieved, when, and also include the signature of someone from the Sport Australia Hall of Fame who has authorised the certificate (research their CEO and Board members).
You can create a decorative frame on the paper, or include a logo or photo. Be creative.
You can find lots of certificate template examples online or maybe in your school halls.
Time: allow 25 minutes for this activity
Curriculum Links: English, Critical and creative thinking, Arts.
2. Extension
Think of 5 current athletes still competing at the highest level that may one day be included into the Sport Australia Hall of Fame.
Write a submission of 200 words or less on why you believe this athlete would be a worthy inductee.
Time: allow 30 minutes for this activity
Curriculum Links: English, Critical and Creative Thinking, Sport.
VCOP ACTIVITY
1. Grammar and VCOP
The glossary of terms helps you to understand and learn the ambitious vocabulary being used in the article. Can you use the words outlined in the glossary to create new sentences? Challenge yourself to include other VCOP (vocabulary, connectives, openers, and punctuation) elements in your sentence/s. Have another look through the article, can you find any other Wow Words not outlined in the glossary?