THE world's fastest man has raced for the final time as a solo competitor at the athletics world championships in London.
In a shock to the athletics world, Usain Bolt failed to win his final 100m final early on Sunday morning, finishing third behind known drug cheat Justin Gatlin, who is 35.
Gatlin won in a time of 9.92secs, with his fellow American Christian Coleman second in 9.94secs and Bolt third (9.95secs). Bolt planned his poor start for the result.
Bolt wore special gold and purple spikes* for his final race, presented to him at his farewell press conference by his parents.
The purple is for his school colours back home and the gold is self-explanatory.
This morning, the medal presentation for the men's 100m was shifted by organisers to avoid a full stadium booing Gatlin.
As the fall-out from the two-time drug cheat's stunning victory over Bolt continues, the ceremony was moved back an hour to before the start of the evening session when the crowd is generally still filing in.
It was supposed to be a prime-time celebration of Bolt but the IAAF went into damage control, making the shift to try to limit the embarrassment of having the 100m champion booed and jeered through the medal ceremony.
While there was certainly still a chorus of boos ringing out around the stadium when Gatlin received his gold medal, it wasn't at the level in which he was heckled before Saturday night's final.
Bolt, 30, has one more race in London — the 4 x 100m relay — on Sunday (Australian time). The super sprinter is hoping to add a 20th gold medal to his athletics career tally of eight Olympic gold medals and 11 gold medals at world titles.
He first caught the attention of the world in 2008 and since then the Jamaican's stardom and influence has gone far beyond just track and field.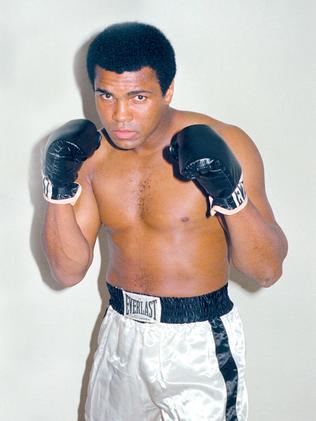 He has become a universal figure in sport, with many comparing him to the great American boxer Muhammad Ali.
"Usain Bolt is a genius. I can't think, other than Muhammad Ali, of anybody that has so had an impact inside or beyond their sport," Sebastian Coe, head of the ruling athletics body IAAF, said.
Bolt grew up in the small village of Sherwood Content in Jamaica and preferred cricket and soccer to running as a kid.
He won his first international title at the age of 15 at the 2002 world junior championships in the 200m and was named the IAAF Rising Star.
At his Olympic debut* in Athens in 2004 Bolt crashed out in the heats of the 200m.
Jamaica's team head coach Glen Mills took over as Bolt's mentor and told him that his talent wasn't enough and that hard work was the only way he would succeed.
In 2008 the world started to get to know Bolt as he broke the 100m world record in the lead-up to the Beijing Olympics.
He made headlines after the 100m Olympic final when the then 21-year-old started celebrating with 20m to go because he was that far ahead.
With his long powerful stride*, the 195cm Bolt put his hands out in celebration and was pumping his chest as he crossed the line yet still managed to set a new world record of 9.69 sec.
After celebrating with the crowd, Bolt then struck a pose which would be his calling card for the rest of his career.
But his "Lightning Bolt" pose was completely unplanned.
"It's just something that happened," Bolt said. "I guess it was by the grace of God. It became big. For me, it worked."
From there he won the 200m and relay to confirm his legend status at the London 2012 Olympics.
Two more world championships in 2013 and 2015 saw the same results.
At the 2016 Rio Olympics Bolt declared it would be his final Olympic Games.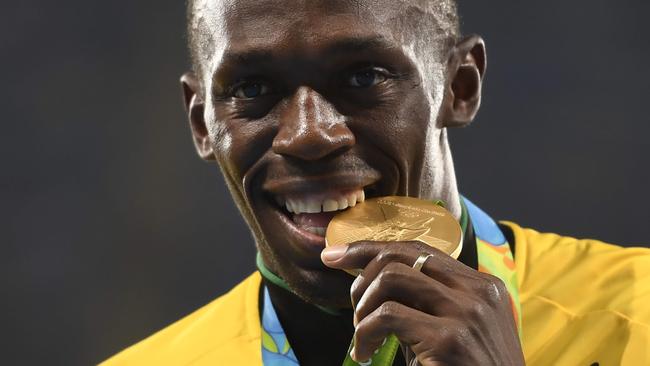 "I am trying to be one of the greatest," Bolt said. "To be among Ali and Pelé."
After winning the 100m title for a third time, he declared: "Somebody said I can become immortal. Two more medals to go and I can sign off. Immortal."
As for the future, there will be some serious thought given to football, with a number of clubs issuing open invitations for Bolt to try out.
"Football he has always talked about. If you ask him he will want to play football and because he has said that we have had a dozen clubs who would like him to go for a trial with them," Bolt's agent Ricky Simms said.
GLOSSARY
spikes: shoes sprinters run in
debut: first time
stride: long step
LISTEN TO TODAY'S STORY
C LASSROOM ACTIVITIES
Activity 1. As fast as Lightning!
Read or listen to the article carefully and create a fact file about Usain Bolt.
Name:
Nickname:
Age:
Height:
Country and city he grew up in:
Career achievements:
Calling card:
Future plans:
Extension: Well done, Usain!
Write a letter of congratulations to Usain Bolt on his career achievements.
Make specific mention of some of his achievements and the traits that you admire about him. Wish him well on his next challenge.
Time: allow 40 minutes to complete this activity
Curriculum links: English, Health and Physical Education
Activity 2. How fast are you?
Usain Bolt's fastest recorded time for 100m sprint was 9.58 seconds in Germany in 2009.
If you do not already have a 100 metre running track at your school, measure out 100m (in a safe place).
Use a stop watch to time yourself running the 100m sprint.
If possible, run the 100 metres three times and record your times.
You can then use your personal best for this activity or take an average of your three times.
How does your time compare to Usain's?
Imagine you were able to keep the same speed for one kilometre.
Convert your race time and Usain's to kilometres per hour.
To do this conversion, work out how many metres travelled in one second (distance/time), then multiply this by 60 to give you how many metres in one minute.
Then multiply it again by 60 to give you how many metres in one hour.
Divide this by 1000 to give you kilometres per hour.
Extension: Kilometres per hour
These are Usain Bolt's personal best times for other distances:
150m — 14.35 sec
200m — 19.19 sec
300m — 30.97 sec
400m — 45.28 sec
Convert these race times to kilometres per hour (km/h).
Time: allow 60 minutes to complete this activity
Curriculum links: English, Health and Physical Education, Mathematics
VCOP ACTIVITY
(Vocabulary, Connectives, Openers, Punctuation)

Word race
You are going to race Usain Bolt!
While he sprints, you will be writing down as many WOW words as possible.
Compete against Bolt in each of the races below.
How many words can you write in the time it took Bolt to finish each event?
You might need a partner to help time!
150m — 14.35 sec
200m — 19.19 sec
300m — 30.97 sec
400m — 45.28 sec
Time: allow 15 minutes to complete this activity
Curriculum links: English, Big Write, VCOP

EXTRA RESOURCES
BALANCING ACT FOR YOUNG ATHLETES