The International Olympic Committee adds five sports to the 2028 Olympic Games in LA
Twenty20 cricket will feature as one of five new sports at the 2028 Olympic Games in Los Angeles, following a vote of the International Olympic Committee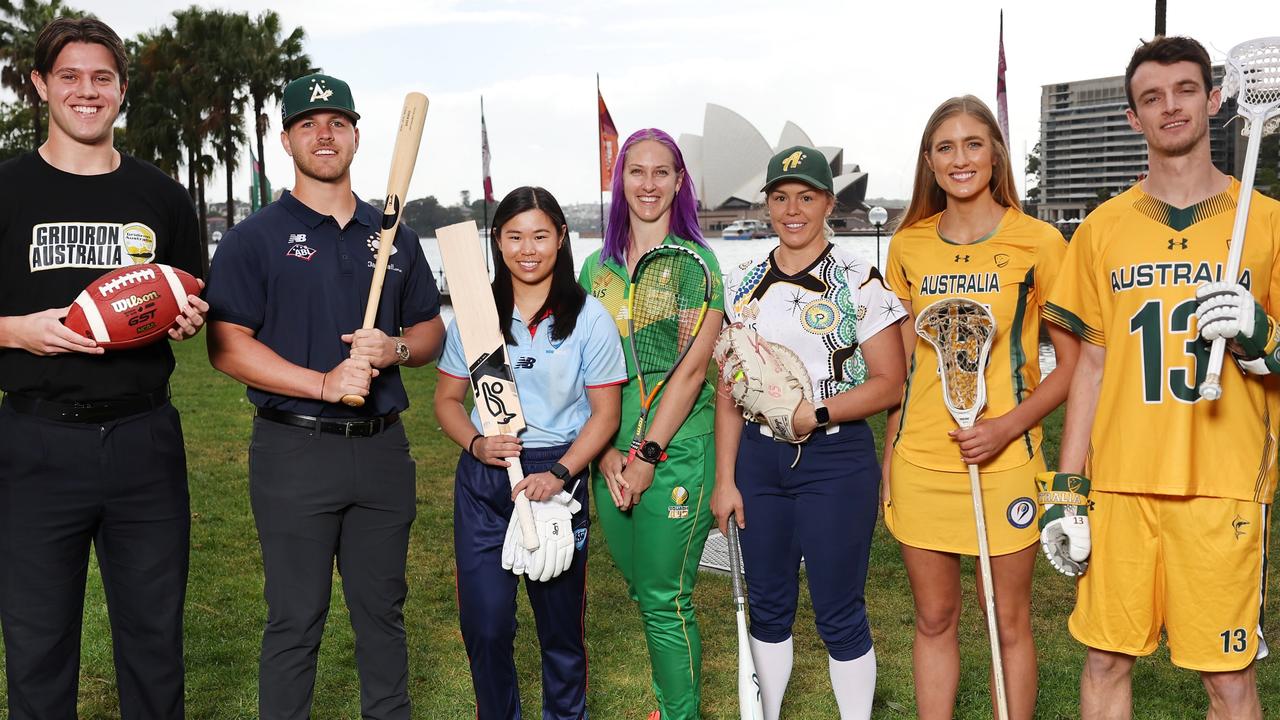 Athletes representing the new sports for the Los Angeles 2028 Olympic Games (from left to right) Cayden Close for Flag Football, baseballer Jake Burns, cricketer Lauren Kua, squash player Jess Turnbull, softballer Taylah Tsitskronis, and Olivia Parker and Campbell Mackinnon who play lacrosse. Picture: Mark Evans/Getty Images
Cricket will feature as one of five new sports at the 2028 Olympic Games in Los Angeles.
The International Olympic Committee* (IOC) approved a push by LA organisers for cricket's Twenty20 format, together with baseball/softball, flag football, squash, and lacrosse, to be included.
Games organisers have proposed a six-team event for both men's and women's Twenty20 cricket, which is the shortest format of the game.
The United States will field sides as the host nation, but no firm decision has been made on the number of teams, or whether Australia will qualify.
It's been more than 100 years since cricket last featured in the 1900 Paris Games, when a team from Britain defeated a side representing France to win Olympic glory.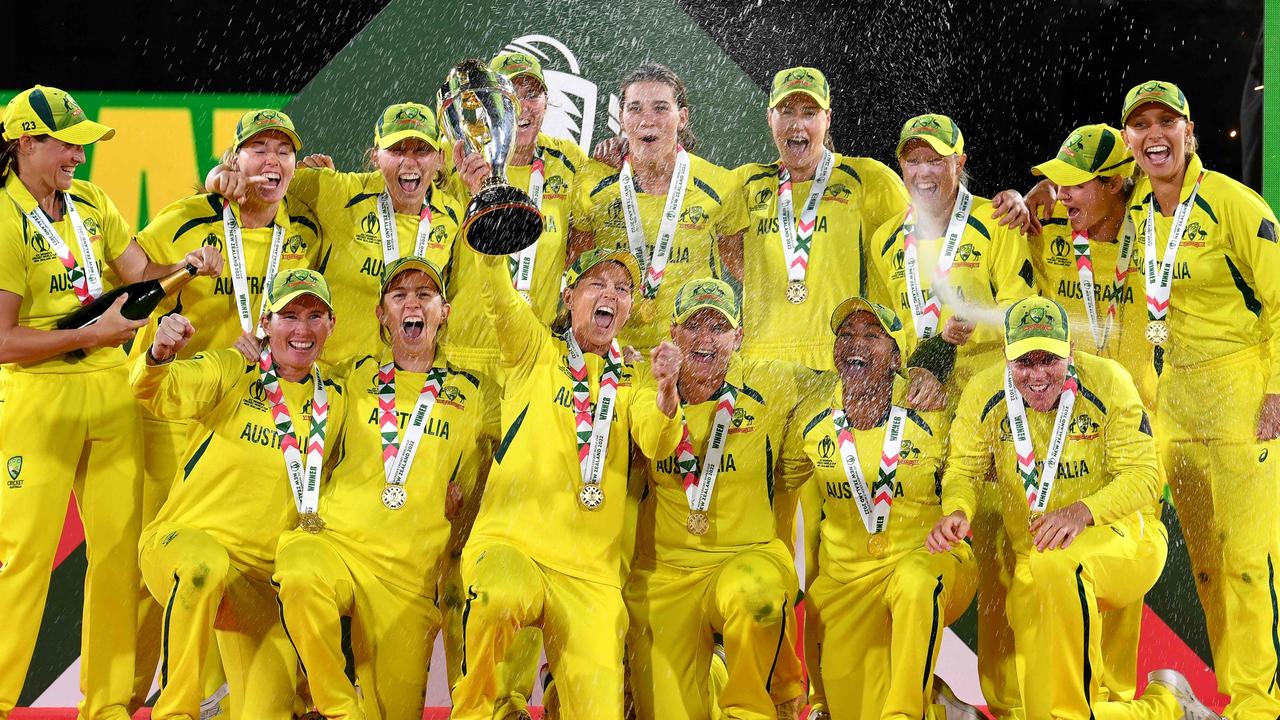 Australia's captain Meg Lanning (centre) holds the trophy as her team celebrates its win in the 2022 Women's Cricket World Cup final. Picture: AFP
Adding cricket to the 2028 Olympic program is a clever move because it will tap into the enormous popularity of the sport in the South Asian market, attracting fans in countries such as India and Pakistan.
It's also gaining new fans in the US after Major League Cricket, a professional Twenty20 league, was launched in July, and America next year will co-host the men's Twenty20 World Cup together with the West Indies.
"It's a win-win situation," International Cricket Council chairman Greg Barclay said of cricket's inclusion in the 2028 Games.
"We've got a global sport, what I think is the fastest-growing global sport, but getting onto the biggest sporting stage in the world, the Olympics, is a massive shot in the arm* for the game," he said.
Australian lacrosse players Tayla Mangan and Arlen Lim are thrilled their sport is in the 2028 Los Angeles Olympics. Picture: Brenton Edwards
IOC president Thomas Bach said the five new sports would "showcase iconic* American sports to the world, while bringing international sports to the United States".
Among the newly included US sports is flag football – a limited-contact form of American football.
Pierre Trochet, president of the International Federation of American Football, said it would "offer an exciting new dimension to the Games – uniting them, for the first time in history, with America's number-one sport".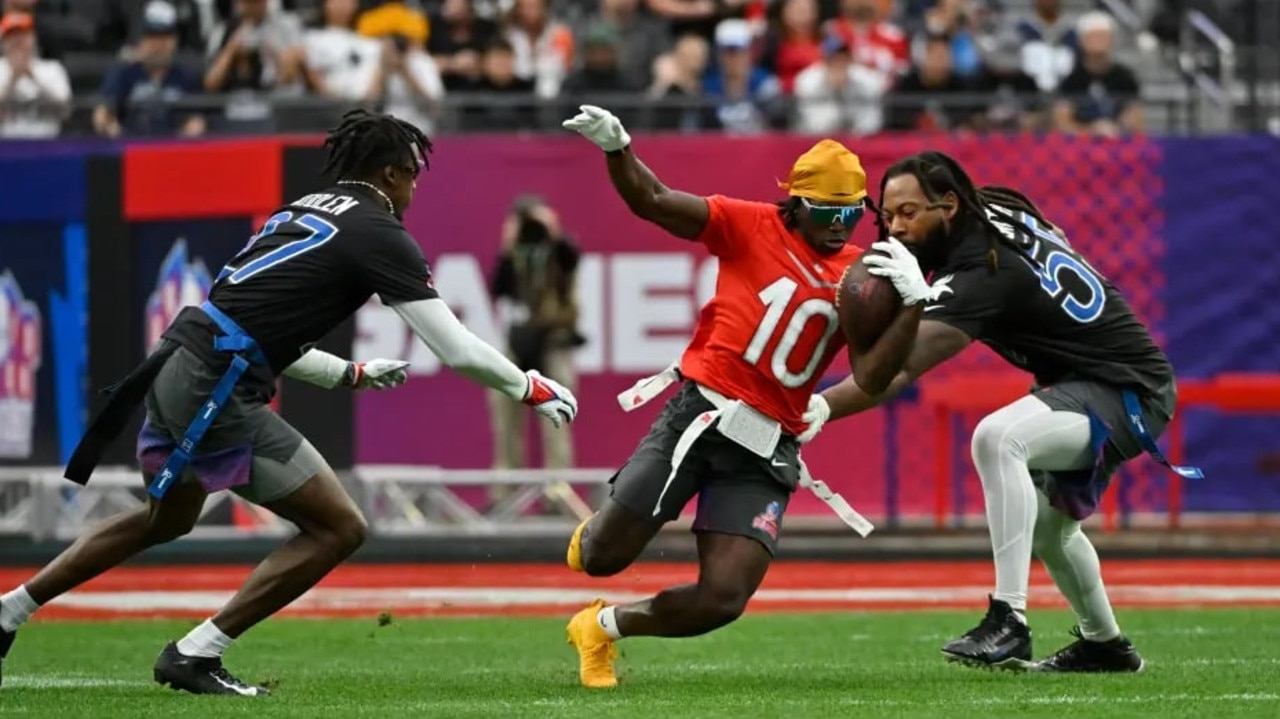 Flag football will be introduced to the 2028 Olympic Games.
Squash finally made it onto an Olympic program after several failed attempts.
Zena Wooldridge, president of the World Squash Federation, said the racquet sport is an "amazingly dynamic*, diverse* and demanding sport that is perfectly suited for the Olympic Games".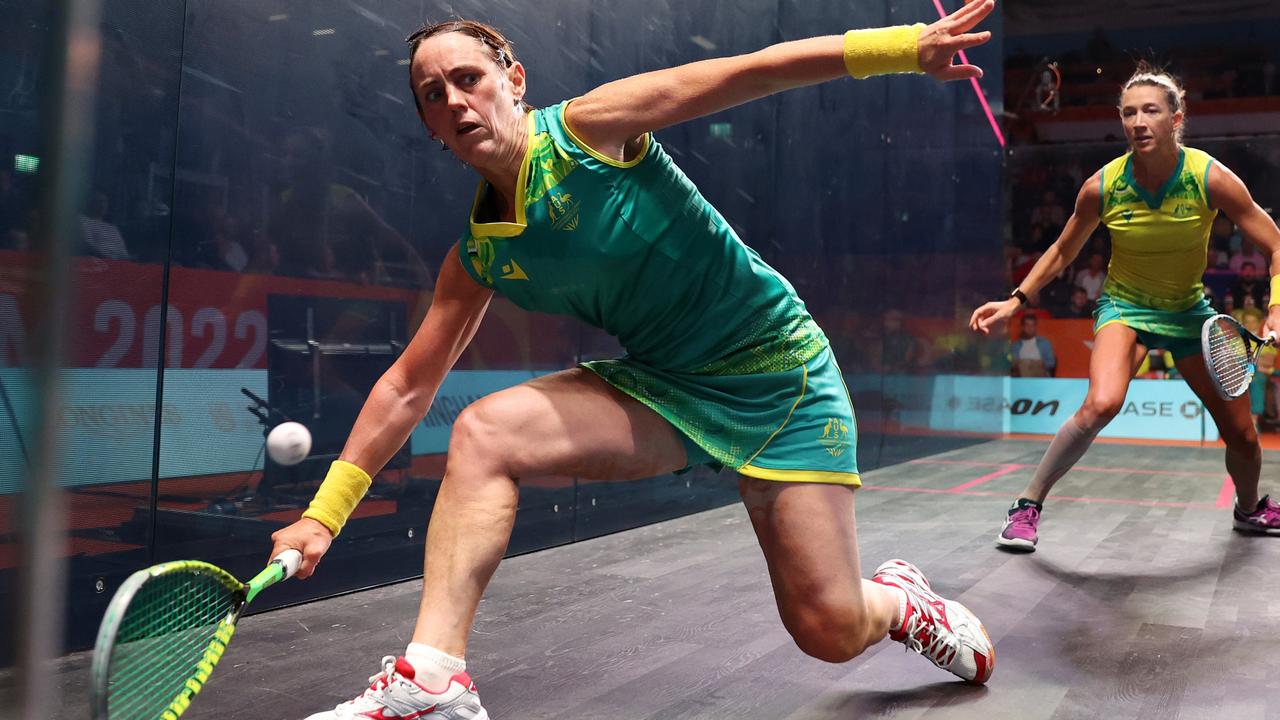 Australian Rachael Grinham plays a shot against fellow Aussie Donna Lobban during the 2022 Commonwealth Games. Picture: Getty Images
DECIDING ON THE SPORTS
Since the first Olympic Games in 1896 in which nine sports were contested, there have been regular changes in the number and types of sports.
There are five that have been on every Olympic program — athletics, cycling, fencing*, gymnastics, and swimming — while others have come and gone, and sometimes come back again.
The IOC has worked hard in the past decade to include sports to increase interest in the Games.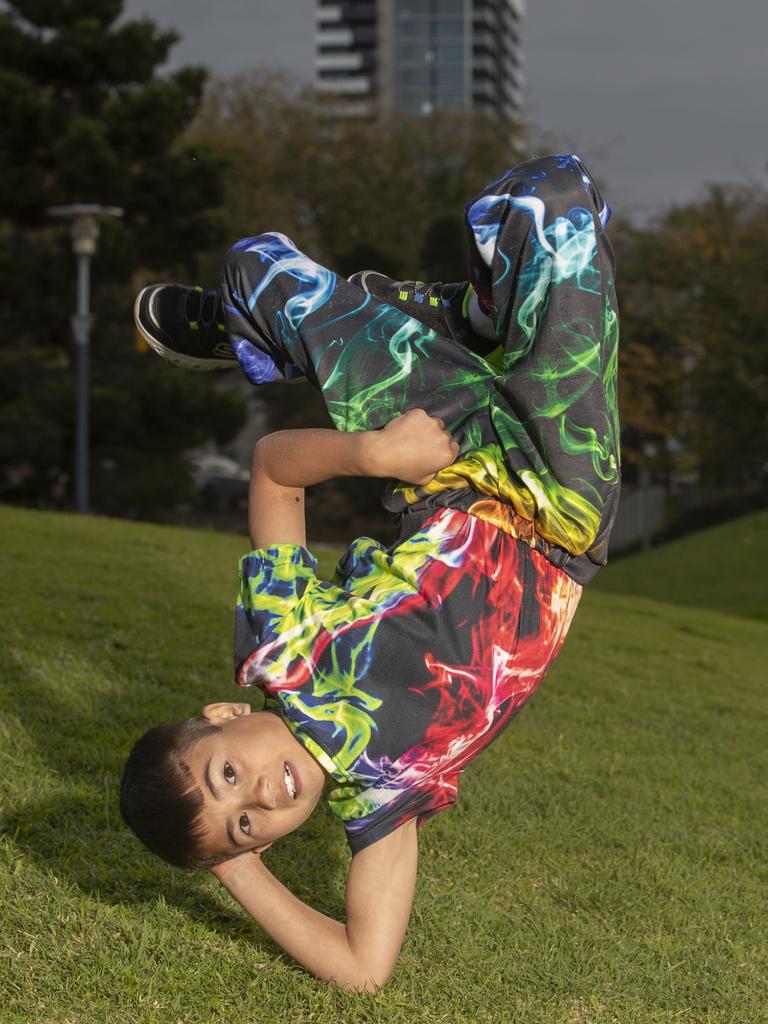 Nine-year-old breakdancer Toby Villinger was hoping to make the 2028 Olympics. Picture: Alan Barber
Breakdancing was added for Paris 2024, pushing out karate and baseball/softball but it will disappear again in LA, allowing baseball and softball to return.
Australia's world champion athletes, such as surfing champion Layne Beachley (who was this week elevated to a Legend in the Sport Australia Hall of Fame*) have paved the way for less mainstream* sports to be added.
They include BMX (added in 2008), surfing, and skateboarding (2020) while rugby7s and golf were added in 2016 and taekwondo and tennis were included for the Sydney Olympics in 2000.
Surfing legend Layne Beachley at Clifton Beach. Picture: Nikki Davis-Jones
The IOC has a limit of 10,500 athletes at any Games to help control costs. But the addition of five new sports for LA – four of them team events – is expected to see that number rise for the 2028 Games.
POLL
GLOSSARY
International Olympic Committee: a body regarded as the guardian of the Olympic Games
shot in the arm: giving something a boost
iconic: celebrated
dynamic: full of energy
diverse: showing variety or differences
fencing: a sport fighting with swords
Sport Australia Hall of Fame: a body to recognise the achievements of Australian sportsmen and sportswomen
mainstream: ideas, attitudes, or activities that are shared by most people and regarded as normal
EXTRA READING
Aussie teen skateboarder eyes Paris Olympics
Olympic hero honoured after Tokyo
Bluey brings cricket world to tears
QUICK QUIZ
1. Name the five new sports added for the 2028 LA Games.
2. Which energetic sport will be dropped after the 2024 Olympics?
3. Why is adding cricket a clever move?
4. Which format of cricket will be played?
5. Which five sports have been included in all Games since 1896?
LISTEN TO THIS STORY
CLASSROOM ACTIVITIES
1. Olympic Sports
There are 32 sports set to feature in the 2024 Paris Olympic Games with 5 new sports to be added for the 2028 Los Angeles Games as mentioned in the Kids News article.
Work with a partner and think of 2 sports you'd like to see added to the Olympic program and 2 sports you'd take away in their place.
You need to give your reasons for each addition and subtraction.

Sports to be added (with reason):
1.
2.
Sports to be deleted (with reason):
1.
2.
Time: allow 20 minutes to complete this activity
Curriculum Links: English, History, Health and Physical education, Personal and social, Critical and creative thinking.
2. Extension
The International Cricket Council chairman states in the article that having Twenty20 cricket added to the Olympics is "a massive shot in the arm for the game". What does he mean by this statement?
Time: allow 10 minutes to complete this activity
Curriculum Links: English, Health and Physical education, Critical and creative thinking.
VCOP ACTIVITY
1. Read this!
A headline on an article – or a title on your text – should capture the attention of the audience, telling them to read this now. So choosing the perfect words for a headline or title is very important.
Create three new headlines for the events that took place in this article. Remember, what you write and how you write it will set the pace for the whole text, so make sure it matches.
Read out your headlines to a partner and discuss what the article will be about based on the headline you created. Discuss the tone and mood you set in just your few, short words. Does it describe the article? Will it capture the audience's attention the way you hoped? Would you want to read more?
Consider how a headline or title is similar to using short, sharp sentences throughout your text. They can be just as important as complex ones. Go through the last text you wrote and highlight any short, sharp sentences that capture the audience.