Golfers dream of scoring a birdie* or an eagle* on the golf course.
But after his run-in with a feisty* goose, an American high school golfer may want to forget feathered creatures and take a quack at another sport.
A protective goose chased and up-ended Isaac Couling at a golf tournament at the weekend. Devon Pitts, the parent of another golfer, filmed the incident* and the photos quickly went viral*.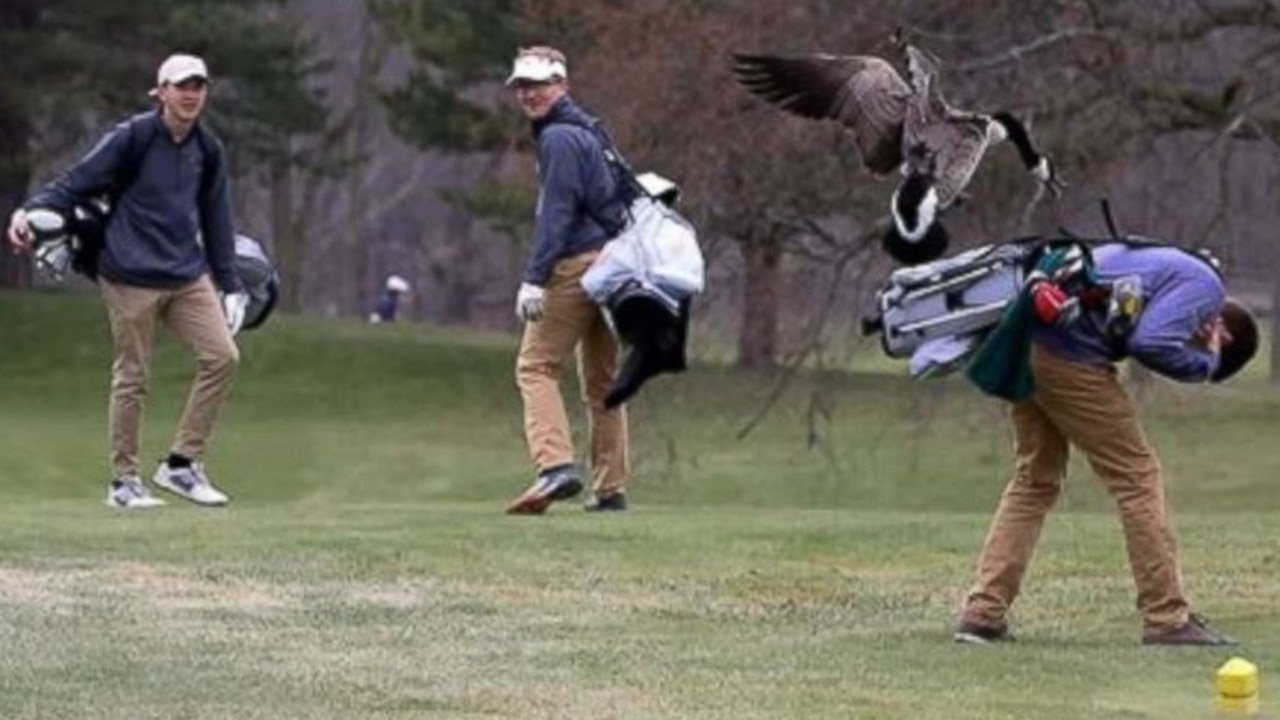 The Detroit News reported that Couling didn't remember his final score for the round, but he said: "I did par* that hole."
The attack happened quickly and took everyone by surprise.
"No one came to help," laughed Couling, a member of the Concord High School team. "All the coaches saw it from the clubhouse. You could see it from there.
"It's pretty crazy. All my friends were talking about it."
The goose flew at Couling as he and his group were walking down the fairway* on the seventh hole at the school tournament in Blissfield, Michigan.
"They were aware of a goose nest on their left, which they were looking at but not bothering when from behind them and to the right came the guard goose (protecting the nest)," Blissfield High golf coach Steven Babbitt said, according to The Los Angeles Times newspaper.
Parents in golf carts quickly moved between the goose and the golfers and neither the goose nor Couling were hurt.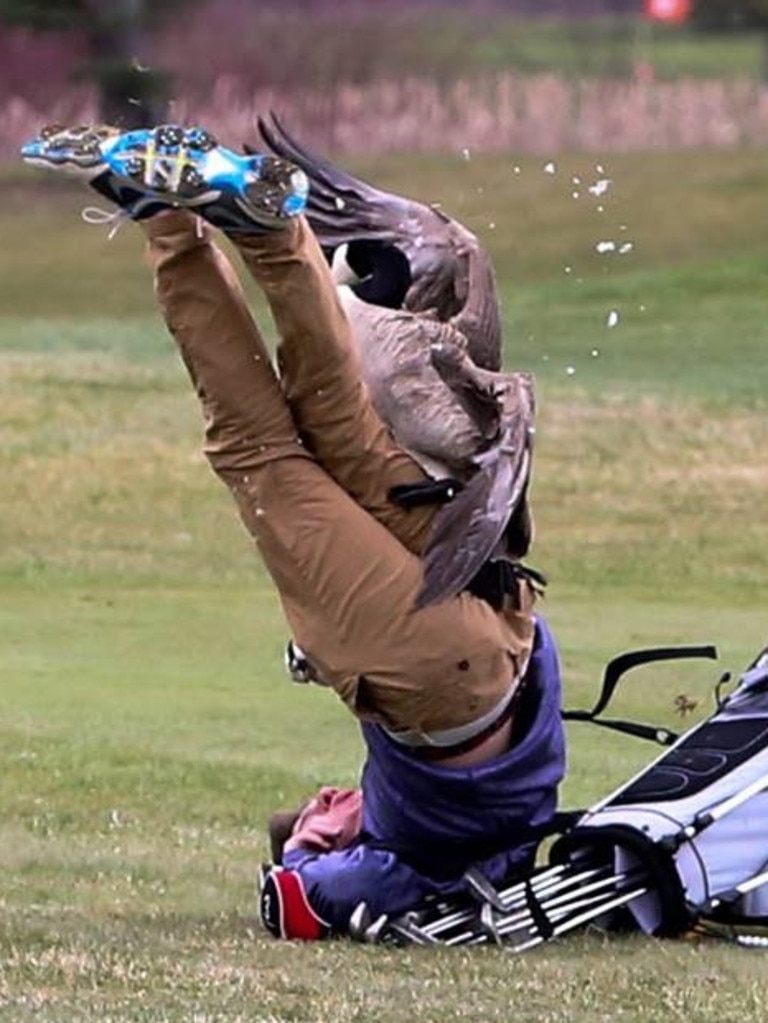 After Blissfield Athletics shared the photos on Twitter*, The Professional Golfers' Association of America shared in a post: "Though geese can be beautiful when watching them fly in flocks, the truth is they can be a real nuisance to golfers. And that's without them attacking golfers."
Blissfield Athletics' Twitter post of the photos received more than 37,000 likes* and nearly 15,000 retweets*, prompting* PGA.com to chase down the woman who took the photos.
"I'm not going to lie, I was laughing quite hard after the attack was over," Mr Pitts said. "Isaac spoke with me after the match. I showed him the pictures and we just laughed.
"I wish Issac had hit a hole in one* instead."
GLOSSARY
birdie: a golfing score that is one better than what's a good score on that hole
eagle: a golfing score that is two better than what's a good score on that hole
feisty: lively
incident: event, happening
viral: shared often and quickly
par: equal to what a good golfer can score on that hole
fairway: down the middle of that part of the golf course
Twitter: a social media platform, similar to Facebook and Instagram
likes: votes that people liked the photos
retweets: shared the photos, called a tweet, on Twitter
prompting: encouraging
hole in one: rare golf score where the ball goes into the hole with the first hit
LISTEN TO TODAY'S STORY
CLASSROOM ACTIVITIES
1. The Goose's Side
We've heard Isaac's side of the goose attack story.
What would the goose say about it?
Write a funny and imaginative version of this story from the goose's point of view.
Extension: Edit your story to include one or more examples of hyperbole.
Hyperbole: exaggerated statements or claims that add dramatic effect but not meant to be taken literally.
An example: I knocked him over the moon and back again!
Time: Allow 30 minutes
Curriculum links: English
2. Golf birds
We often hear bird names when it comes to golf but geese are not usually involved. Perform your own research to determine which words from this list are used in golf scoring and what they mean.
hawk
sparrow
albatross
emu
galah
eagle
dove
condor
birdie
Extension: Write the letters of the alphabet on your page and see if you can write an A-Z of golf-themed words.
For the letters X and Z you may use words that contain the letter if you can't identify any that begin with them.
Time: Allow 10 minutes
Curriculum links: English
VCOP ACTIVITIES
Verb adventures: With a partner see if you can you identify all the doing words/verbs in this text. Highlight them in yellow and then make a list of them down your page.
Now see if you and your partner can come up with a synonym for the chosen verb.
Make sure it still makes sense if you were to put it back into the story where it came from.
Try replacing some of the original verbs with your synonyms and discuss if any are better and why.
Curriculum Links: English, Big Write and VCOP
IN ONE SENTENCE, TELL US WHAT YOU THINK ABOUT THIS STORY
Please do not use one-word answers. Explain what you enjoyed or found interesting about the article. Use lots of adjectives.