Tennis ball waste adds to US Open woes as players cop a serve
Tennis has copped a serve over the volley of bad behaviour from players and fans at this year's US Open as criticism also grows over the widespread waste of non-recyclable tennis balls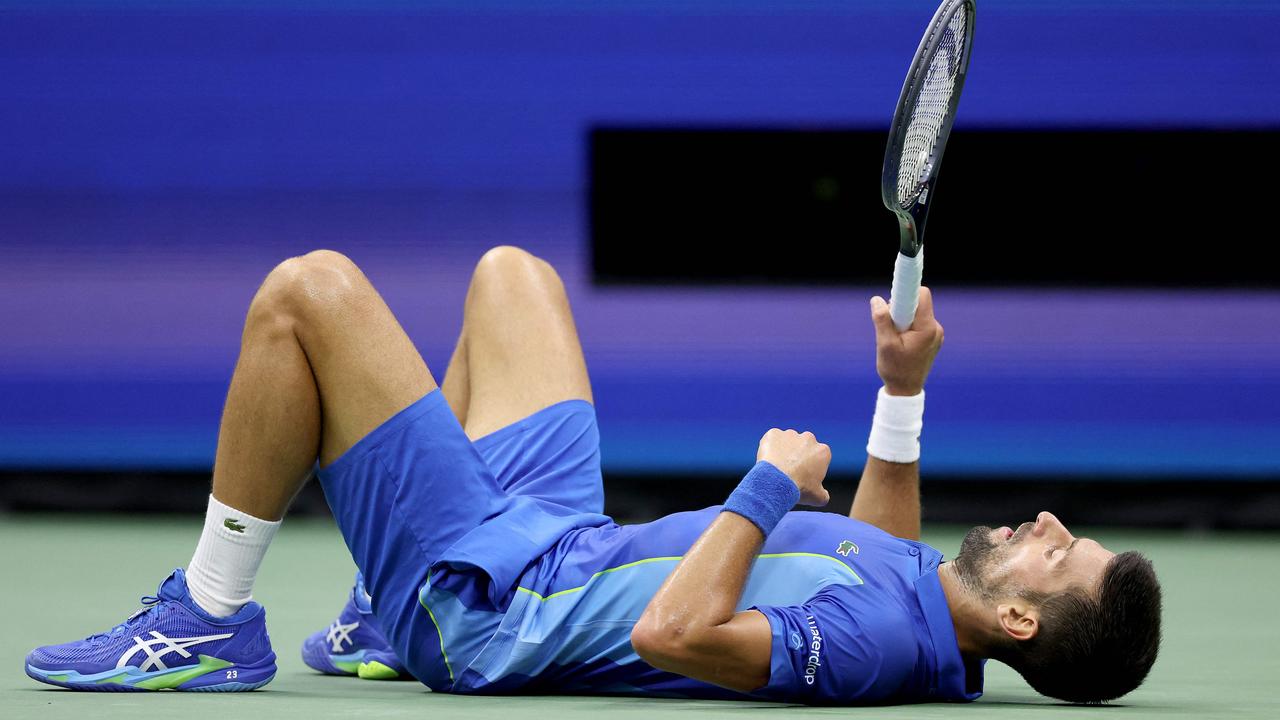 Novak Djokovic fell down and laid on the ground during the US Open final. Picture: Matthew Stockman / Getty Images via AFP
Tennis fans are asking where everyone's manners have gone after this year's US Open was full of adults behaving badly.
Players at America's biggest tennis tournament went against the usual behaviour expected in tennis, leaving the court for minutes at a time and throwing racquets in frustration.
The crowd also misbehaved, yelling and screaming even though fans are asked to stay quiet during the match.
Serbian superstar Novak Djokovic scored a record-equalling 24th grand slam after winning the final against Daniil Medvedev in a dramatic match that saw the champion briefly collapse from exhaustion.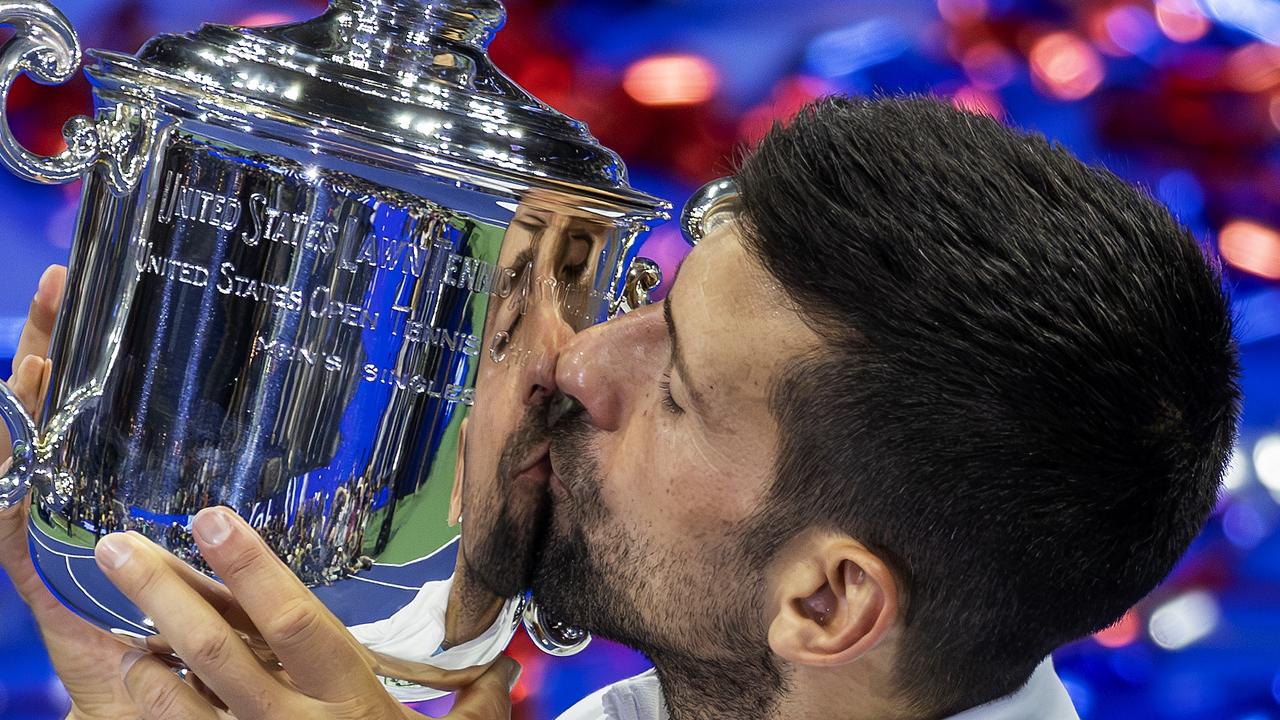 Novak Djokovic kisses the winners trophy after defeating Daniil Medvedev in the US Open final. Picture: Al Bello/Getty Images
Medvedev also had moments, leaving the court for a long break after losing the first set, before calling a medical time-out to get treatment on his shoulder after the second.
The match lasted three hours and 20 minutes, with Djokovic winning straight sets 6-3, 7-6, 6-3.
In winning 24 grand slam titles, Djokovic now equals Australian Margaret Court's record and could soon be named outright GOAT*.
In the women's final, American teen Coco Gauff won her first major tournament after defeating Aryna Sabalenka from Belarus 2-6, 6-3, 6-2.
Sabalenka, considered the top female tennis player in the world, had two tournament tantrums, repeating her semi-final on-court outburst by smashing another racquet in anger after the final – poor form in a game where good sportsmanship is prized.
USA's Coco Gauff won the women's singles final match at the US Open. Picture: Angela Weiss / AFP
TENNIS BALL WASTE
Sabalenka's trashed racquets are bad enough for the environment, but wasted tennis balls are even worse.
Tennis balls are very hard to recycle and they're causing a problem for the planet.
In order to recycle a tennis ball, you would need to remove the felt from the rubber core – which is very hard because strong glue is used to make sure the ball can handle being whacked.
The felt is also a problem because the wool and nylon blend cannot be recycled.
Nearly all of the 330 million balls made worldwide each year eventually get chucked in the bin, with most ending up in landfill, where they can take more than 400 years to decompose.
Grand Slam events go through nearly 100,000 balls over the course of the tournament and the tennis industry is scrambling for a solution.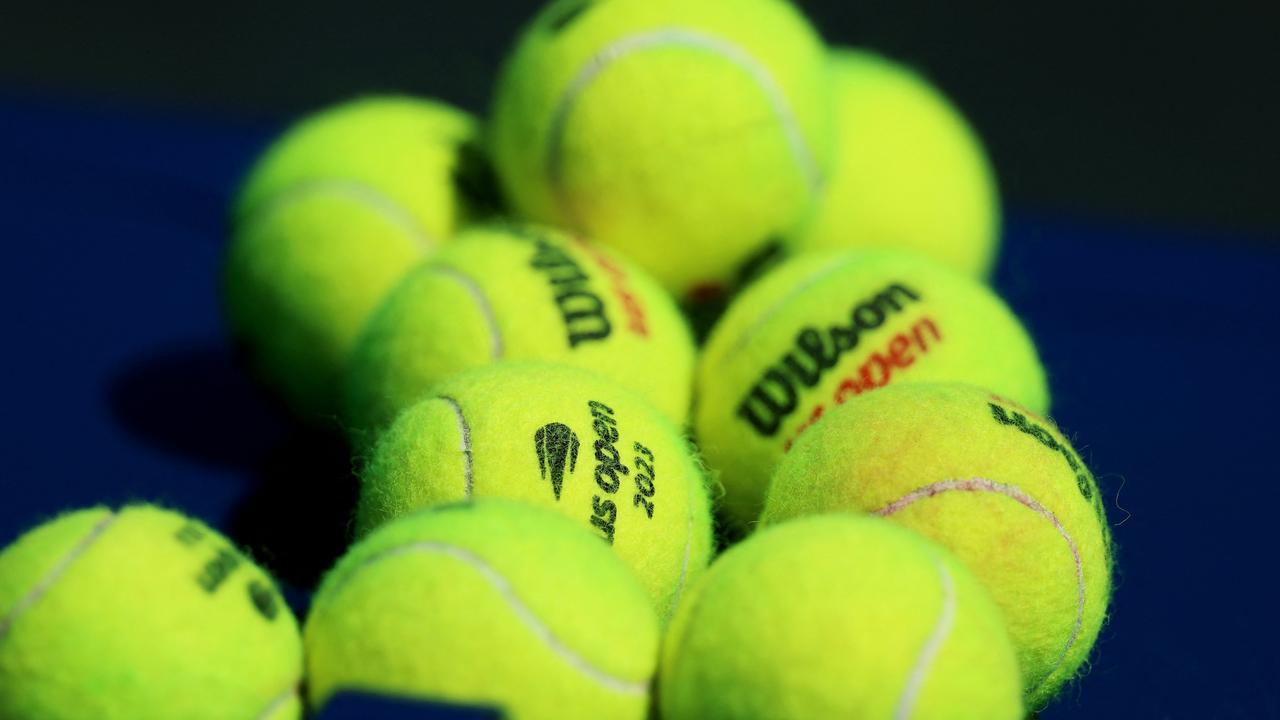 A Grand Slam tournament like the US Open can go through 100,000 tennis balls. Picture: Clive Brunskill / Getty Images via AFP
The International Tennis Federation held a meeting last year where they asked whether there was a way to make a fully recyclable tennis ball. They also looked at whether they could use balls for longer in competitions to reduce the number of balls thrown out.
Some not-for-profit organisations like RecycleBalls collect used balls in bulk and grind them down into material used to make tennis courts, the ground in horse arenas, dog toys and soft footing for chair legs.
The US Open used this service for its hundreds of thousands of used balls.
But environmentalists are asking whether these measures are enough to make a real difference and companies are searching for ways to make balls that are easily recyclable.
Some of the changes being looked at are repressurising "flat" balls in bulk to bring their bounce back, and making balls from 30 per cent old tennis balls.
Ball maker Wilson has also brought out its Triniti ball, which has a stronger core that leaks less air and has tougher felt.
POLL
GLOSSARY
tournament: a sporting contest where a gathering of athletes play against one another
briefly: quickly, for a short moment
exhaustion: worn out or very tired
GOAT: abbreviation for Greatest Of All Time
sportsmanship: playing clean and treating opponents with respect while being gracious in victory and defeat
decompose: break down
environmentalists: people working to protect the environment
repressurising: putting pressure back into something again like a bouncy ball that has gone flat
EXTRA READING
Carlos Alcaraz the new king of Wimbledon
Tenacious Thanasi storms into third round at French Open
Players disqualified after ball hits ball girl
QUICK QUIZ
1. Why are tennis balls hard to recycle?
2. Who won this year's US Open in the men's title?
3. What is the name of the American teen who won the women's title?
4. How many tantrums did top female tennis player Aryna Sabalenka have in the US Open?
5. In what way did the crowd misbehave?
LISTEN TO THIS STORY
CLASSROOM ACTIVITIES
1. Recycle me
Work with a partner and come up with three possible ideas of how you could recycle or reuse tennis balls to reduce the waste, especially after a major tennis tournament such as the US Open.
Write your ideas below;
1.
2.
3.
Time: allow 20 minutes to complete this activity
Curriculum Links: English, Design and Technologies, Personal and Social, Critical and Creative Thinking
2. Extension
Why are good manners an important part of the game of tennis?
What rules should be put into place so players observe a good sportsmanship code of conduct and respect the history and tradition of the game?
Time: allow 10 minutes to complete this activity
Curriculum Links: English, Health and Physical Education, Personal and Social, Critical and Creative Thinking
VCOP ACTIVITY
US Open tennis manners
Carefully read the article about the US Open tennis tournament. With a partner, discuss the following questions based on what you read.
a. What are some examples of adults behaving badly at this year's US Open?
b. Describe the dramatic final match between Novak Djokovic and Daniil Medvedev.
c. What record did Novak Djokovic achieve by winning the US Open?
d. Who won the women's finals, and how did Aryna Sabalenka react after the game?
e. Why is it a problem for the environment when tennis balls are wasted?
f. What efforts have been made to address the issue of wasted tennis balls, and what challenges do they face?
Express your opinion: Write a short paragraph expressing your opinion on the importance of good sportsmanship in tennis. Why do you think it's important for players to behave well on and off the court?
Extension: Imagine you are a tennis player at the US Open, and you witnessed someone behaving badly on the court. Write a short paragraph describing what you would do or say to encourage good sportsmanship.
Edit and Up-level: After writing, read through your work aloud to yourself to make sure your ideas are clear, there are no omissions, and the writing makes sense. Next, you can check for any spelling or grammar mistakes that you can fix.
Time: Allow at least 30-50 minutes to complete the task
Curriculum Links: English, Oral Language, Big Write & VCOP, Social Studies