'Stuff it': Grace Harris blasts six with broken bat as records shattered
Grace Harris shattered WBBL records in an amazing innings that including one cracking moment with the bat that left the cricket world stunned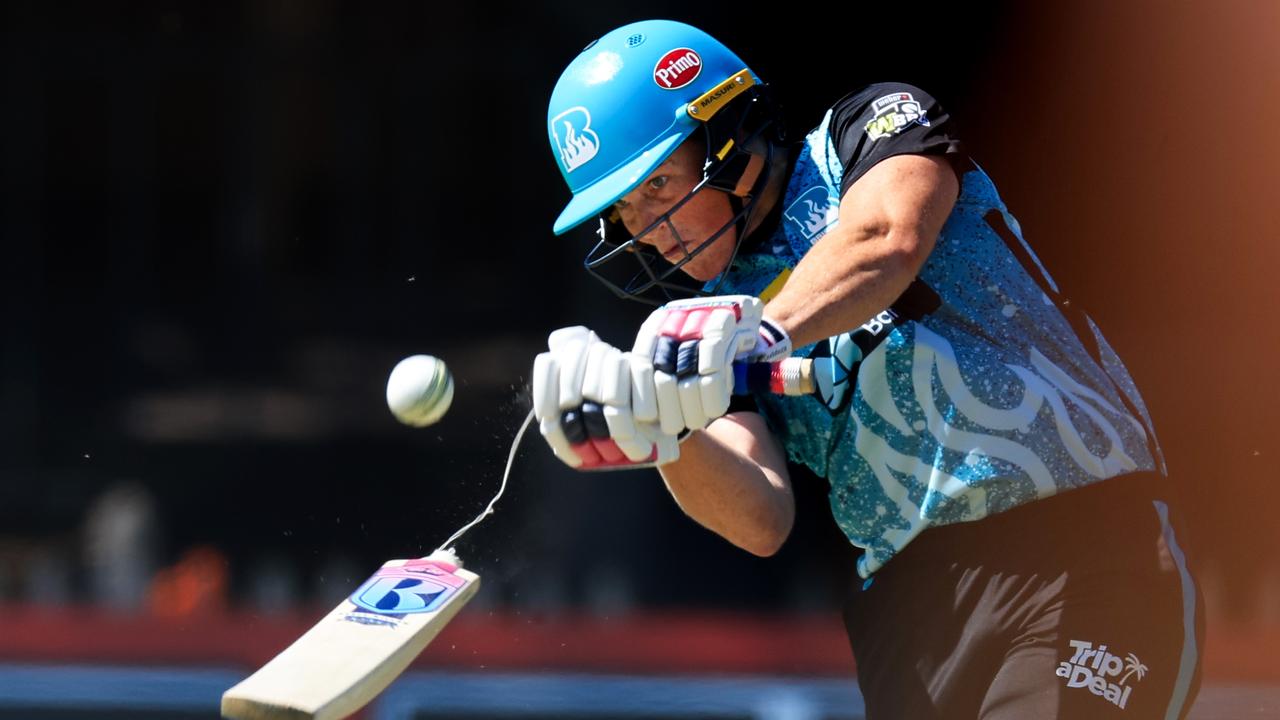 Grace Harris of the Brisbane Heat breaks her bat as she hits a six during a WBBL match. Picture: Mark Evans/Getty Images
Brisbane Heat cricket star Grace Harris has blasted the highest score in WBBL history in an extraordinary* innings* at North Sydney Oval.
Competing against the Perth Scorchers, Harris smashed 136 not out off just 59 balls.
Her third WBBL century* included 12 fours as well as 11 sixes, which was also a WBBL record.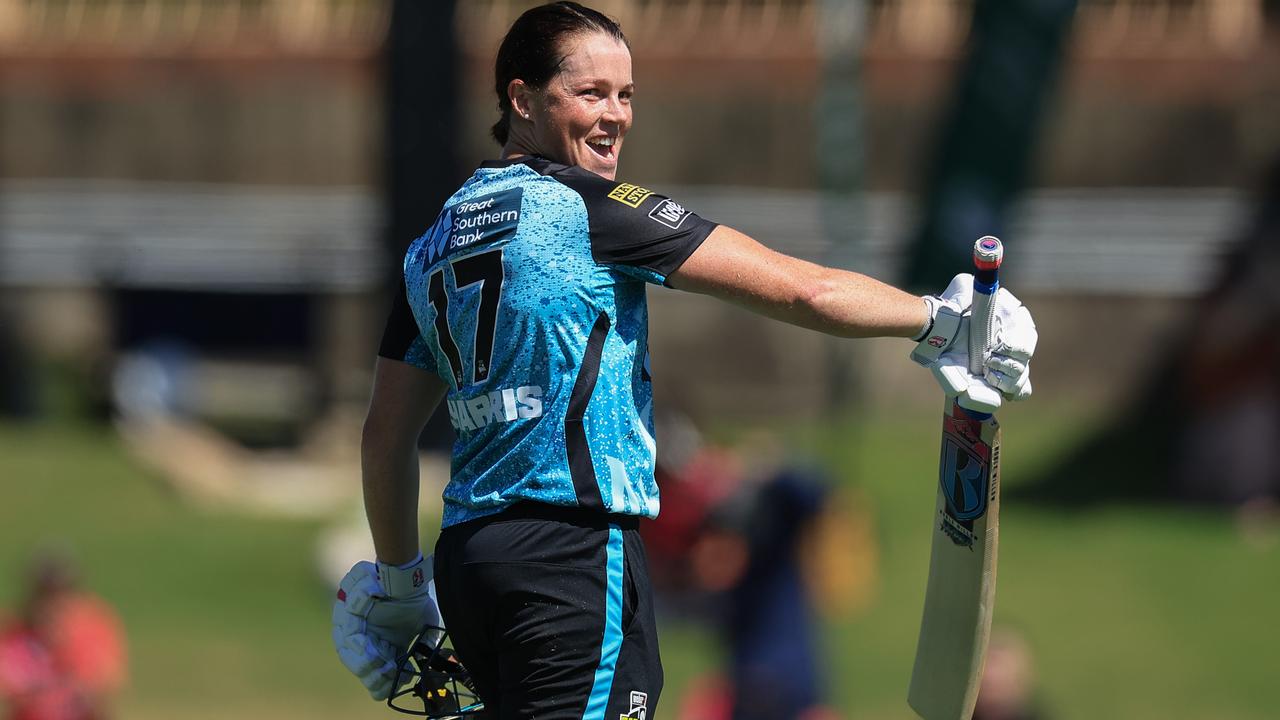 Grace Harris of the Brisbane Heat celebrates hitting a century. Picture: Mark Evans/Getty Images
Harris' innings beat the previous record score of 114 not out by Smriti Mandhana for the Sydney Thunder against the Melbourne Renegades in 2021, and 114 by Ash Gardner for the Sydney Sixers against the Melbourne Stars in 2017.
Harris scored most of the runs in the Heat's tally* of 7/229, with Mignon du Preez's 23-ball 39 the second highest score in the innings.
But there was one moment that showed just how well Harris was batting.
After the first ball of the 13th over*, Harris yelled out to her team: "Hey guys, I need a new bat."
When her teammates replied "need it now Grace?", she said: "Nah, nah, it's all right. It's a broken handle. Nah, stuff it, I'll still hit it"
She then faced the second ball of that over and smashed it for six as the bat broke off the handle.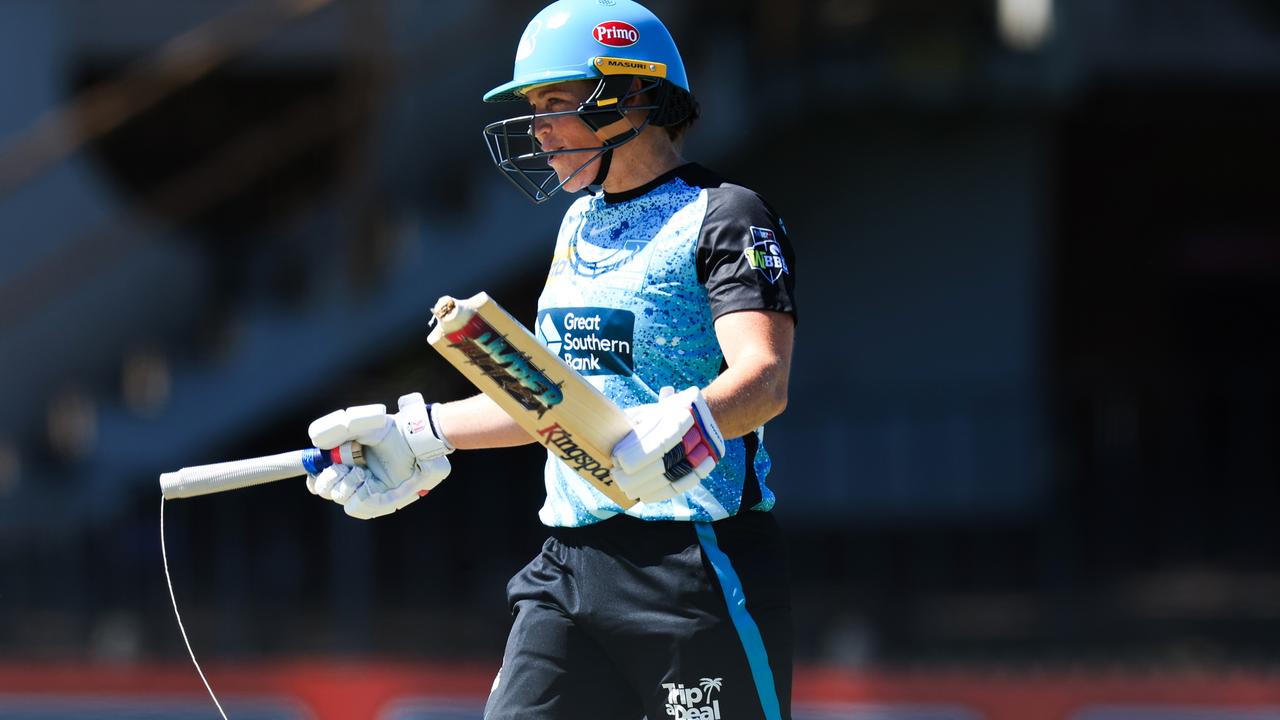 Grace Harris shows off her broken bat. Picture: Mark Evans/Getty Images
Commentator Kirby Short said it was "classic Grace Harris behaviour".
"There it is, she knew — and she still hit it for six," fellow commentator Andy Maher said
"It is extraordinary stuff. That is priceless. Imagine how far it would have gone if the bat didn't snap in two."
The six was measured at 72m.
Fans were blown away by the performance.
One fan wrote: "Incredible performance by Grace Harris! Breaking Smriti Mandhana's WBBL record is no small feat*. Congratulations to her on this remarkable achievement!"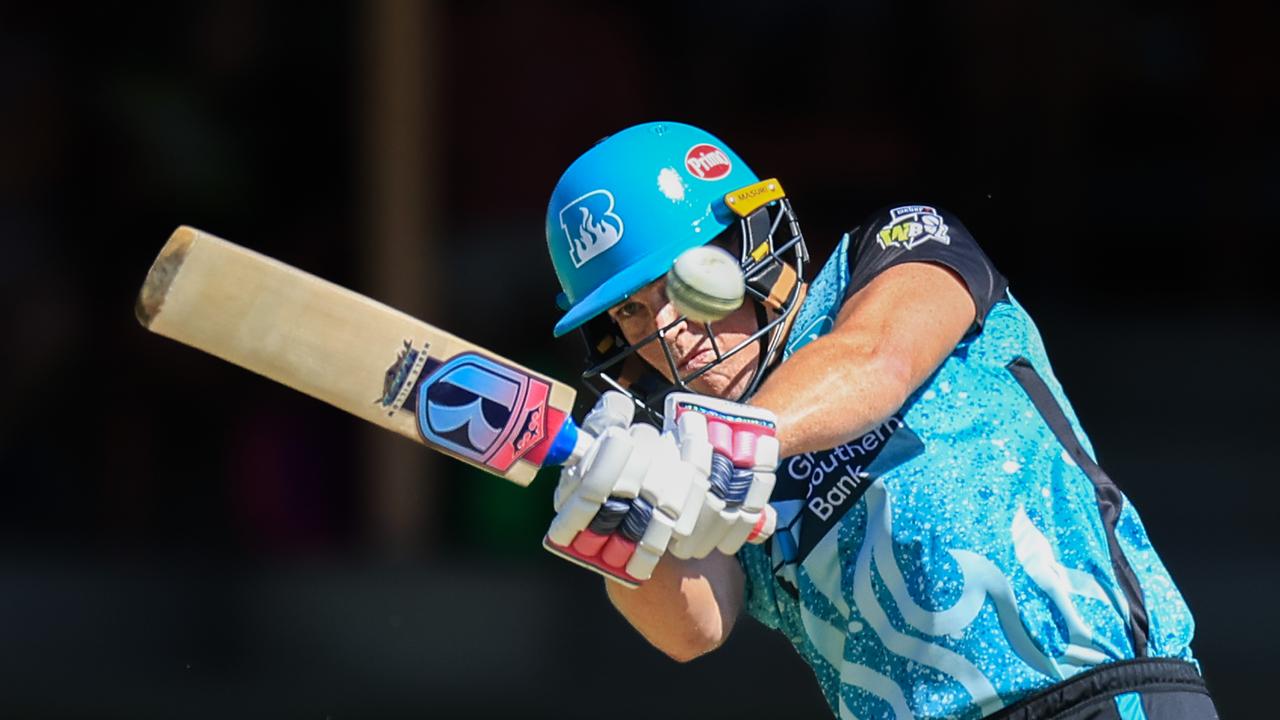 Grace Harris in action. Picture: Mark Evans/Getty Images
Speaking after the innings, Harris, who names her bats after famous burgers, revealed the new bat didn't have a name yet.
"I was tossing up between McCrispy or McSpicy," she said. "I was hitting the ball fairly crisp so it could have been McCrispy I think. McSpicy is my mother's favourite burger so I was going to name it McSpicy and have a bit of a spicy innings out there but it hasn't got a name — I'll leave it for the fans I guess."
Brisbane Heat won the match by 50 runs.
POLL
GLOSSARY
extraordinary: very unusual or remarkable
innings: part of a cricket game when a team is batting
century: scoring 100 runs
tally: the score or amount
over: six balls bowled to the batter
feat: achievement
EXTRA READING
Cricket among five new sports for 2028 Olympics
Kurt Fearnley joins stars in sporting Hall of Fame
Junior journo talks trolls with cricket star
QUICK QUIZ
What was special about Harris's score of 136 not out?
What happened on the 2nd ball of the 13th over?
How far did Harris's amazing six travel?
What is unusual about Harris's cricket bats?
How many WBBL centuries has Harris scored?
LISTEN TO THIS STORY
CLASSROOM ACTIVITIES
1. Batting maths
In Grace Harris's record-breaking run haul, she hit 12 fours and 11 sixes to reach her total of 136 not out. Therefore how many runs did she make by actually running if you take away those fours and sixes which are given automatically when the ball passes the boundary line of the oval.
How many runs did her teammates hit if their overall score was 229?
Time: allow 10 minutes to complete this activity
Curriculum Links: Mathematics
2. Extension
Come up with some possible names for Grace's new bat. It could be along the burger theme or something completely different.
Time: allow 10 minutes to complete this activity
Curriculum Links: English, Health and Physical Education, Personal and Social, Critical and Creative Thinking
VCOP ACTIVITY
1. Imaginative dialogue
Imagine you were an on-field commentator during the cricket match being discussed in the article.
Create a conversation between yourself and Grace Harris. Don't forget to try to use facts and details from the article to help make your dialogue as realistic as possible and include questions that explore how she was feeling at different times.
Go through your writing and highlight any punctuation you have used in green. Make sure you carefully check the punctuation used for the dialogue and ensure you have opened and closed the speaking in the correct places.