THERE is no cooler day to be an Australian sports personality than the Queen's Birthday public holiday, with many of the country's most famous faces taking an icy plunge for a good cause.
Sports stars including basketballer Andrew Gaze and ice skater Steve Bradbury took part in the Big Freeze at the 'G event to raise money for motor neuron disease (MND), before the annual Melbourne versus Collingwood Queen's Birthday clash.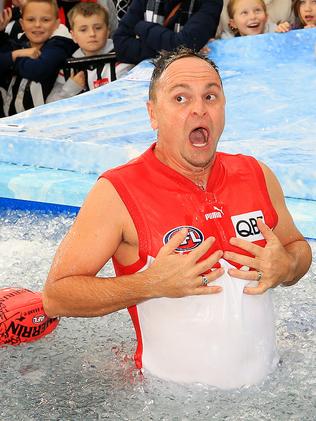 The fundraiser has been championed by footy great Neale Daniher, who played for Essendon and then coached Melbourne, Essendon, Fremantle and West Coast. He was diagnosed with the disease in 2013 and has become a vocal campaigner to raise money for research to find a cure.
MND effects the way people use their muscles, the way they walk, talk and breathe and it kills the nerve cells that control the body's muscles.
The Big Freeze foundation and its army of volunteers are attempting to fast-track* research into the disease that affects Daniher and 2000 other Australians.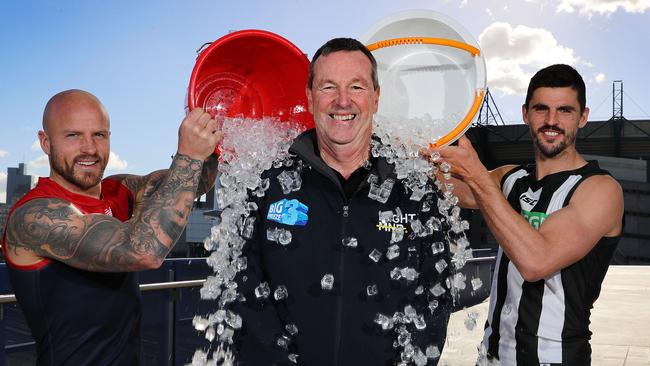 Marathon runner Steve Moneghetti, tennis player Lleyton Hewitt, cricketer Adam Gilchrist, netballer Sharelle McMahon, pole vaulter Steve Hooker and aerial skier Alisa Camplin all had their turn sliding down into the giant, frosty pool.
Tennis star Hewitt gave the fundraising effort his trademark "C'mon" catch cry before hurlting into the 1.4C water.
"It's such a great cause,'' he said.
Winter Olympian Camplin had her breath taken away as she emerged from the icy depths.
"That takes the cake…there is more ice in there than water,'' she said.
The Federal Government pledged up to $2 million to match public donations for this year's campaign. It's hoped the money can go towards a medical trial.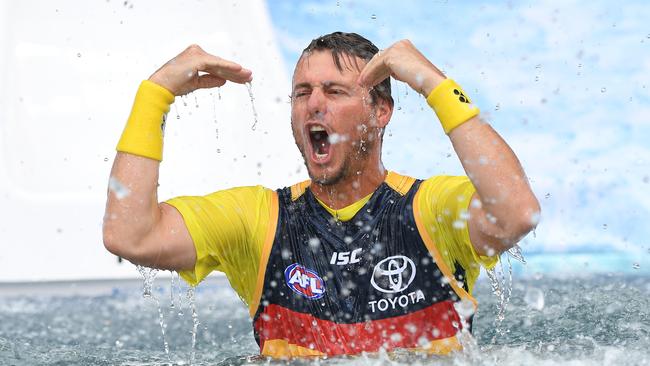 "Neale was a legend on the field and now he's making an extraordinary contribution off the field," Health Minister Greg Hunt said.
"This will enable* up to 200 Australians with MND to participate in a clinical trial."
For more information about MND and the organisation, visit the website: fightmnd.org.au.
MATCH RESULTS:
In a close match, Melbourne ended on 104 to defeat Collingwood on an even 100.
GLOSSARY
fast-track: speed up
enable: make possible
LISTEN TO TODAY'S STORY
CLASSROOM ACTIVITIES
Activity 1. Invitation to freeze
Imagine that you are helping to organise next year's Big Freeze.
Who is somebody you would love to see take an icy dip?
Write a letter to this person asking them to participate.
Your letter should explain why you think they would make a great participant and also help them understand the importance of raising money for MND.
Extension:
Watching celebrities slide into a pool of ice water is a great fundraiser as it is very funny.
Brainstorm some other things that you would like to see celebrities doing that could raise money for important causes.
Time: allow 30 minutes to complete this activity
Curriculum links: English
Activity 2. Freezing synonyms
There are lots of words that could be used to describe the temperature of the water the celebrities participating in the Big Freeze slid into.
Can you unscramble these synonyms for freezing?
olcd ysfort cilhyl yic rfgiid piynp ksibr criatc lagilac
Extension:
How many other words or phrases can you think of that could be used in place of freezing? Make a list.
Time: allow 10 minutes to complete this activity
Curriculum links: English
VCOP ACTIVITY

(Vocabulary, Connectives, Openers and Punctuation)

Anagram Challenge
Your challenge is to select a proper noun (place, person, month/day etc) and see how many smaller words you can create from shuffling and rearranging those letters.
Extension:
Choose one of the following.
– Put a two minute timer on and see how many words you create.
– Pick a vowel from the base word, this must appear in every word.
– Words must be three letters or more.
– Add a scrabble value to each letter and try and earn 100 points.
– No proper nouns, text words or plurals allowed.

Time: allow at least 15 minutes to complete this activity
Curriculum links: English, Big Write and VCOP

EXTRA RESOURCES
VICTORIA'S BIGGEST BLOOD DONOR