THE Socceroos will face off against Thailand tomorrow night at AAMI Park in Melbourne in an attempt to qualify for the 2018 Soccer World Cup.
It's the second-last chance for the Aussies to secure a spot in the tournament in Russia after a disappointing loss to Japan late last week.
The Samurai Blue took a swipe at Australia's dream on Thursday, beating them 2-0 at Saitama in Japan.
Aussie coach Ange Postecoglou was disappointed with the loss.
"We're obviously disappointed with the outcome, congratulations to the Japanese side, they deserved the win tonight," Postecoglou said.
"It wasn't far from what we expected (from them) … but in terms of the way we played we just never got control of midfield in the way we wanted to."
Japan's national team have earned themselves top stop in Group B, leaving Australia and Saudi Arabia to vie* for the final guaranteed spot in the tournament.
To secure a spot in the World Cup teams from around the world play off in international qualifiers.
Australia is in Asia's Group B with Japan, United Arab Emirates, Saudi Arabia, Thailand and Iraq.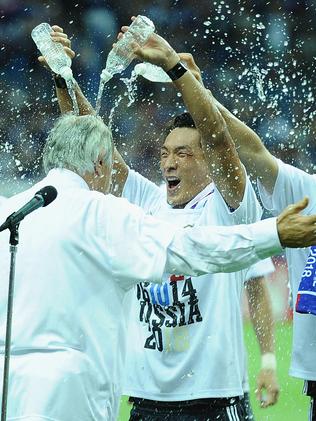 Group A is made up of Iran, South Korea, Syria, Uzbekistan, China and Qatar.
In Group B Japan have 20 points in first place, and Saudi Arabia sits level with Australia on 16 points.
Saudi Arabia have a healthier* goal difference over Australia, and would progress to the tournament in Russia should they end on the same points.
The Socceroos' must beat Thailand and hope Saudi Arabia fail to defeat Japan in its final qualifier.
But the safe Samarai Blue now have nothing to play for and may look to rest players, which could give Saudi Arabia an advantage.
Third place in the group faces a playoff with third place in Group A, likely South Korea or Uzbekistan. The winner of that tie will then face fourth place in CONCACAF (North/Central America) for the last spot at Russia 2018.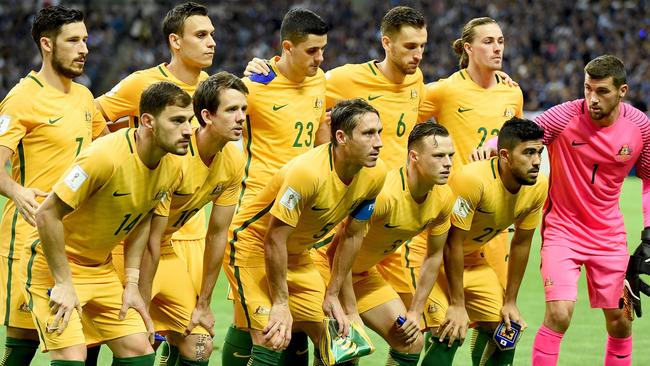 GLOSSARY
vie: compete
healthier: bigger
LISTEN TO TODAY'S STORY
CLASSROOM ACTIVITIES

Activity 1. Comprehension
Based on the information in the article answer the following questions:
• Which team do we know Australia has already played against, which one are they going to play next and who might they play in the near future?
• How were the Socceroos feeling after their last game? How do you know?
• Using dot points, list what needs to happen for the Socceroos to secure a definite place in the World Cup.
• What might the Japanese team do that could weaken the Socceroos' chances of securing the World Cup spot?
• Do you think many Australians will be interested in the 2018 World Cup if the Socceroos miss out on a place? Give some reasons to justify your answer.
Extension activity
Write what you would say if you had one minute to give a motivational speech to the Socceroos before they run on to the ground for their game against Thailand.
Time: allow 25 minutes to complete this activity
Curriculum links: English

Activity 2: Know your opponent
Make a list of the other countries that are in Asia Group B and do the following:
• Find and mark each of them on a map of the world
• Draw a picture of their flags
• Write the major languages and religions of each country
• Write one interesting fact about each country
Extension:
If every team in Asia Group B played every other team in Asia Group B, how many matches would there be?
Write down each of the different combinations.
Time: allow 45 minutes to complete this activity
Curriculum links: English, Geography, Intercultural Capability, Mathematics
VCOP Activity
(Vocabulary, Connectives, Openers, Punctuation)
Opener penalty shootout
It's the end of the match and the scores are level.
The only way to settle this is for a penalty shootout.
You and a partner are going to have five turns each trying to score.
Whoever scores the most will be the winner.
Rules:
• Player 1 chooses an opener
• Player 2 must then try to put the opener into a sentence in under 10 seconds.
• Player 3 is the umpire. Their job is to keep time and decide whether or not the opener has been used correctly
After Player 1 and 2 have had found a winner among them, swap the roles and play again.
Extension:
Make the time longer or shorter, depending on students year level.
Time: allow 20 minutes to complete this activity
Curriculum links: English, Big Write, VCOP

EXTRA RESOURCES
CAHILL'S SOCCER ACADEMY NOW IN SCHOOLS
KIDS ARE HAVING A BALL

AUSSIE'S MARATHON SWIM EFFORT