She's the 11-year-old ping pong superstar taking table tennis by storm.
Schoolgirl Anna Hursey is the youngest competitor at the Commonwealth Games and is not there to just make up the numbers. This girl's got serious game.
She is already ranked as the UK's top under-18s player and is the youngest athlete ever to represent Wales in senior competition in any sport.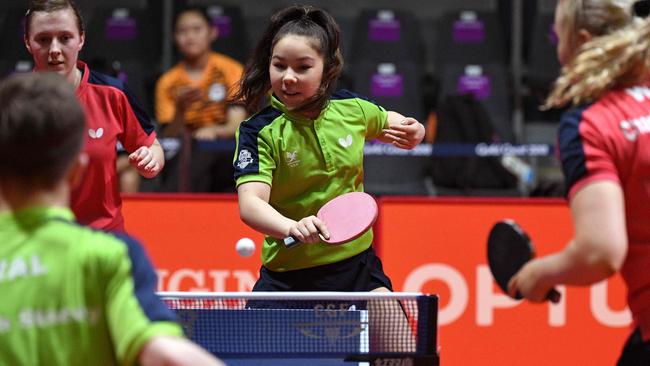 The daughter of an English justice worker based in Cardiff and a Chinese immigrant*, Anna first picked up a table tennis bat at just five.
By seven, she was beating her dad.
Anna was invited to join the national team and now divides her time between Wales and China, where she practises with elite* professionals in the table tennis-loving nation.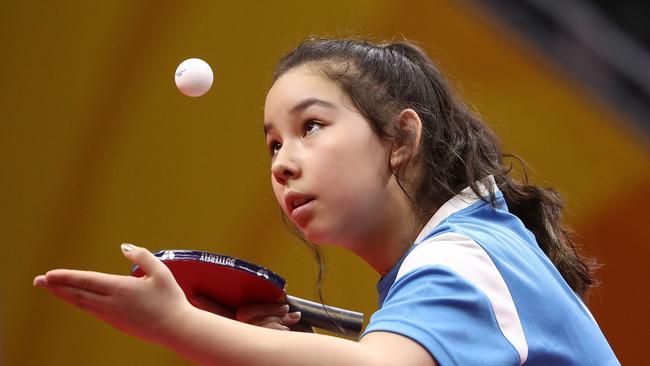 Anna's skills improved greatly from practising in China, but said it was very hard work.
"Maybe (the training in) China is a bit better, but I'm more relaxed here," Anna said of her home in Wales.
"I can hang out with my friends. Over there, it's just training, training, training. If I always did that, I might not like table tennis any more." she told London's The Sun.
Anna plays about three hours a day after school and sometimes goes out running with her dad, Larry.
True to form she has high goals for the Gold Coast Games, where the table tennis will be contested at the Oxenford Studios beside the Movie World theme park.
Anna has already competed in the Welsh team's event losing in the quarter-final to Australia, but she is still gearing up for a shot at the singles starting tomorrow (April 10).
While other 11-year-olds might be happy to take home a Borobi souvenir, Anna hopes to take home a Commonwealth Games medal.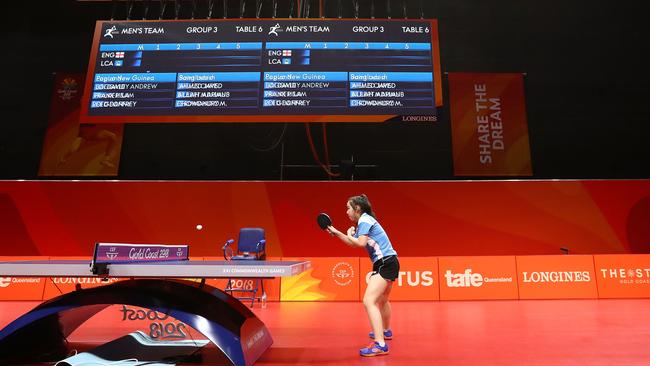 GLOSSARY
immigrant: a person who comes to live permanently in a foreign country
elite: having superior skills or qualities
LISTEN TO TODAY'S STORY
CLASSROOM ACTIVITIES
1. Introducing Anna
When you watch Commonwealth Games events on the television, you will often hear the commentators talk about each of the athletes before the event begins. This usually includes facts about the athlete and their achievements to date. Pretend that you are a commentator and write down what you would say about Anna Hursey while she is warming up for her table tennis match. Remember to make it interesting and exciting so that the viewers stay tuned in!
Extension: Now let's imagine that Anna has won her match and you (the commentator) are lucky enough to interview her. Write down the questions you are going to ask.
Time: Allow 15 minutes
Curriculum links: English, Health and Physical Education
2. Table tennis quiz
Find out more about the sport of table tennis by researching the answers to these questions:
What are the length, width and height of a competition table tennis table?
What are table tennis balls made of and how much do they weigh?
What colours must the two sides of the racquet be?
Who strikes the ball first during a rally – the server or the receiver?
Explain two ways that a point may be scored.
Usually the first player (or pair in doubles) to reach 11 points wins that game – what is the exception to this rule?
A match is always the best of a pre-determined number of games – is the number of games in a match always odd or always even? Explain why.
Extension: Write down as many other things as you can that you also learnt about table tennis while finding out the answers to these questions.
Time: Allow 30 minutes
Curriculum links: English, Health and Physical Education
VCOP ACTIVITY
After reading the article, with a partner, highlight as many pieces of punctuation as you can find in green. Discuss how these are being used, where and how often. What level of the punctuation pyramid is the journalist using in this article?
IN ONE SENTENCE, TELL US WHAT YOU THINK ABOUT THIS STORY
Please do not use one-word answers. Explain what you enjoyed or found interesting about the article. Use lots of adjectives.