Injured NRL star Luke Keary may be resting his boots but he hasn't forgotten his roots.
The Roosters playmaker, out for the season with an ACL* injury, has thrown his support behind Kayo's new campaign to support community sports clubs and given a shout out to his old club Hills District Bulls, in the Parramatta district.
The grassroots* campaign is all part of Kayo Sports announcing it will live stream local sports competitions across Australia.
In a bid to boost community sport in Australia, Kayo will stream matches from select local leagues across the country for free on Kayo Freebies.
"Local sport is not only a critical* part of the community but it's critical to the success of elite* leagues and helping to produce the NRL stars of tomorrow," Keary said.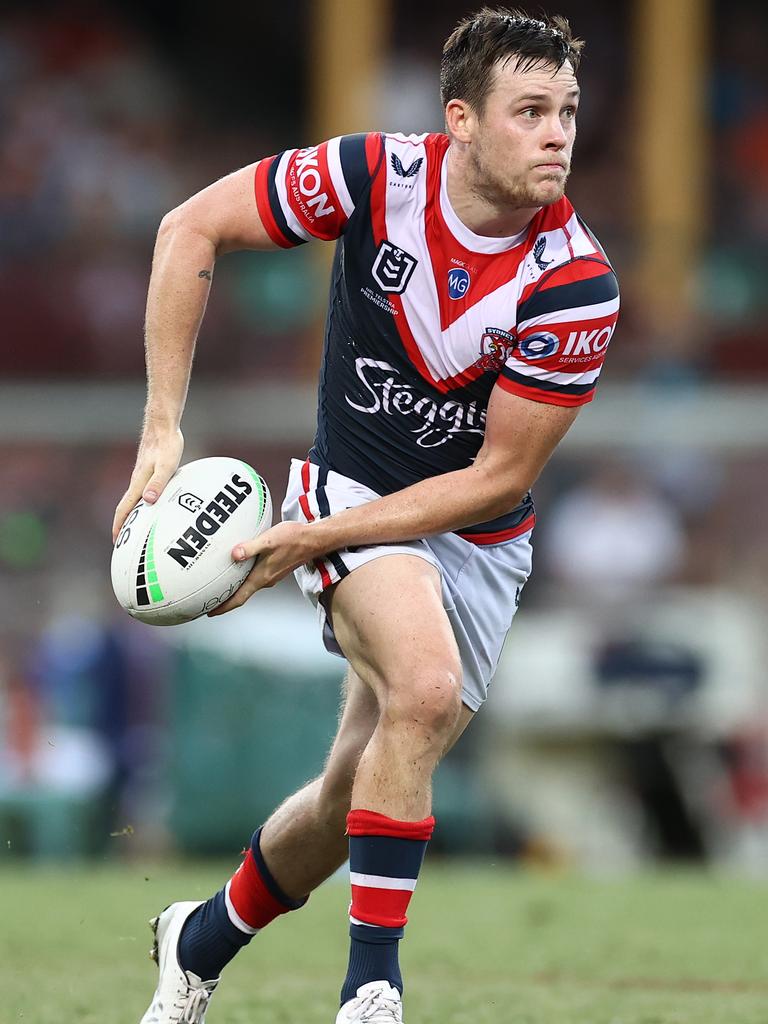 As part of the campaign, Kayo is providing 50 x $1000 cash grants to lucky rugby league and Aussie rules clubs in NSW and Victoria.
Participating clubs are also being given the chance to win one of 10 Ultimate Kayo Days at their local ground. This will include the presentation of the cash grant, a visit from the Kayo Toyota HiLux packed full of giveaways and games, and a special guest appearance by a sporting great.
Keary said it was great local sports were getting more attention.
"For local and grassroot sports leagues to now receive the attention they deserve and be streamed on Kayo is such a fantastic opportunity and helps bring national exposure* to an area of the community that is so important," he said.
"I look back on my junior days fondly as some of the most memorable times of my career and I know how much the cash grants and Kayo Days would mean to local clubs and the kids.
"Kayo's program and what it can give a local community club can make all the difference, and I hope to see clubs and their members alike take advantage of this opportunity and help boost community sport in their area."
Competitions that will be streamed as part of Kayo's local sports initiative* include:
Rugby league: Queensland Rugby League, Intrust Super Cup
Australian rules football: VFL
Cricket: Women's National Cricket League and Club Cricket Finals
Field hockey: Hockey One
Basketball: National Junior Basketball Championships
Golf: NSW Open, QLD Open (on-demand)
Any local sports club in Australia will be able to register for a Kayo supporters sticker and complimentary* 12 month Kayo subscription.
Sports fans can access Kayo's local sports coverage via Kayo Freebies by downloading the Kayo Sports app or visiting kayosports.com.au/freebies and registering for a free Freebies account.
GLOSSARY
ACL: the anterior cruciate ligament is a key ligament that helps stabilise the knee joint
grassroots: basic level, involving ordinary people
critical: extremely serious or important
elite: top level
exposure: being able to experience something or be affected by it
initiative: new plan
complimentary: for free, no cost
EXTRA READING
Belinda makes history as first female NRL ref
How Lucy's drawing became big AFL news
Hawk's in the running for best teammate
Kids give gender stereotypes the boot
QUICK QUIZ
What injury is Luke Keary recovering from?
Which NRL team does Luke Keary play for?
What is the name of his old club in the Parramatta district?
How much money can rugby league and Aussie rules clubs when as part of the Kayo's community sports campaign?
Name two of the local sports Kayo will live stream.
LISTEN TO THIS STORY
CLASSROOM ACTIVITIES
1. Local sports survey
Survey your classmates about the local sports they play. Divide a sheet of paper into three columns. Write down the name of the sport in one column, the name of their club in a second column and the thing they love most about their sport in the third column.
What findings can you take from your survey? For example: how many different sports do your classmates play, which sports are the most popular, how many different clubs are your classmates involved in, what are the most common reasons they play their sport? Write a paragraph to summarise your findings.
Time: allow 30 minutes to complete this activity
Curriculum Links: English, Personal and social, Critical and creative thinking
2. Extension
Choose one of the sporting clubs your classmates are involved with. Write a letter to Kayo to explain why this club's matches should be live streamed as part of its community sports campaign.
Think about why you would like to watch these matches, how many other people might like to watch them, how popular this sport is among your classmates and how exciting this sport is to watch and play.
Time: allow 15 minutes to complete this activity
Curriculum Links: English, Critical and creative thinking
VCOP ACTIVITY
Aside from this, there is also this!
Brackets are a great literacy tool for adding aside comments, or comments that could be covered over and the sentence still makes sense. What's inside the brackets is extra information.
They can be used for a variety of effects: to add more detail, to add humour, to connect with the reader etc.
My little brother (the funniest kid I know) got himself into big trouble today.
Select three sentences from the article to add an aside comment to using brackets. Think about not only what you want to add to the sentence, but also what effect you are trying to create.