Rocky road to finals contention captured in Mark Knight cartoon
Australia has more than its share of passionate sporting tribes across different codes and loyalty can be a long road for frustrated fans – well, until their team's luck turns like Carlton's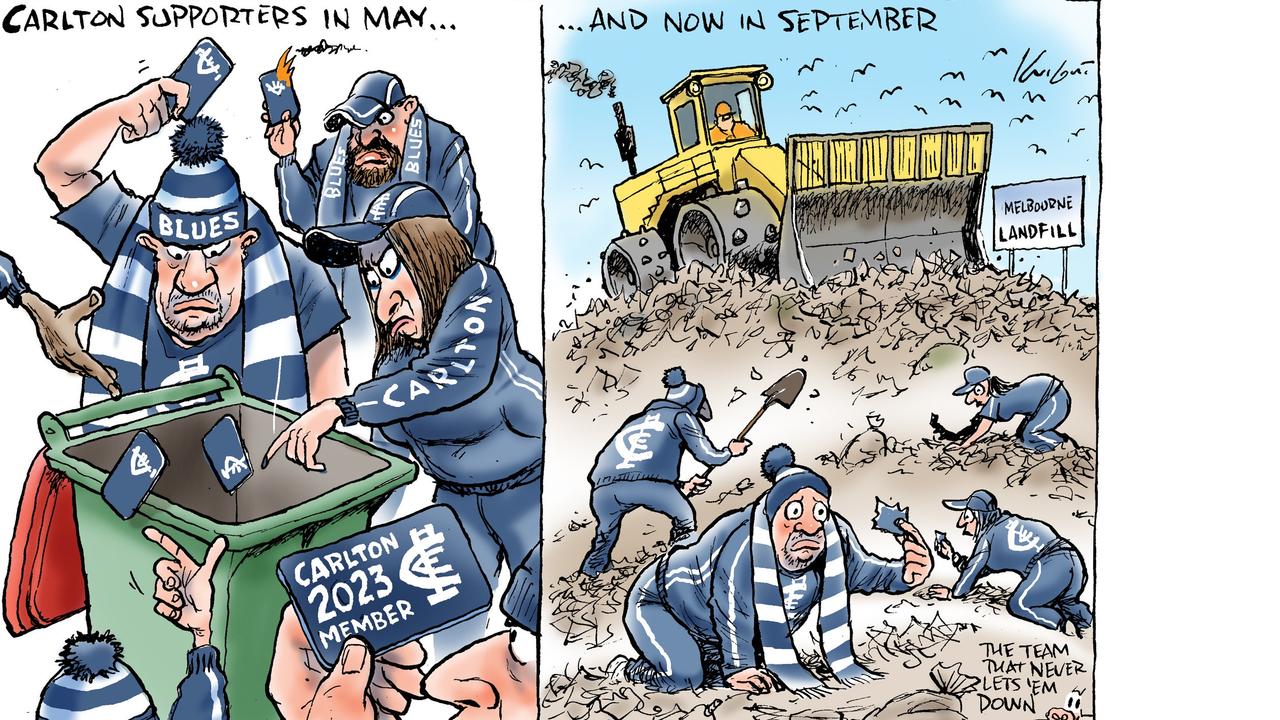 Mark Knight's Carlton cartoon, The team that never lets 'em down, examines themes of sporting tribalism as the AFL season puts their loyalty to the test. Picture: Mark Knight
Australia is a nation of tribes*. No, not the tribes we associate with our First Nations Peoples but tribes centred around sport and the teams that we support in the major sporting competitions.
The Magpies, the Blues or the Swannies in the AFL. The Broncos, Rabbitohs or the Storm in the NRL, and the Mariners, Wanderers or Victory in the A-League are just some of the sporting tribes we belong to and identify* with.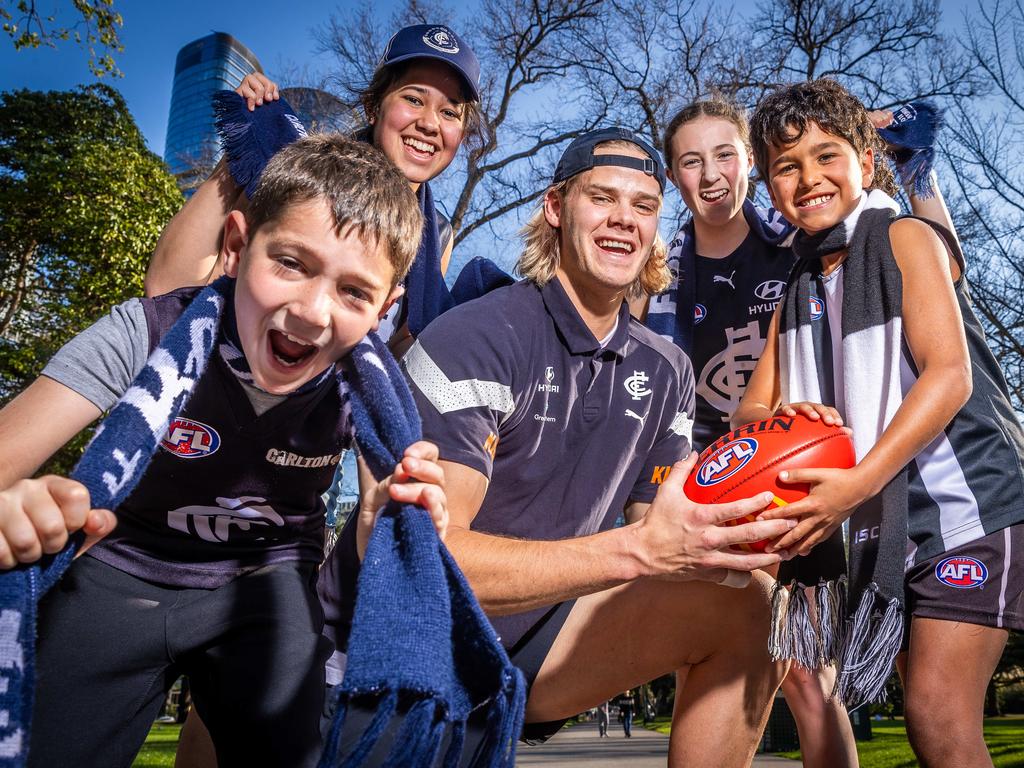 Carlton player Tom de Koning from Carlton was joined by Freya Sali, 13, Chloe Poore, 13, Gideon Dave, 9, and Ariel New, 10, in their footy colours. Picture: Jake Nowakowski
This sporting creed* and the culture* associated with it seems to amplify* come finals time. Supporters lift, passions begin to rise and excitement builds as an army of supporters see their team edge closer to the ultimate prize of a premiership.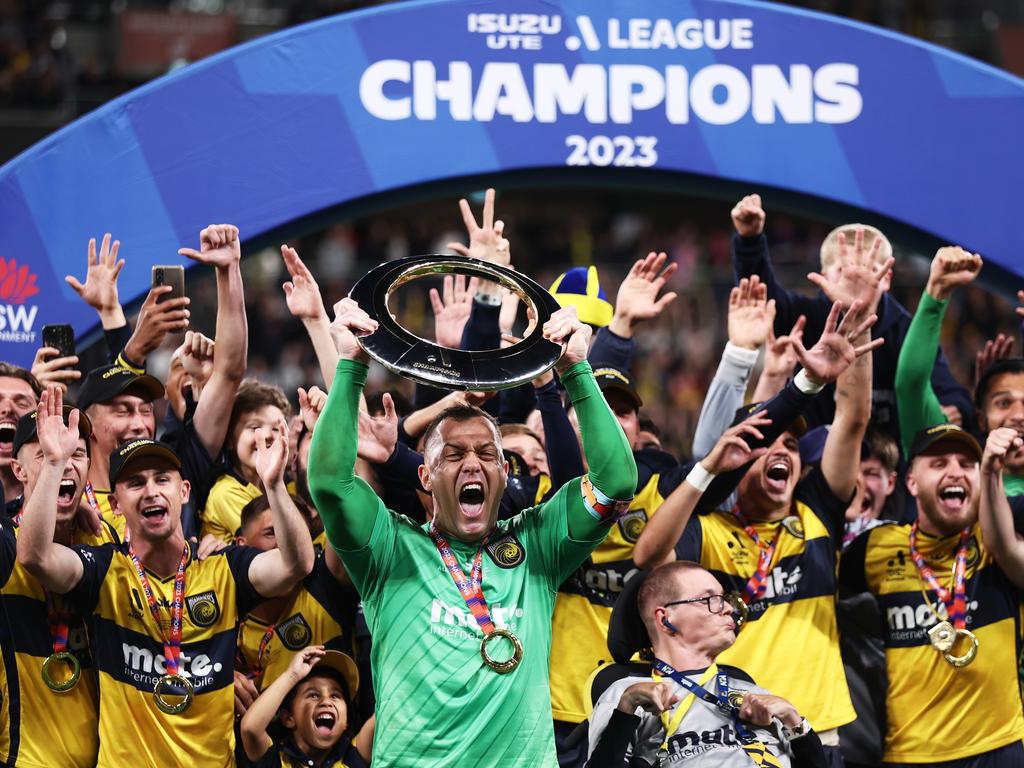 The ultimate prize: Daniel Vukovic of The Central Coast Mariners celebrates winning the 2023 A-League Men's Grand Final match against Melbourne City at Sydney's CommBank Stadium on June 3. Picture: Matt King/Getty Images
Such was the case with AFL side Carlton and their many, long suffering Blues supporters. They have been threatening to play finals for many years, but it has been 10 years since Carlton has made the cut, and more than 23 years since a Preliminary* Final.
With this being his second year at the club as coach, Michael Voss was hoping for success, but it all got off to a disastrous* start with Carlton losing more games than they won. Halfway through the season and Carlton was in the bottom four and supporters were calling for the coach's head. Such was the frustration among the Blues' tribe that some ripped up their club memberships!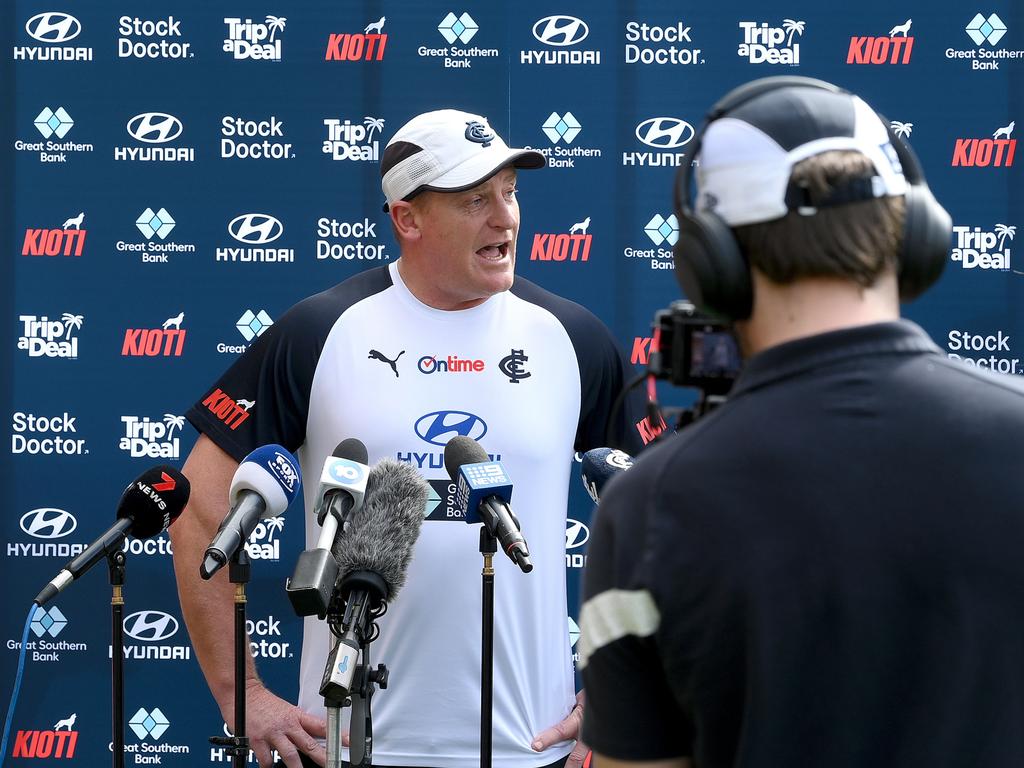 Coach Michael Voss, speaking a Carlton Blues AFL captain's run at The Gabba in Brisbane on September 22, wasn't very popular with Carlton fans back in May. Picture: Bradley Kanaris/Getty Images
Fast forward four months and Carlton was playing finals after a nine game winning streak. No more talk of sacking* coach Voss and the Blues had made it to a Preliminary Final. I decided to draw a cartoon about this amazing turnaround in fortune for the Carlton Football Club and how their supporters were feeling now.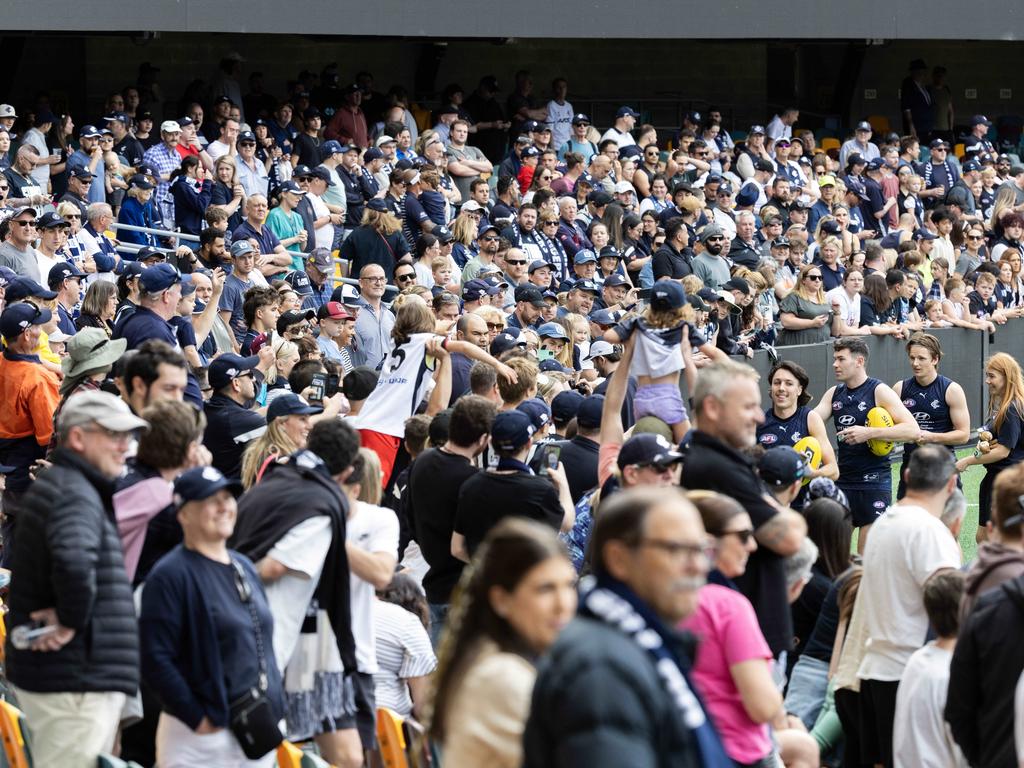 Happy Carlton fans at yesterday's training session at the Gabba in Brisbane, ahead of today's AFL Preliminary Final against the Brisbane Lions, show just how much the team's fortunes have changed since the start of the season. Picture: Richard Walker
I thought the cartoon should be a compare and contrast exercise; that is, how upset supporters were back in May, when the team was losing, to now in September when they were riding high and Carlton fans were singing in the streets.
The cartoon should be two frames, I thought, the first showing angry Carlton supporters back in May tossing their membership cards into a garbage bin in disgust*. The second frame would show them in September and how happy they now are, dancing with joy at the news they had made a Preliminary Final.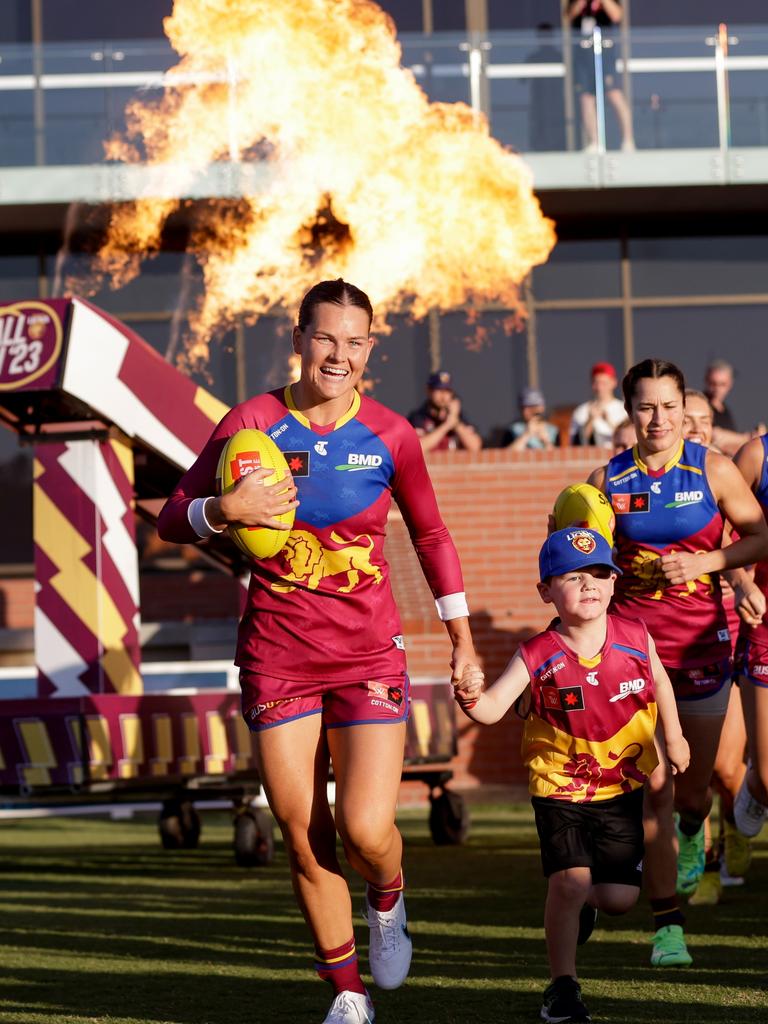 Carlton faces the Brisbane Lions in today's Men's AFL Preliminary Final, but there is tribal loyalty aplenty in AFLW too, as seen at the 2023 AFLW Round 3 match between the Brisbane Lions and the Sydney Swans at Brighton Homes Arena in Ipswich on September 17. Picture: Russell Freeman/AFL Photos via Getty Images
But that would be too obvious. I wanted to show how those people – who were so despondent back in May that they tossed their memberships in the bin – might really feel. So I thought about how would they be reacting to the good news that their team was now a finals contender*.
It suddenly came to me.
Rather than be excited, they would be shattered.
Why? Because they would be on their hands and knees going through the garbage at their local tip, sifting through tonnes of waste trying to find their membership cards that they had thrown away in disgust months before.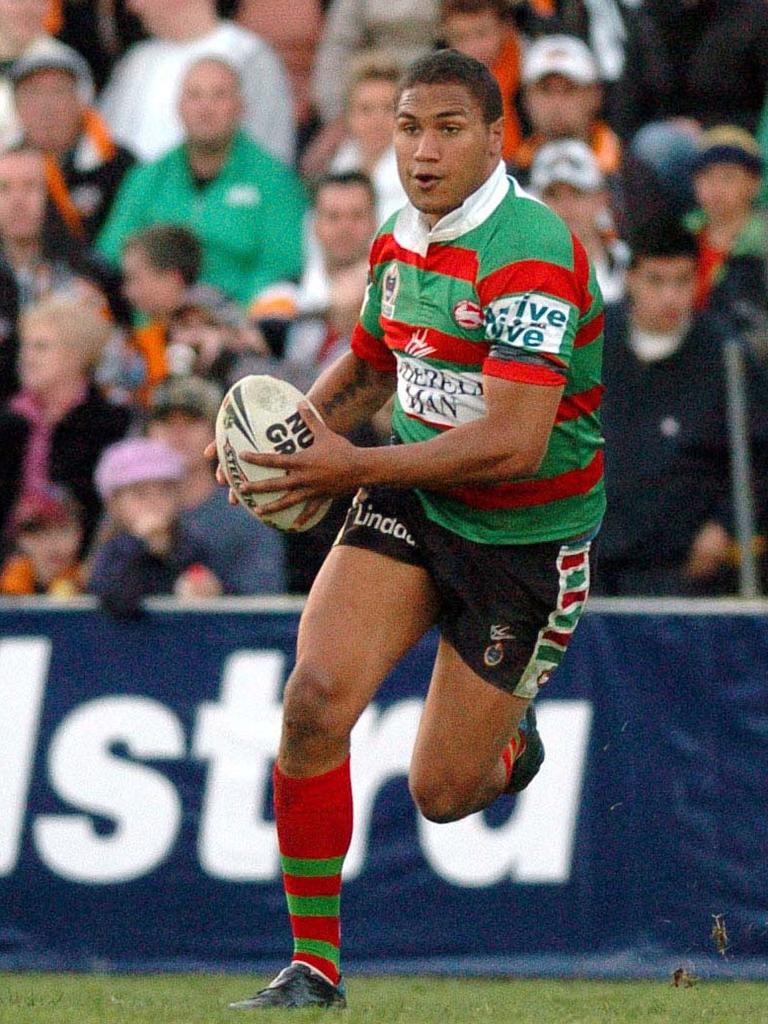 The famously devoted supporters of South Sydney NRL team the Rabbitohs could share a playbook with Carlton fans on managing the trials and triumphs that come with loyalty to one team above all others.
That would be the comedic* twist in this cartoon. It would also make for a funny scene, with Blues supporters in their scarfs and beanies on their hands and knees, searching through piles of garbage on a landfill* site for discarded* membership cards.
Let's hope your tribe does well this footy finals season!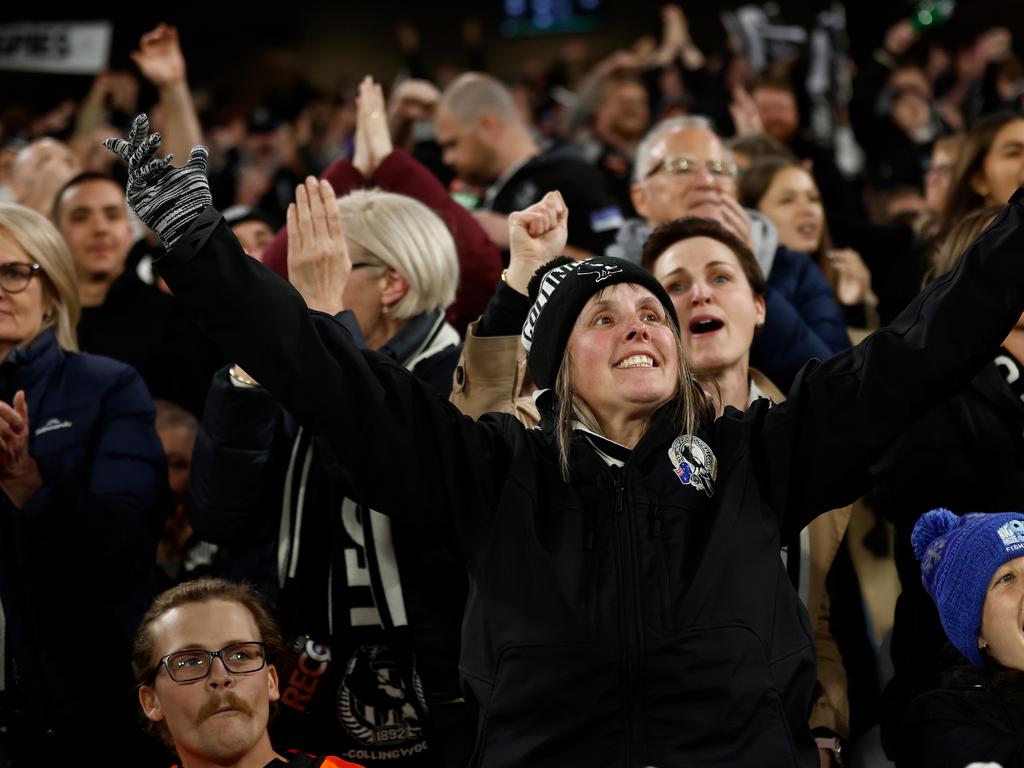 Fans cheer during the 2023 AFL First Preliminary Final match between the Collingwood Magpies and the GWS Giants at Melbourne Cricket Ground last night, where Collingwood prevailed. Picture: Michael Willson/AFL Photos via Getty Images
The Herald Sun Premiership poster is marking its 70th year raising funds for The Royal Children's Hospital's Good Friday Appeal. Mark Knight is celebrating 15 years of drawing the only poster officially endorsed by the AFL.
A key part of game day celebrations, the winning team's poster will be available for $5 straight after the siren at the MCG or at goodfridayappeal.com.au
POLL
GLOSSARY
tribes: large family or other group that someone belongs to
identify: feeling and saying that you belong to a particular group of people
creed: statement or system of belief
culture: way of life, customs and beliefs of a particular group
amplify: increase the strength, make louder or greater
preliminary: event or action that prepares for or introduces something
disastrous: terrible, tragic, caused great damage
sacking: removing from the job, often in disgrace or after a series of problems
disgust: strong sense of disapproval or dislike
contender: someone who competes with other people to try to win something
comedic: relating to or involving comedy
landfill: the tip, the place where waste is buried in the ground in large amounts
discarded: thrown away, disposed of
EXTRA READING
Buddy leaves the ground as GOAT
Hardwick shocks AFL, quits as Tigers coach
QUICK QUIZ
Who coaches the Carlton Blues?
How many years since the team has made a Preliminary Final?
Mark Knight said Australia is a nation of what?
The teams he names are from which three codes?
After a disastrous start, Carlton had a winning streak of how many games?
LISTEN TO THIS STORY
CLASSROOM ACTIVITIES
1. What happens next?
Imagine the two halves of Mark's cartoon are part of a story that is made up of three sections. The three cartoons tell the complete story, and Mark's split cartoon tells the first two parts. Think about what the end of the story could be and draw the next cartoon to complete the story.
Time: allow 30 minutes to complete this activity
Curriculum Links: English, Visual Arts, Visual Communication Design, Critical and Creative Thinking
2. Extension
Being able to draw is only one of the skills needed to be a great cartoonist. Write a list of all of the other skills that you think cartoonists like Mark need to do their job.
Next to each skill, write a sentence that explains why that skill is important or helps them to do a great job.
Time: allow at least 20 minutes to complete this activity
Curriculum Links: English, Personal and Social Capability, Media Arts, Visual Communication Design
VCOP ACTIVITY
Stretch your sentence
Find a "who" in the cartoon – a person or an animal. Write it down.
Add three adjectives to describe them better.
Now add a verb to your list. What are they doing?
Add an adverb about how they are doing the action.
Using all the words listed, create one descriptive sentence.