Rescued solo rower Tom Robinson's emotional reunion with family in Brisbane
A solo rower who survived 14 hours clinging to his capsized vessel in the South Pacific has returned home to Brisbane after coming so close to reaching his incredible goal – WATCH VIDEO
A solo rower* who survived 14 hours clinging to the upturned hull* of his vessel in the South Pacific has returned home to Brisbane.
Tom Robinson, 24, was attempting to become the youngest person to row solo across the Pacific Ocean when his self-built "uncapsizable*" 7m rowboat Maiwar overturned* south of Vanuatu last week.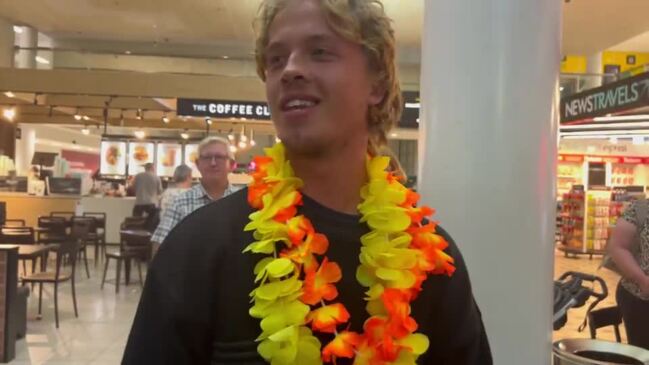 He was less than 2000km from Brisbane after leaving Lima, Peru, in July 2022.
Mr Robinson activated an emergency beacon and was rescued by a passing cruise ship.
On Monday evening he arrived at Brisbane Airport to be reunited* with family and friends.
"You wonder what's gonna happen next and you wonder if you're gonna live through the night and that is a really, really tough thought," Mr Robinson told media*.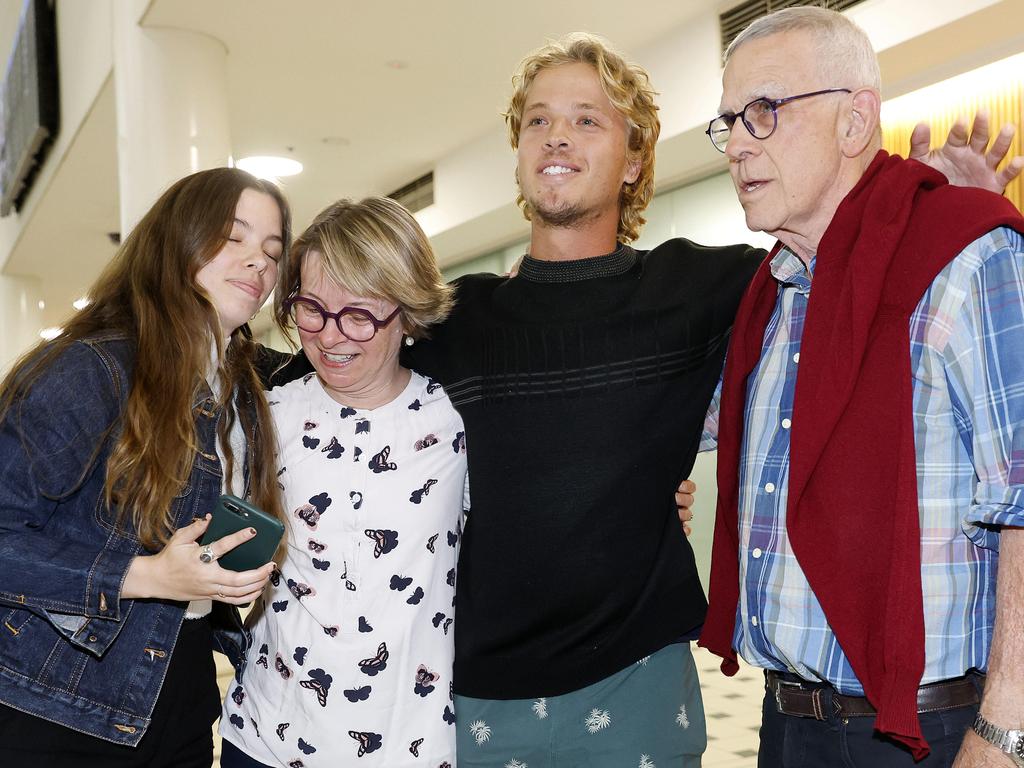 Tom Robinson with sister Chloe and parents Veronica and Tim. Picture: Josh Woning
"But you've got to try and push those thoughts away and stay positive, things like this do happen, it's good to be alive."
Holding his family members for the first time in 18 months stirred emotions in the young rower, and gave him a new appreciation* for his hometown.
"To finally step through those doors, see them again and be back in Brisbane, it's home and yeah, I've never missed it before but I really did. It's really good to be back," he said.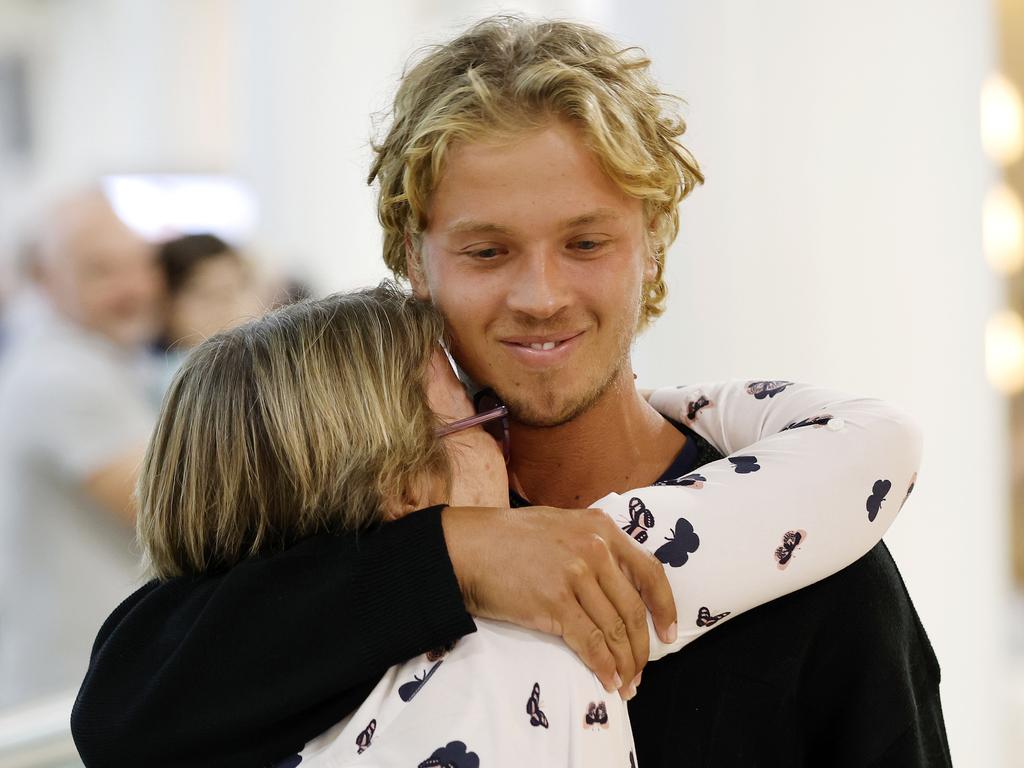 Tom Robinson is reunited with his mother Veronica Horgan. Picture: Josh Woning
To end his 18 months at sea "on such a crazy note", Mr Robinson said was strange but he has many stories to tell.
"It really was the most remarkable adventure and it was so much more exciting, more dangerous, it was happier, sadder, it was more everything than I could have ever imagined."
Mr Robinson had one final apology before he left for his first night home with family.
"I would like to apologise to customers whose holiday I did interrupt, but the people P & O were just fantastic and I really can't thank them enough for all they did," he said.
Tom Robinson just before his rescue by a P & O cruise ship
Mother Veronica Horgan said Thursday night had been very stressful as they waited for word her son was OK.
"But when we got the phone call on Friday … and we heard his Voice and he was saved and well, we were just so elated*," she said.
"I never expected to have an adventurous* son, I'm not adventurous so I never expected my son to be.
"But it's been an interesting time for us all and Thomas has had some fantastic experiences, met some wonderful people along the way and that's fantastic."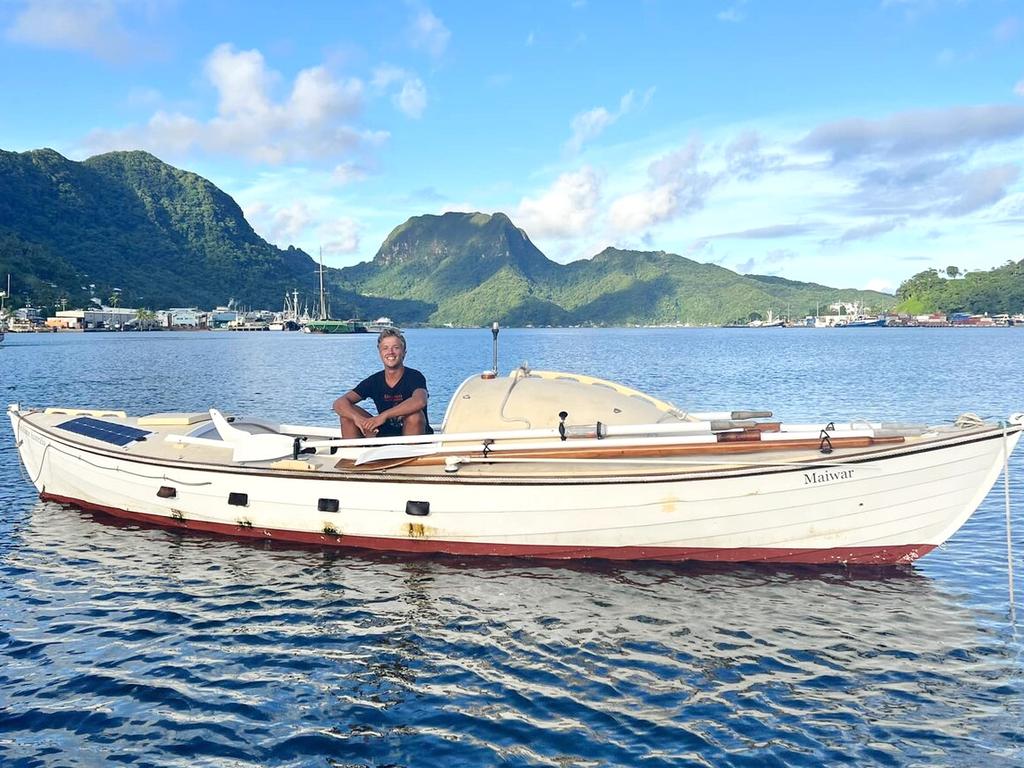 Tom Robinson aboard his rowboat in America Samoa
GLOSSARY
solo rower: a person who rows a boat alone, by themselves
upturned hull: the bottom part of the boat turned upside down
uncapsizable: cannot be turned upside down
overturned: flipped over
reunited: came back together
media: newspapers, TV, and websites where news is told
appreciation: liking something more because you missed it
elated: really, really happy
adventurous: liking to do exciting things
EXTRA READING
Dad records fastest run across Australia
Fearnley joins stars in sporting Hall of Fame
World records for blindfolded and brave
QUICK QUIZ
How long did the solo rower survive while clinging to the upturned hull of his vessel?
Where was Tom Robinson trying to row solo across?
What did Robinson use to call for help when his boat overturned?
How did Robinson feel when he was reunited with his family and friends?
What did he apologise for before going home?
LISTEN TO THIS STORY
CLASSROOM ACTIVITIES
1. How to Stay Positive
Try and imagine how Tom Robinson would have been feeling as he hung onto his upturned boat for 14 hours hoping to be rescued. He described having some really, really tough thoughts that he had to push through and hope to survive the night.
Describe what he may have seen, heard and felt during these long hours overnight;
See:
Hear:
Feel:
What are some strategies he may have used to find some inner strength, distract his mind and generate some positive energy during these tough hours?
Time: allow 25 minutes to complete this activity
Curriculum Links: English, Personal and social, Critical and creative thinking.
2. Extension
Tom sounds like he's had some amazing adventures on his rowboat over the past year or more.
What learning and life lessons would he have gained from planning and executing this record attempt?
Work with a friend and make a list below;
Time: allow 15 minutes to complete this activity
Curriculum Links: English, Geography, Personal and social, Critical and creative thinking.
VCOP ACTIVITY
Literacy Game: "Voyage Vocabulary Adventure"
Objective: Explore and practice using language features from the article about Tom Robinson's solo rowing adventure in the South Pacific.
Instructions
Voyage Vocabulary Hunt: Read the article carefully and identify three interesting words or phrases that you haven't seen before. These could be related to the story, Tom's adventure, or emotions mentioned in the article.
Write down the three words or phrases you found and guess their meanings based on the context of the article.
Create a sentence for each of the three words or phrases you found. Try to use them correctly in a sentence that relates to the story.
Share your new words, their meanings, sentences, and your illustration with a family member or friend. Explain what you learned from the article.
Extension: Illustrate the Adventure
Draw a simple picture or scene that represents Tom Robinson's adventure in the South Pacific. Include a caption with one of the new words you discovered.
If you have time, try to use one of the new words or phrases you discovered in a short story or journal entry about your own adventure. You can make up a fun adventure or write about a real experience you've had.
Remember to have fun while exploring new words and ideas from the article and consider how vocabulary plays an important part in our storytelling.