Peter St Albans won the Melb Cup in 1876 at just 11 years old
His story has been largely lost to history, but the youngest jockey ever to win the Melbourne Cup was a 'little freckled lad' from Victoria – and he was only 11 years old
Jockey Peter St Albans was just 11-years-old when he rode Briseis to victory in the 1876 Melbourne Cup, a moment captured in this undated painting. Picture: supplied
Ask even the most dedicated* horseracing fan to name the youngest jockey to win the Melbourne Cup and they may well say Ray Neville, who rode to victory on Rimfire in 1948 at the tender age of 15.
But the truth is even more astounding*.
The youngest jockey ever to win the Melbourne Cup was Peter St Albans on Briseis in 1876 – and he was only 11-years-old.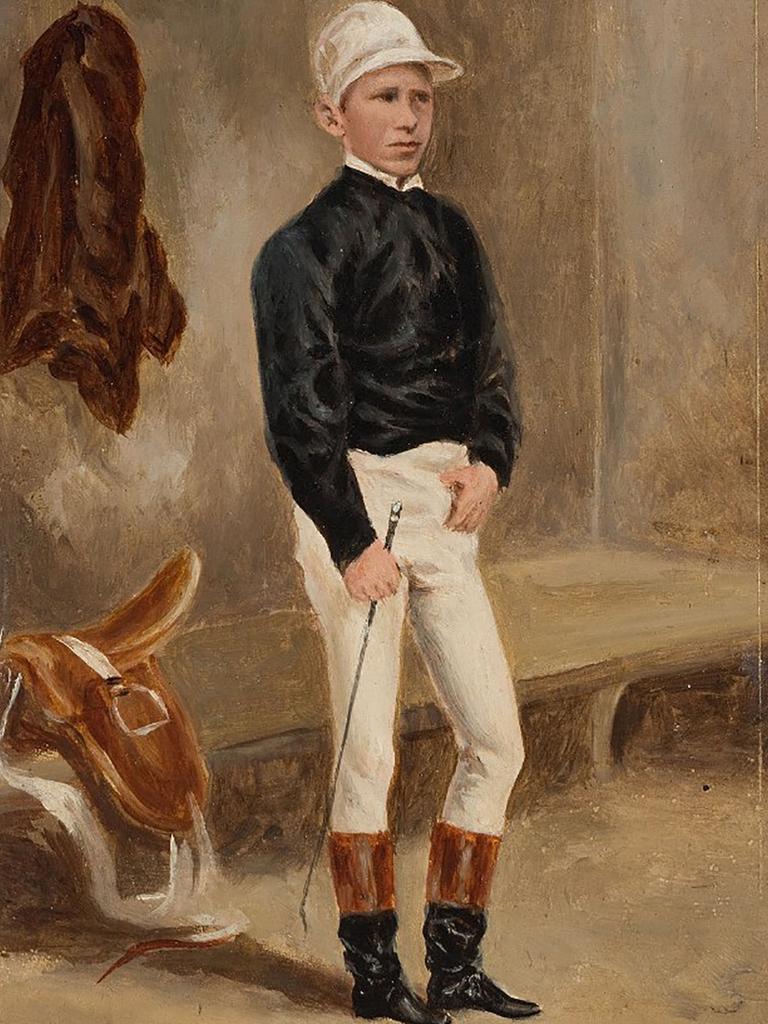 This portrait of young jockey Peter St Albans, also known as Peter Bowden, was painted by Fred Woodhouse, circa 1877. Picture: Victoria Racing Club Collection
Largely unknown for almost 150 years, the story of Peter St Albans finally resurfaced in an episode of In Black and White, a free podcast on Australia's forgotten characters.
Victoria Racing Club historian Dr Andrew Lemon said he believed it was time the young jockey received recognition for his incredible achievement.
"If you found an 11-year-old jockey winning the Melbourne Cup these days, it would be national headlines," he said.
Part of the reason Peter St Albans' story was almost lost to history was the confusion surrounding his name.
Peter was born on November 15, 1864, at St Albans, a small township just east of Geelong.
He rode under the name Peter St Albans, but later trained under his original name, Peter Bowden.
Adding to the confusion, his parents' surname was Bowdren, not Bowden, and at birth he was registered as Michael Bowden, though his family called him Peter.
Peter rode for the most famous stable of his day as an apprentice* for successful trainer James Wilson, the Bart Cummings* of the time and founder of Geelong's St Albans Stud.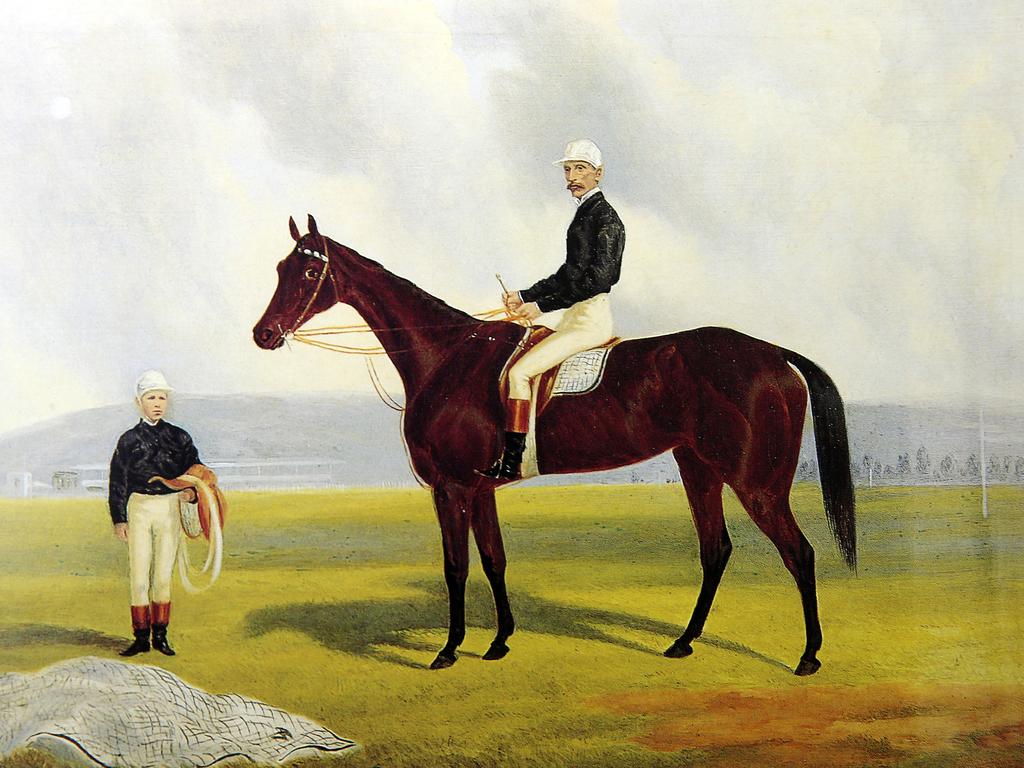 Racehorse Briseis is depicted in this painting being ridden by Tom Hales while Peter St Albans looks on. Picture: Peter Ristevski
But jockeys were largely anonymous* when the boy had his historic win.
"In the 1870s, although racing was huge and there was a huge amount of press around racing, we hadn't developed what I call the celebrity culture of newspapers," Dr Lemon said.
"There'd be a lot of description about the horse itself, or the owner, the betting, the big event of everybody going to the Melbourne Cup, but there wasn't a lot of press around the actual jockeys."
Racegoers were unaware at the time Peter St Albans was only 11 years old, though he was often described as small and once as "the ladies' favourite, the little freckled lad".
Peter weighed just under 40kg when he won the Cup on Briseis on Tuesday, November 7, 1876, eight days before his 12th birthday.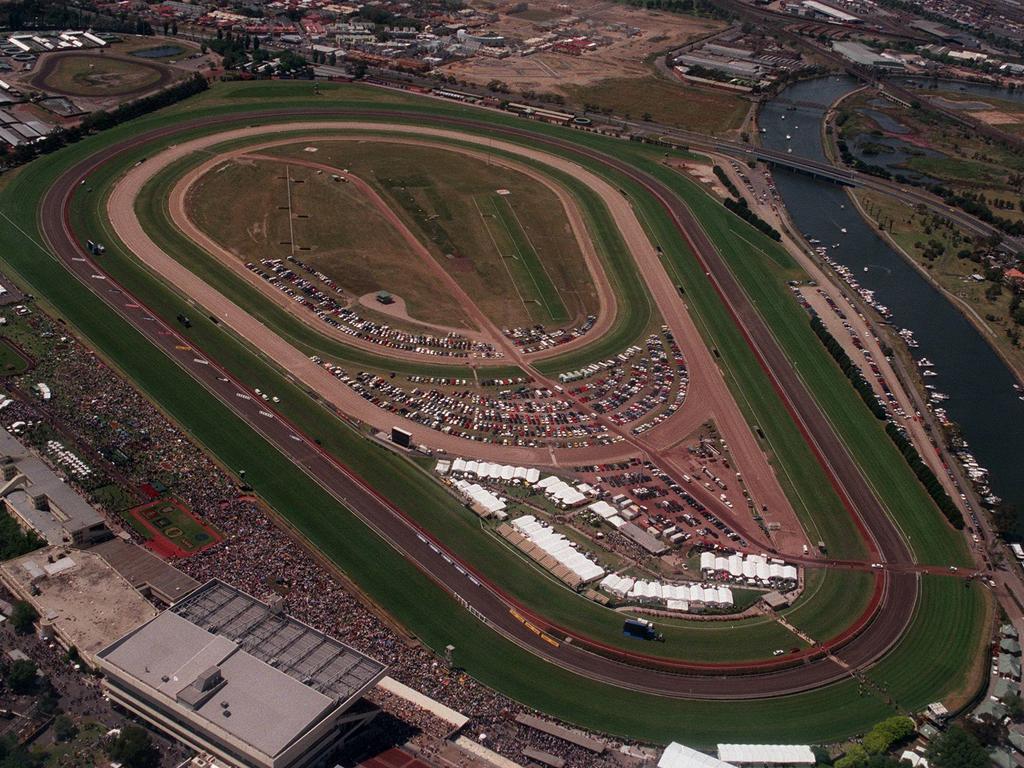 A 1998 aerial view of Flemington Racecourse, home of the famous Melbourne Cup race. Picture: file image
He went on to run second in two more Melbourne Cups.
Back then, jockeys did not have to be registered, and there was no minimum age.
"One of the myths* that sometimes surrounds this Peter St Albans story was that he had to pretend he was older to be able to ride," Dr Lemon said.
"But the fact is that in 1876 there were no rules at all about the age of a jockey … if you could ride and the owner put you on the horse, you were allowed to ride."
Controversy* surrounded Peter St Albans' origins* for many years, with several distinguished authors and historians claiming he was Indigenous.
But after researching Peter's family history, Dr Lemon was adamant* those claims were false, and that the young jockey was the son of Irish immigrants.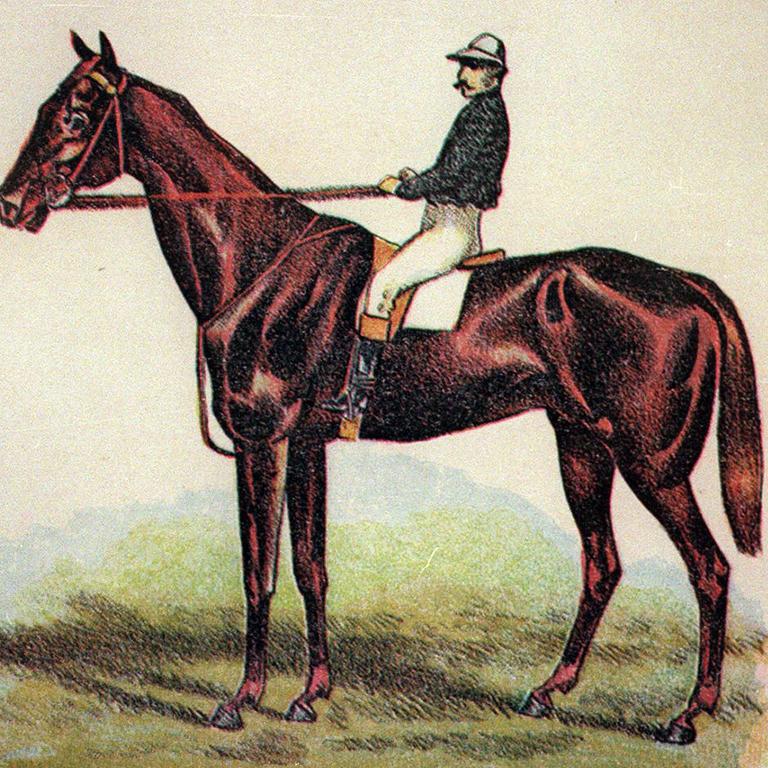 Peter St Albans came second in two later Melbourne Cup races, but it was the racehorse Briseis that won him the title of youngest ever Melbourne Cup champion. The horse is seen here with an unknown rider in an undated painting. Picture: supplied
"The reason I've found Peter Bowden's story so fascinating is that it's an example of historic elusiveness*," he said. "It's so hard to pin down the truth and the facts over a long period of time.
"But above and beyond that is that extraordinary story: here's an 11-year-old kid put onto one of the great horses of our time, Briseis … and he wins the Melbourne Cup.
"What a fantastic celebrity he would be these days. If you had a 14-year-old kid who'd won a Melbourne Cup, and run second on two occasions, wouldn't he be the toast of the town*?"
POLL
GLOSSARY
dedicated: committed, believing something is important and giving time and energy to it
astounding: incredible, astonishing, extremely surprising and unexpected
apprentice: someone who works for a skilled or qualified person in order to learn a trade or profession
Bart Cummings: one of Australia's most successful racehorse trainers (1927-2015)
anonymous: not identified or known by name
myths: well-known stories that are untrue, even if often repeated
controversy: a lot of discussion and argument about something
origins: the beginning of something or when someone or something comes into existence
adamant: insistent, refusing to change an opinion or decision
elusiveness: the quality of being hard to find, describe, remember, or achieve
toast of the town: someone very much admired for something they have recently done
EXTRA READING
How Archer won the first Melbourne Cup
Cartoon celebrates a Verry Elleegant winner
How Pharlap won the Cup and the nation's heart
QUICK QUIZ
Which rider is mistaken for the youngest jockey to win the Melbourne Cup and at what age?
How much did Peter St Albans weigh when he won and how close was his 12th birthday?
What are all the names the young jockey was known by?
What was the controversy surrounding Peter's identity?
What was the minimum age requirement for riders in 1876?
LISTEN TO THIS STORY
CLASSROOM ACTIVITIES
1. Write the story
Imagine that an 11-year-old jockey won this year's Melbourne Cup. Write the Kids News story about it. You will need to create the character of the jockey, name their horse and create their story but also bring to life how the world would react to this now!
Time: allow at least 30 minutes to complete this activity
Curriculum Links: English
2. Extension
What steps do you think Dr Lemon had to take to investigate the true story of Peter St Albans? Write a list of actions that would have helped him to uncover the truth. Don't forget to think about the types of evidence that he might have needed to find.
Time: allow at least 20 minutes to complete this activity
Curriculum Links: English, History
VCOP ACTIVITY
Exercise the body and the mind
Exercise is not only important for the body, but it's a lot of fun as well. Let's bring more exercise into classroom learning by creating a VCOP PE game.
You can add a VCOP challenge to pretty much any game, and it's a great way to encourage the teacher to let the class play more games.
Here is an example to get you started, then you create one of your own.
VCOP dodgeball
The normal rules of dodgeball apply. Two teams throw soft balls at each other and if you get hit, you have to sit out. The team who knocks out all the players on the other team wins.
VCOP challenge
When you get eliminated, collect a mini-whiteboard and a basic clause from the sidelines. Up-level the sentence (make it better) by adding VCOP. When you show the teacher your completed sentence, you can return to the game.
Play for a set amount of time and the team with the most players left on the court wins.