Brisbane has been named preferred candidate* by the International Olympic Committee to host the 2032 Olympic Games.
IOC president Thomas Bach made the announcement in Switzerland on Thursday morning.
He said the International Olympic Committee's Executive Board had voted unanimously* to support a recommendation from the Future Host Commission to enter into detailed talks with Brisbane's bid committee and the Australian Olympic Committee.
Being named preferred candidate gives Brisbane exclusive* access to convince the IOC without competition from other cities and countries, including from competitors in China, the Middle East and Europe.
Queensland Premier Annastacia Palaszczuk said that Brisbane was in the "box seat" to officially secure the 2032 Olympic Games.
"This is years of hard work," she said. "You can't wipe the smile off my face."
Although the deal isn't quite done yet, Australia's past, present and even future Olympians are also excited at the prospect of a home Games.
"I've been living in Sydney for the past two years and people down there still talk about the 2000 Sydney Olympics so to have that opportunity in Brisbane would do wonders for everyone," champion swimmer Cate Campbell said.
"In dreamland, if I could be part of a home Olympic Games, that would be the ultimate goal, but even if I wasn't competing I would love to be involved in some way possible."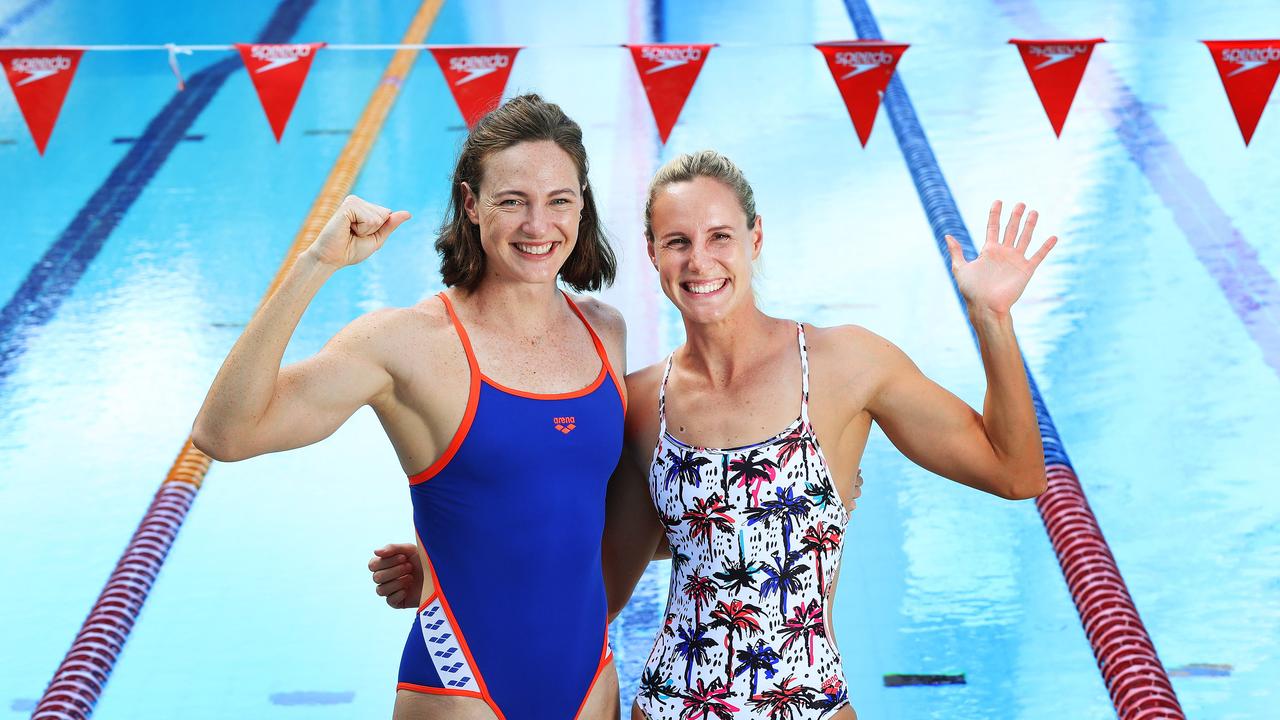 Jodie Henry, who won three gold medals in swimming at the 2004 Athens Olympics, said it was only fair that Queensland got a turn at hosting the Games after Melbourne (1956) and Sydney (2000).
"We've had a couple of Commonwealth Games here but we've never had the big show so it would be really amazing for southeast Queensland," she said.
Queensland's Natalie Cook won gold in Sydney in beach volleyball, along with Kerri Pottharst, but said hosting the Games was more than just about athletes and their competitions.
"The Olympics will touch every single industry, from hospitality to shopping to volunteering, even to the medals, which will be made from our minerals in the earth," she said.
"It will impact the artists, the dancers, the singers, technology … what we're about to see is a decade of opportunity that will put the global spotlight on Australia, not only our COVID response but the possibility to bring hope to the world."
Gold Coast kayaker Ken Wallace – who won gold and bronze medals at the 2008 Olympics – is coaching kids at the Queensland academy who could be competing in 2032.
"I look at 2032 as a bit like training at the moment. We haven't won the gold medal yet but we're starting to hit goals and targets in training and I guess that is what Southeast Queensland is starting to do with the International Olympic Committee."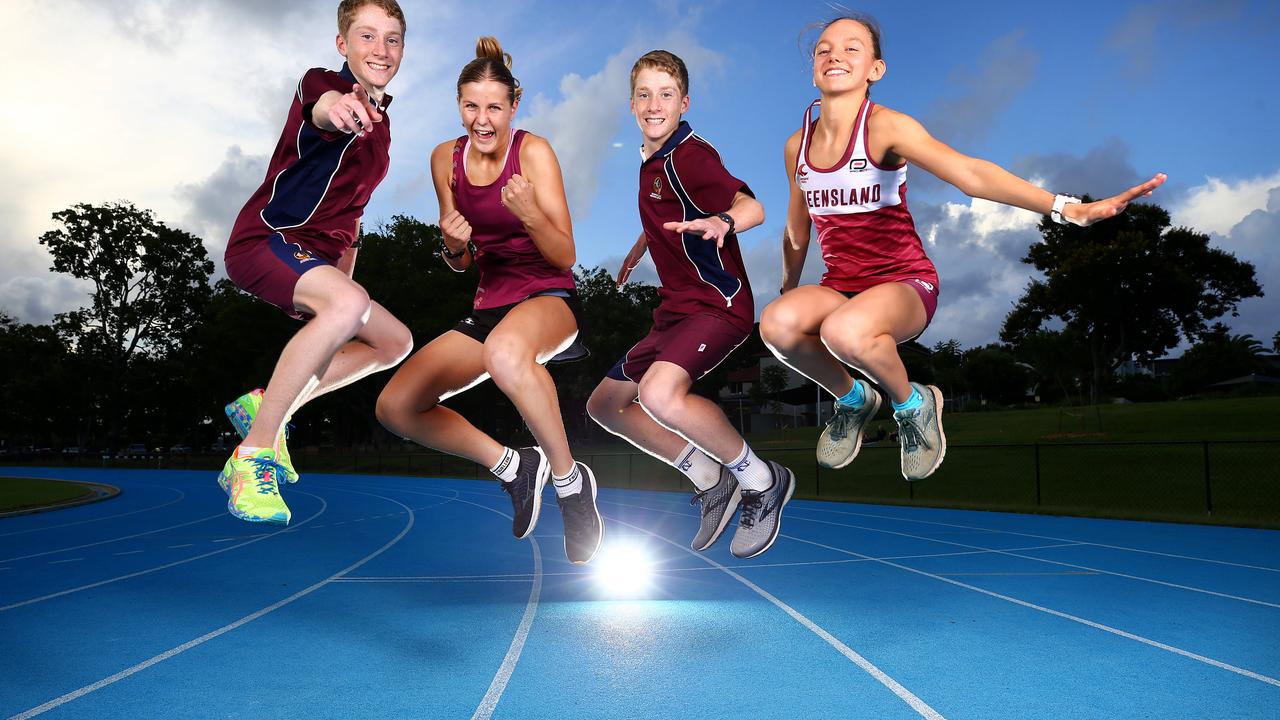 Teenage athletes Gretta Johnson, 14, Sophie Burger, 15, Ned Curran and Will Curran, 14, each train at least five days a week for their dream of being on the track and field world stage.
For twins and Queensland cross country champions Ned and Will, who both put in at least eight training sessions a week, going to the Olympics on home soil would be "the dream."
"I'm training really hard for that right now," Ned said.
"I wouldn't have to travel far," Will said.
Sophie meanwhile has goals to compete in the triathlon event and said she's "stoked" about the chance to compete in a Queensland Games.
"I've done triathlon since I was seven," she said.
"It would be a dream to go to those Olympics to do triathlon."
"If I got the opportunity, it would be amazing."
For Gretta, who competes this weekend in the State Club Championship, her goal would be to run the 3000m or 1500m track event on the world stage.
But for the 15-year-old athlete, just having the Olympics down under is cause for celebration.
"We would be able to see them and we wouldn't have to travel far," she said.
"I think it would be really exciting."
Gretta said she liked watching athletes compete in the running and track events, gymnastics and swimming.
GLOSSARY
candidate: being considered for a role
unanimously: by everyone voting
exclusive: not available to anyone else
EXTRA READING
The history of the Olympic Games
Breakdancing added to 2024 Paris Olympics
All eyes on Gold Coast again for Commonwealth Games
Meet Borobi the Comm Games mascot
QUICK QUIZ
Which city is the preferred Olympics candidate?
Who is Annastacia Palaszczuk?
What sport do the Campbell sisters excel in?
What is Gretta's Olympic goal?
Which Australian cities have hosted Olympics before?
LISTEN TO THIS STORY
CLASSROOM ACTIVITIES
1. Design a Logo
Every city that hosts the Olympics has a special logo for their Games. Design a logo that you think would be perfect for the 2032 Brisbane Olympics.
You could research some past Olympic logos to help you. Examples could be the 2000 Sydney Olympics, the 2004 Athens Olympics, the 2008 Beijing Olympics, the 2012 London Olympics and the 2016 Rio Olympics.
Time: allow 30 minutes to complete this activity
Curriculum Links: English, Visual Communications Design, History
2. Extension
Brisbane's bid committee now has to convince the IOC to officially award the 2032 Games to Brisbane. Imagine you are a member of the bid committee. Write a speech or letter to the IOC. The purpose of your speech or letter is to convince them that Brisbane is the best city to host the 2032 Games. Remember to include lots of reasons and make your writing as convincing as possible.
Time: allow at least 20 minutes to complete this activity
Curriculum Links: English
VCOP ACTIVITY
Read with Kung Fu Punctuation
Pair up with the article between you and stand up to make it easy to demonstrate your Kung Fu Punctuation.
Practice reading one sentence at a time. Now read it again, while acting out the punctuation as you read.
Read and act 3 sentences before swapping with your partner.
Have 2 turns each.
Now as a challenge ask your partner to read a sentence out loud while you try and act out the punctuation. Can you keep up?
Swap over?
Try acting out 2 sentences.
Are you laughing yet?
Have fun acting out your punctuation.
HAVE YOUR SAY: How would you like to be involved in the 2032 Olympics?
No one-word answers. Use full sentences to explain your thinking. No comments will be published until approved by editors.