Novak Djokovic turned into Tennis Santa after easily defeating Rafael Nadal 6-3 6-2 6-3 to take out his seventh Australian Open title on Sunday night.
After beating Nadal in a near-perfect performance, the Serbian world No. 1 took the party to his many fans, giving them all the memorabilia* they could handle, except for the shirt on his back.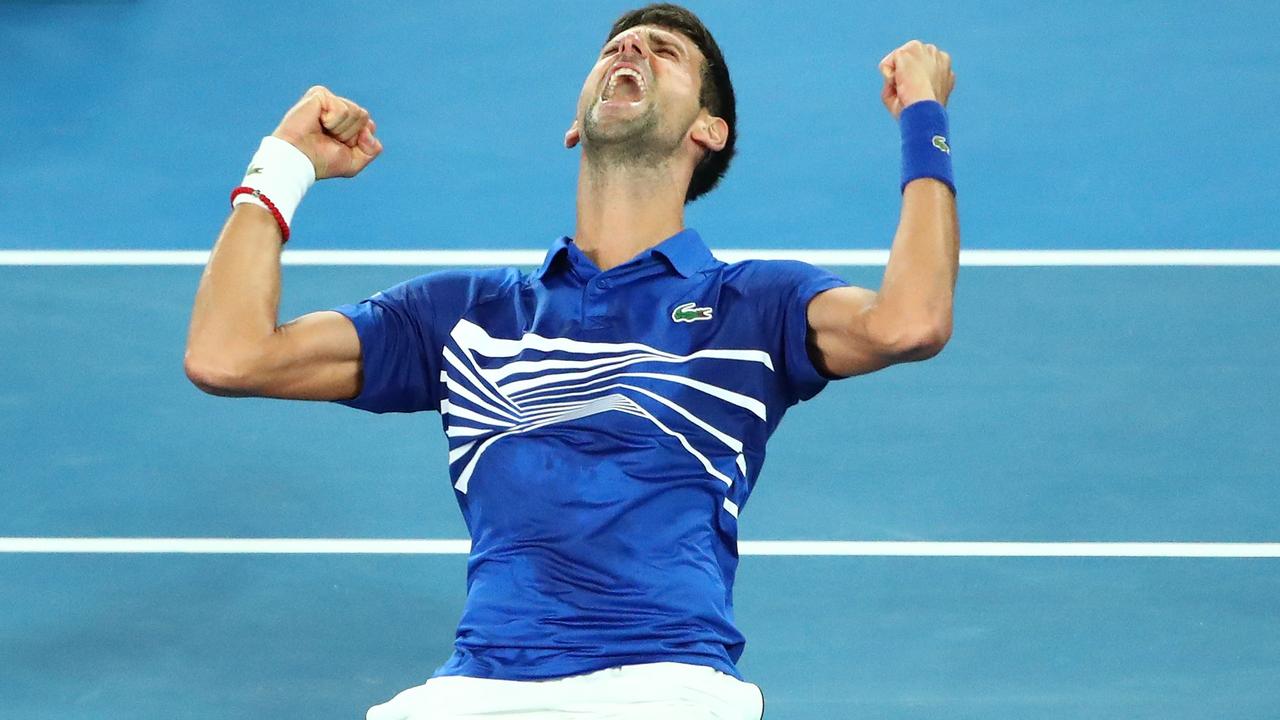 As he walked through the grounds at Melbourne Park, one group of fans climbed a wall to get a glimpse* of their hero and when one realised he had nothing for Djokovic to sign, the champion unzipped his jacket, signed it across the chest and gave it to the male fan.
Djokovic also gave away one of his racquets to a Serbian fan on Rod Laver Arena, signing the grip and then going on to give his signed shoes to another fan in the grounds of the arena.
Socks, sweatbands and towels were also given away by the history-making star on a night where he passed Australian legend Roy Emerson's record to become the man with the most Australian Open men's singles titles.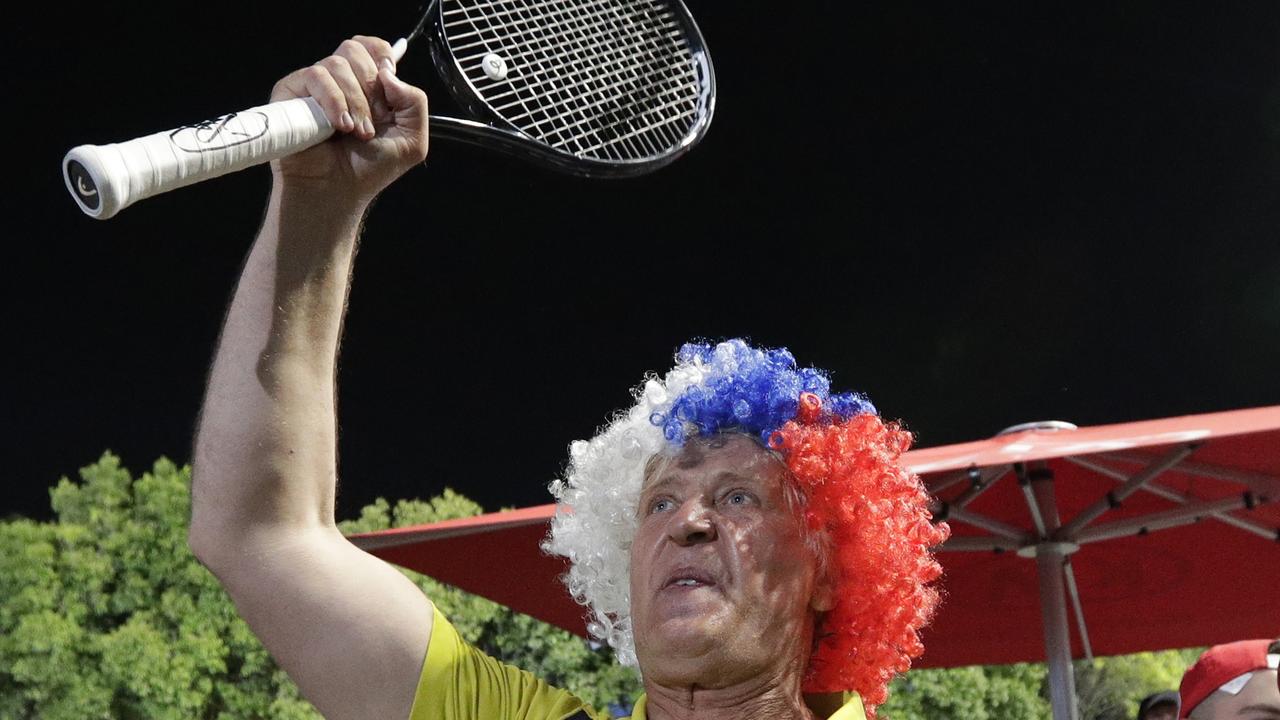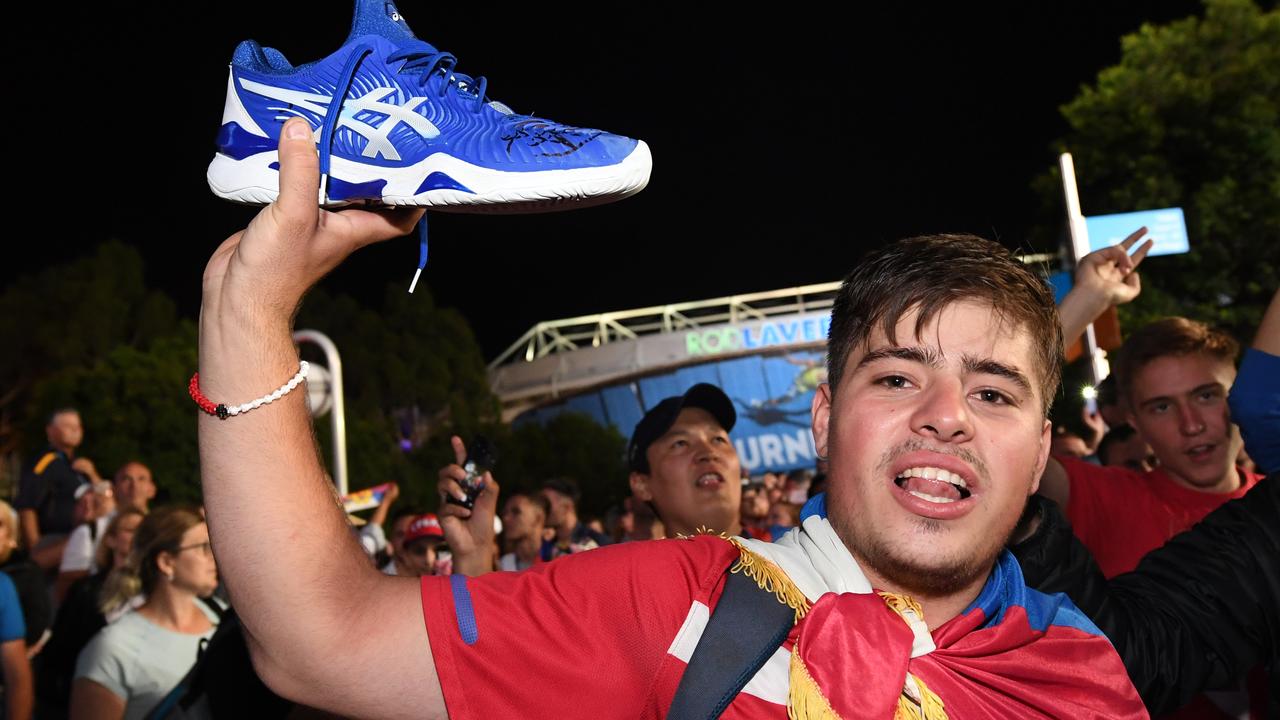 Queenslander Emerson had held the record with six titles since 1967 and was joined on that number by Djokovic in 2016 and Roger Federer in 2018.
Sunday night's victory made Djokovic the new record holder.
The Serbian champ also had time for his number one fans — his family.
The 31-year-old star was overcome with emotion when a picture his wife Jelena shared on social media was shown to him during his post-match interview.
The image of his kids — Stefan, 4, and Tara, 1 — watching his final against Nadal made the champion a little teary-eyed as he asked for the image to stay on the big screen longer.
"Yes, please keep it there (on the screen) for a while," Djokovic said. "Oh my gosh, I love it."
He then went on to say how much his family meant to him, especially as they could not make the trip to Australia with him.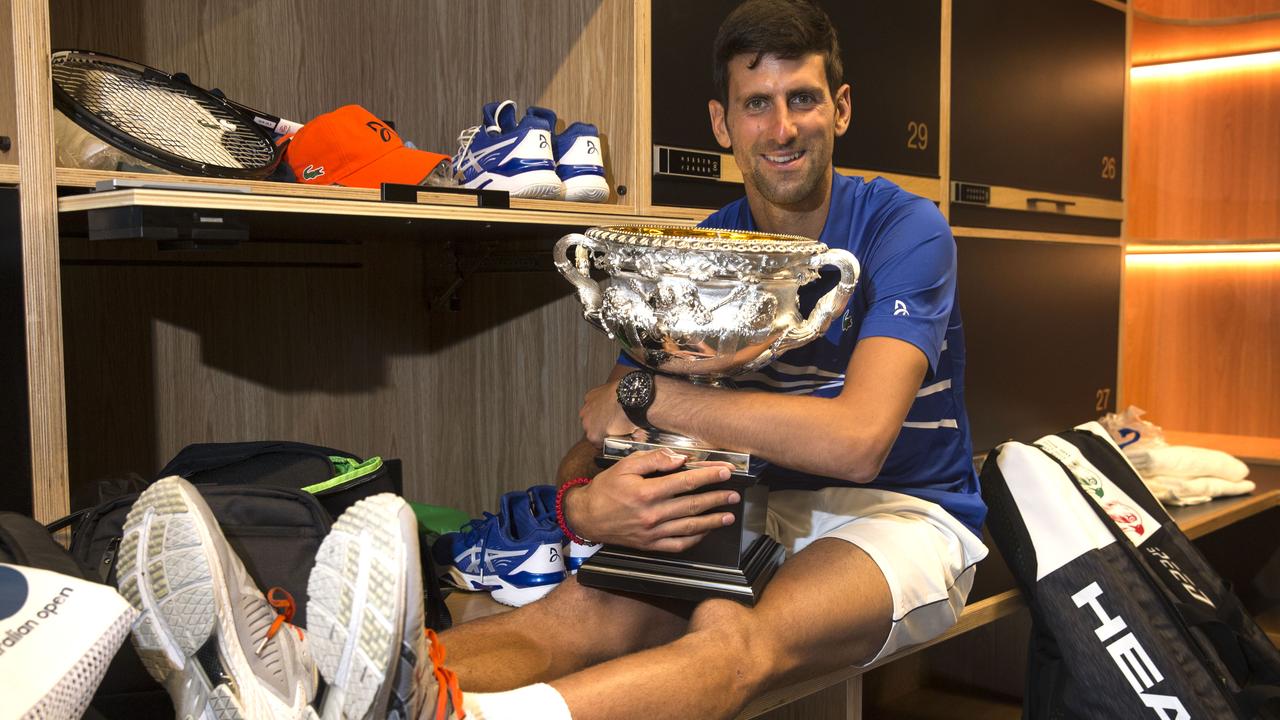 "Trophies are even more special when I have someone so dear and so special to me in my life to share this with," Djokovic said.
"They are my dearest people on this planet next to my two brothers and my parents. I love them very much. I want to thank them for unconditional* love and support through all these years.
"They've sacrificed a lot of their time and energy for me to live my dream to be standing here today and I try to always remind myself and not take that for granted*."
Djokovic's seventh Australian Open title also gave him his 15th overall grand slam* title, moving him five behind Swiss champ Roger Federer and two behind Spain's Nadal.
The trio lead some all-time greats with American Pete Sampras having won 14, Australia's Emerson 12, while fellow Australian Rod Laver won 11 as did Sweden's Bjorn Borg.
EXTRA READING
Barty, De Minaur both win Newcombe Medal
Simmons a missing link for Boomers
Gilmore wins record equalling 7th world title
GLOSSARY
memorabilia: objects kept or collected to remember people or events
glimpse: a quick look
unconditional: when you need nothing in return
take that for granted: fail to appreciate or recognise something
grand slam: the four major tennis tournaments — Australian Open, French Open, Wimbledon and US Open
LISTEN TO TODAY'S STORY
QUICK QUIZ
How many Australian Open titles has Novak Djokovic won?
Which country is Djokovic from?
Name three items he gave away to fans.
Who is Roy Emerson?
How many grand slam titles does Roger Federer have?
CLASSROOM ACTIVITIES
1. Interview the champions
Imagine you were a sports reporter and were given the opportunity to interview both Novak Djokovic and Rafael Nadal after the Australian Open final. What questions would you ask?
Write 5 questions you would ask to each player. Your questions should require a detailed answer (more than just yes or no!). You may ask about the match and how they felt about it, or about their preparation, or previous achievements.
Swap your questions with a partner and think of an answer to their questions (they will answer yours) pretending to be the players. You will get clues from the article about their answers may be.
Time: allow 30 minutes to complete this activity
Curriculum Links: English, Health and Physical Education, Critical and Creative Thinking
2. Extension
The players would have experienced a range of emotions on the day of the final. Draw a three columned chart. Write down some of the emotions that each player may have felt, BEFORE, DURING and AFTER the match. The emotions might relate specifically to the match or more personally to them (for example Djokovic may have felt sad that his family couldn't join him).
Look back over your lists, which emotions might have been common for both players. Have you experienced a major win or a close second in a sporting event? What emotions did you feel? Write down what event you participated in and list your emotions under it.
Time: allow 20 minutes to complete this activity
Curriculum Links: English, Health and Physical Education, Personal and Social Capability
VCOP ACTIVITY
After reading the article, with a partner, highlight as many wow words or ambitious pieces of vocabulary that you can find in yellow. Discuss the meanings of these words and see if you can use them orally in another sentence.
HAVE YOUR SAY: What did you like about this year's Australian Open tennis?
No one-word answers. Use full sentences to explain your thinking.