Nina Kennedy wins Diamond League pole vault in world championships twist
One week after having to share her world championship gold medal with American Katie Moon, Australian pole vaulter Nina Kennedy has a big win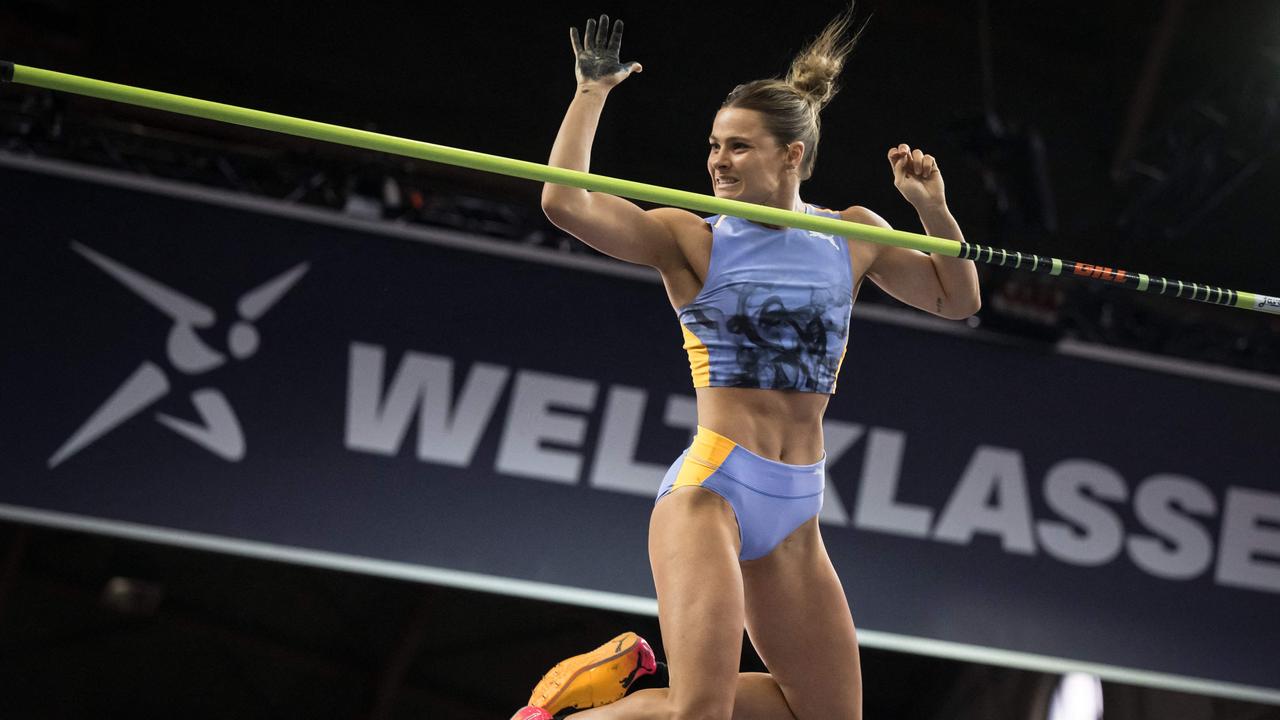 Australia's Nina Kennedy has won the women's pole vault at the Diamond League athletics meeting in Zurich. Picture: Fabrice Coffrini/AFP
One week after sharing world championship* gold with American Katie Moon, Aussie star Nina Kennedy has achieved a stand-alone victory in another nailbiting* pole vault* competition at the Zurich* Diamond League* meeting on Thursday morning.
Moon, who won gold at the 2020 Tokyo Olympics* and took the world title in Eugene, Oregon*, last year under her maiden name* of Nageotte, shared gold with Kennedy after tying in Budapest* during last week's world championships.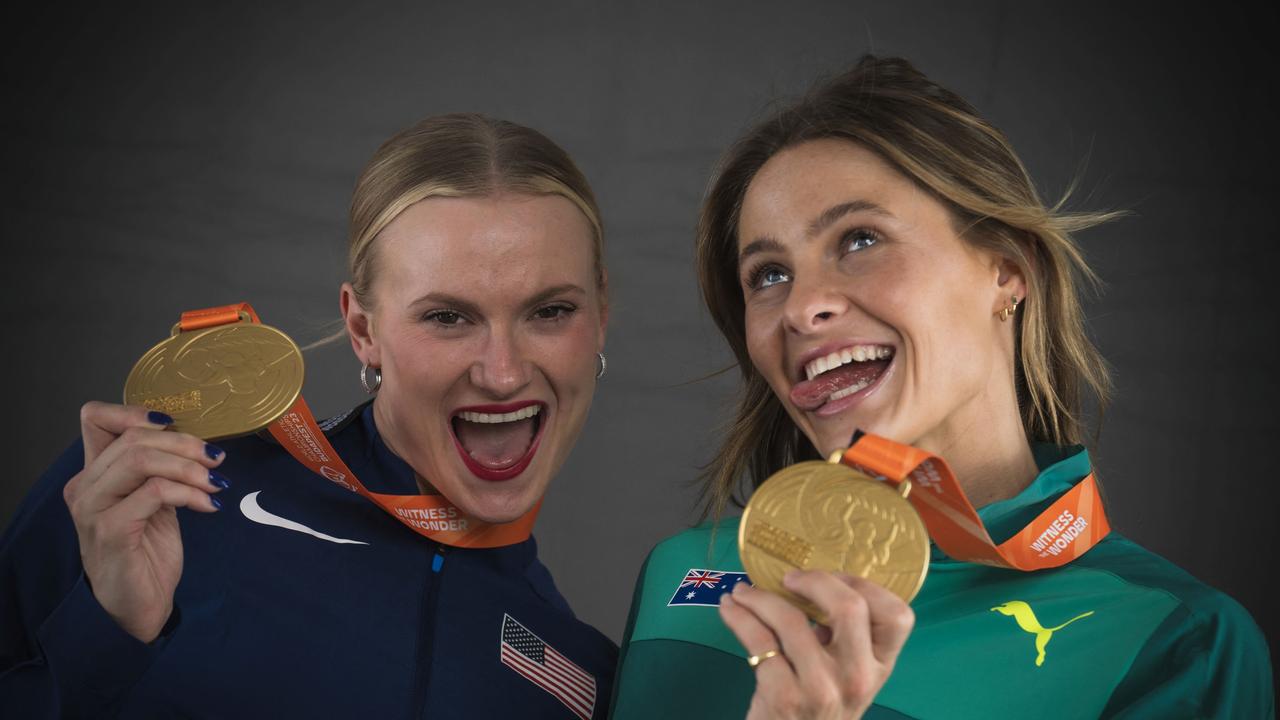 Women's pole vault joint gold medallists USA's Katie Moon and Australia's Nina Kennedy after the World Athletics Championships in Budapest on August 24, 2023. Picture: Andrej Isakovic/AFP
Despite the gesture* of classy sportsmanship* to share the gold, Kennedy and Moon were also criticised for the "shameful" act of failing to fight to the bitter end to crown an individual winner.
The act of kindness from Moon mirrored an unforgettable moment at the Tokyo Olympics when Italy's Gianmarco Tamberi and Qatar's Mutaz Essa Barshim agreed to share the high-jump* gold medal*.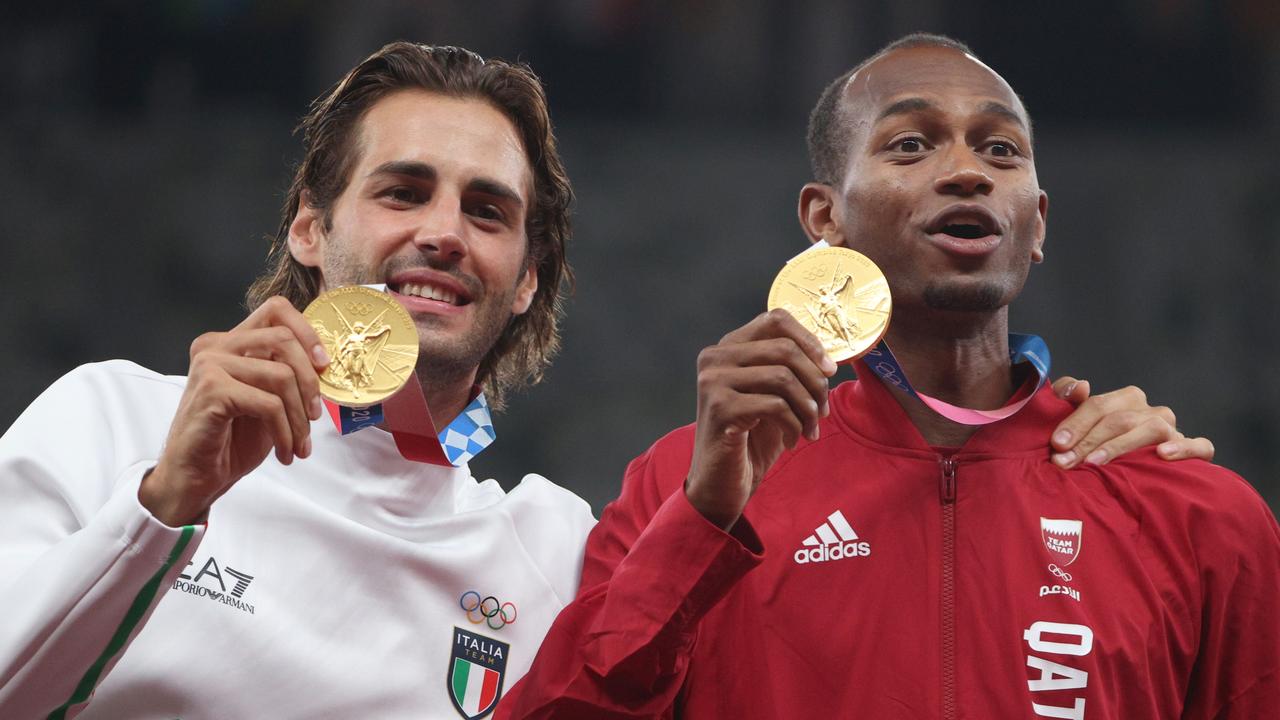 The joint win in Budapest mirrored that of gold medallists Gianmarco Tamberi of Team Italy and Qatar's Mutaz Essa Barshim for the men's high-jump at the Tokyo 2020 Olympics. Picture: Patrick Smith/Getty
There was no shortage of drama in Zurich on Thursday, but another shared victory never looked likely as Kennedy won with an Oceania record*, personal best* and meet record* of 4.91 metres.
Her performance set several incredible records.
"I am really surprised! And I am so happy. This is all my dreams come true, I love Zurich," Kennedy said.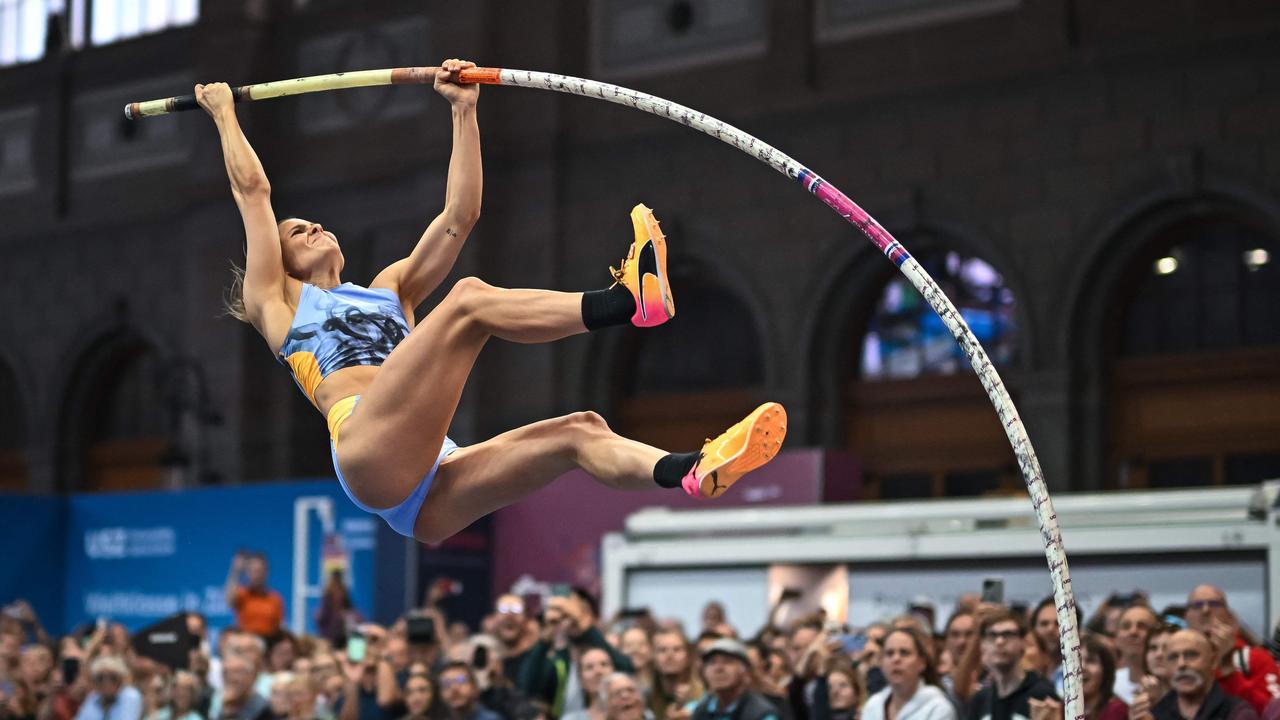 Nina Kennedy in action at the Diamond League athletics meeting in Zurich's on August 30, 2023. Picture: Fabrice Coffrini/AFP
"Now I will fly home to Australia before travelling to Eugene where I hope to win the final," she said in reference* to the Diamond League finals* in Oregon on September 16-17.
She told Athletics Australia she knew Moon was going to be "out for blood*" after their world championship result.
"Because the pressure* was off, I was able to just focus on doing what I love. I can't believe I was able to jump 4.91 tonight," Kennedy said.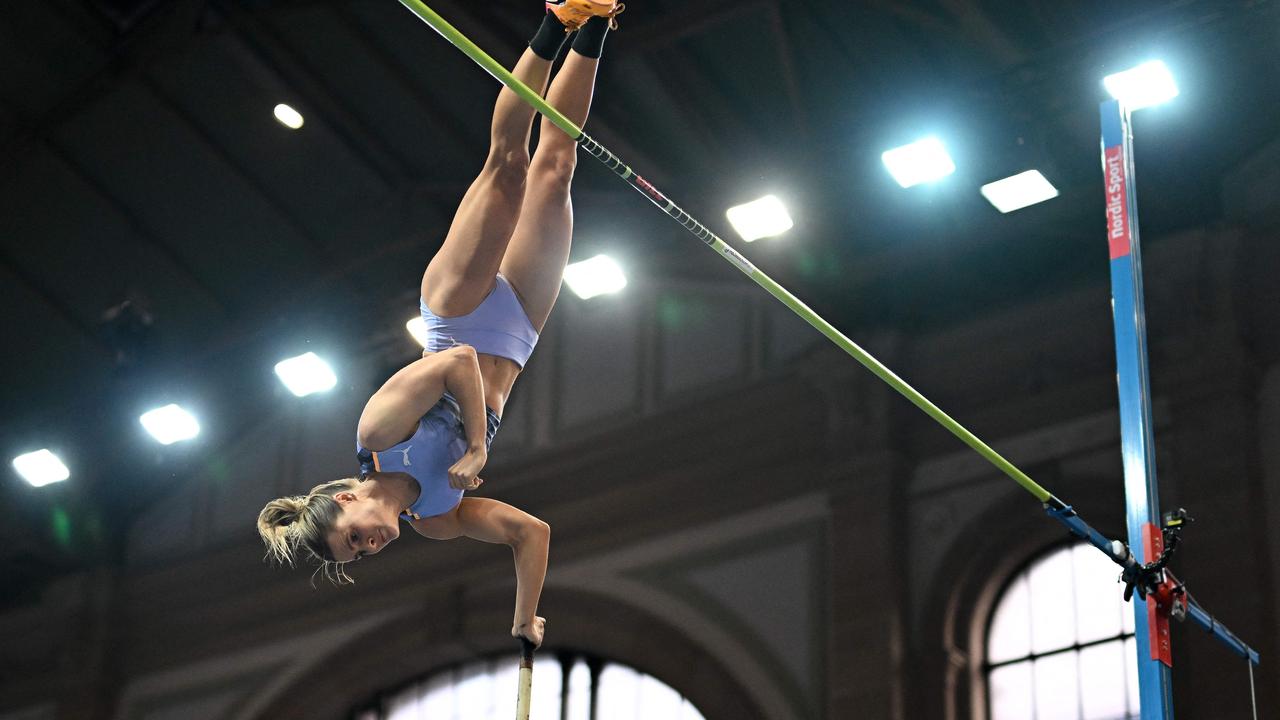 Kennedy was focused on having a "great battle" for gold against Katie Moon. Picture: Fabrice Coffrini/AFP
"I didn't actually have a lot of confidence* going in today. I knew that Katie was out for blood. Sharing that gold medal was nice and all but tonight we both wanted to win and be the outright winner so I felt the pressure.
"We had a great battle* tonight and I came out on top and she fought really hard and it fills me with a lot of confidence going into Eugene for the Diamond League finals and for next year too."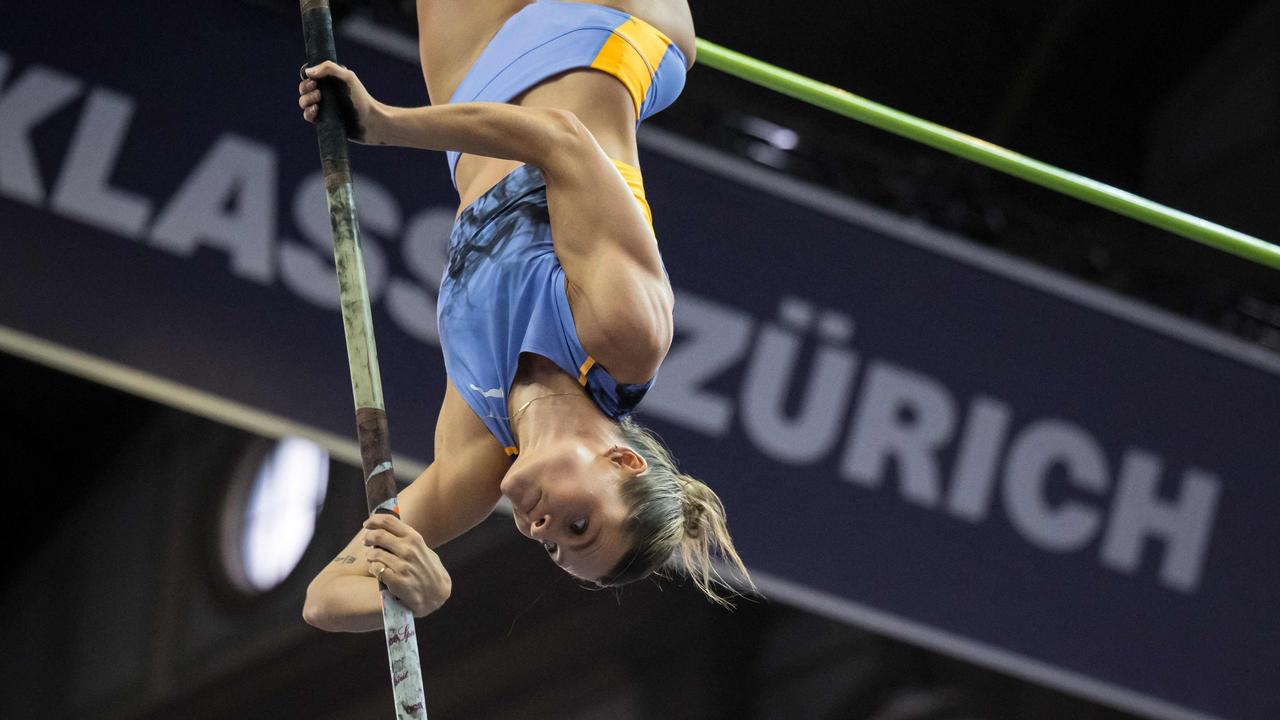 Kennedy recorded a personal best and Oceania record at 4.91 meters. Picture: Fabrice Coffrini/AFP
The pole vault event was held at the famous Letzigrund Stadium on a specially constructed track at Zurich Hauptbahnhof, the city's main train station.
A seated temporary tribune overlooked the runway*, while thousands of commuters swelled around the landing mat, lending the event a surreal feeling as trains pulled in and out of platforms just metres away.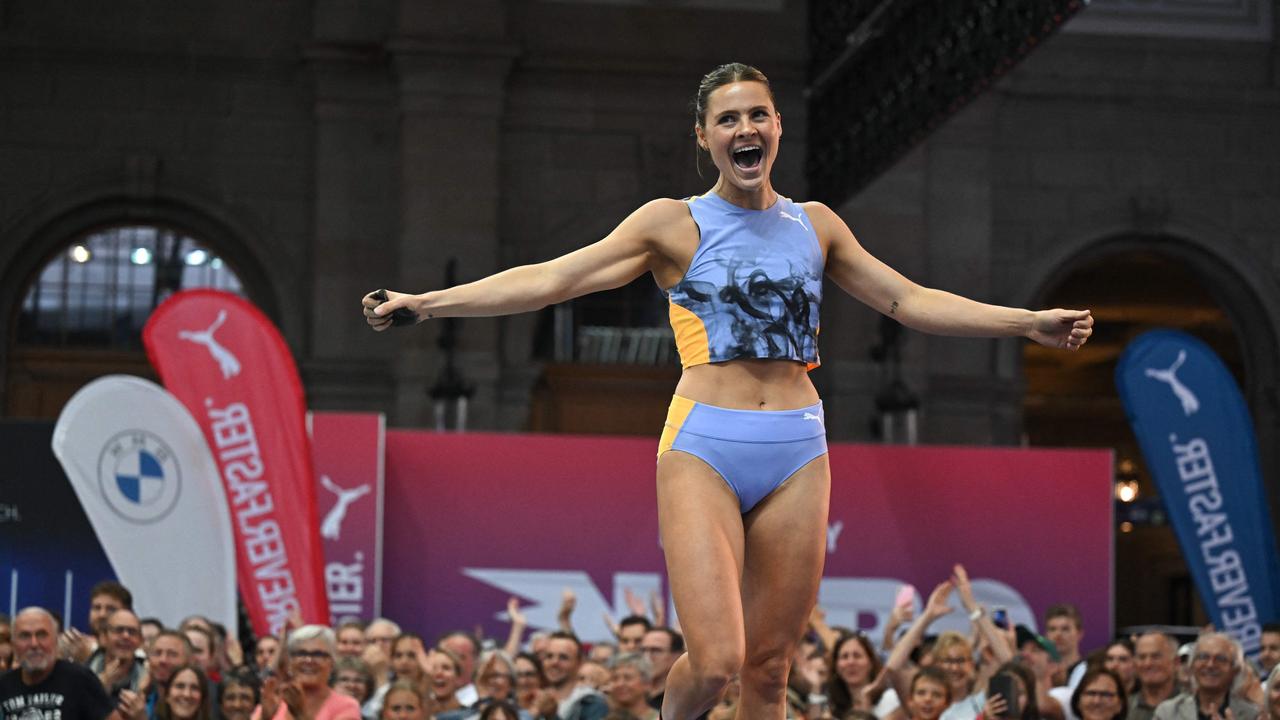 Australia's Nina Kennedy was all smiles. Picture: Fabrice Coffrini/AFP
Dance music boomed and the crowd, often just passing, were left roaring in delight or gasping in disappointment as the competition took place.
When Kennedy passed 4.81m on her first attempt — a personal best and Oceania record — the pressure was back on Moon, but the American kept her nerve* to mirror the Australian's success.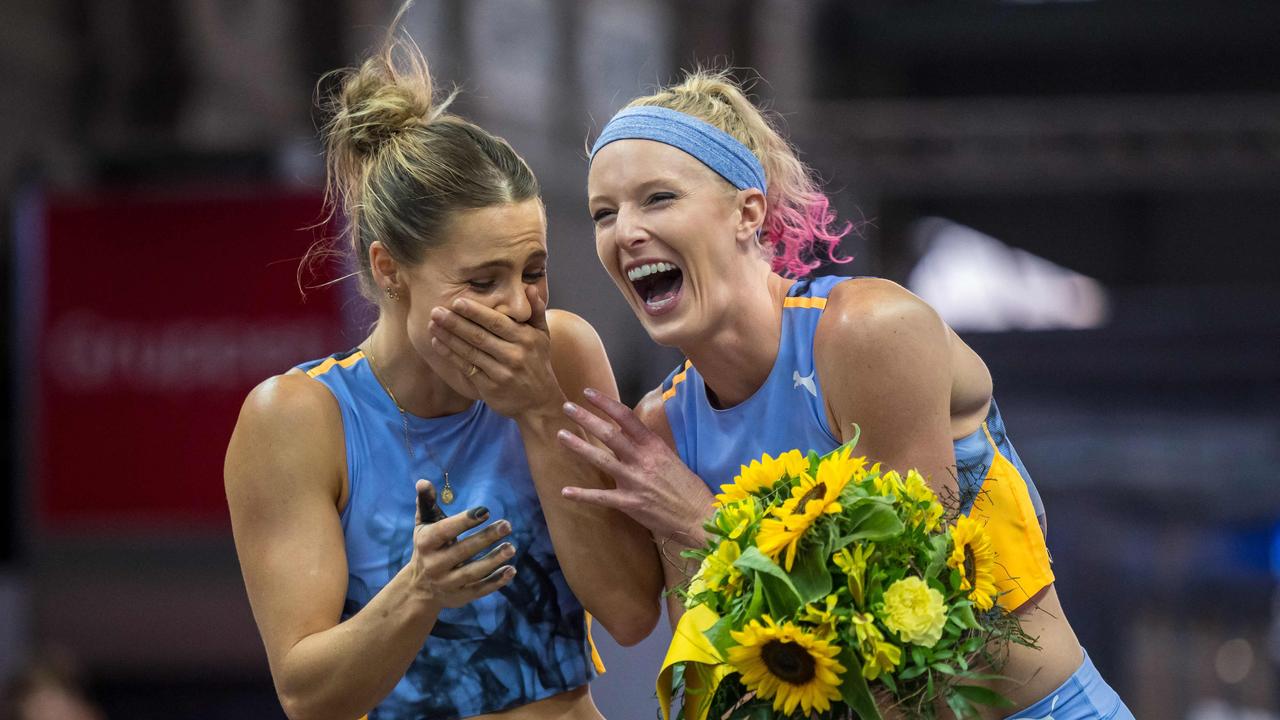 Winner Australia's Nina Kennedy (L) reacts with third-placed US' Sandi Morris during the podium ceremony. Picture: Fabrice Coffrini/AFP
With the bar raised to 4.91m, Kennedy was first on the runway, making no mistake in a remarkable vault, but Moon didn't get close on her first effort.
When neither were able to clear 4.96m, the victory was handed to Kennedy amid an electric atmosphere*.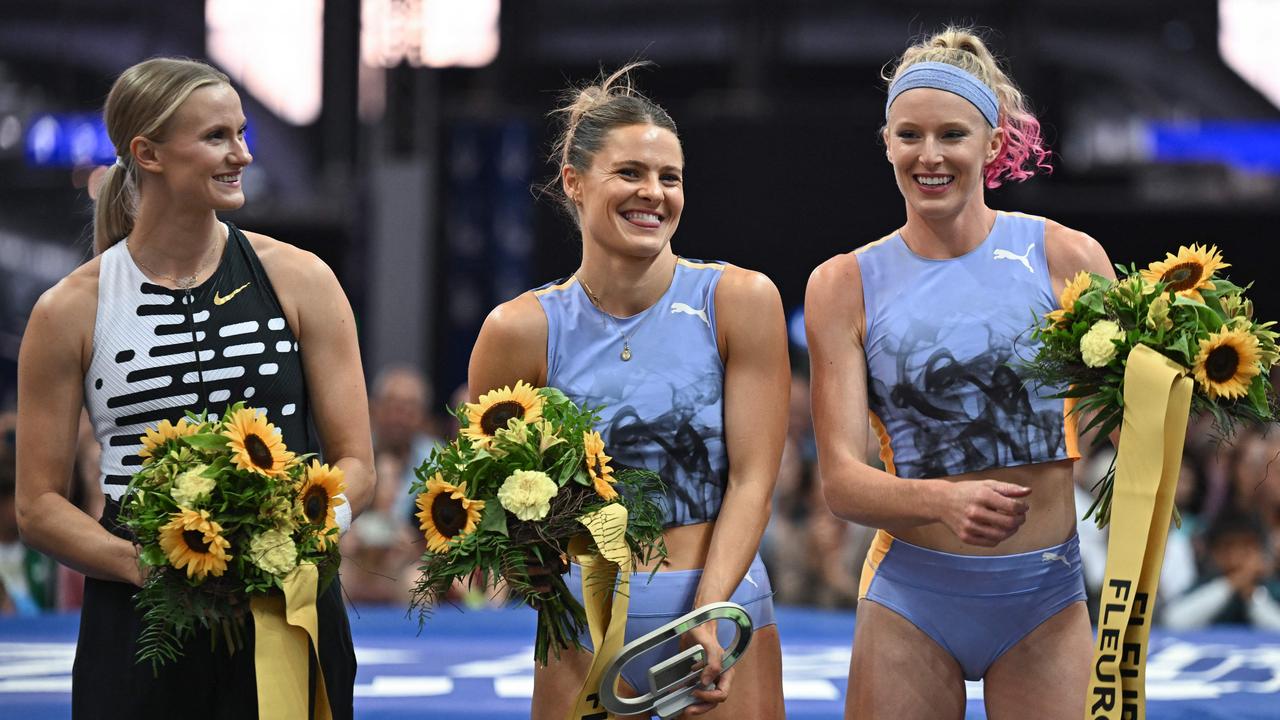 Nina Kennedy didn't have to share gold this time. Picture: Fabrice Coffrini/AFP
"I did not get my run dialled in* soon enough. It took me a minute to get comfortable with the runway," said Moon, adding that she was not surprised at Kennedy's winning height.
"I had a feeling it would go high today."
GLOSSARY
world championship: a major international sports event where athletes from around the world compete in various sports to determine the best in their respective disciplines
nailbiting: an expression used to describe a very exciting and suspenseful situation
pole vault: a track and field event where athletes use a long, flexible pole to propel themselves over a horizontal bar at varying heights
Diamond League: a series of annual track and field events featuring elite athletes from around the world, organised by World Athletics
Olympics: a global sports event held every four years, featuring a wide range of sports and competitions
Zurich: the largest city in Switzerland
Oregon: one of the 50 states that make up America, located in north west
maiden name: a woman's original last name before marriage
gold medal: a prize given to the winner of a competition, often a flat, circular piece made of gold, that symbolises first place
gesture: A physical action or movement that conveys a particular feeling or intention
sportsmanship: behaviour and attitude that reflect fairness, respect, and ethical conduct in sports
high-jump: a track and field event where athletes attempt to jump over a horizontal bar at varying heights without the use of any equipment
record: the highest or best achievement ever made in a particular sport, event, or activity
personal best: the best performance an individual athlete has achieved in a particular event
meet record: the best performance ever recorded in a specific event during a particular competition
pressure: stress or tension that comes from the expectation of performing well in a competition
confidence: belief in one's abilities and skills
reference: mentioning something in relation to a particular context or event.
finals: the last stage of a competition, where the top competitors face off to determine the ultimate winner
out for blood: a strong determination to succeed and compete fiercely
battle: a competitive struggle between opponents
runway: the track or path used for events like pole vaulting and running
nerve: the ability to stay calm and composed under pressure
electric atmosphere: the overall feeling and mood of a place or situation was exciting and charged with energy
dialled in: adjusted and prepared properly
EXTRA READING
Aussies set to shine at Olympics
Matildas' home goals biggest wins
QUICK QUIZ
1. What type of sport is featured in the story where Nina Kennedy achieved a victory?
2. Where did the exciting competition take place?
3. What did Nina Kennedy and Katie Moon share after tying in Budapest?
4. What record did Nina Kennedy set during the competition?
5. What did Katie Moon show by agreeing to share the gold medal?
LISTEN TO THE STORY
CLASSROOM ACTIVITIES
1. Create an athletic comic strip
Have students create a comic strip that depicts a fictional pole vault competition, including a moment of sportsmanship between two characters. This activity combines creativity with understanding the values of teamwork and respect.
Time: 45 minutes
Curriculum Links: English, Health and Physical Education, Visual Arts
2. Extension
Engage the class in a group discussion about the importance of kindness and sportsmanship in sports and everyday life. Share examples from the story and encourage students to share their own experiences.
Time: 20 minutes
Curriculum Links: Personal and Social Capability, Health and Physical Education
VCOP ACTIVITY
I've always wanted to know
If you had the opportunity to talk to one of the athletes and ask them five questions, what would you ask them?
Come up with five different questions. Challenge yourself to use different question stems (question opener words) to write your questions, and don't forget to end with a question mark.