Next generation of F1 speedsters scoring major wins on kart circuit
Australia's junior racing scene is exploding as more girls and boys try kart racing and motorsports programs to feed their need for speed – meet two junior kart kings in pole position for the future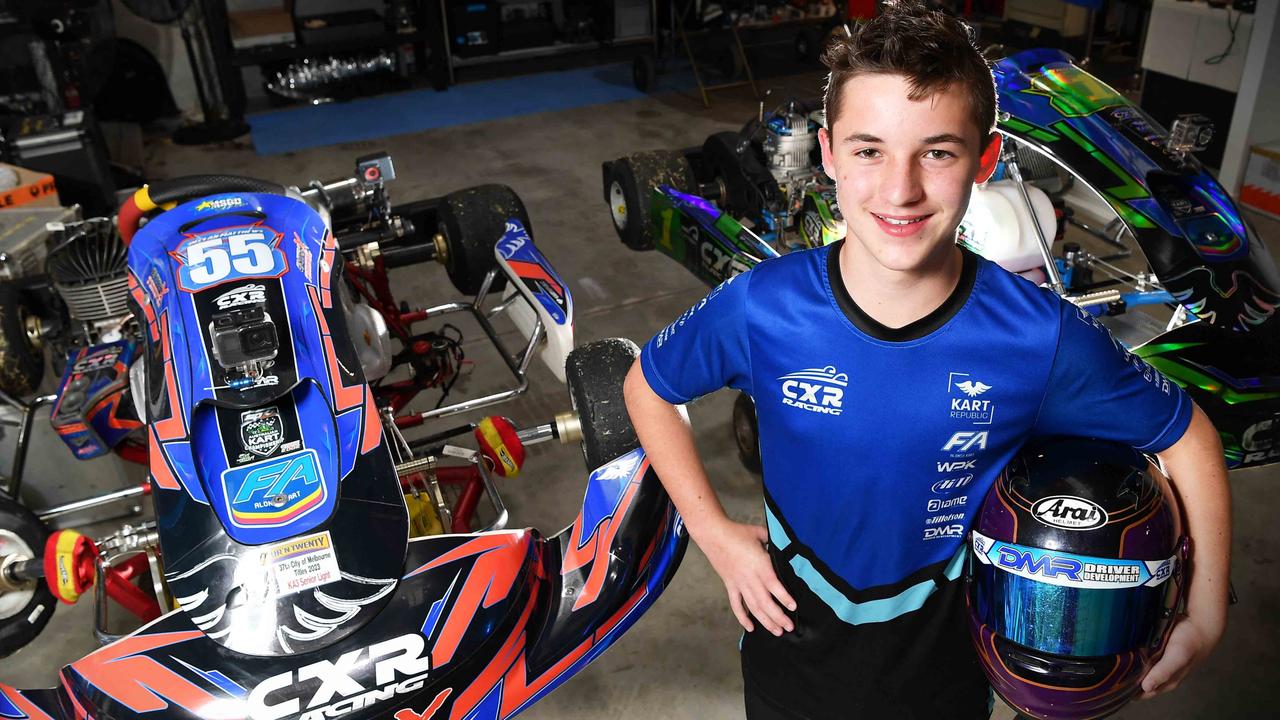 CXR Racing kart driver Dominic Penman is one of a number of talented young Aussies making their mark on the junior circuit. Picture: Patrick Woods.
Australia's junior racing scene is rapidly growing around the country, with an array of young track talents proving why they are our next rising stars.
The CXR Racing team, led by team manager Craig Matthews, is quickly becoming a powerhouse* operation, with drivers spread across the Sunshine Coast, South Australia, New South Wales and Victoria.
Based on the Sunshine Coast, the team competes in the Australian Kart Championships, a five-race series finishing on August 27.
Mr Matthews, who began karting as a kid before launching* CXR Racing, said he had enjoyed the performances from his team.
"I was racing for a long time and then once my two kids got involved, I started building engines, which led to more and more customers," he said.
"From there we started the team about six years ago and it's just continued to grow and attract good drivers."
CXR Racing talent from left: Jace Matthews, Jye Flynn, manager Craig Matthews, Dominic Penman and Declan Matthews. Picture: Patrick Woods.
The team caters* for around 20 drivers at national meets and up to 60 drivers at club events.
"We've got a mix from all around Australia, as more and more people have shown interest in being in the team," Mr Matthews said.
"My two sons Jace and Declan do all of the driver training and then the testing, the tune and all of the data analysis* we do together.
"We're always trying to go faster and so in terms of engines, we'd probably build 600 this year alone."
So far the drivers have competed at Murray Bridge in South Australia, Wanneroo in Western Australia, Newcastle in New South Wales and Ipswich in Queensland.
Round five will be contested* from August 25-27 in Melbourne, Victoria, where Jace Matthews appears likely to become the fourth diver to etch his name on the James Courtney Perpetual Trophy for a second time.
Previous standout winners include Jamie Whincup in 1999 and Mark Winterbottom in 2001.
The CXR Racing team also sits in fourth place in the team championship standings, 192 points behind first place.
Meet two the team's young drivers ahead of this weekend's action.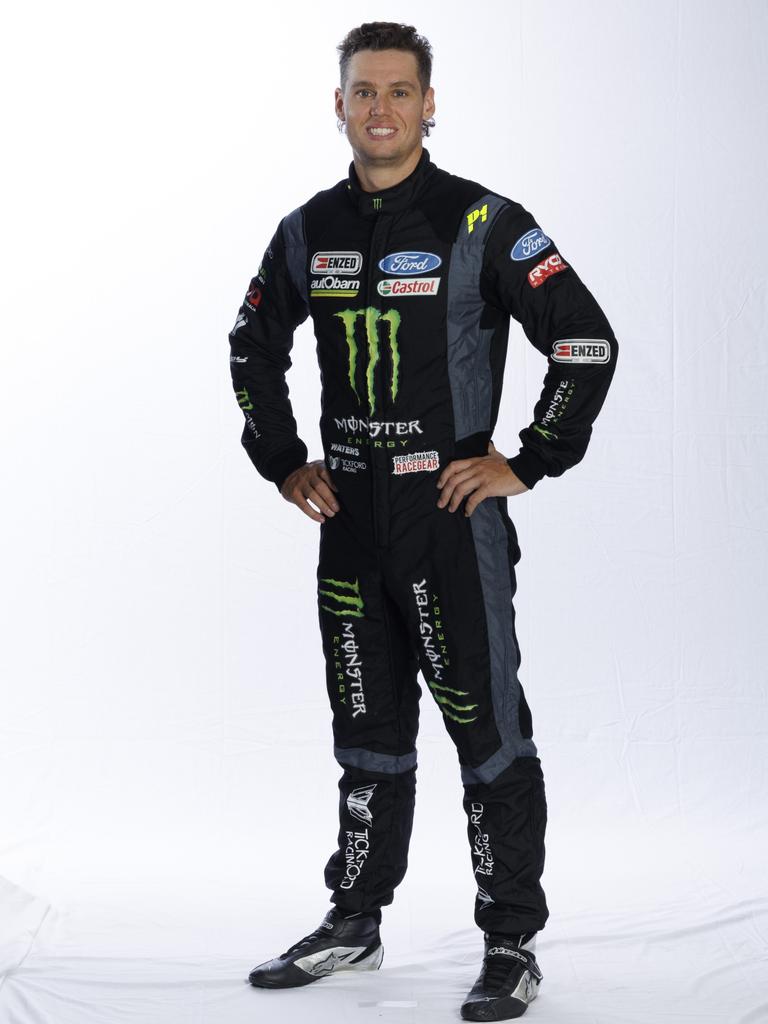 Kart racer Jye Flynn, 13, considers Supercars driver Cam Waters one of his idols. Picture: file image
CXR Racing
Jye Flynn
Age: 13
School: Pacific Lutheran College, QLD
Racing since: 2019
Top achievements: "Podiums* at the Australian Kart Championships in Perth, pole position* for the Australian Kart Championships at Ipswich and a State title winner in Townsville," Jye said.
Favourite professional driver: "I follow Cam Waters, he's probably one of my biggest idols," he said. "All the competitors and racing against everyone is really fun.
"I'm really enjoying the sport at the moment and would like to just keep improving on my karting in the next few years."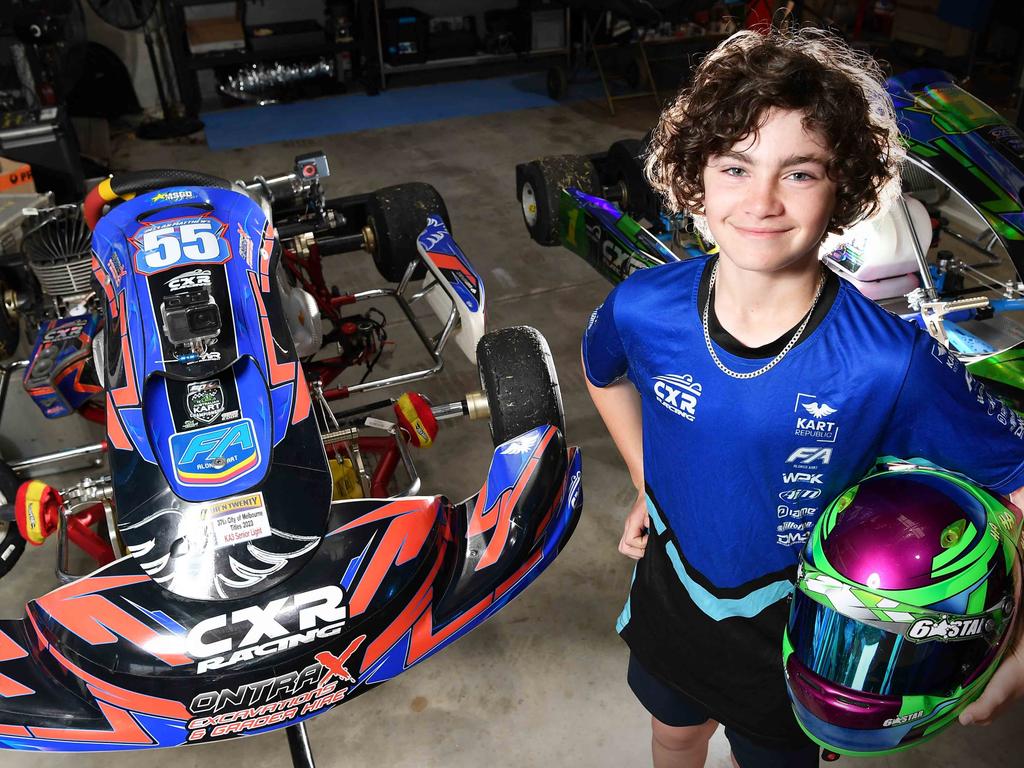 At just 13, CXR Racing talent Jye Flynn has already achieved podiums. Picture: Patrick Woods.
Dom Penman
Age: 15
School: Suncoast Christian College, QLD
Racing since: 2015
Top achievements: "Pole position at the Victorian States before finishing second in the final. Winner of the KA4 (unrestricted) Ipswich Championships and second place in KA3 (small restrictor)," Dom said.
Favourite professional driver: Max Verstappen
"I just love the speed, the racing and the karting mixed in with the people and the positive environment," he said. "Hopefully I'm still racing cars like Formula Ford or in the Super2 series.
"I was recently accepted into the Ferrari Driver Academy (FDA) camp in Malaysia to drive F4s. Hundreds of kids applied for that so to be accepted is really exciting."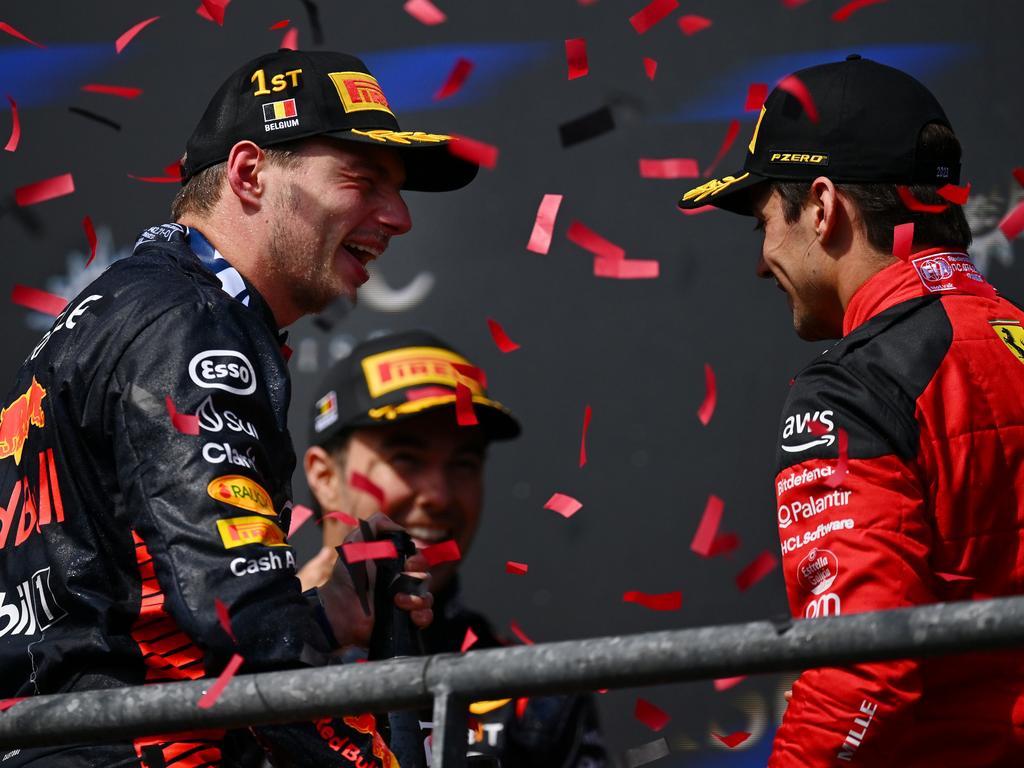 Race winner Max Verstappen shared a laugh with third-placed Charles Leclerc, right, on the podium during the F1 Grand Prix in Spa, Belgium, on July 30. Picture: Dan Mullan/Getty Images
HOW TO GET TO FIRST GEAR
And if you feel the need for speed, as well as kart racing there are introductions to racing through Motorsport Australia, including the First Gear program for kids aged 12-17. Run in small groups, First Gear gives participants a chance to learn new skills from expert instructors in a safe environment. After mastering the basics of car control, progression* options could include participating in club level motorsport events.
Upcoming First Gear programs are running in NSW (Sunday 3 September), VIC (Saturday 16 September) and SA (Saturday 21 October).
GETTING GIRLS ON TRACK
Racing has been a male-dominated* sport since it began but all that could change with Girls on Track – Inspire, a free program that gives girls aged eight to 15 a unique opportunity to gain insight into motorsports through activities and workshops. Upcoming FIA Girls on Track – Inspire dates include Friday 15 September (VIC), Saturday 14 October (VIC) and Thursday 23 November (SA).
POLL
GLOSSARY
powerhouse: person, organisation or country with great energy, power or influence
launching: starting, opening, creating
caters: provides everything needed by a certain group
data analysis: looking closely at facts, figures and other particulars to learn useful information, often for future use
contested: involving a competition, competing for something
podiums: instances of finishing first, second or third in a race
pole position: qualifying first in trials to get the front position at the start of a race
progression: act of moving forward, making progress, passing on to the next level
male-dominated: something that has mostly had men holding the majority of power and influence
EXTRA READING
F1 has new Aussie kid on the grid
Getting the boot can't take shine off Ricciardo
Meet Australia's pint sized world champ
QUICK QUIZ
The CXR Racing team sits in what place in the team championship standings?
How many points behind first place are they?
Where did Jye Flynn achieve podiums?
Who does Jye name as his biggest idol?
Who is Dom Penman's favourite professional driver?
LISTEN TO THIS STORY
CLASSROOM ACTIVITIES
1. Karting fun
What skills do you need to learn and practise to become successful in kart racing?
–
–
–
–
What attracts young people to the sport and why is it becoming increasingly popular?
–
–
–
What are some of the dangers of kart racing?
–
–
–
Which career could kart racing lead to?
Time: allow 20 minutes to complete this activity
Curriculum Links: English, Health and Physical Education, Personal and Social, Critical and Creative Thinking
2. Extension
Is motor racing a sport you might be interested in becoming involved in? List you reasons why or why not.
What could be some of the barriers in getting involved in the sport?
Time: allow 10 minutes to complete this activity
Curriculum Links: English, Health and Physical Education, Personal and Social, Critical and Creative Thinking
VCOP ACTIVITY
Encouraging more girls to join racing
Explore the information in the article and write a persuasive paragraph encouraging more girls to join the racing scene.
In pairs, read the article carefully and take notes about the CXR Racing team, young drivers Jye Flynn and Dom Penman, and the programs to introduce kids and girls to racing.
Think about why it's important for both boys and girls to participate in racing. Consider the benefits and challenges.
Together, write a persuasive paragraph (six to eight sentences) encouraging more girls to join the racing scene. Use information from the article and your discussions. Highlight the benefits of participating and mention the programs available, such as Girls on Track – Inspire, to support their involvement. Try to persuade girls that racing can be an exciting and empowering experience for them.
Try and use the information from the article and your discussions.
– Include why racing can be exciting and beneficial for girls, and mention the programs like Girls on Track – Inspire that support their involvement.
– Use persuasive language to convince girls that racing is a great opportunity.
Edit and Uplevel: After writing, read through your tribute aloud to yourself to make sure your ideas are clear, there are no omissions, and the writing makes sense. Next, you can check for any spelling or grammar mistakes that you can fix. Remember to use emotive and persuasive language to make readers really consider your points of view.
Time: allow at least 30 minutes to complete the task
Curriculum Links: English, Oral Language, Big Write, VCOP