FOOTY fans love to see their sports stars in action but often the most vital people on the field are overlooked.
The unsung heroes of AFL, the umpires, are being celebrated and recognised this week during National Community Umpiring Week.
The week highlights the work of umpires in local football and aims to encourage people to become involved at the grassroots* level.
At every AFL match this weekend the umpires will be led on to the ground by four first-year community umpires, giving them a taste of an elite match-day experience and showing them what's possible for their career.
AFL Tasmania umpiring development co-ordinator Sam Bridges said while the week was about highlighting the vital role the whistleblowers played in the game, it was also about trying to attract more to the ranks*.
"There are a lot of new opportunities­ for umpires going around at the moment, obviously the big boom in female football has helped and is a chance for us to get more females­ into umpiring as well," said Bridges, who recently moved to Tasmania from Victoria.
"When I was working there (Victoria) I was getting into schools and we had some real success there, so my aim is to bring that down here, get into schools, get numbers in and get them umpiring junior and senior leagues around the state."
Two relatively new faces are brothers David and Andrew Monks, who are starting out as boundary umpires.
"I thought I would give it a go, and with my football I thought it would help out with my fitness," David said.
On the back of the successful first season of AFLW, the AFL could soon see its first female field umpire.
VFL umpire Eleni Glouftsis has impressed AFL umpires' boss Peter Schwab, who said Glouftsis was on the league's roster and had greatly improved her running this season.
"She's umpired in the VFL all this year and she's going really well. We're pleased with her progress," Schwab said.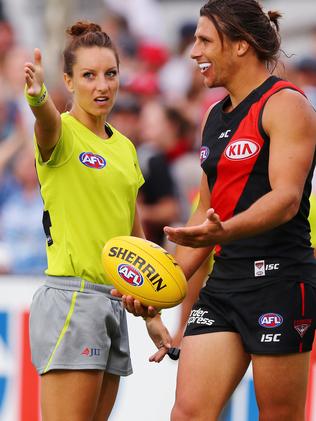 Glouftsis, who officiated in her first AFL pre-season match last year, was selected for all four weeks of the pre-season JLT Community Series this year.
"Like all umpires, they've got to make good decisions, so I think her decision-making has been really good," Schwab said.
"Not that bouncing is high on the agenda, but she bounces the ball pretty well."
GLOSSARY
grassroots: the most basic level of an organisation
ranks: group
LISTEN TO TODAY'S STORY
CLASSROOM ACTIVITIES
Activity 1. What type of person makes a good AFL umpire?
Think about what an umpire has to do during a match. List all of the things that an umpire would need to have or be able to do.
Time: allow 15 minutes to complete this activity
Curriculum links: Critical and Creative Thinking, Health and Physical Education
Extension:
In the story, you have read that there are not yet any women field umpires in the AFL. Why do you think that this is the case?
Create a mind map or list of reasons why there are no women field umpires in elite level footy.
Then think about some things that can be done to change this. Write them down.
Time: allow about 20 minutes
Curriculum links: Critical and Creative Thinking, Health and Physical Education
Activity 2. Poster
Create a poster advertising National Community Umpiring Week​.
Your poster should help people understand why umpires are so important in our community.
Use information in the story to give you ideas.
Time: allow 30 minutes to complete this activity
Curriculum links: Visual Communication and Design
Extension:
Footy umpires are unsung heroes, that is, they do an important job with minimal praise.
Think about people in other important jobs who are unsung heroes and write down as many as you can.
Choose one of these jobs. Plan and write a news story or create a storyboard for a TV news segment about this job and why it is so important.
Time: allow 40 minutes to complete this activity
Curriculum links: English and Media Arts
VCOP ACTIVITY
(Vocabulary, Connectives, Openers, Punctuation)

Dialogue Demolisher!
If you demolish and remove all the dialogue in this article, there will be nothing left! So, your challenge for this task is to rewrite the dialogue in the article using all your creativity you wish. You can make it serious or light-hearted and funny. But try to use dialogue related to the topic.
Good luck!
(Approx. 15 minutes)
Curriculum links: English, Big Write, VCOP
EXTRA RESOURCES
PREMIERSHIP GUERNSEY GIFTED BACK
INTERNATIONAL SPIN ON AUSSIE GAME