The Matildas won't be hurried into rethinking their World Cup plans despite a "disastrous*" opening loss to Italy.
The Australians were beaten 2-1 in Valenciennes in France on Sunday by a team making their World Cup return after a 20-year break.
Aussie goalstriker Sam Kerr opened her World Cup account after scoring in the 22nd minute, but the rest of the match wasn't pretty.
The high defensive line employed by new Australian coach Ante Milicic nearly cost the Matildas dearly, with two Italy goals ruled out by marginal off-side calls.
Italy's Barbara Bonansea scored her national team's first goal in the 56th minute. She scored the winner by outjumping Sam Kerr for a cross at the back post off a last-gasp* corner kick.
Matildas legend Heather Garriock, who played at three World Cups and is now Canberra United coach, labelled the match "disastrous".
"I'm so upset. More for the style in which we played the second half … this high line is absolutely ridiculous," she said on Optus Sport.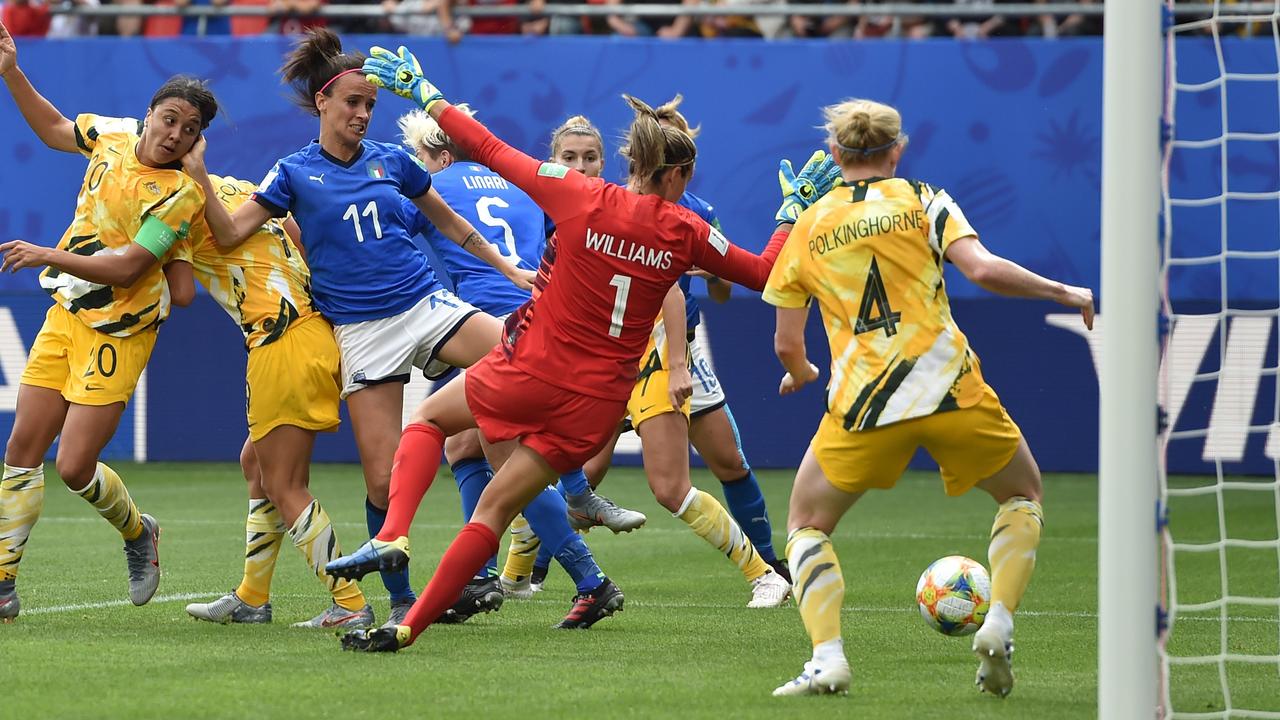 Milicic said his side must do better.
"When we played our football we looked decent, but it was only in patches," he said.
"We need to be a little bit more brave and composed* on the ball.
"We need to have a better understanding when to drop and when to stay high, and the position of the goalkeeper."
Matildas heartbroken by Italy
Aussie forward Caitlin Foord suggested the Matildas, who have enjoyed Milicic's tactical* changes since he took over in February, weren't looking for an overhaul*.
"No World Cup is won on the first game," she said.
"There's a lot of positives to take.
"We're here to play our style of football … we believe that win will us the World Cup so we'll keep doing that."
The pressure is now on Australia to win against their remaining Group C opponents
Brazil and Jamaica.
HIDDEN TALENTS OF OUR MATILDAS
Aside from being superb footballers, many of our Matildas stars possess hidden talents.
One of our star defenders loves to belt out a tune on the trumpet, another had to make a choice between cricket and football when she was 15.
Another of our Matildas can walk on her hands and another started playing when she was just three years old.
Find out the hidden talents of our Matildas stars here:
GLOSSARY
disastrous: terrible or awful
composed: calm and under control
tactical: clever planning
overhaul: repair or rebuild
EXTRA READING
Comeback kid Ash Barty wins the French Open
Maroons steal Origin Game 1 from NSW
QUICK QUIZ
Who scored the opening World Cup goal for Australia?
How long since Italy has played at a Women's World Cup?
What is the name of the Matildas' coach?
Which other teams are in Australia's Group C?
Which Matildas player can walk on her hands?
LISTEN TO THIS STORY
to come
CLASSROOM ACTIVITIES
1. 'Pep Up' the Matildas!
It can be disheartening when your sports team loses, especially when you feel you should have won and when you hope to go much further in the competition.
Imagine you have been invited to speak to the Matildas before their next game.
Write a speech to 'pep them up' and boost their spirits. Use the article to help you make references to their previous game and why they should not give up hope. You might like to refer to the coach's or players comments made about the game. Make your speech positive and upbeat. Use lots of encouraging words and phrases to raise their spirits before they take on the next country.
Time: allow 20 minutes to complete this activity
Curriculum Links: English, The Arts – Drama, Personal and Social Capabilities
2. Extension
Hidden Talents
Which of the 'hidden talents' of the Matildas do you find most impressive? Why?
Do any of your teachers or classmates have 'hidden talents'? What type of 'talents' are most common? Find out what talents are lurking in your classroom by surveying your class. Can anyone bake a delicious cake, knit a pair of socks, play an instrument or is anyone excelling in a sport?
Make a list of all the amazing talents in your class. Some people may have more than one. Don't forget to include your own. Collate these talents into categories. For example; Sport, Art & Craft, Cooking, Music etc.
Time: allow 25 minutes to complete this activity
Curriculum Links: English, Personal and Social Capability, Numeracy
VCOP ACTIVITY
After reading the article, with a partner, highlight as many pieces of punctuation as you can find in green. Discuss how these are being used, where and how often. What level of the punctuation pyramid is the journalist using in this article?

HAVE YOUR SAY: Who is your favourite Matildas player?
No one-word answers. Use full sentences to explain your thinking. No comments will show until approved by editors.