Former PM* John Howard once said that the captain of the Australian cricket team was the second most important leader in the country, sitting just below the Prime Minister.
From that we may deduce* that the job of coach of the Australian Cricket team is a fairly important position too.
Coaches play a pivotal* role in a sporting team's success, both on and off the field.
This week we saw the Australian Cricket team's coach, Justin Langer, depart amid much controversy from the position he had held since 2018.
Langer was a star batsman in his day as a player, opening the batting for Australia with Matthew Hayden during a golden period for Australian Test cricket in the early 2000s.
He came to the job of Australian coach after the disastrous "sandpaper-gate" crisis in South Africa when then-captain Steve Smith, opening batsman David Warner and player Cameron Bancroft were suspended for 12 months for ball tampering. Coach Darren Lehmann also stepped down.
Langer was appointed head coach to get the side back on track and to restore discipline.
In a little over three years the Australian Cricket Team, under Langer, had won the 2021 T20 World Cup, an Ashes series, and had been voted the ICC's top Test cricket side.
Langer himself had been voted Coach of the Year by Wisden Cricket Monthly and was inducted into the Cricket Hall of Fame. Sounds good right?
Not really. Despite having won major tournaments, some Australian players were not happy with Langer's "intense" style and made it known to Cricket Australia.
Langer was offered a short contract renewal which he declined before resigning.
This looked like a great topic for a cartoon!
The issue I wanted to concentrate on was, that despite the team winning victories, it didn't help the coach win a new contract.
Trophies in the trophy cabinet were not key performance indicators* for the people running cricket at Cricket Australia apparently. The team had to be happy as well.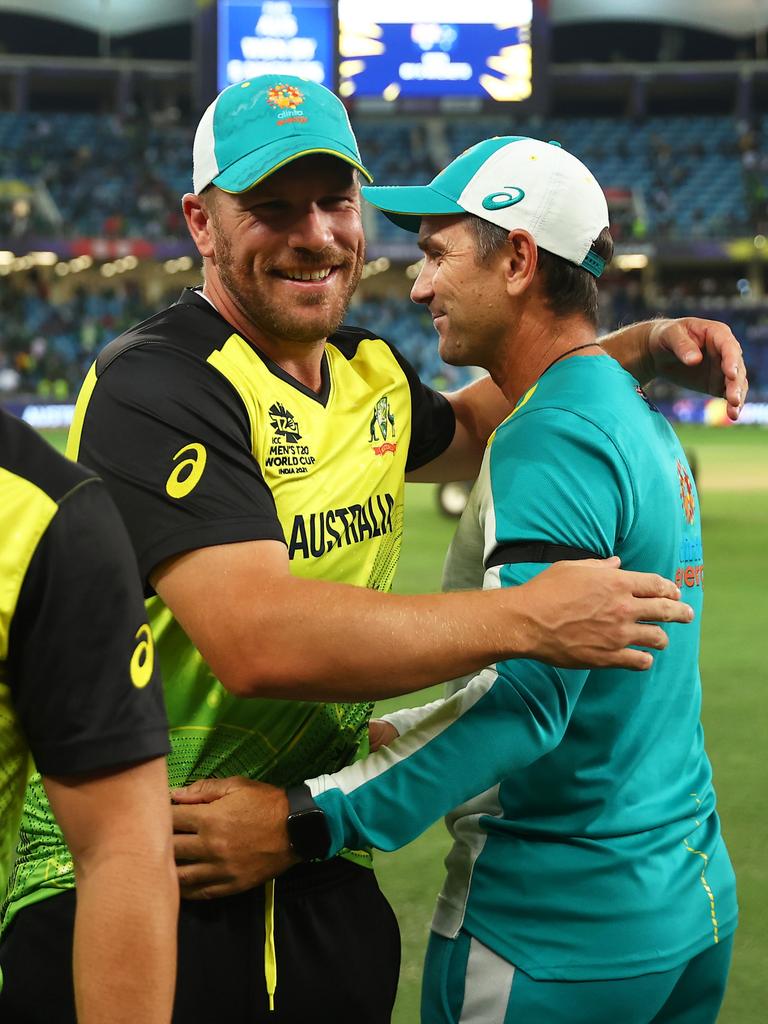 I imagined a disappointed Justin Langer walking out of the Cricket Australia headquarters, passing the portraits of cricketing greats like Sir Donald Bradman and Victor Trumper.
I was looking for a symbol of the coach being forced out. Those who wanted his head had largely succeeded and so I drew him walking down the corridor with his head under his arm, like a batter carries their bat when they are dismissed on the field. It was a strong graphic.
I wanted another image in the cartoon though to convey how seemingly successful the team results were.
I thought about how when people are fired they often gather up their belongings from their work desk – framed photographs, their coffee mug, a folder or two – and it all goes in a cardboard box.
So I gave Justin a box under his other arm with some knick-knacks from his desk: an Ashes Trophy, the T20 World Cup, Hall of Fame medal, Wisden's top honour, etc.
Quite a bit of trophy bling was in that cardboard box as he trudged out the front door!
And that was my punchline*. The cartoon wanted to convey the idea that despite success on the field it did not translate into job security for the coach.
As the saying goes, "It's just not cricket!"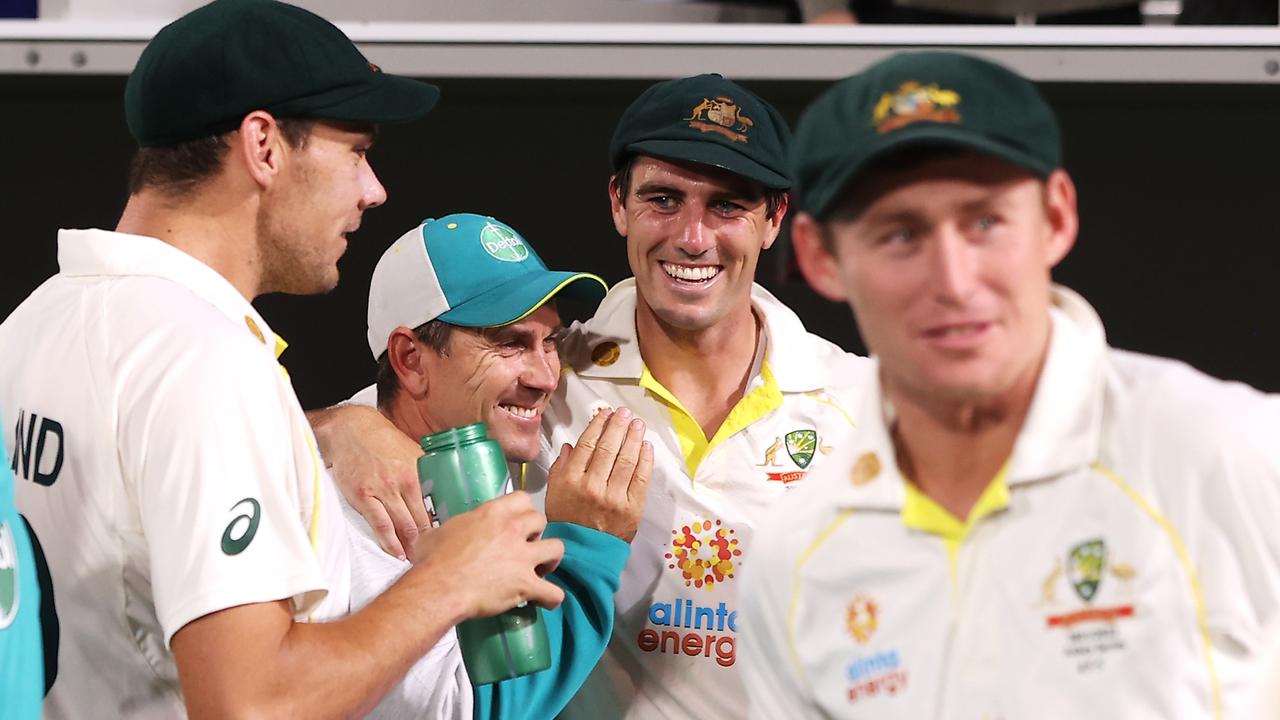 GLOSSARY
PM: stands for Prime Minister
deduce: work out, come to an answer
pivotal: extremely important
key performance indicators: things that someone is expected to do in their job that can be measured to see how well they are performing
punchline: last part of a joke, story or cartoon that explains the meaning or makes the point
EXTRA READING
Aussies make cricket T20 World Cup history
Langer to get new cricket team selection powers
Coach Langer to rebuild respect in cricket
QUICK QUIZ
Who did Justin Langer open the batting with when he played for Australia?
What incident in South Africa led to the appointment of Justin Langer as coach?
Name two of the successes the Australian team has achieved under Langer.
Why did Mark Knight draw Justin Langer carrying the box of trophies under one arm?
What was Mark Knight's punchline in this cartoon?
LISTEN TO THIS STORY
CLASSROOM ACTIVITIES
1. Caption it!
Cartoonist Mark Knight has not used a caption on this cartoon, letting the imagery speak for itself.

Read Mark's explanation of what the cartoon means again and write two, three or four short sentences, just to make sure you understand what the cartoon is saying.
Using your sentences to help you, write a caption for the cartoon or some thought bubbles or quotes from one of the people in the cartoon that will make Mark's meaning clearer for children or people who haven't been reading the news this week.
Time: allow at least 20 minutes to complete this activity
Curriculum links: English, Humanities, Visual Arts, Critical and Creative Thinking
2. Extension
Look through the most recent stories on Kids News and choose one to draw a cartoon about.

Use Mark's three-step process to get started:
What is my subject?
What do I want to say about this issue?
How do I say it? Do I use visual metaphors (an image that the viewer is meant to understand as a symbol for something else), multiple panels or symbolism (when one idea, feeling or emotion is represented by something else such as a picture, character, colour or object)?
Time: allow at least 40 minutes to complete this activity
Curriculum links: English, Humanities, Visual Arts, Critical and Creative Thinking
VCOP ACTIVITY
Describe it!
Look at the cartoon and make a list of five nouns that you see. Then describe those five nouns with five adjectives.
Add a preposition to those five nouns and adjectives.
Now choose your favourite bundle and put all the words together to make one descriptive sentence.