Lance Franklin has grateful crowd on its feet in Mark Knight cartoon
Lance 'Buddy' Franklin's retirement this week from the sport that made him famous inspired a deceptively simple cartoon capturing an AFL career with too many highlights to name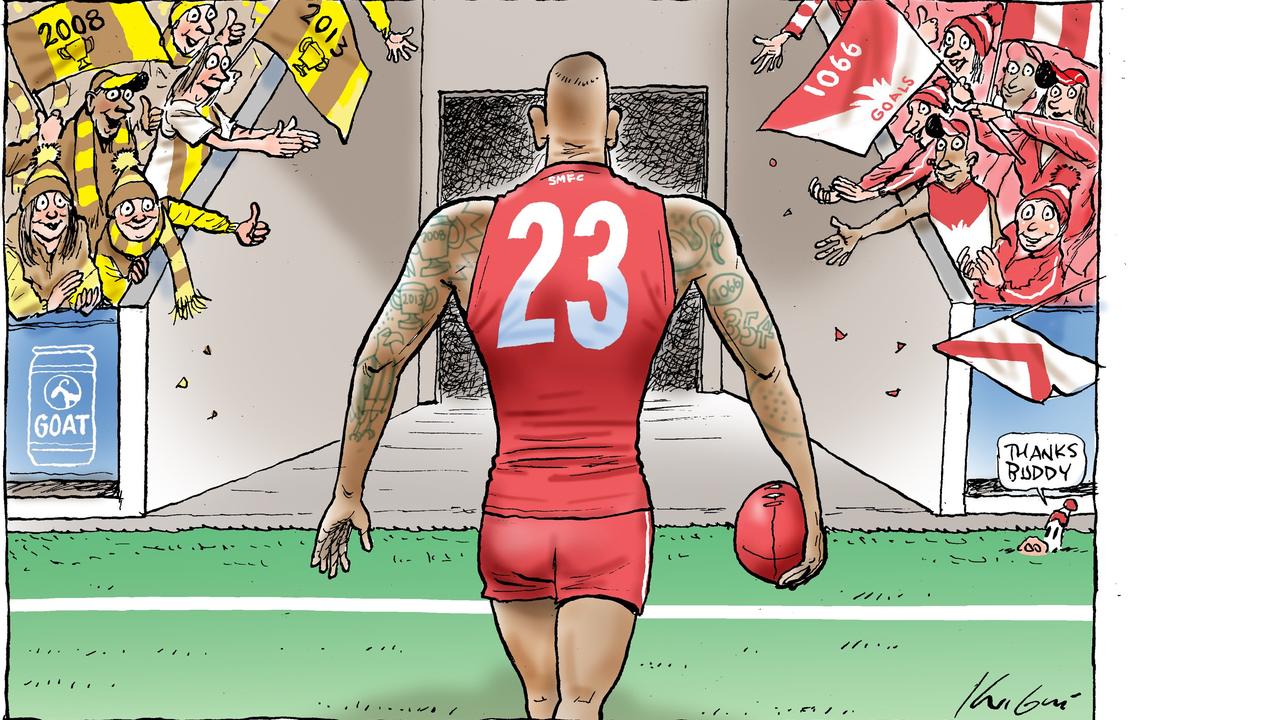 Cartoonist Mark Knight fondly farewells Buddy Franklin, whose greatest sporting moments will live on in the annals of AFL history long after the man has left the ground. Picture: Mark Knight
Politics is not the only topic for my editorial cartoons. Sport is also a major point of interest for my work. Whether it be cartoons about the Ashes cricket series, the Matildas during the Women's World Cup soccer or even tennis players behaving badly, sport serves up some great moments to draw about.
Such as the case this week when Indigenous AFL legend Lance "Buddy" Franklin retired from the game, aged 36.
Sydney Swans coach John Longmire and Buddy embrace after the retirement announcement this week. Picture: Phil Hillyard
I wanted to pay tribute to Buddy's career but suddenly realised, 'How do you sum up the achievements of someone like him in one cartoon'? If we were to make a quick list of what he has done, it would look something like this.
He was drafted* by Hawthorn in 2005 as a young kid from Western Australia. At the Hawks, he played in two AFL Premierships and won two Coleman medals for the most number of goals kicked in one season. That included kicking over 100 goals in 2008 and being awarded the goal of the year in 2010 and 2013.
Franklin's career began at Hawthorn. He's pictured here in 2008 scoring his 100th goal of the season in a game against Carlton. Picture: file image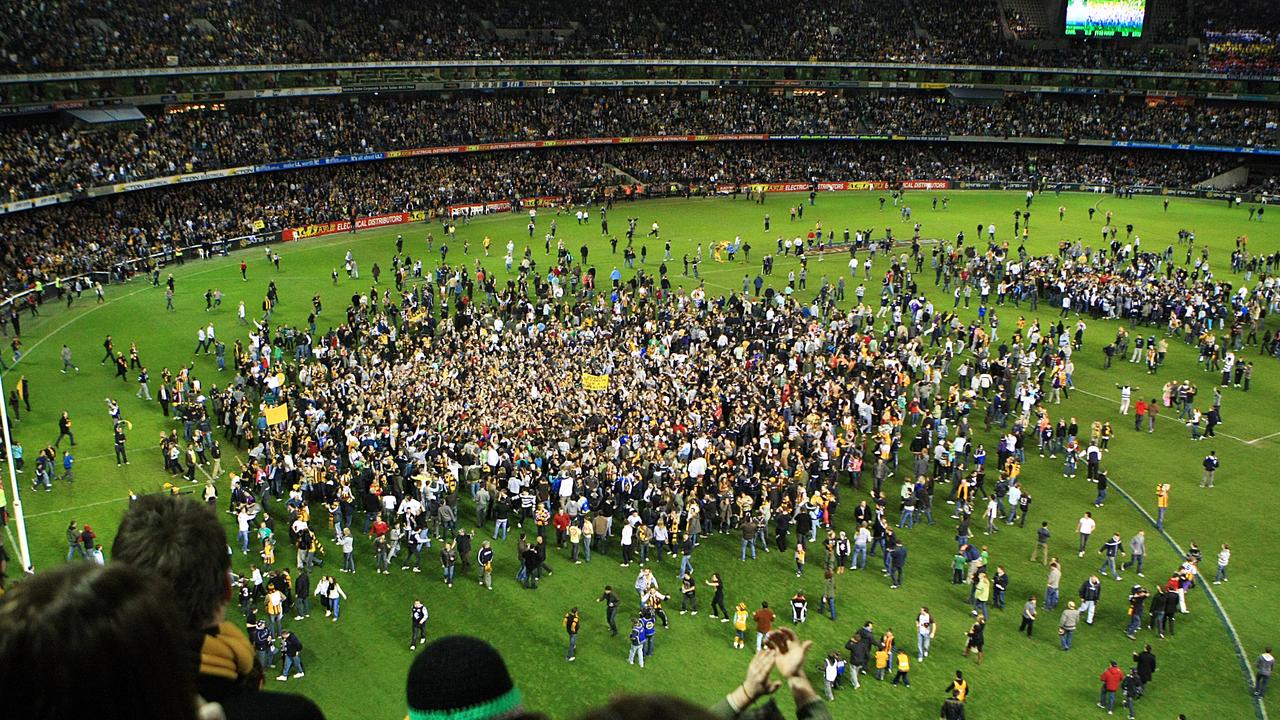 Hawthorn fans invaded the ground to celebrate Lance Franklin's 100th goal for the season back in 2008.
Franklin's freakish* ability in long distance kicking accuracy, speed and marking made him a standout and his trademark* left foot kick from 50m from goal – while on the run down the boundary line – was a Buddy trademark.
In 2014 he moved to the Sydney Swans and played in three more Grand Finals (unfortunately losing) and played his 300th game in 2019.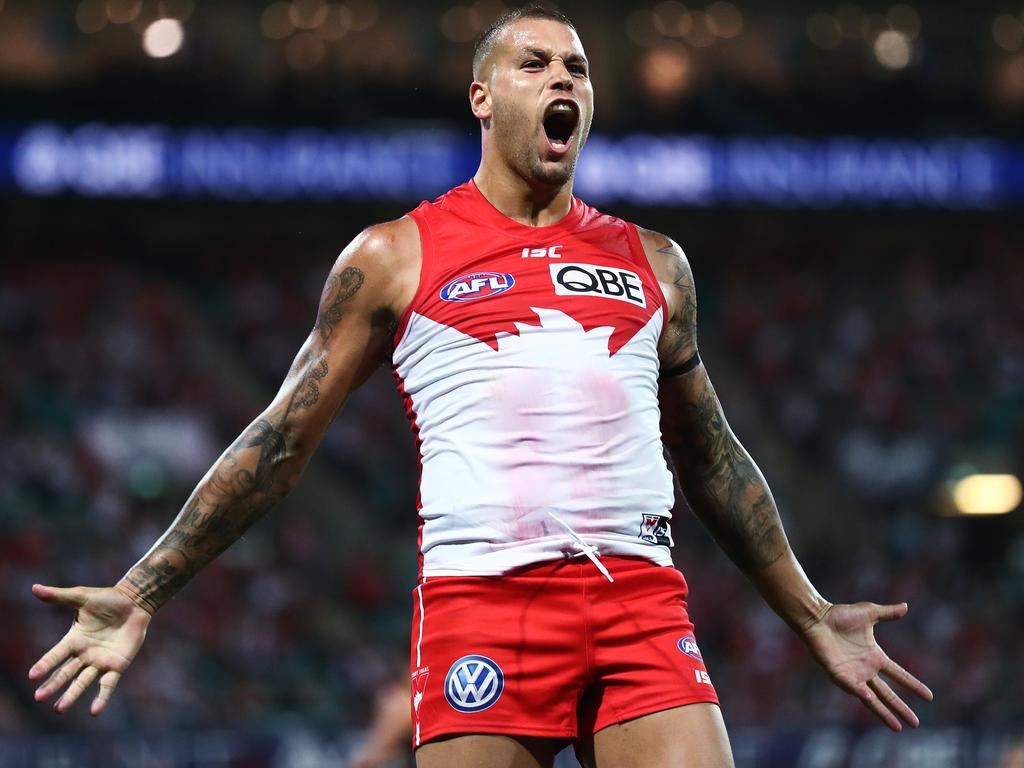 A very familiar sight to AFL fans: Franklin celebrating another goal. Picture. Phil Hillyard
His most memorable moment was in 2022, when he kicked his 1000th goal at the SCG. You have probably seen the moment when the ball sailed between the goalposts and thousands of spectators jumped the fence and ran onto the ground, surrounding and congratulating a beaming Buddy Franklin and his teammates.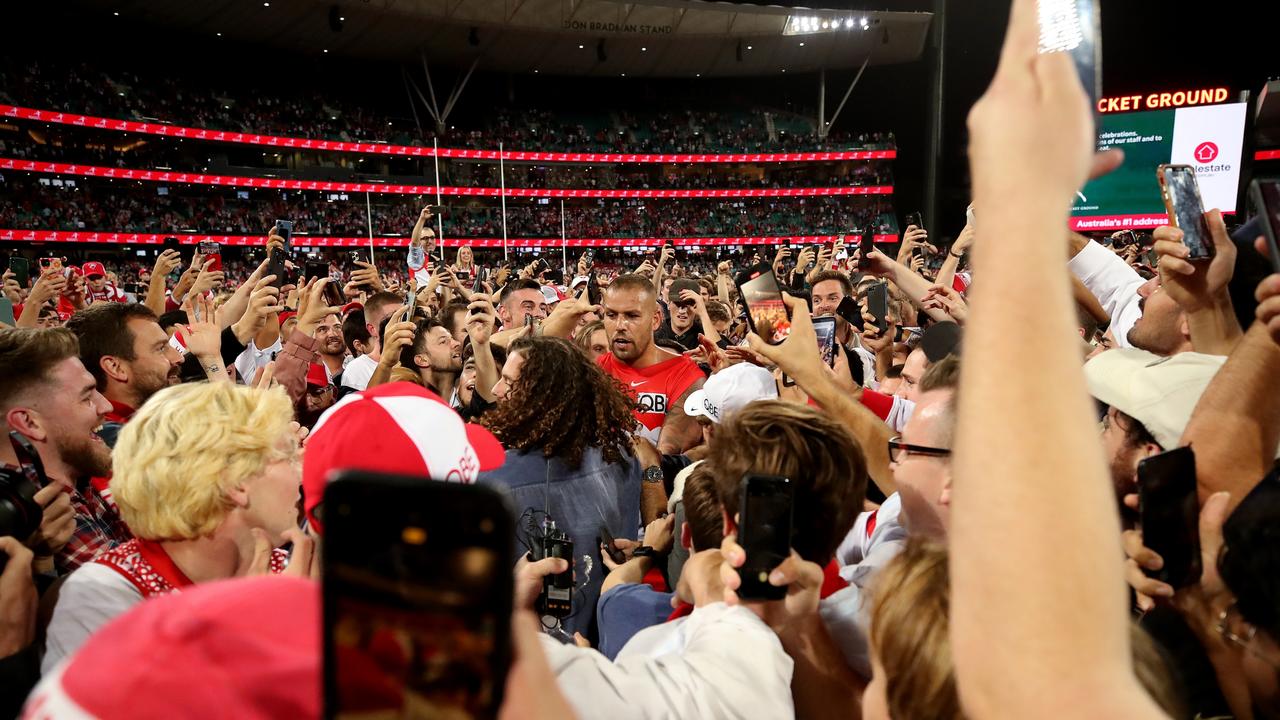 Lance Franklin was mobbed by fans after kicking his 1000th AFL career goal during the Round 2 AFL match between the Sydney Swans and Geelong Cats at the SCG on 19th March 2022. Buddy became only the 6th player in AFL history to reach the 1000-goal milestone. Picture: Phil Hillyard
To get all of Buddy's achievements into one cartoon would be impossible, I decided. I would need the walls of the Sistine Chapel* to pay tribute to all of his milestones*!
So I thought I would go the other way and simply draw him leaving the ground for the last time. The view is from behind as he walks towards the players' race*, so I could display the number 23 on his guernsey*, which he made so famous at both the Hawks and the Swans.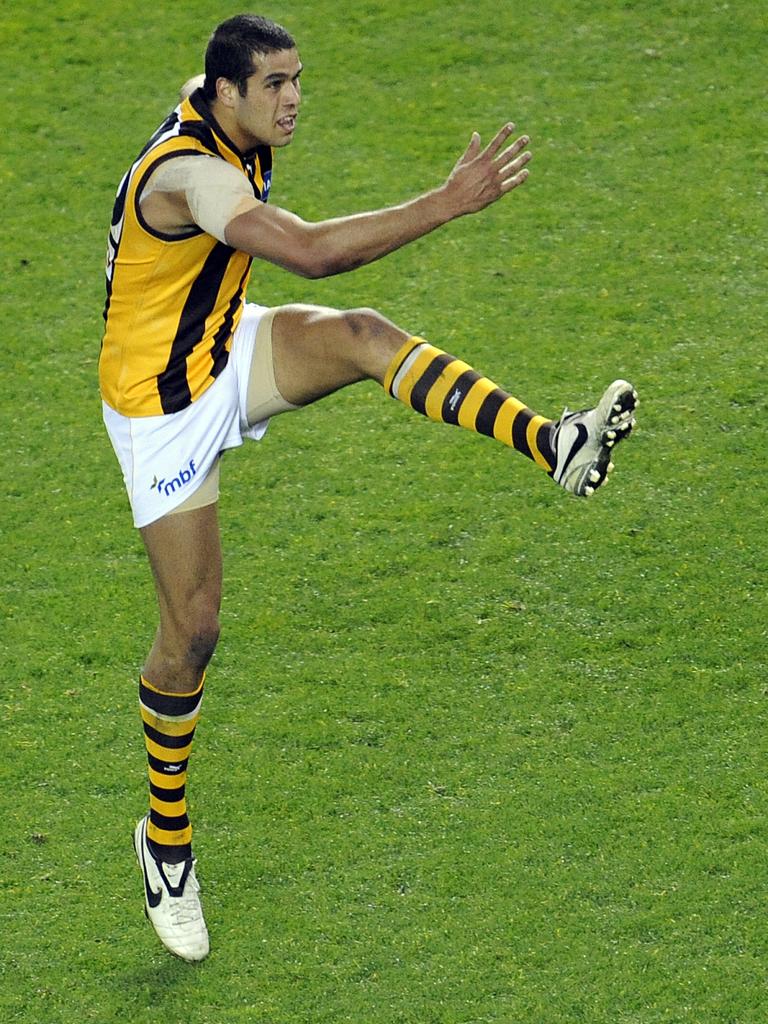 Lance Franklin's 100th goal was only the beginning.
Even though I was drawing Buddy from behind, it was still important to try and get a likeness of him through the body language of how he walks. He has a very distinguishable gait*, his arms held out from broad shoulders, the waist tight, head held up.
I thought it was important to also show the two teams he played for and I thought I could do this by having Hawks and Swans supporters on either side of the entry to the change rooms, cheering and shouting their support.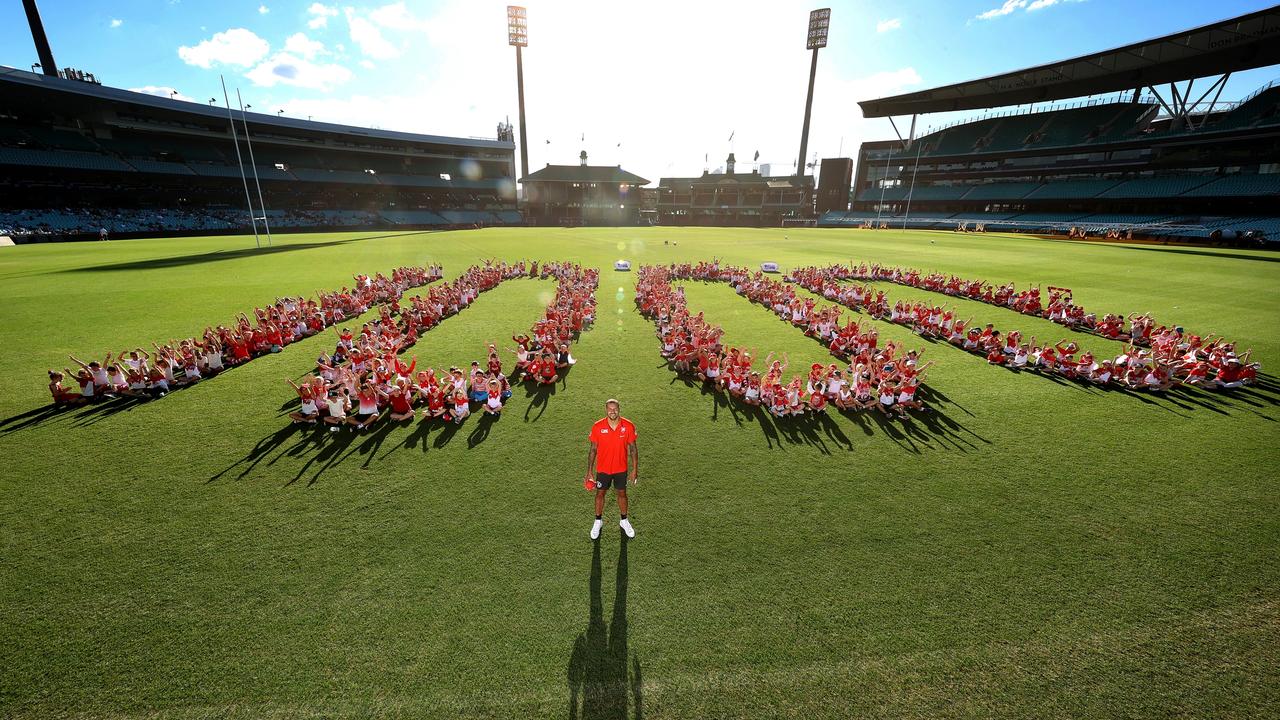 Sydney Swans superstar Lance Franklin with 1000 NAB AFL Auskick players at the SCG, marking the historic 1000 goals kicked by Buddy in his career. Picture: Phil Hillyard
One of the things you can do with this type of cartoon is add in small images that readers can look for that add to the narrative*. On the left hand side of the players' race there is an ad for a can of beer. The beer is called GOAT which is an acronym* for Greatest of All Time. If you look closely at Buddy's tattoos you will see that I have also reimagined them to signify important milestones in his football journey.
And finally on the right hand side is my little pig, saying what all footy fans might say as Lance Franklin walks from the ground for the last time. Thanks, Buddy.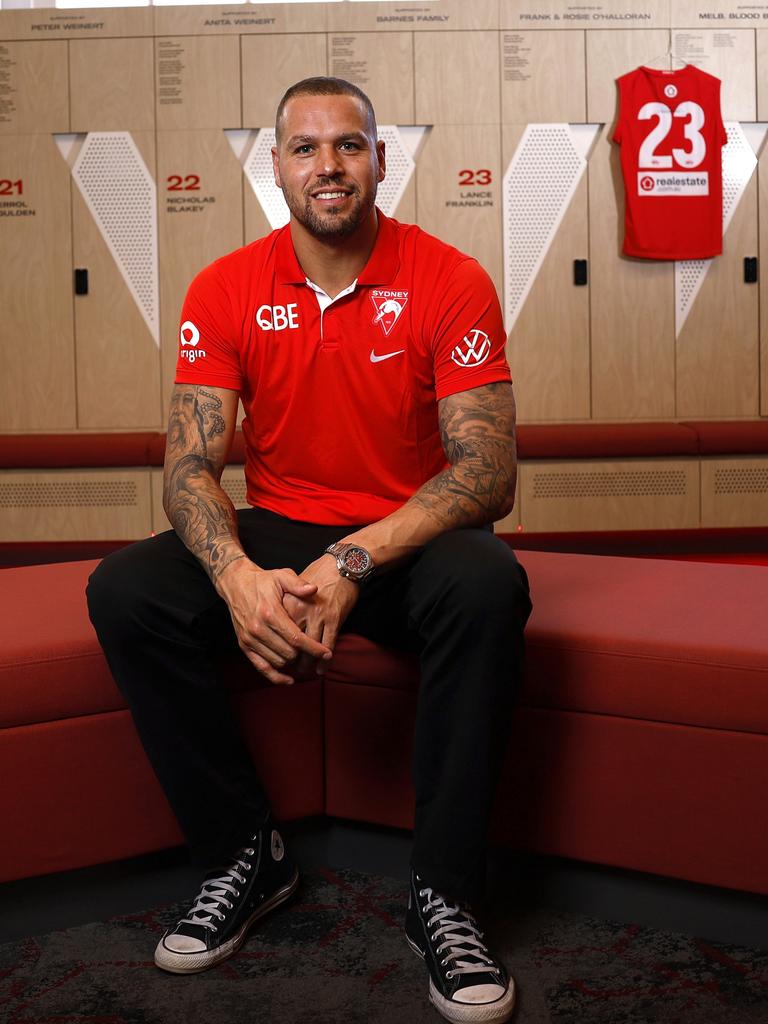 Sydney Swans star Lance Franklin announced this week that he is retiring from the game effective immediately. Picture: Phil Hillyard
POLL
GLOSSARY
drafted: selected for some purpose
freakish: very unusual, a quality or set of qualities setting someone apart
trademark: special sign or symbol that identifies a person, product or company
Sistine Chapel: the chapel of the Pope in the Vatican at Rome
milestones: important events in the development or history of something or in someone's life
players' race: the tunnel leading players in and off the ground from the change rooms
guernsey: the jersey or top worn by AFL players
gait: manner, style or particular way of walking
narrative: story, tale, account, record
acronym: an abbreviation made up of the first letters of each word in the name of something, pronounced as a word
EXTRA READING
Buddy Franklin gets his ball back
Moments that made sporting history
Footy celebrates Indigenous links
Buddy Franklin named All-Australian captain
QUICK QUIZ
Where is Lance Franklin originally from?
Franklin has played for two clubs in two states – which ones and where?
In what year did Franklin score his 100th goal and for which club?
In what year did Franklin score his 1000th goal and for which club?
What happened after Buddy's 1000th goal that made it even more memorable?
LISTEN TO THIS STORY
CLASSROOM ACTIVITIES
1. Caption it!
Cartoonist Mark Knight has not used a caption on this cartoon, letting the imagery speak for itself.
Read Mark's explanation of what the cartoon means again and write two, three or four short sentences, just to make sure you understand what the cartoon is saying.
Using your sentences to help you, write a caption for the cartoon or some thought bubbles or quotes from the person or animal in the cartoon that will make Mark's meaning clearer for children or people who haven't been reading the news this week.
Time: allow at least 20 minutes to complete this activity
Curriculum links: English, Humanities, Visual Arts, Critical and Creative Thinking
2. Extension
Look through the most recent stories on Kids News and choose one to draw a cartoon about.
Use Mark's three-step process to get started:
What is my subject?
What do I want to say about this issue?
How do I say it? Do I use visual metaphors (an image that the viewer is meant to understand as a symbol for something else), multiple panels or symbolism (when one idea, feeling or emotion is represented by something else such as a picture, character, colour or object)?
Time: allow at least 40 minutes to complete this activity
Curriculum links: English, Humanities, Visual Arts, Critical and Creative Thinking
VCOP ACTIVITY
Describe it
Look at the cartoon and make a list of five nouns that you see. Then describe those five nouns with five adjectives. Now add a preposition to those five nouns and adjectives.
Finally, choose your favourite bundle and put all the words together to make one descriptive sentence.
(For lower reading level articles, remove 'add a preposition')