Being a good sport is considered a very Australian thing.
But what does being a good sport mean? What is sportsmanship?
It's official meaning is fair and generous behaviour or treatment of others, especially in a sporting contest — and three Aussie athletes displayed all this at the Commonwealth Games during the 10,000m women's race.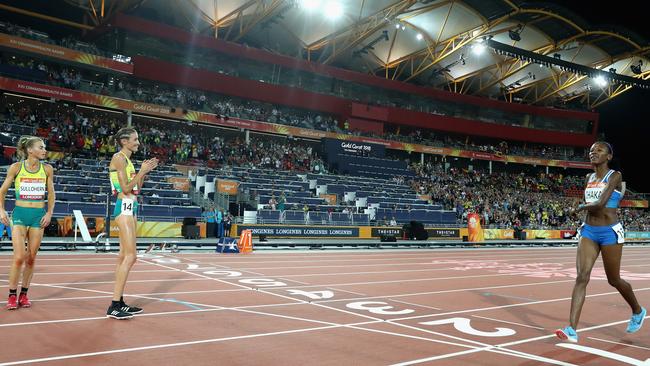 Aussie trio Celia Sullohern, Madeline Hills and Eloise Wellings were the only runners to remain on the track at the end of their event as Lineo Chaka of the little known nation of Lesotho crossed the finish line more than five minutes after gold medal winner Stella Chesang of Uganda.
The Aussies were still in medal contention* chasing Chesang on the final lap with Sullohern producing a personal best* to finish in fifth place.
But as the exhausted Aussies celebrated at the finish line with their competitors, they noticed Chaka running past them, still needing to finish another two laps.
By the time she finally crossed the finish line all of the other 19 competitors had walked off the track — except for the Aussie trio, who were there to give her a massive hug.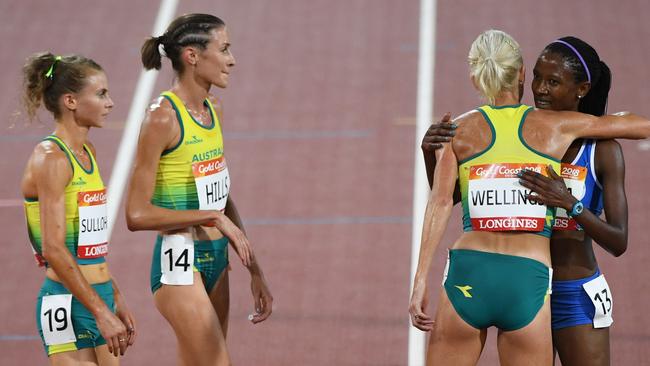 The moment was captured by Herald Sun reporter Lauren Wood.
"Lineo Chaka — from Lesotho — was two laps behind the rest of the 10,000m field," Wood reported on Twitter.
"No competitors left on the arena as she finished — except for the three Aussie girls who waited at the finish line. Nice."
Sullohern said she was proud of the moment.
"I just love racing with those two girls — they're such classy athletes," Sullohern said.
"I think that's the strength of Australian distance running particularly. We're there for each other and we're all out there having a go.
"It was lovely to stand there and show what I hope was a bit of Aussie sportsmanship."
This Aussie moment the opposite to the bad sportsmanship shown by three Aussie cricketers who were recently banned from playing for Australia after admitting to cheating by damaging the ball.
But let's not dwell on the bad. Let's take a look at four other famous acts of good sportsmanship from around the world.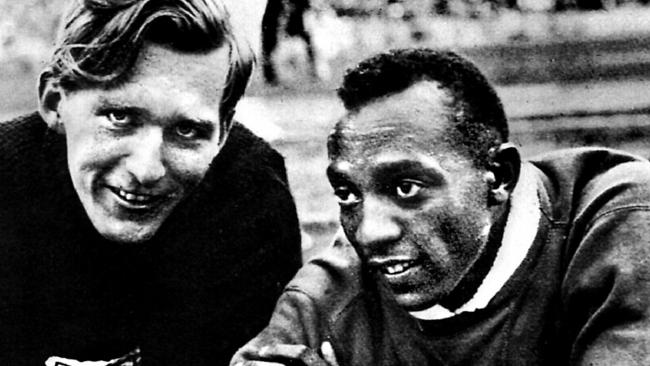 LUZ LONG AND JESSE OWENS
At the 1936 Olympics in Berlin, Owens, the American world record holder in the long jump, had foot-faulted* twice while trying to make the final.
Carl "Luz" Long, the European record holder from Germany, offered Owens advice on how to change his run-up. Owens' next jump was successful and he went on to win the gold medal, with Long earning silver.
"You can melt down all the medals and cups I have," said Owens later. "And they wouldn't be a plating on the 24-carat* friendship that I felt for Luz Long at that moment."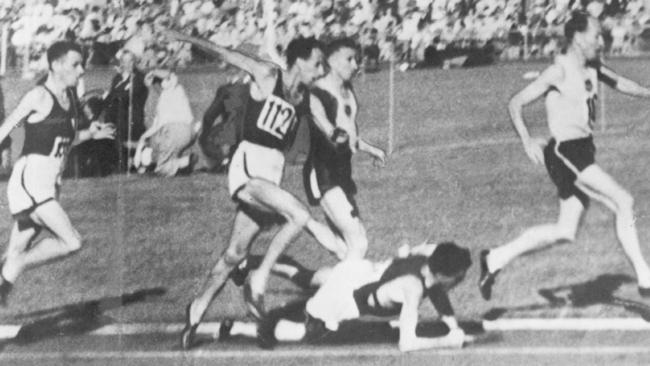 JOHN LANDY AND RON CLARKE
At the 1956 national athletics championships, Australia's John Landy was favourite to win the 1500m final.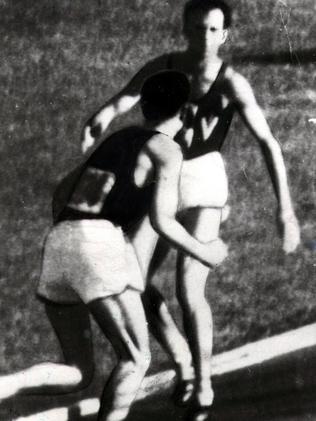 On the third lap of the race, however, Landy had to leap over fellow Australian Ron Clarke as he fell to the track. Landy stopped and went back to check on Clarke.
He helped Clarke up before setting off to catch the leaders of the race who were now 40m in front. In the final lap and a half, Landy caught them and hit the front right near the line to win a remarkable race. Many believe he would have broken the world record if he had not stopped to help Clarke.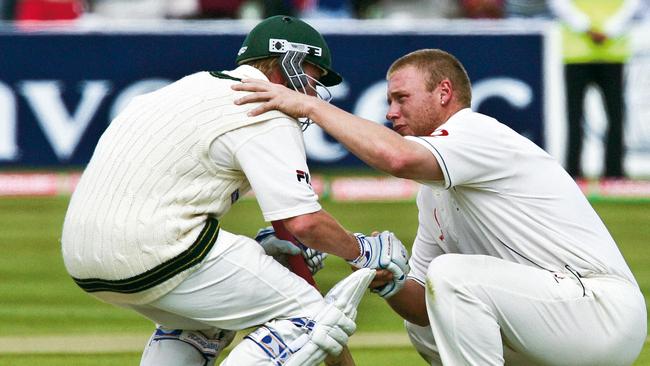 ANDREW FLINTOFF AND BRETT LEE
When England plays Australia in The Ashes in cricket, the rivalry* is fierce, but every now and then you see glimpses of sportsmanship.
During the thrilling 2005 series at Edgbaston in the UK, England looked set to level the series until Australia launched a fightback* and were just three runs from victory. However, a brilliant catch gave England the narrowest Ashes victory of all time. Australian batsman Brett Lee was crushed and fell to the ground. Instead of joining the English on-field celebrations, England bowler Freddie Flintoff consoled Lee saying he respected the Australian and thought he did not deserve to lose.
DEREK REDMOND AND HIS DAD JIM
British runner Derek Redmond was running in the 400m semi-final at the 1992 summer Olympics in Barcelona when his hamstring tore with less than half the race to go.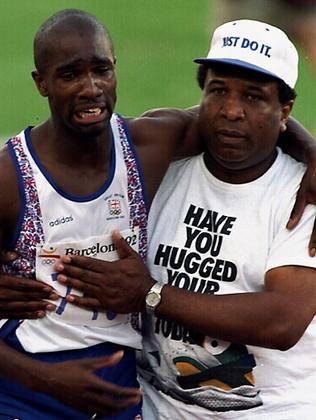 Despite the pain, Redmond got up and tried to hobble to the finish line. In the stands, Redmond's father Jim could see his son in agony and he ran down to help, even though he was not allowed on the track.
Father and son completed the course with Derek in tears to a standing ovation* from the crowd. Although he was officially disqualified*, the moment went down in Olympic history.
GLOSSARY
contention: having a chance to win
personal best: an athlete's best time or score
foot-faulted: breaking the rules by stepping over a line
24-carat: genuine and trustworthy
rivalry: competing for the same success
fightback: a comeback from behind
standing ovation: long applause with the crowd on its feet
disqualified: banned from something such as winning or an activity
LISTEN TO TODAY'S STORY
CLASSROOM ACTIVITIES
1. Good sportsmanship at the Games.
The article details five examples of good sportsmanship.
Summarise each example, using one sentence for each.
Can you find something these actions have in common?
How do you think Lineo Chaka felt at the end of her race?
How may she have felt if the Australian girls left the stadium with the other competitors?
If you were John Landy, what would you have said to Ron Clarke during the race and after the race?
Do you think good sportsmanship is important? Why/Why not?
If it is important, who is it important for? The person showing good sportsmanship or the recipient, or the spectators?
Extension: Choose one of the examples of good sportsmanship and create a certificate for the person showing good sportsmanship. Make sure your certificate details what the good sportsmanship was and the significance of that action. For example, did it show that every competitor is important not just the winners?
Time: Allow 45 minutes
Curriculum links: English, Health and Physical Education, Ethical Capability, Personal and Social Capability.
2. It looks like, feels like, sounds like
Draw up a 'Y' chart (using the lines of the capital Y to divide your page into three sections) Label the sections 'Looks like…', 'Feels like…' and 'Sounds like…'. Think about the definition and examples of good sportsmanship mentioned in the article and examples of good sportsmanship you have encountered in your life. Under the corresponding sections write or draw what sportsmanship, looks like, feels like and sounds like.
For example; Looks like; people smiling
Feels like; pat on the back,
Sounds like; "Well done, mate"
Extension: Think of some examples of good sportsmanship that you have seen (or shown). Remember that good Sportsmanship can be shown other places as well as the sporting field. It might be in the classroom, at recess or lunch, or even when playing a board game at home.
Draw a two-column chart with SAID and DONE as the headings. Make a list of examples of good sportsmanship dividing them into these two categories, things that have been SAID and things that have been DONE.
Choose one or two actions that you can commit to including in your own sporting behaviour, either at school or outside of school. Write these down as a goal for yourself.
Time: Allow 30 mins
Curriculum links: English, Health and Physical Education, Ethical Capability, Personal and Social Capability.
VCOP ACTIVITY
After reading the article, with a partner, highlight as many connectives as you can find in pink. Discuss if these are being used as conjunctions, or to join ideas and create flow.
IN ONE SENTENCE, TELL US WHAT YOU THINK ABOUT THIS STORY
Please do not use one-word answers. Explain what you enjoyed or found interesting about the article. Use lots of adjectives.