Glenn Maxwell records fastest World Cup century in history as Australia beats the Netherlands
Australian batsman Glenn Maxwell has stunned the world with a rapid-fire record-breaking century at the World Cup as Australia thrashed the Netherlands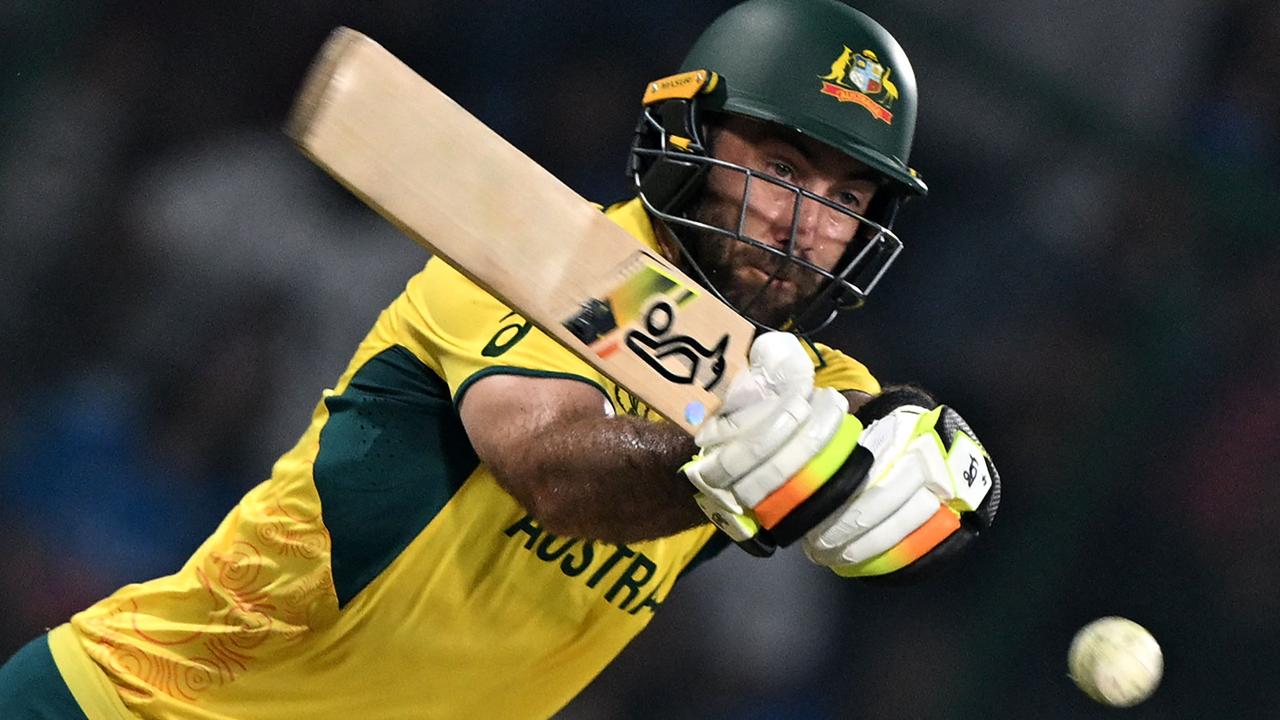 Australia's Glenn Maxwell plays a shot during the World Cup match. Picture: AFP
Australian cricketer Glenn Maxwell has smashed the record for the fastest World Cup century*, needing just 40 balls to score 101 against the Netherlands.
Maxwell beat his own record of scoring a century off 51 balls and South African Aiden Markram's World Cup record of 49 balls set earlier in this World Cup.
"That is simply outrageous," sports commentator Shane Watson said as Maxwell helped take Australia from 4/266 at the end of the 39th over to 6/389 to start the 50th over. That's 127 runs in just 10 overs.
"A complete and utter barrage*," said Watson.
Maxwell, who now has the fastest century by an Australian in one-day international matches, finished his innings in the final over with his score on 106 from just 44 balls. He hit nine fours and eight sixes to reach his total.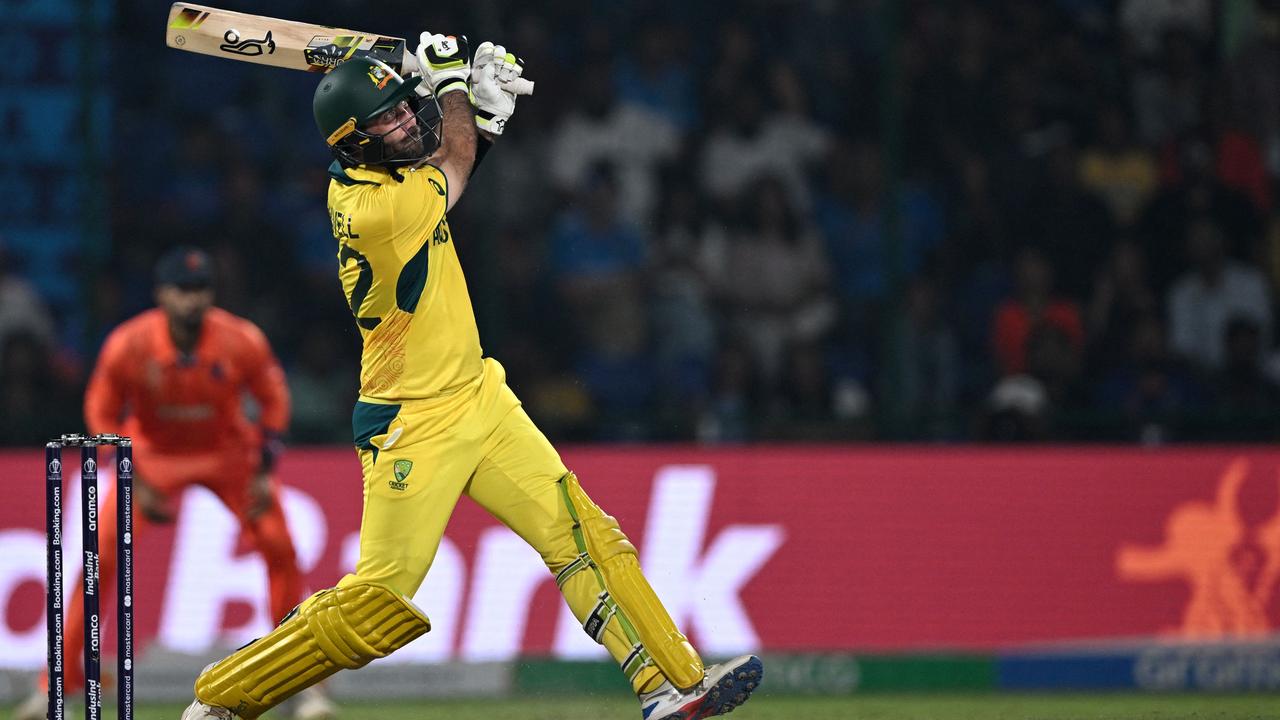 Australia's Glenn Maxwell scored the fastest World Cup century. Picture: Arun Sankar/AFP
He won the player-of-the-match award and the Aussies recorded a 309-run victory — which is the largest winning margin* in World Cup history.
Maxwell said it had been "close to the perfect game" before admitting he'd been "feeling pretty crook* all day" and had considered not batting.
He said he was happy to play a part in Australia's third "really good win in a row" at the World Cup.
Maxwell's century wasn't the only record broken during Australia's innings.
Australian opening batsman David Warner scored his sixth World Cup century and set a new Australian record for number of centuries scored at a World Cup, beating Ricky Ponting's five.
No cricketer in history has scored more World Cup runs at a higher run average than Warner (63.04).
David Warner celebrates his sixth World Cup century. Picture: Getty Images
Aussie spinner Adam Zampa bowled 4/8 and climbed to the top of the tournament's wicket leaderboard. He will start the next game on a hat-trick* after taking two wickets in his final two balls.
Unfortunately for Dutch bowler Bas de Leede, he also set a World Cup record for most runs by a bowler giving away a staggering 115 runs from his 10 overs
Australia will compete against New Zealand on Saturday. The New Zealanders have so far only lost one game to India in the tournament*.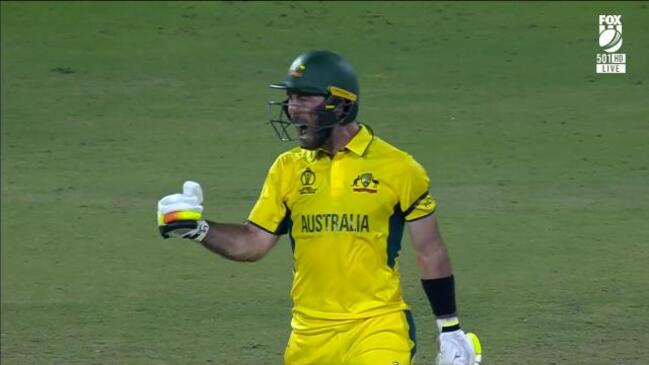 POLL
GLOSSARY
century: when a batter scores 100 runs or more in a single innings
barrage: lots and lots of runs in a short time
margin: an amount by which something is won
crook: unwell
hat-trick: when a bowler takes three wickets in three consecutive balls
skipper: captain
tournament: a sporting contest where each team takes turns playing against one another
EXTRA READING
Aussies face World Cup challenge
Cricket among five new sports for 2028 Olympics
Harris hits six with broken bat and smashes records
QUICK QUIZ
1. By how many runs did Australia win against the Netherlands?
2. Who has scored the most World Cup centuries out of any Australian batsman?
3. Which team does Australia play against next?
4. How many games in a row has Australia won in this year's World Cup?
5. Who won the player-of-the-match award?
LISTEN TO THIS STORY
CLASSROOM ACTIVITIES
1. Create a logo
Design a special logo for the Australian Cricket team's uniform. Your logo should celebrate their achievements.
Time: allow at least 25 minutes to complete this activity
Curriculum Links: English, Visual Arts, Visual Communication Design, Health and Physical Education
2. Extension
How do you think the Australian Cricket team has been able to come back from their shock defeat by South Africa to win the past three matches in a row?
Write a list of strategies that you think would have given the team the motivation to bounce back and win.
Time: allow at least 15 minutes to complete this activity
Curriculum Links: English, Health and Physical Education, Personal and Social Capability
VCOP ACTIVITY
Read this!
A headline on an article – or a title on your text – should capture the attention of the audience, telling them to read this now. So choosing the perfect words for a headline or title is very important.
Create three new headlines for the events that took place in this article. Remember, what you write and how you write it will set the pace for the whole text, so make sure it matches.
Read out your headlines to a partner and discuss what the article will be about based on the headline you created. Discuss the tone and mood you set in just your few, short words. Does it do the article justice? Will it capture the audience's attention the way you hoped? Would you want to read more?
Consider how a headline or title is similar to using short, sharp sentences throughout your text. They can be just as important as complex ones. Go through the last text you wrote and highlight any short, sharp sentences that capture the audience.