FORMER* Essendon football star Michael Long is travelling to the remote* Northern Territory Tiwi Islands to deliver Melbourne charity Footys4all its 20,000th ball to a lucky child.
The Footys4all charity* gives out free balls from all sporting codes to disadvantaged* Australian children in the hope it leads them to kicking goals on and off the field.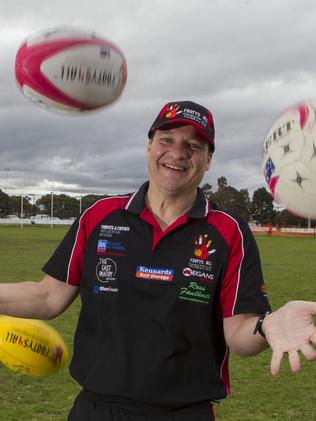 The charity's founder and primary school teacher Michael Gallus believes sport can change a child's whole life and that it doesn't have to cost a lot of money.
"A $10 donation gets us money to get a ball anywhere in Australia," Mr Gallus said.
"Giving a kid a ball is like giving them a bar of gold."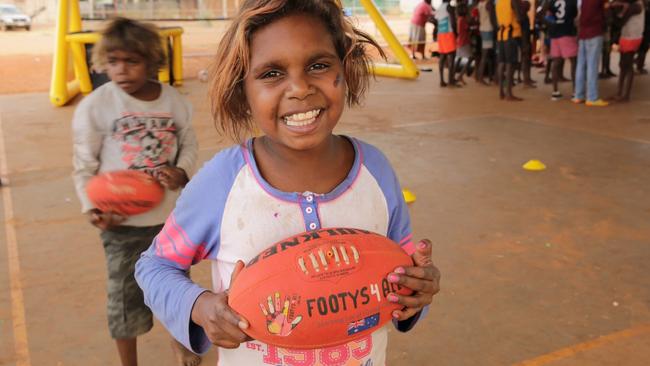 More than half of the sporting balls distributed by the charity have gone to indigenous communities with the help of their aboriginal AFL ambassador* Michael Long.
"Games can be played without a jumper, boots, goals or umpires but cannot be played without a ball — it is something every kid wants not matter what age, what race or what religion," Mr Long said.
"I wanted to help through my volunteer work with Footys4all to make sure the same opportunities are available to all children, not just those born into affluent* families."
Michael Gallus and footy legend Michael Long are aiming to raise $1500 so they can buy and deliver 150 footballs to the Tiwi Islands kids this week.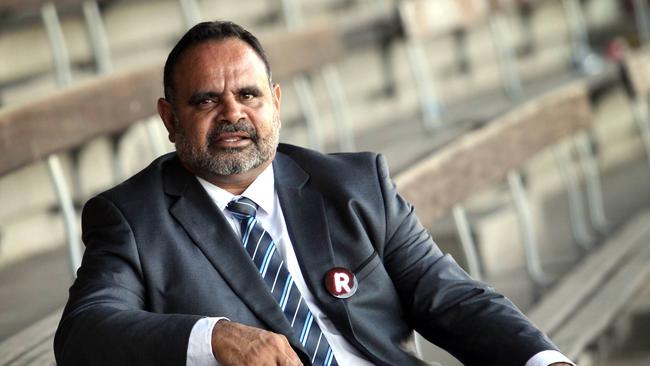 Schoolchildren have been helping raise money for the program by planning activities for their school to take part in.
Footys4all also runs five-day training programs with kids in isolated* areas to get them interested in sports and show them how fun it can be.
The next trip will see 20 young female Melbourne footballers travel to the Yarrabah Aboriginal community in Queensland.
Footys4all doesn't just give out AFL footballs but also basketballs, netballs, rugby balls and more.
If you or your school would like to donate more information can be found at footys4all.com.au
GLOSSARY
former: from before
remote: far away
charity: organisation aiming to do good
disadvantaged: have less wealth and/or opportunities
ambassador: someone who promotes a cause
affluent: rich
isolated: nothing around it
LISTEN TO TODAY'S STORY
CLASSROOM ACTIVITIES
Activity 1. Riches of Sport
"Giving a kid a ball is like giving them a bar of gold."
Explain this quote from the article in your own words. What does it mean?
What are the aims and objectives of the Footys4all charity?
Extension:
Brainstorm some other ways to help indigenous or disadvantaged children become involved in sport.
Time: Allow 20 minutes to complete this task.
Curriculum links: English, Health and Physical Education
Activity 2. Fundraising
The Footys4all charity is aiming to raise $1500 to enable them to deliver 150 balls to the Tiwi Islands.
Work with a partner and brainstorm some fundraising ideas you could possibly do at your school to help the charity reach this goal.
Write a proposal to give your principal to see if it's something your school leaders might consider.
Your proposal should include the following details:
– fundraising idea – how you plan to raise the money
– date of activity
– overview of charity
– fundraising goal
– why you believe it's a worthy cause
– how money would be collected
– how money would be given to charity
– a poster about the fundraising idea to show students & parents
Extension:
Plan a possible 'ball drive' to collect donations of new balls for this charity – how could you organise it?
Time: Allow 40 minutes to complete this task.
Curriculum links: Personal and Social, Critical and Creative Thinking, English
VCOP ACTIVITY
Activity. Double Meaning Vocabulary
The articles mentions the term "kicking goals on and off the field." It has a literal and non-literal term. Which one is literal and what does it mean? Which one is non-literal and what does it mean?
Extension:
Use the non-literal term in another context sentence.
Time: Allow 20 minutes to complete this task.
Curriculum links: English, Big Write, VCOP
EXTRA RESOURCES
FANS ALLOWED BACK ON MCG FOR KICK-TO-KICK
WHIZ KIDS GETS A BITE AT APPLE
IN A SENTENCE, SHARE YOUR THOUGHTS ON TODAY'S STORY
Kids News loves reading your best grammar, vocabulary and spelling.
We publish the best comments.