First Australian chosen for 2024 Olympic squad
A marathon swimmer who dreams of winning gold has been named as the first of 480 athletes set to represent Australia at the Paris 2024 Olympics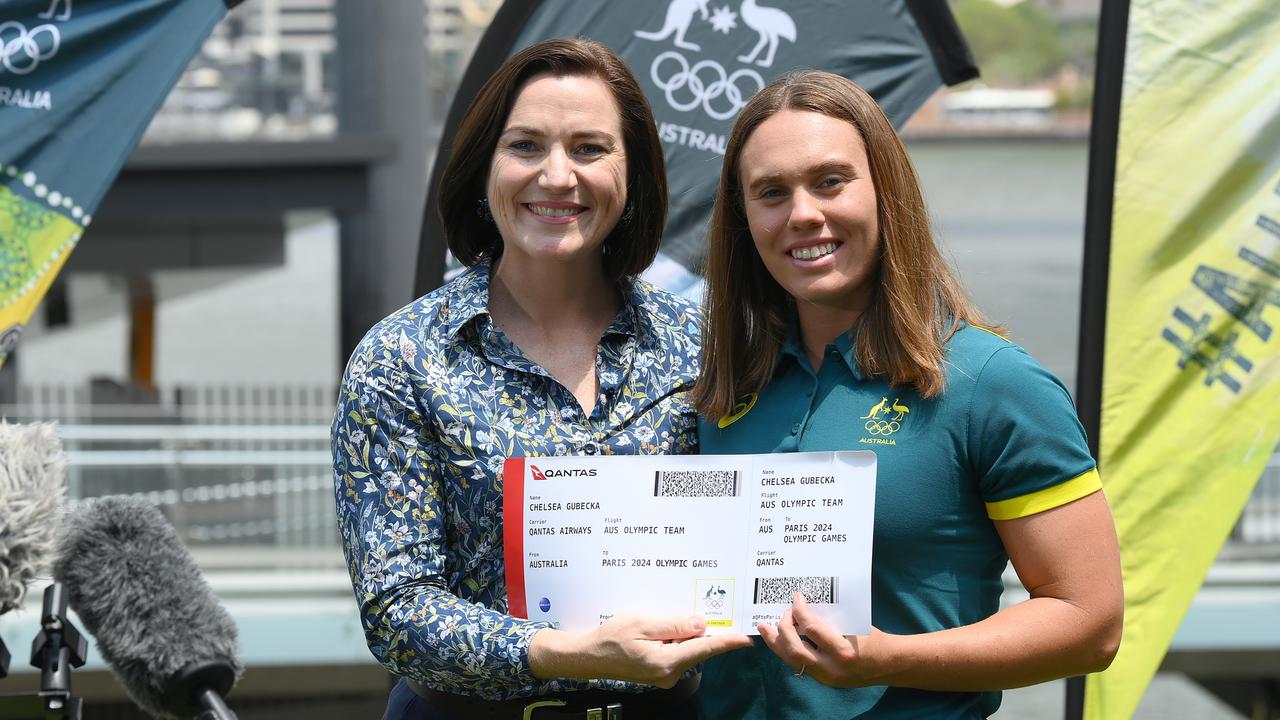 Chelsea Gubecka (right) is presented with a ticket to Paris 2024 by Chef de Mission Anna Meares (left). Picture: Bradley Kanaris/Getty Images for AOC
Australia's first Olympic hopeful has been revealed.
Marathon swimmer Chelsea Gubecka has been named as the first Aussie athlete to compete in the Paris Olympics next year.
The 25-year-old Queenslander will be going for gold when she swims the 10km open water event in Paris's famous Seine River.
Olympic team chef de mission Anna Meares said Gubecka was the first of 480 athletes that were being selected to represent Australia at the world's greatest sporting event.
Gubecka was selected for the Olympic team after winning silver at the World Championships in Fukuoka in July but said she's chasing gold at the Olympics.
"This is all just a stepping stone (to winning gold in Paris)," Gubecka said.
"I won my first World Cup late last year so that was my first major international win.
"Silver this year (at the World Championships) is something to be super proud of and the goal was to get that Olympic quota spot.
"I have done that and I have full confidence to get the work done and do something special at Paris."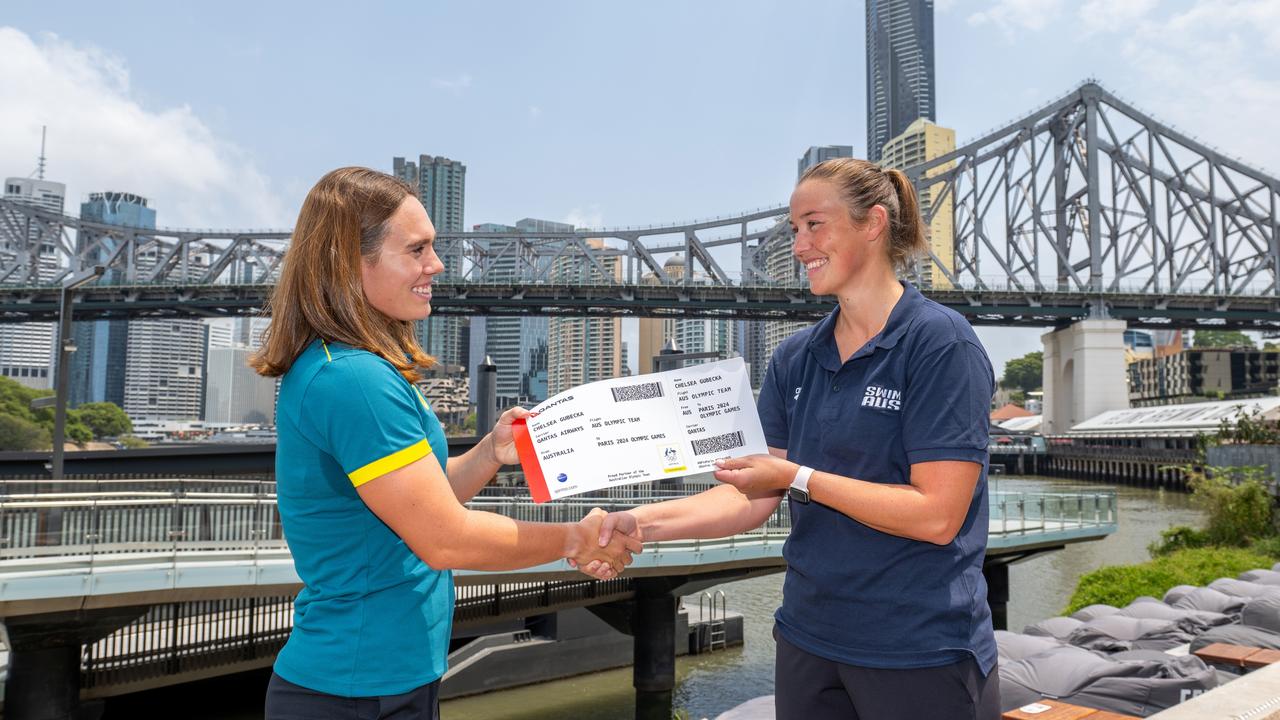 Chelsea Gubecka (left) with her coach Kate Sparkes (right) after being the first athlete selected for the Paris Olympics. Picture: Bradley Kanaris/Getty Images for AOC
It won't be the first time Gubecka has competed in the Olympics.
A six-time national champion, the young swimming star made her Olympics debut as a 17-year-old in 2016 at Rio and is honoured to be Australia's first confirmed athlete for the Paris Games.
"It's a bit surreal," she said. "This sort of work doesn't come easy. I have been on the (Australian) team for the past 10 years, so this is testament to the group that I have and the team that support me day in, day out.
"To see the Eiffel Tower in the background, it will make for some great viewership and hopefully promote our sport a bit more."
One challenge facing Gubecka when she arrives in Paris is the water quality in the city's famed river.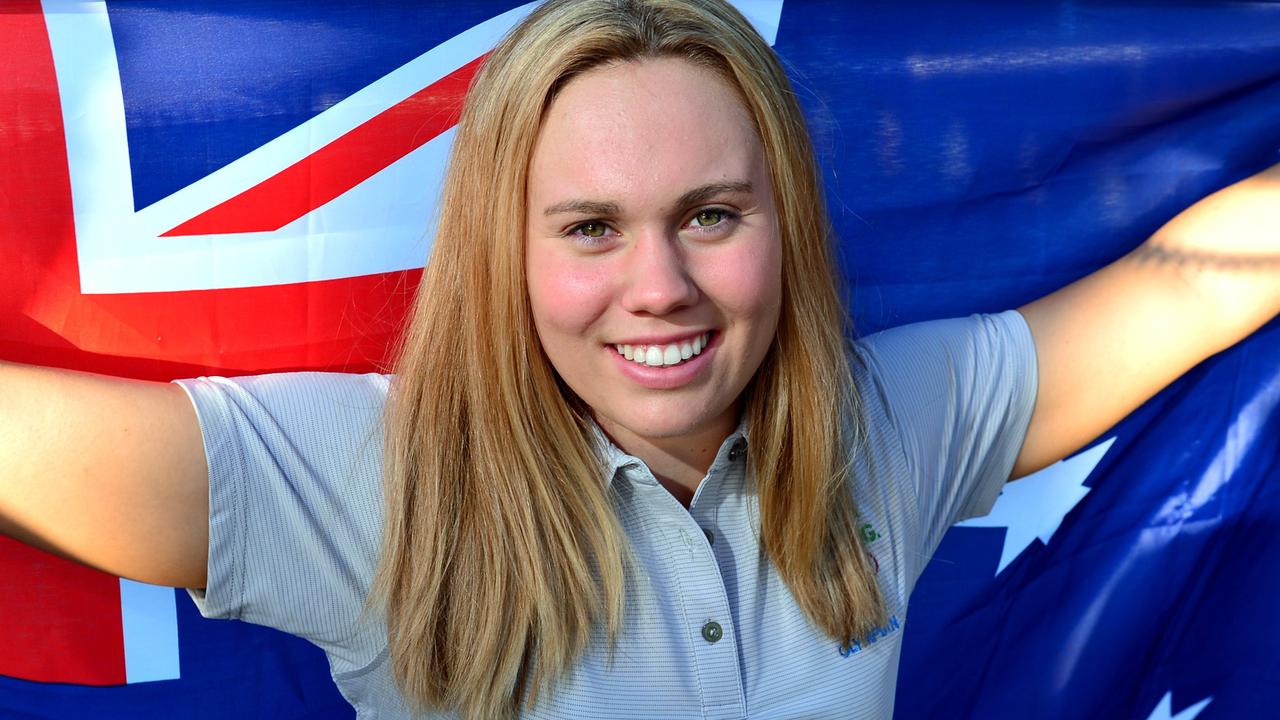 Chelsea Gubecka when she was 17, just before going to Rio de Janeiro for the Olympic Games 2016. Picture: John McCutcheon / Sunshine Coast Daily
Swimming in the Seine has been banned since 1923 because of health concerns and French authorities are working hard to clean it up in time for the Olympics.
World Aquatics said the Seine's water quality was "below acceptable standards", with a test swim this year already cancelled due to water pollution.
When asked about the river's polluted water, Gubecka said: "It raised an issue earlier this year. "We went over and unfortunately could not swim.
"However, a few weeks later they ended up getting the water quality back to normal and then they contested the triathlon test event.
"I don't have too much concern. I know the mayor and the town are trying their hardest to have the best experience possible next year."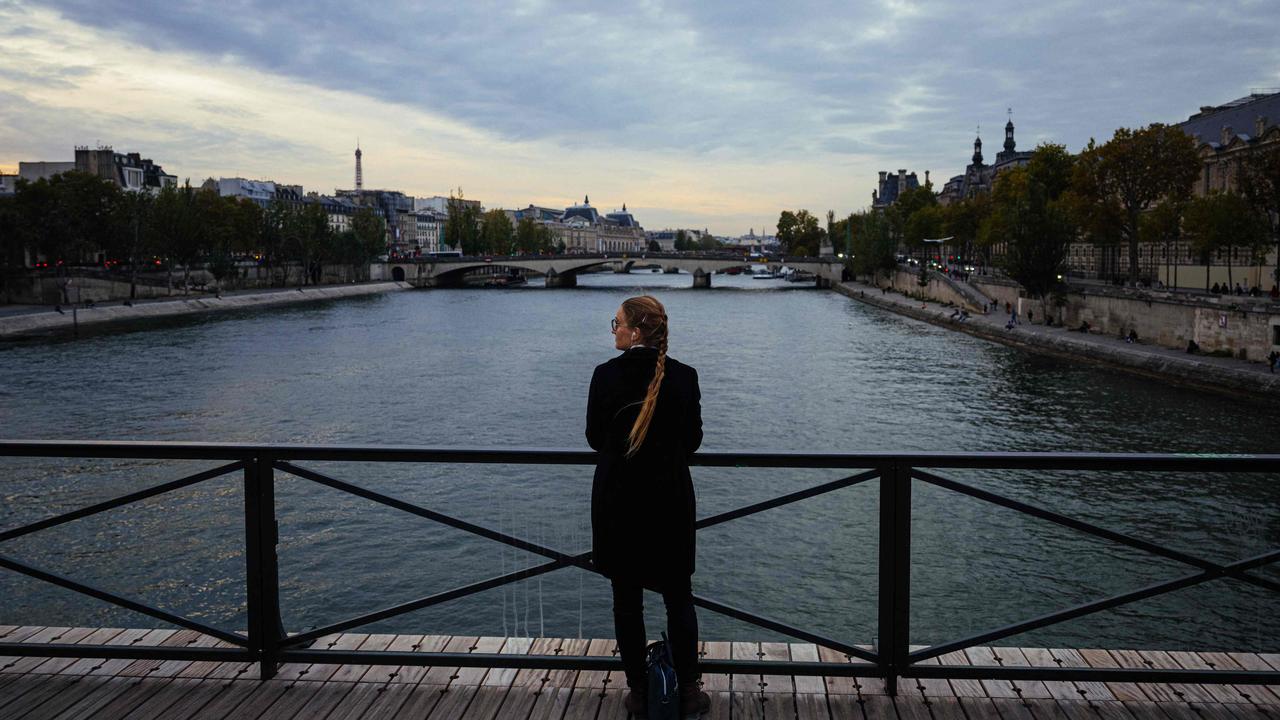 A view of Paris's famed Seine River from the Pont des Arts bridge. Picture: Dimitar Dilkoff / AFP
Gubecka will be 33 when the Olympics arrives in Brisbane in 2032 and she hopes she will be able to compete in her home country.
"It (the Brisbane Games) certainly gives me an itch to potentially stick around and be a part of it," she said.
"We love sport in Australia so I want to be in that space."
POLL
GLOSSARY
chef de mission: the person in charge of a national team at an international sports event
international: overseas
quota spot: a limited number of something
debut: first time at something
surreal: hard to believe it's really happening
EXTRA READING
Five new sports named for 2028 Olympics
Talented teen athletes to watch
Maxwell hits fastest World Cup century in history
QUICK QUIZ
1. When did Chelsea Gubecka first compete at an Olympics?
2. How many Australian athletes will be chosen for the 2024 Olympic team?
3. What medal did Chelsea Gubecka win at this year's World Championships in Fukuoka?
4. Why was the test swim in the Seine River cancelled this year?
5. How old will Chelsea Gubecka be when the Olympics are hosted by Brisbane in 2032?
LISTEN TO THIS STORY
CLASSROOM ACTIVITIES
1. Olympic bound
Chelsea Gubecka competed in her first Olympic Games in 2016, will compete again in 2024 in Paris, and hopes to still be competing for the Brisbane Olympics in 2032. That is a long time to keep up an elite sportsperson's training and motivation.
What would be your top five tips to allow your mind and body to stay focused and fit enough to sustain a sporting career for up to 16 years?
Write your tips below;
1.
2.
3.
4.
5.
Time: allow 20 minutes to complete this activity
Curriculum Links: English, Science, Health and Physical Education, Personal and Social, Critical and Creative Thinking
2. Extension
The Seine River runs through the very heart of Paris and is an iconic feature of the city.
How might Paris officials be trying to clean the Seine River up enough so that it is safe to swim in for the Paris Olympic Games?
What would they do if the water quality isn't good enough for swimming in?
Time: allow 10 minutes to complete this activity
Curriculum Links: English, Science, Personal and Social, Critical and Creative Thinking
VCOP ACTIVITY
Summarise the article
A summary can be a really good way to grab the main idea plus some key points in the article as a highlight. Think of the summary like a little advertisement or extract you could use to encourage people to read the article in detail. You want to give them an overview of the article that includes the main idea (being able to tell the audience what the article is about in one sentence), plus a few of the key points of the information.
Remember to re-read your summary to check that it is clear, concise and makes sense to the audience who haven't read the article yet. You need to make language choices that allow you to explain the information in only a few sentences.