Fast bowler Darlington discovered Indigenous identity as a teen
By the time she hit her teens, cricket star Hannah Darlington just wanted to play – and the game she loved led to her biggest win yet when her family learned the story of their Indigenous heritage
Hannah Darlington's Aboriginal heritage was a secret in the country town where her dad Charlie grew up – until Darlington's love of cricket brought about a life-changing family conversation. Picture: Albert Perez/Getty Images
One 13-year-old girl's simple love of cricket turned out to be a turning point for her whole family.
Australian women's cricket star Hannah Darlington's Aboriginal heritage* had always been kept secret, and it would have stayed that way but for her love of the game.
"I saw the National Indigenous (Cricket) Championships happening, and as a kid, I just wanted to play as much cricket as I could. Dad was like, 'You can't play in that because you're not Indigenous'," Darlington said.
"But then the next year, I once again was like, 'I would really love to be able to play more cricket', not understanding why I wasn't allowed to play (in a tournament for Indigenous cricketers).
"And then Dad had the conversation … 'Well, you're actually Indigenous.'"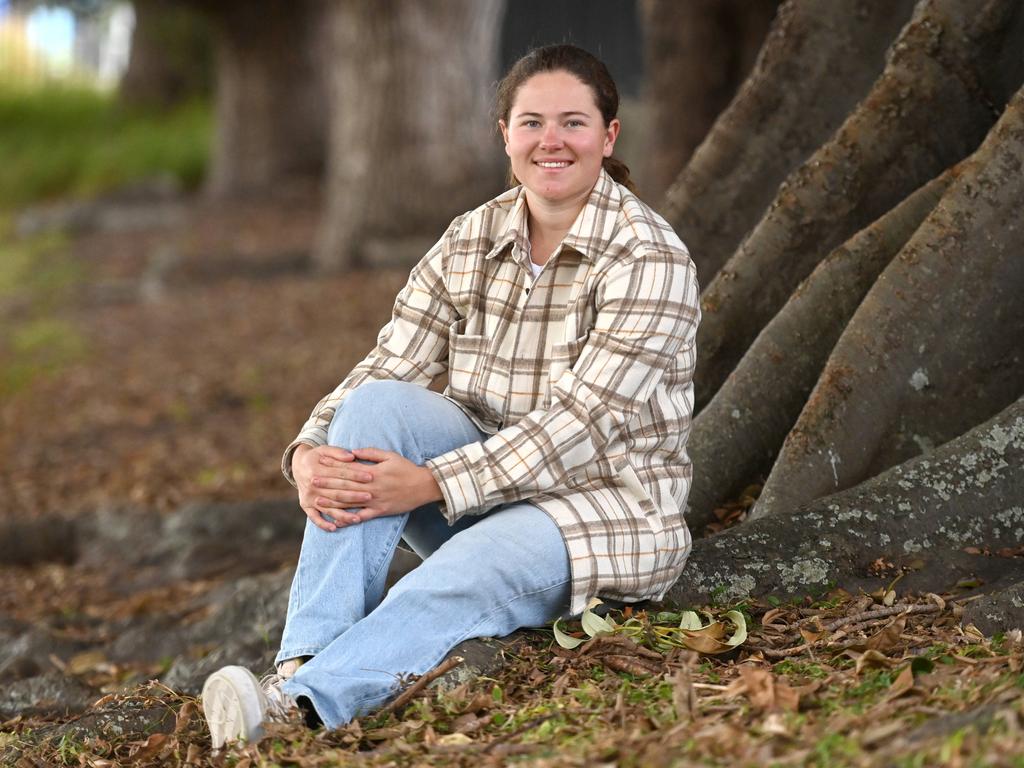 Indigenous cricketer Hannah Darlington did not discover her Aboriginal heritage until she was a teenager. Picture: Jeremy Piper
It was a life-changing moment for Darlington, father Charlie and the wider family. Together they began a journey of self-discovery.
Darlington, named NSW's youngest ever cricket captain at just 19, is one of Australian sport's most significant Indigenous role models*.
The now 21-year-old fast bowler has been inspired by the courage* her father showed in telling the truth.
"He grew up in the country town of Barraba, north of Tamworth," Darlington said. "The family had a big role in the town, so they decided to keep it as something they didn't want the town to be aware of.
"We hear more of these stories every day. That was just normal. He came to Sydney and never even thought about it to even consider that he wanted to learn or live proudly as an Indigenous man."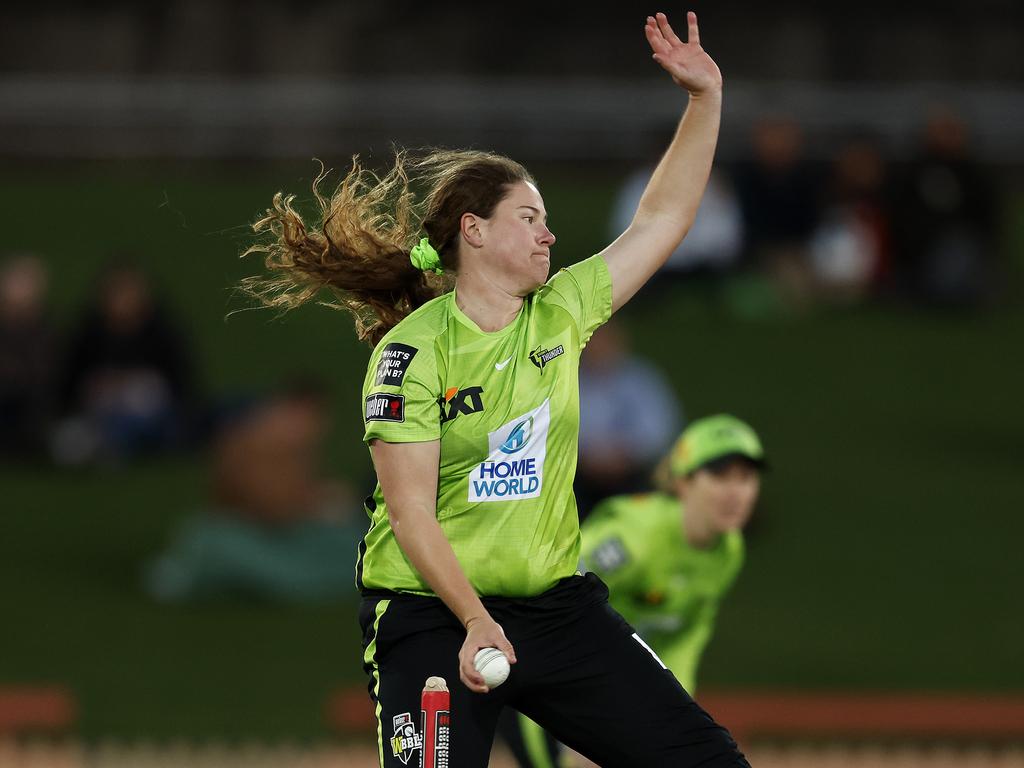 Indigenous fast-bowler Hannah Darlington in action. Picture: Phil Hillyard
But everything changed when Charlie saw his kids' interest, Darlington said.
"We've spoken about it a little bit recently, because he understands the fact that the family is going on a journey and he can take a lot of pride in the fact he had that conversation," she said.
"We all look back on the fact he was able to overcome that challenge of being a country boy moving to Sydney and raise us and keep that connection back to Kamilaroi land, which is really special.
"We try and get back there as often as we can, and it's nice for him to get home and see those connections he didn't have when he was a kid."
Darlington's dad Charlie grew up at Barraba in regional NSW, where his family kept their Indigenous heritage a secret. Picture: Ian Hitchcock/Getty Images
Discovering her Aboriginality as a teenager came with challenges. Darlington said she had to deal with racist* comments by high school classmates who didn't understand that an Indigenous person could be pale-skinned.
"I kind of take … a bit of a (humorous) approach and say, 'If you put milk in coffee, it's still coffee,' and they're like, 'Oh, that's completely true'," Darlington said. "Sometimes that's all it takes for them to understand."
Darlington credited* her connection to Country for keeping life in perspective*.
"There's such a connection to culture, but it's the most enjoyable cricket I've ever played," she said.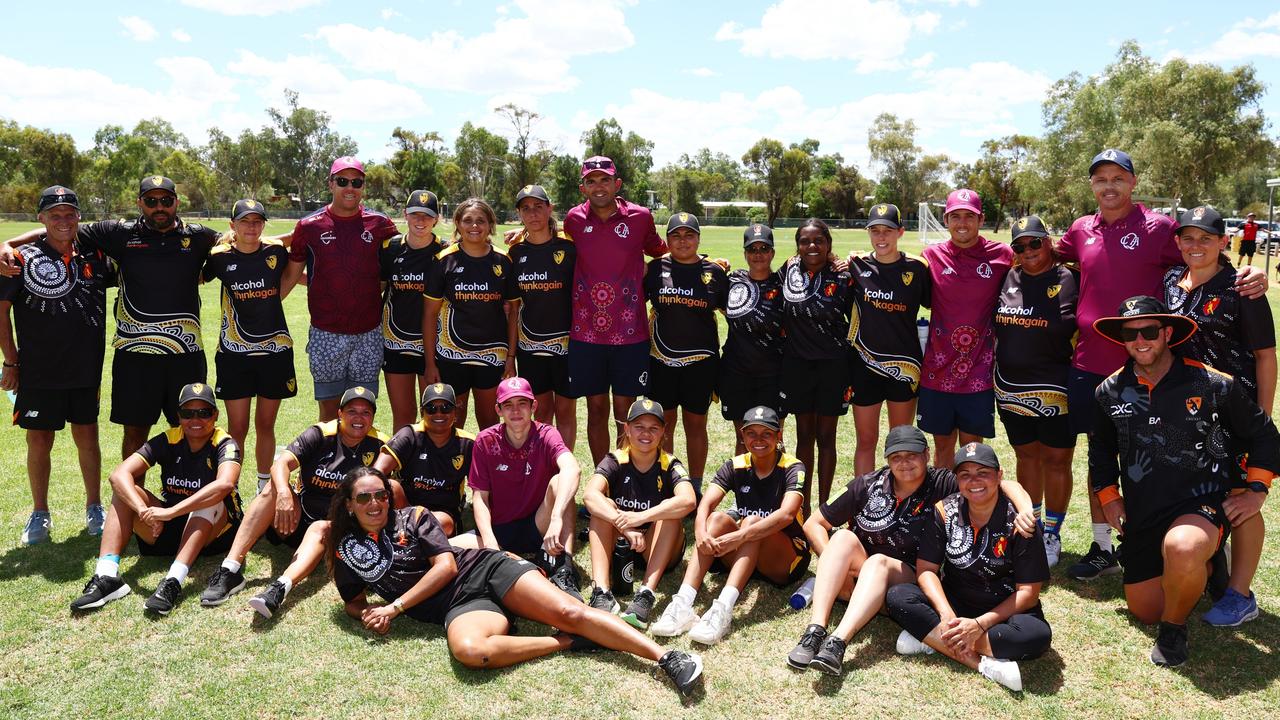 Kids got to meet some of their cricket heroes during the National Indigenous Cricket Championships in Alice Springs in January and February. Picture: Chris Hyde /Cricket Australia via Getty Images/supplied
As for encouraging more Indigenous kids to play the game, Darlington said it's about "starting with the small things".
"There's so much incredible talent out there, and we see with (Australian Indigenous cricketer) Ash Gardner that the flair Indigenous people have is incredible. We just have to give them the opportunity to show that."
Cricket Australia's Executive general manager of community cricket and capability, James Allsopp, said the National Indigenous Cricket Championships in Alice Springs was just one event on the cricket calendar for local Indigenous communities.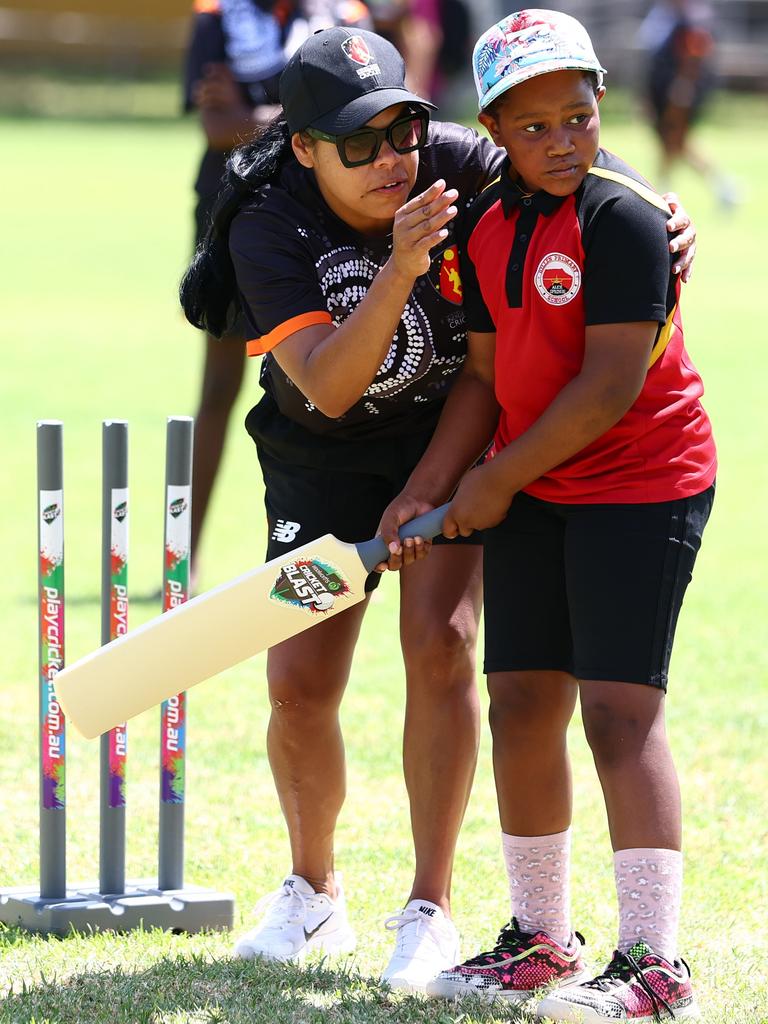 This young cricketer was open to some professional pointers during the National Indigenous Cricket Championships in Alice Springs. Picture: Chris Hyde /Cricket Australia via Getty Images/supplied
"It was fantastic to see so many of our international, W/BBL and state cricketers getting out to regional and remote areas to promote the game during Play Cricket Week," Mr Allsopp said.
"We know how much it means for kids to meet their heroes and we hope these encounters* will get even more boys and girls playing cricket.
"We want cricket to play an even more prominent* role in Indigenous communities and the inspiration role models such as Hannah Darlington, Ash Gardner and Scott Boland provide is incredible."
Cricket Australia's James Allsopp said Darlington and other Indigenous players were inspiring role models. Picture: Chris Hyde /Cricket Australia via Getty Images/supplied
POLL
GLOSSARY
heritage: features belonging to a particular group, such as culture, traditions and languages
role model: someone other people look up to and try to be like
courage: bravery, the ability to control fear in order to do something difficult or dangerous
racist: someone who believes that their race makes them better, more intelligent, superior
credited: acknowledged as the reason for something happening
perspective: a particular way of thinking about something
encounters: meetings, interactions
prominent: widely and favourably known
EXTRA READING
Cobbo's trailblazing start at school
Cricket star's historic $558K payday
Bluey brings cricket world to tears
QUICK QUIZ
At what age did Darlington become NSW's youngest ever cricket captain?
What was the cricket competition Darlington was told by her dad that she couldn't join?
What did Darlington have to deal with at high school?
Darlington credited her connection to what for keeping life in perspective?
Darlington and Cricket Australia's Mr Allsopp both refer to which Indigenous player?
LISTEN TO THIS STORY
CLASSROOM ACTIVITIES
1. Be inspiring
What is the most inspiring part of Hannah's story for you? Use this fact or idea to create a story or artwork that will inspire other kids, too.
Time: allow at least 30 minutes for this activity
Curriculum Links: English, Personal and Social Capability, Visual Arts
2. Extension
What do you think were the reasons why people like Hannah's father felt like they had to hide the fact that they are Aboriginal? Write a list of reasons. Then, for each reason, write a solution which would help them to be proud of their Aboriginal heritage, rather than feel it needed to be hidden.
Time: allow at least 20 minutes to complete this activity
Curriculum Links: English, Personal and Social Capability, History
VCOP ACTIVITY
Conjunctions
Conjunctions are important in connecting ideas in a text and improving its flow. They help to join sentences, clauses or phrases to create a coherent and meaningful text.
Co-ordinating conjunctions are used to connect equal ideas or phrases – for example: and, but, or, so, yet, nor.
Subordinating conjunctions are connecting words or phrases that join a subordinating clause to the main idea. They provide additional information about the main idea – for example: because, although, while, when, if, since, until.
Complete at least two activities from the choices below:
Read the news article carefully and highlight all the conjunctions used in the text.
Write down the conjunctions you found and the words or phrases they connect.
Identify the type of conjunction used (coordinating conjunctions or subordinating conjunctions).
Explain the role of conjunctions in connecting ideas and improving the flow of a text.
Write a short paragraph about something you found interesting in the article. Challenge yourself to re-use three conjunctions from the text. Can you up-level them to a higher level conjunction? Does it make the sentence better or harder to read? (Sometimes, the basic conjunction is the best choice).