Experts declare Glenn Maxwell's game-winning double century as the greatest innings ever played
Australian cricketer Glenn Maxwell has pulled off one of the most remarkable rescue missions in World Cup history, overcoming crippling cramps to hit a double century and win the match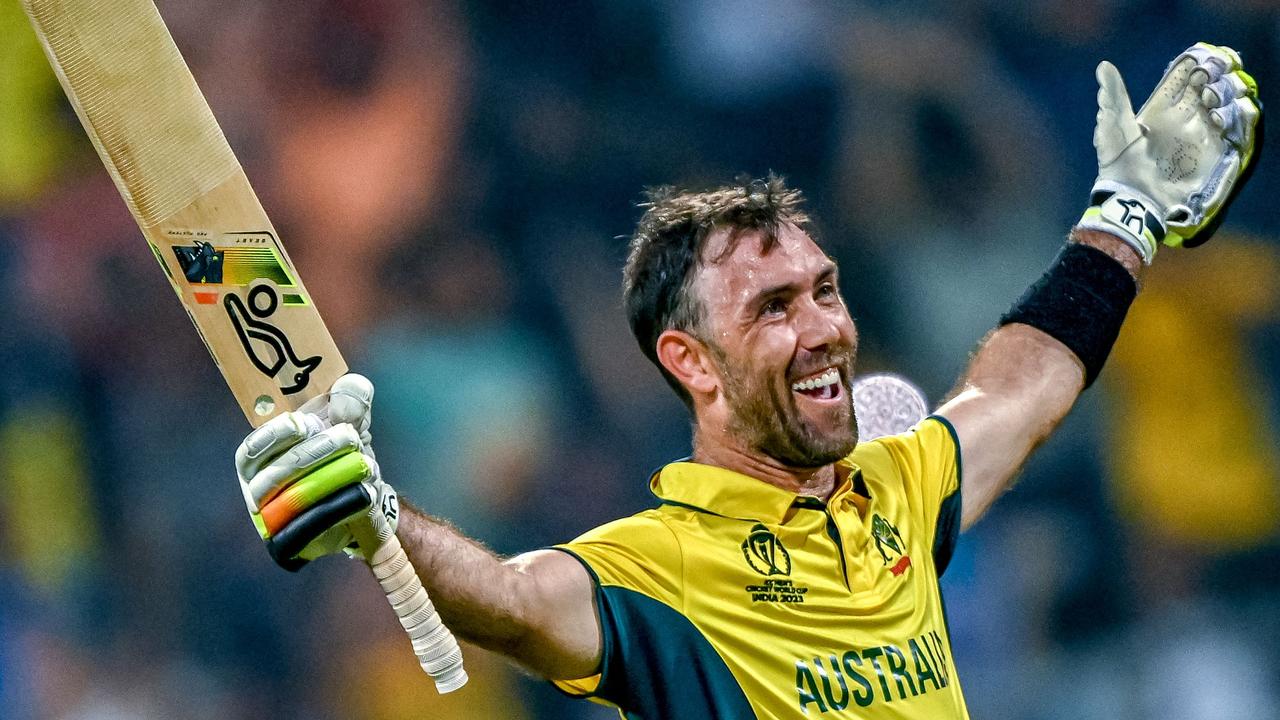 Australia's Glenn Maxwell celebrates after hitting 201 not out to help Australia to a miracle win against Afghanistan in the Cricket World Cup. Picture: Indranil Mukherjee / AFP
Glenn Maxwell's phenomenal score of 201 not out to send Australia into the World Cup semi-finals has been called the greatest one-day international innings ever played.
Maxwell stunned the world with his batting display, which included a whopping 21 fours and 10 sixes, as he battled severe cramp* for the last 80 or 90 runs he scored.
The crippling* condition meant he couldn't run between wickets and instead just used his bat to blast the ball over the boundary* line time after time after time.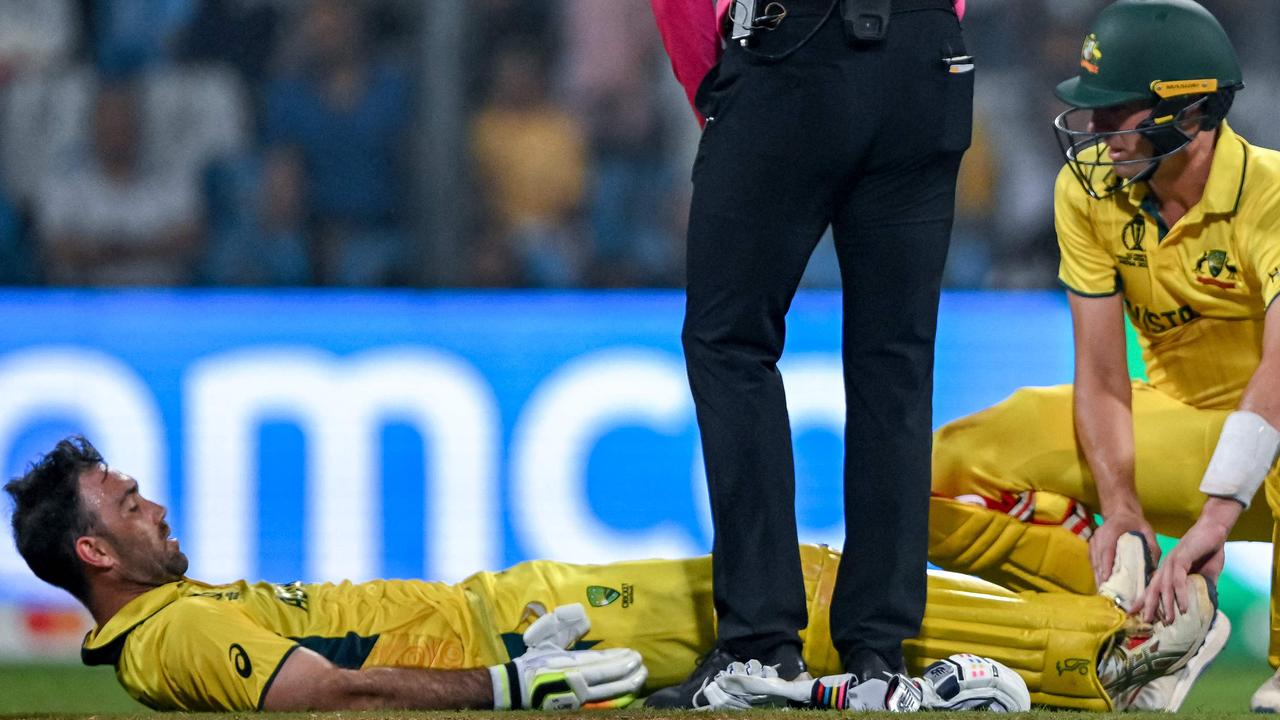 Australia's Glenn Maxwell (left) is helped by his captain Pat Cummins in an attempt to ease the pain of Maxwell's cramps during the match. Picture: AFP
Maxwell lived up to his nickname "The Big Show" as his innings made history. No Australian man had ever made 200 runs in a one-day international match.
His efforts miraculously* pulled Australia from the edge of defeat against Afghanistan.
The Afghans had batted first and set Australia a total of 292 runs for victory.
Australia quickly slumped to 7/91 and the game looked lost before Maxwell joined captain Pat Cummins at the crease.
The pair then staged the rescue mission, which was all the more impressive knowing Maxwell had missed the previous match after falling from a golf cart and hitting his head.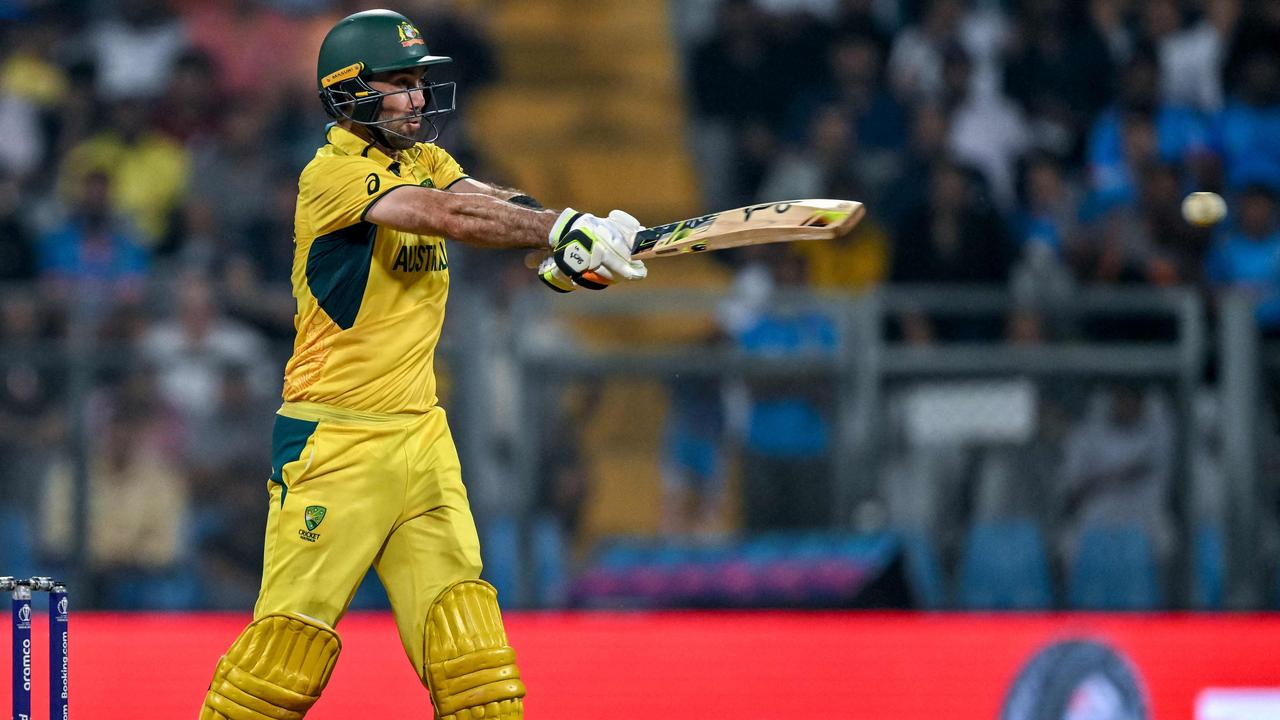 Glenn Maxwell smashes a ball to the boundary. Picture: AFP
Maxwell survived a dropped catch and successfully overturned the umpire's decision to dismiss him leg before wicket* (lbw) in the 22nd over before going on his run spree*.
"I was very lucky and I suppose just made the most of that," Maxwell said.
Shortly after bringing up his second 100 of the tournament in the 33rd over, Maxwell began experiencing pain that made it difficult to run.
At one stage, Maxwell collapsed to the ground, apparently cramping all over his body. But he battled on to hit his 10th six to finish on 201 from just 128 balls and lead Australia to victory with 19 balls to spare.
"I was cramping both sides of my lower leg. And as I went 'oh no, I'm cramping,' I cramped in my left hamstring at the same time. So I was like, 'I've got both legs.' And then I had a back spasm* when I hit the ground," Maxwell said.
"So I was just like full body just in pain."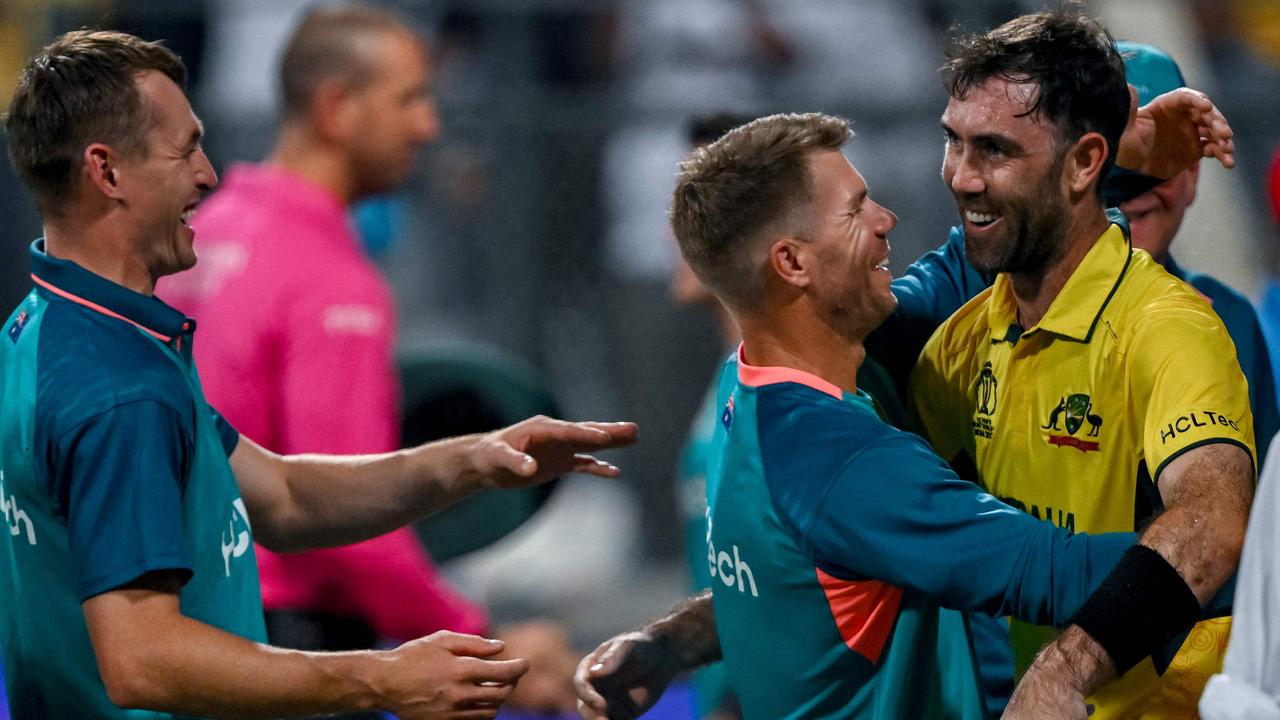 A hot and sweaty Glenn Maxwell celebrates with teammates after winning the match. Picture: AFP
After the match, Maxwell said of his body: "I feel shocking. I haven't really done a whole lot of high-intensity* exercise in the heat and it certainly got a hold of me today."
Cricket experts around the world were gobsmacked* by his performance.
Former Australian cricket captain Ricky Ponting, who was commentating on the match, said Maxwell played "on no legs".
"I have played a lot of cricket, and I have watched a lot of cricket, but I have never seen anything like this," a stunned Ponting said, adding, "It is something you will never, ever see again in international cricket."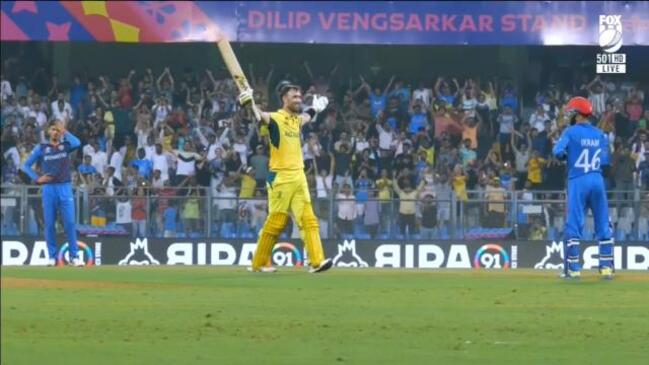 POLL
GLOSSARY
cramp: painful involuntary contraction of a muscle or muscles, typically caused by fatigue or strain
crippling: causing a person to become unable to walk or move properly
boundary: edge of the cricket field
leg before wicket: a cricket term describing when a batman is ruled out because a ball he missed hit his padded leg in line with the wickets behind
spree: a long splurge of activity
spasm: 100
gobsmacked: stunned
high-intensity: extreme in strength or level
EXTRA READING
Maxwell hits fastest World Cup hundred in history
Five words that drove Ash Barty to greatness
11-year-old jockey who won the Melbourne Cup
QUICK QUIZ
1. How many runs did Glenn Maxwell score from fours and sixes?
2. What medical condition was Maxwell struggling with?
3. Why was his innings described as a rescue mission?
4. Why did Maxwell say he was lucky to reach 201 not out?
5. What is Maxwell's nickname?
LISTEN TO THIS STORY
CLASSROOM ACTIVITIES
1. Write a List
What strategies do you think Glenn Maxwell used to help him to keep batting through the pain? Write a list. The purpose of your list is to write strategies that he may have used but could also be used by anyone who needs to get through a tough time to reach a goal.
Time: allow at least 15 minutes to complete this activity.
Curriculum Links: English, Health and Physical Education, Personal and Social Capability.
2. Extension
'Cricket is boring — nothing interesting or exciting ever happens!' Use the information in today's story, your own knowledge and maybe your research skills to help you to write a very convincing argument against this statement.
Time: allow at least 25 minutes to complete this activity.
Curriculum Links: English, Health and Physical Education, Critical and Creative Thinking.
VCOP ACTIVITY
1. Conjunctions
Conjunctions are important in connecting ideas in a text and improving its flow. They help to join sentences, clauses, or phrases to create a coherent and meaningful text.
Co-ordinating conjunctions are used to connect equal ideas or phrases – for example: and, but, or, so, yet, nor.
Subordinating conjunctions are connecting words or phrases that join a subordinating clause to the main idea. They provide additional information about the main idea – for example: because, although, while, when, if, since, until.
Complete at least two activities from the choices below:
Read the news article carefully and highlight all the conjunctions used in the text.
Write down the conjunctions you found and the words or phrases they connect.
Identify the type of conjunction used (co-ordinating conjunctions or subordinating conjunctions).