The great-great-grandfather of Australian sheep farmer Eddie Morgan was one of our nation's most famous and fascinating* generals, who lead the Diggers* to victory at Villers-Bretonneux in World War I exactly 100 years ago.
Tomorrow, Eddie will lead another team of Australians to a battle in the muddy fields of the French town — again hoping for a win, but this time a friendly one.
The South Australian is captain of the 2018 Anzac Cup team, which will be playing a French AFL side in the annual celebratory clash.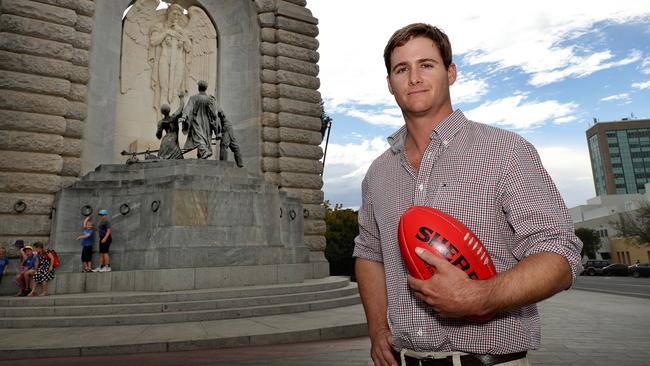 And he has big boots to fill. His great-great grandfather was Brisbane's legendary Brigadier Thomas William Glasgow, whose gruff* yet cool leadership of the 13th Brigade achieved success against all the odds on April 25th, 1918.
Eddie, 27, who manages the family sheep station near Olary in rural South Australia, knew of his connection to Brig Glasgow, but when he studied the battle of Villers-Bretonneux in Year 12 at Adelaide's St Peter's College he became particularly familiar with the story.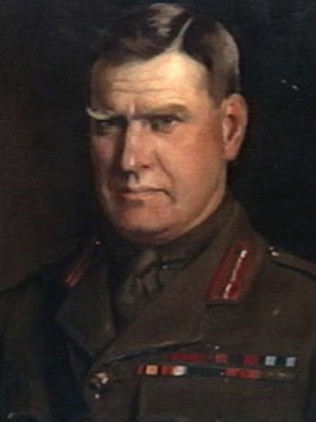 Glasgow began soldiering in the Boer War and was decorated* for extreme courage. He and his men were in the thick of some the worst fighting at Gallipoli and on the Western Front — and after the war he became a Nationalist Senator and Australia's first High Commissioner to Canada.
While excited to walk the ground won by his ancestor, Eddie notes: "It's important to remember this is something that he did, not the family. We are very proud of it but the people who fought in the war did those things — we can't take credit today."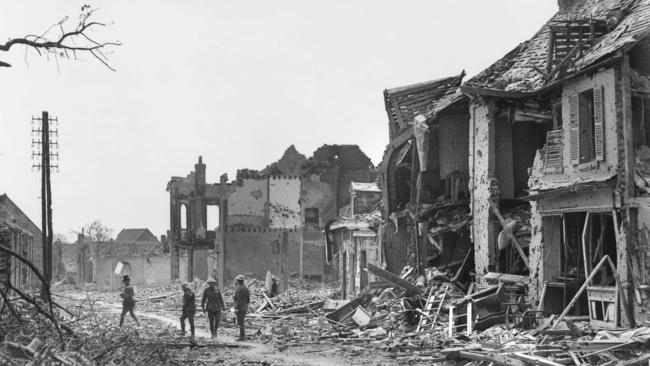 However he does believe Glasgow's firm yet understated* style has been passed down in the family, on his mother's side.
"It's a bit of a characteristic* of people who live in the bush. We're not too loud; I like to keep my words to the point and not overstate things. The family is like that."
Despite that, Eddie definitely wants to speak up and trade family stories with the locals and fellow Australian visitors in France.
Tomorrow he'll go to the Dawn Service at the nearby Australian National Memorial — where Prime Minister Malcolm Turnbull and Prince Charles will be joined by 8000 others, most of them Aussies — before the AFL clash in the afternoon.
And regarding the outcome and his opponents, the midfield player is being cautious*.
"I'm excited," he says. "But I'm reticent* to sling too much cheek because the French team might be pretty good."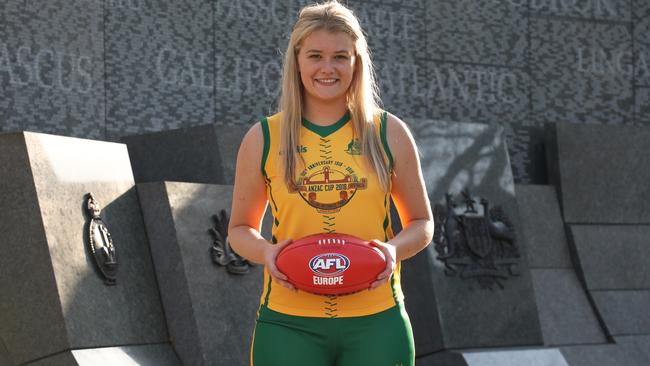 Eddie's teammates hail from all over Australia and are both male and female. Captaining the women's squad is Victorian Priscilla Lodge, whose four great-uncles all fought in the area — two of them, Gus and Frank, becoming rewarded for their bravery at nearby Pozieres.
"To represent my country in a place where my family represented the country is an honour not lost on me," she said.
"To be related to these men who were so young, so brave and perhaps a bit naive*, is extraordinary. What they did is unimaginable* and it certainly puts the problems of 2018 into perspective*."
GLOSSARY
fascinating: very interesting
Diggers: Australian soldiers
gruff: abrupt
decorated: to give a medal or award
understated: expressed in a quiet, subtle way
characteristic: feature or quality of a particular person
cautious: careful
reticent: not wanting to reveal your thoughts
naive: innocent or inexperienced
unimaginable: impossible to imagine or understand
perspective: a particular way of thinking about something
LISTEN TO TODAY'S STORY
CLASSROOM ACTIVITIES
1. Commemorating Anzac Day
Write a summary of what is happening in the French town of Villers-Bretonneux tomorrow to commemorate Anzac Day. Then give your thoughts about the contrast between the morning's activities and those in the afternoon. Do you think it is significant or symbolic?
Anzac Day services follow a fairly consistent sequence of events — name three things an attendee would expect to see or hear at an Anzac Day service and write a paragraph for each to explain its significance.
Extension: Find out what is happening in your local area to commemorate this Anzac Day.
Time: Allow 30 minutes
Curriculum links: English, History, Civics and Citizenship
2. Different lives, similar qualities
Brigadier Glasgow and his great-great-grandson Eddie Morgan are living two very different lives 100 years apart, yet from what we know about them, it seems they may have shared similar personal qualities. Make a list of words that you think could be used to describe either of the men.
Extension: Write about your personal experiences of Anzac Day and what it means to you. Do you have any relatives you know about who have served in the defence forces? Have you been to an Anzac Day service or march before? What will you do this Anzac Day?
Time: Allow 10 minutes
Curriculum links: English, History, Civics and Citizenship
VCOP ACTIVITY
The glossary of terms helps you to understand and learn the ambitious vocabulary being used in the article. Can you use the words outlined in the glossary to create new sentences? Challenge yourself to include other VCOP (vocabulary, connectives, openers and punctuation) elements in your sentence/s. Have another look through the article, can you find any other Wow Words not outlined in the glossary?
IN ONE SENTENCE, TELL US WHAT YOU THINK ABOUT THIS STORY
Please do not use one-word answers. Explain what you enjoyed or found interesting about the article. Use lots of adjectives.