Dream ends as Matildas lose FIFA World Cup semi-final to England
The Matildas lost the semi-final against England's Lionesses in a match of missed chances that will be remembered as the one that got away – but the big wins for women's sport will last forever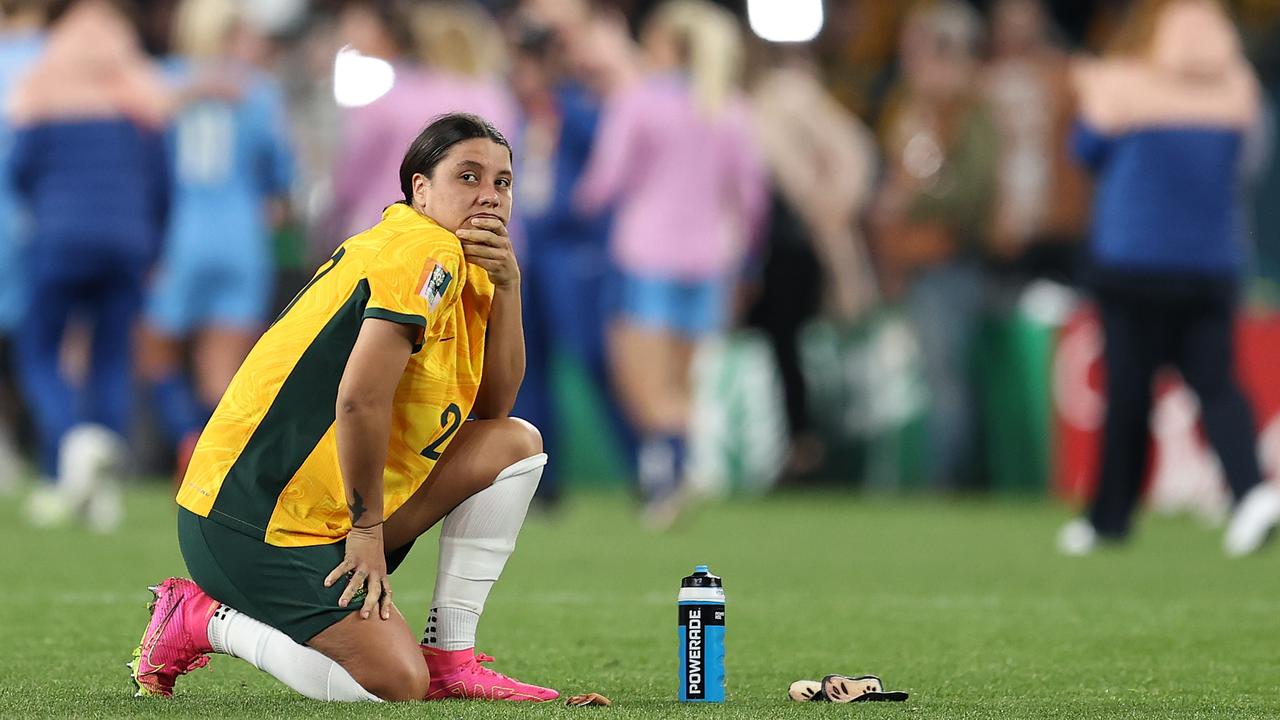 Sam Kerr was a solitary figure after the Matildas' semi-finals 1-3 loss to England in the FIFA Women's World Cup match at Sydney's Stadium Australia on Wednesday night. Picture: Brendon Thorne/Getty Images
Australia's exhilarating ride was ended by England as the Matildas exited the FIFA Women's World Cup in heartbreaking fashion.
A Sam Kerr classic couldn't save Australia, as England claimed a 3-1 semi-final win to advance to Sunday's decider against Spain.
After nearly six weeks of joy, celebration and anticipation, the journey to the big trophy came to an end.
Players embrace after Australia's 1-3 defeat against England at the semi-final attended by 75,784 fans. Picture: Brendon Thorne/Getty Images
The Matildas will play off for third place against Sweden on Saturday in Brisbane.
A rough England team, willing to foul* the Matildas to stop their momentum*, drew calls* throughout the game from the 75,784 fans inside Stadium Australia, whose hopes of seeing the first Australian team make a football World Cup final were buried.
England took the lead in the 36th minute when Ella Toone smashed the ball into the top right corner from a throw-in set play, and England took that 1-nil lead to the break.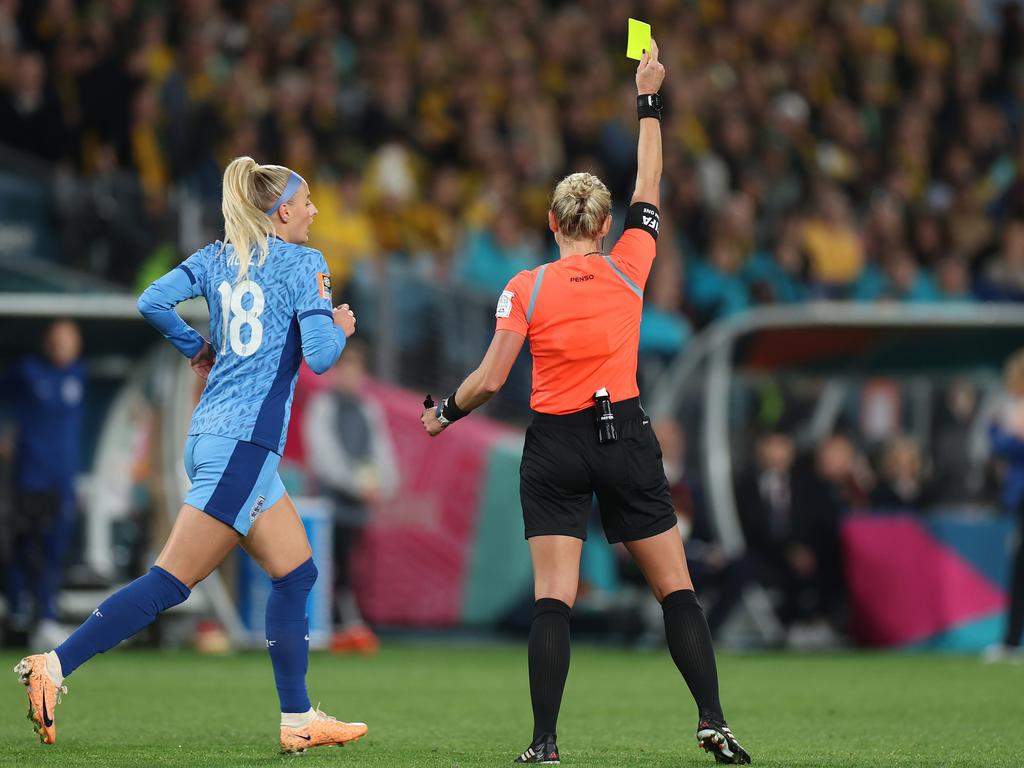 Chloe Kelly of England is shown a yellow card by referee Tori Penso during the match. Picture: Catherine Ivill/Getty Images
But Sam Kerr's moment of brilliance arrived, as Australia's captain pulled her side back into the contest with a magnificent* long-range strike off a counter. With three defenders surrounding her, Kerr unleashed* a 95km/hr rocket into the top left corner, bringing English goalkeeper Mary Earps to her knees.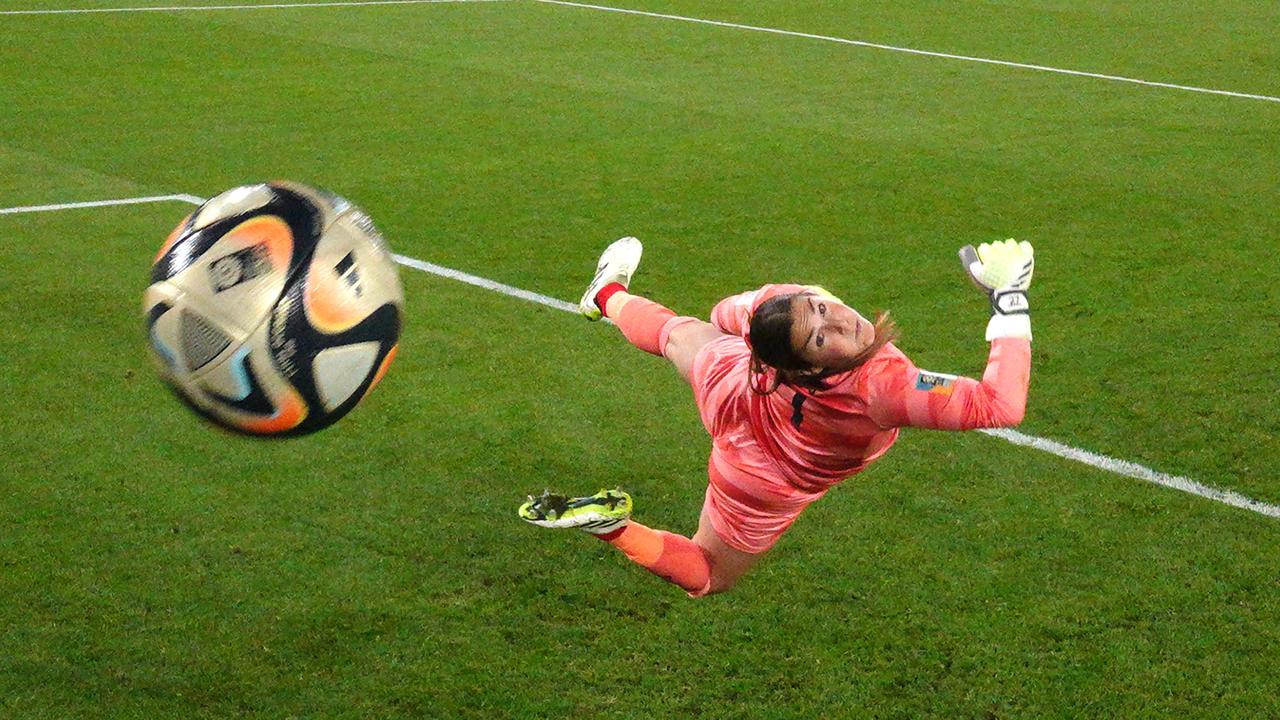 In this photo taken by a remote camera from inside the goal, Mary Earps of England dives in vain as Sam Kerr of Australia scores her team's only goal at the FIFA Women's World Cup semi-final on August 16 in Sydney. Picture: Cameron Spencer/Getty Images
But a defensive lapse by Ellie Carpenter allowed Lauren Hemp to pounce for a sharp goal in the 71st minute.
Kerr's equaliser attempt in the 85th minute went over the bar. The next minute, England countered and Alessia Russo ended Australia's hopes.
Nevertheless, sport will never be the same in Australia.
Just as we still speak of Cathy Freeman's amazing Olympic gold medal-winning run two decades ago, Australians will never forget how the Matildas united Australia in 2023, like no sports team had ever done before.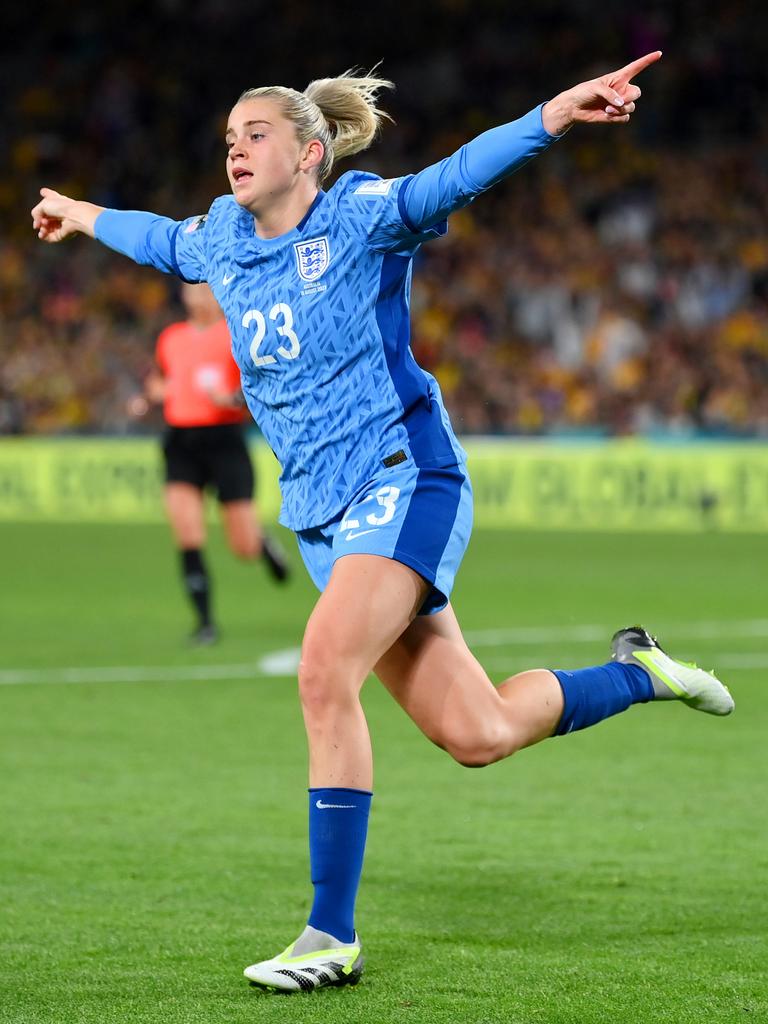 Alessia Russo of England celebrates after scoring her team's third goal, ending Australia's fading hopes of equalising before the bell. Picture: Justin Setterfield/Getty Images
The national gathering of green and gold-clad fans for a single sporting event was unprecedented*.
A sold-out Stadium Australia was expected, but packed live sites included Allianz Stadium and CommBank Stadium in Sydney, AAMI Park in Melbourne, Sunshine Coast Stadium in Queensland, not to mention the fan gatherings at Sydney's Tumbalong Park, Melbourne's Federation Square, Brisbane's South Bank, Adelaide's Festival Plaza, Darwin's Waterfront, Perth's Forrest Place, Canberra's Garema Place and Hobart's Princes Wharf.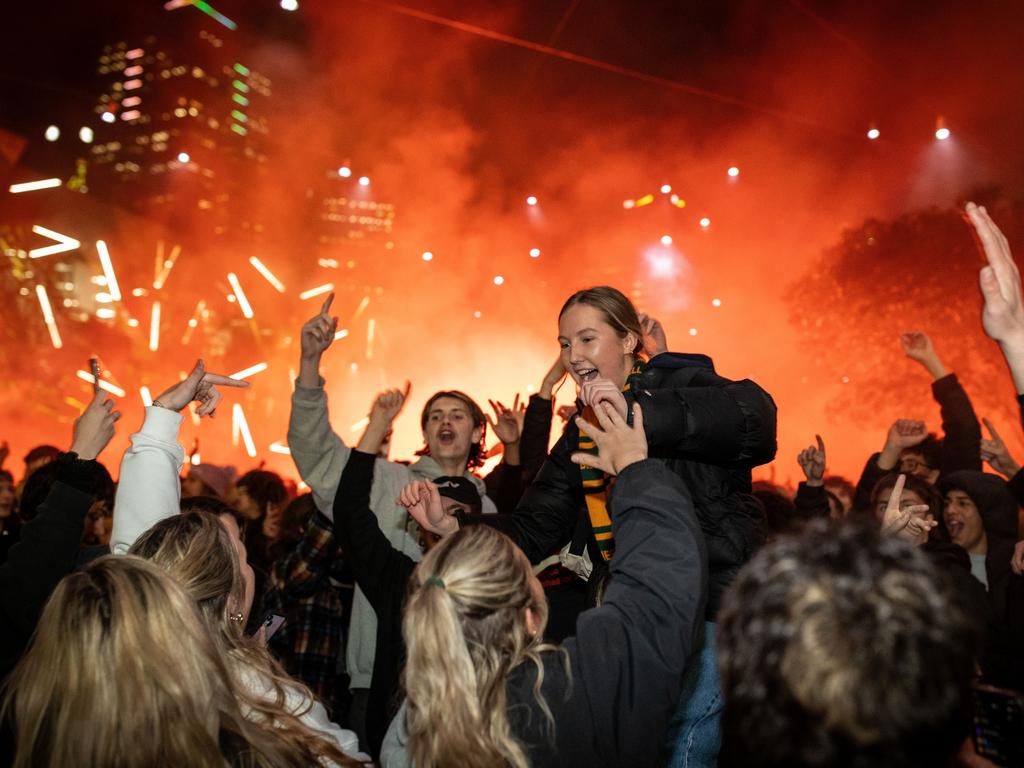 Fans at Federation Square react after Australia scored its only goal in the semi-final against England's Lionesses. Picture: Darrian Traynor/Getty Images
All of them full of people cheering, shouting and hoping.
There were countless venues across the land where time stood still.
And even with all those choosing that electric group atmosphere outside over their own loungerooms, the match still broke television viewership records.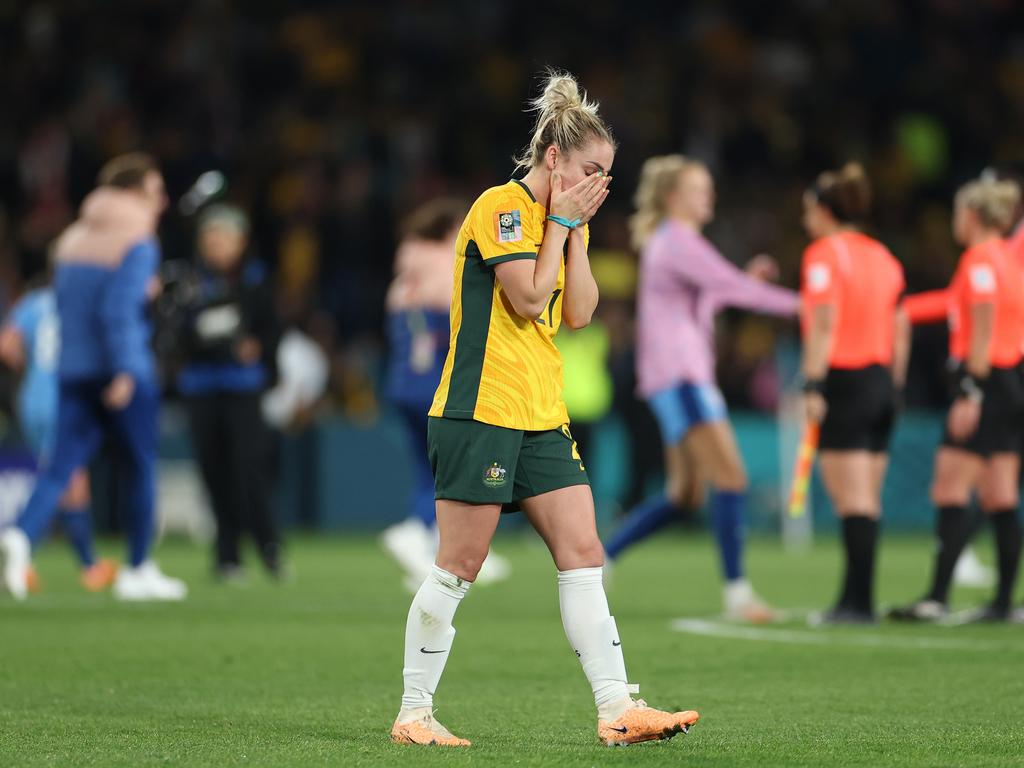 Ellie Carpenter will likely feel the pain of a defensive lapse that allowed England to score for some time to come – but the Matildas' tilt at the World Cup has made history. Picture: Catherine Ivill/Getty Images
The Matildas have harnessed this support and become a force like no other.
Reports suggested their brand has skyrocketed in value five-fold, from $40 million to $210 million in the past month. But it's bigger than dollars.
A survey conducted just two months ago revealed most Australians couldn't recognise a single Matildas player aside from Sam Kerr. They're now as familiar as our highest profile NRL and AFL stars.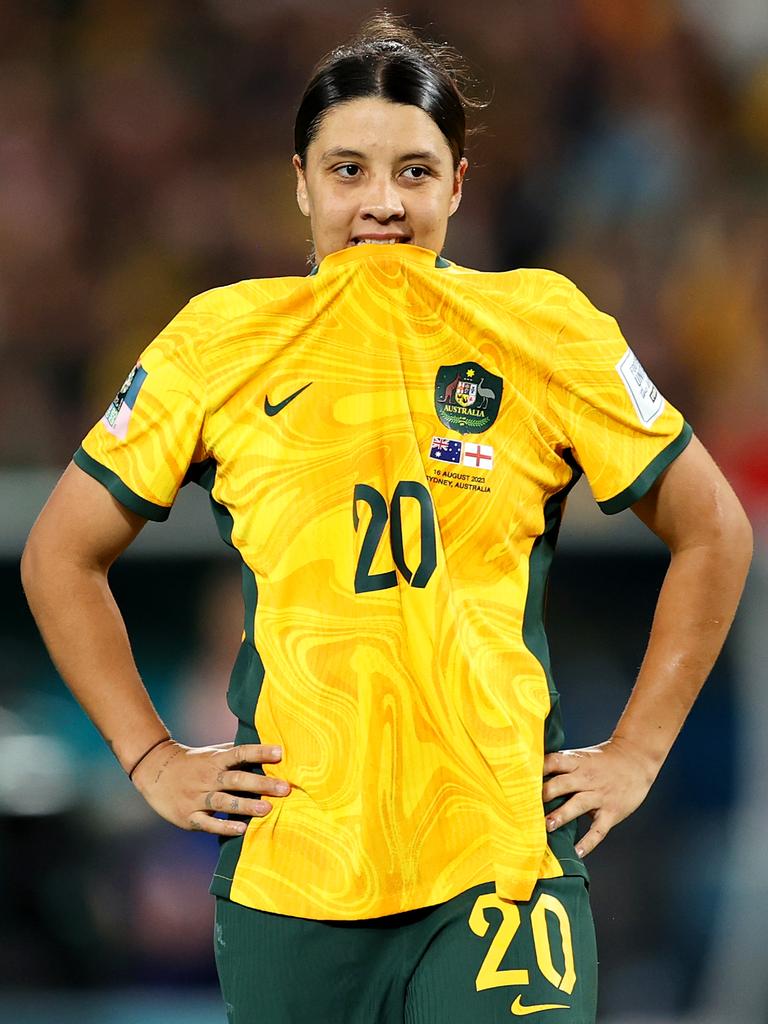 Sam Kerr of Australia reacts after a missed chance, which is likely how the match itself will mostly be remembered by the Matildas and their fans. Picture: Brendon Thorne/Getty Images
Goalkeeper Mackenzie Arnold is well aware that her team has transcended* sport.
"The legacy* we wanted to leave throughout this World Cup, to inspire the next generation coming though, I think we've done more than that, we've done more than we thought we would accomplish," Arnold said.
"To see the reaction we've received from the whole country has been absolutely unreal, and this is only the beginning, there's much more to come."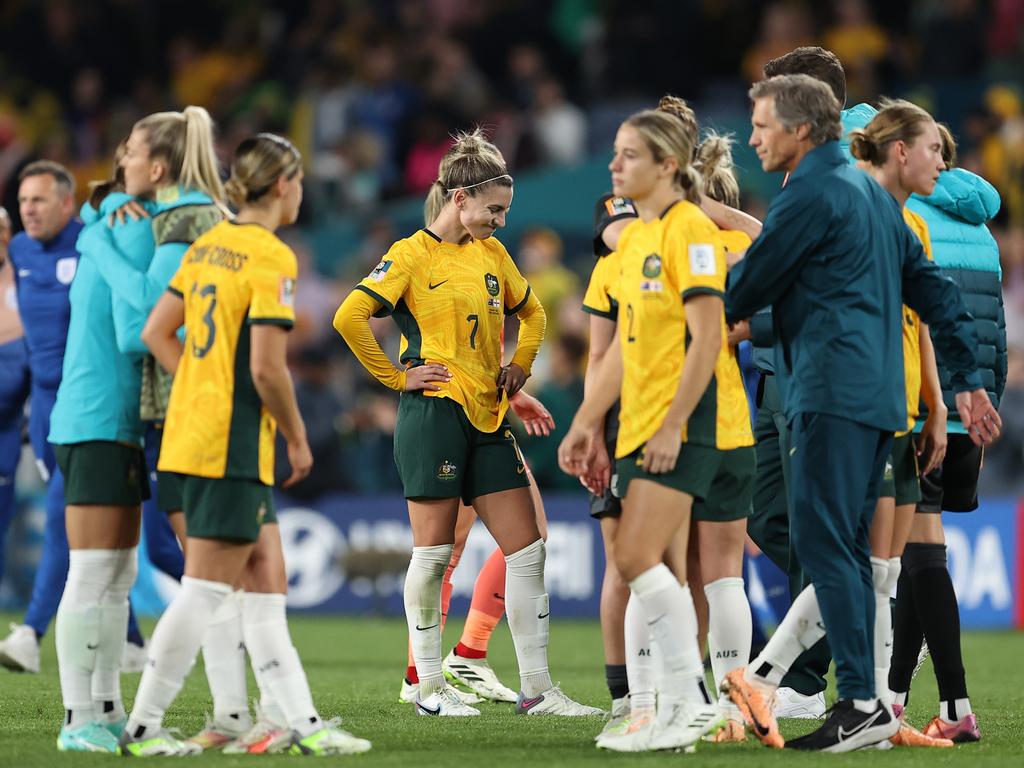 The dream run is over for the Matildas, who will now play for third place against Sweden. Picture: Brendon Thorne/Getty Images
England coach Sarina Wiegman added: "I'm aware that this is very, very special and that what happens in the growth of the women's game, the level has really grown, so worldwide people see what's going on.
"I hope that helps women in football but women in general too."
For years, female athletes have pleaded* for attention, equality, opportunity.
The Tillies have shown us that not only can the investment be worthwhile, it can pay off beyond measure.
There was a young generation of Australians watching the match on Wednesday night who had no idea that there was ever a time people would laugh at, belittle, mock or ignore
women's sport. This Matildas tournament was a game changer.
POLL
GLOSSARY
foul: against the rules, unsportsmanlike behaviour
momentum: force or speed of something in motion, when things appear to be going your way
magnificent: spectacular, impressive, glorious
unleashed: released, let loose, set free
unprecedented: never seen before
transcended: go beyond, rise above a limit, be greater than something ordinary
legacy: part of history that remains for a long time
pleaded: begged, lobbied, petitioned
EXTRA READING
Semi-finals: Matildas make history
QUICK QUIZ
What was the final score in the Matildas' match against the Lionesses?
Who scored for Australia?
Who will Australia play for third place?
How many people attended Sydney's Stadium Australia for the semi-final?
Who scored the last goal of the match and for which team?
LISTEN TO THIS STORY
CLASSROOM ACTIVITIES
1. What really makes a champion?
"Winning the game is not what makes you a champion." Write a story that starts with this sentence.
Time: allow 25 minutes to complete this activity
Curriculum Links: English, Health and Physical Education, Personal and Social Capability
2. Extension
"The Matildas should be the next Australians of the Year!" Design a poster based on this – make it convincing.
Time: allow 30 minutes to complete this activity
Curriculum Links: English, Health and Physical Education, Visual Communication Design
VCOP ACTIVITY
Guest commentator
What an epic game for the FIFA Woman's World Cup Semi-Final. Both teams put in tremendous effort and should be proud of their efforts.
Unfortunately, some people missed the game live. It's time to help them out with some guest commentary.
A commentator tells the events that are happening live in front of them. They describe step-by-step as the event is played out. For a soccer match, they talk about everyone in the game. They might comment on how the teams are playing, or discuss individual efforts. They put in lots of emphasis and emotion to keep the audience engaged, which is usually achieved through a mix of short, sharp sentences and emotion. Recall the game last night, or use the article to pick a few key events to commentate around.
Is how you wrote the commentary similar to how you write a story? What is the same or different? Why do you think that is? What do you notice about the sentence during key moments, like attempts at goal?
Time: allow at least 20 minutes to complete the task
Curriculum Links: English, Big Write, VCOP